This post is a part of a new series I recently started on ShoeRazzi called Which Shoes? I recently chose 4 sandals and the readers voted on which shoe I should purchase. I was a little surprised when I saw that the Miu Miu polka dot platform sandal was the reader's favorite choice. This sandal is very cute & I wanted to share my in-depth review:
Video review:

Details: 5 1/2 inch heel | 1 1/2 inch platform | from the Resort 2011 collection | available online at MyTheresa, Bergdorf Gooman and Neiman Marcus.
Color: Compared to the stock image seen on retail sites, in person the shoe looks just a tad bit different in color. The blue is just a little more subdued. I also noticed that the polka dots are feathered by a green shadow around the circumference.


Texture: These sandals are made from printed linen canvas with a leather insole & outsole. It features a dainty 5-hole buckled strap. Since the linen canvas is a tougher material the buckled strap was a bit tough at first to loosen up.
Fit: When I arrived in Austin, I was excited to see the shoes waiting for me. I ripped the box open & my initial response was that they're super cute. I wore them walking around downtown Austin and started to break them in. What does "breaking them in" mean to me? I have found very few heels that are immediately completely comfortable. They are 5″ heels so I do expect to wear them a couple of times to get my foot used to them. So far I've worn them twice and don't have any blisters or red marks.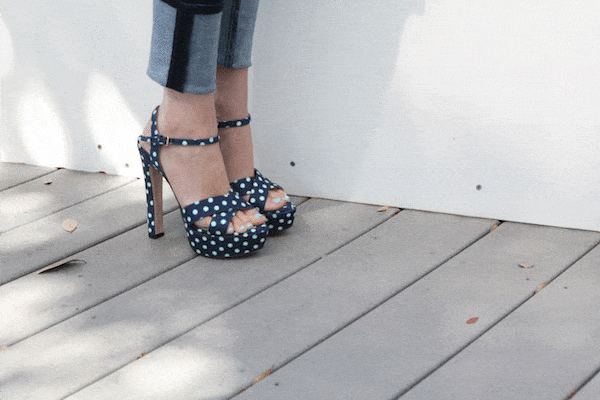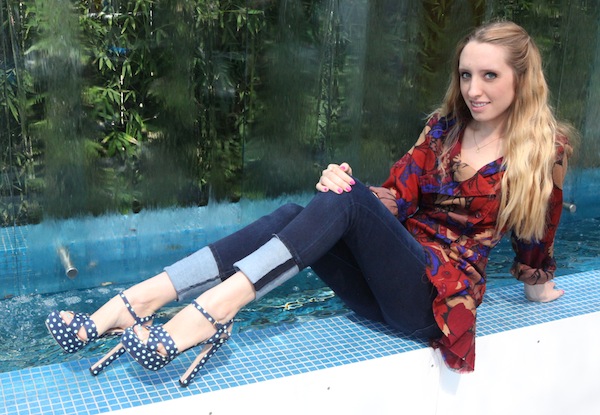 I've already received great compliments even from strangers while wearing them around. They're perfect for spring and will work great for my time in Austin. The polka dots make it a fun heel & so far I'm really enjoying wearing them.
Where to buy online:
If you haven't checked out the adorable Miu Miu Resort 2011 look book, it's a must see! I've listed below where you can find all the fabulous sandals from the Miu Miu Resort 2011 Collection online:
Red polka dot platform sandal; available online in canvas at Bergdorf Goodman and Neiman Marcus & in printed cotton at Saks Fifth Avenue
Blue polka dot platform sandal; available online at MyTheresa, Bergdorf Gooman and Neiman Marcus
Green polka dot canvas sandal; available online at NetAPorter
Two tone blue & white patent leather platform sandal; available online at MyTheresa
Two tone red & white patent sandal; available online at NetAPorter
Blue canvas platform wedge; available online atBarneys, & Neiman Marcus
Red canvas platform wedge; available online atBarneys & NetAPorter
Tan canvas lace-up wedge; available online at Neiman Marcus