Everything that pertains to the Peloton has risen in popularity rapidly throughout the past few years. What started as excitement over the bike and live classes has expanded to include a variety of accessories, including:
Workout mats
Dumbells
Yoga bands
Replacement screens
Water bottles
Clothing
Earbuds
The cycling shoes allow you to properly grip your Peloton bike pedals for the most productive workout. If you are using your standard shoe, you may be able to complete the activity in its entirety, but having appropriate cycling shoes will make the chances higher.
But how do you know what the correct Peloton shoe sizing is? It is imperative to have the appropriate size in order to have the experience you desire in your workout. In this article, we will provide the guidelines for finding the right size for you.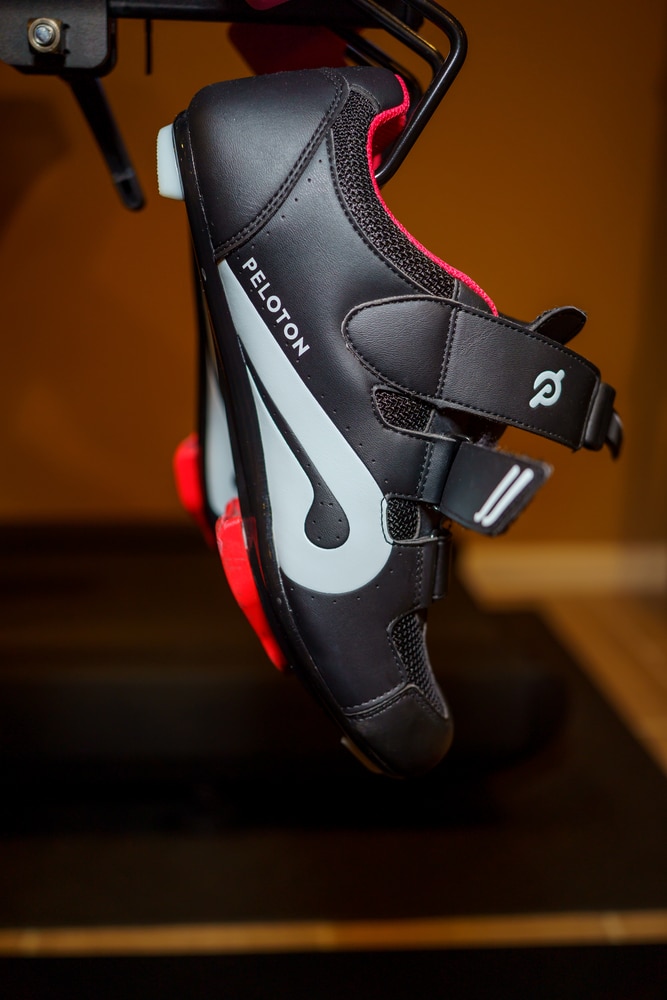 How Is the Peloton Cycling Shoe Different From Athletic Shoes?
One of the most noticeable differences in the cycling shoe that you don't find in other athletic options is the fact that those specific to cycling can clip into the pedals of the bike. While traditional athletic shoes will just sit on top of the pedals, the cycling shoe will be part of the system instead.
This arrangement may be challenging to get used to initially. Many find this to be true due to the inability to remove a foot from the pedal in a single stride. To detach yourself from the bike when using cycling shoes, you must take additional steps to unclip from the pedals.
While this setup is an adjustment that you have to get used to, it is also highly beneficial. It is pretty standard when biking with regular athletic shoes to slip off the pedal.
When this issue occurs, it can interrupt your workout because you have to get your feet back in the correct locations and get back into the groove of the cycling movement.
Alternatively, when you use the designated cycling shoes, you are clipped into the bike and do not run the risk of your foot slipping out of place. This arrangement allows you to operate without concern about your workout becoming interrupted due to a slight difference in movement or a short slip.
What Should You Consider in Sizing?
With all shoes, you should take into consideration the different needs that your feet have and select the shoe size that fits best and accommodates those needs. Some of these will include width, arch type, the shape of your foot, time of day, and different foot sizing, among many others.
Additionally, you have to be aware of the brand that you are purchasing. While some brands are true to size, others come in smaller or larger than you would expect.
When selecting the right fit for Peloton shoe sizing, it is essential to read reviews of the different shoes offered and see what customers and users of the shoes are saying about the style of shoe and the corresponding sizing requirements.
What If I Don't Know My Exact Size?
While many people have a general idea of what their shoe size is, it is very common not to know the exact dimensions of your feet.
Having this information is vital to have the right fit for your shoes. At times, individuals will label themselves as one size, but the specifics of their feet will have them in different sizes and ranges completely.
If you do not know your specific size or have never had your feet measured, it may be good to do so. Many upscale shoe stores will offer measuring and fitting services for customers without a fee or being tied to purchase. Getting this done before ordering shoes online will help you get a better fit.
If you do not have access to such services, you can easily find the information you need on your own. With a simple ruler or measuring tape, getting the length and width of your feet can be done in the comfort of your own home.
First, Draw an Outline
You may feel like this is an odd request to fulfill, but outlining your foot is a simple way to get the necessary dimensions. By taking a blank piece of paper and making an outline of your foot, you can easily get the length and width measurements.
Take Account of Different Factors
It is best to get a measurement of your foot at the end of the day. Most people will find that their feet are a bit larger towards the end rather than the beginning of the day. This reason is primarily due to the swelling that takes place while moving around.
Additionally, you want to account for the socks that will be worn most frequently when utilizing the shoe. While most pair workout shoes with a thin athletic sock, this isn't always the case.
You don't want to get an inaccurate measurement because you accounted for your dimensions while barefoot instead of with your preferred workout socks.
Pay Special Attention to the Wide Points
For many individuals, certain areas of their foot will be wider than others. The specific location will vary but is often below the toes. You will also notice that some people have longer toes than others and need additional space in a shoe to compensate for such.
Is It Possible for One Foot to Be a Different Size?
Yes, it is possible, and it is actually pretty common. According to podiatrists, up to 60% of adults have one foot that is larger than the other. It is more likely to happen as you age due to the arch of your foot becoming flatter, but it can happen at any time during life.
Many recommend that if you discover that one foot is larger than the other, it is best to select a pair of shoes that speaks to the larger foot. The larger dimensions will allow the pair to fit both feet appropriately, although it may be a bit big on the smaller foot.
What Do I Need to Pay Attention to With Peloton Shoe Sizing?
Peloton shoes are true to size if you have standard or semi-narrow feet. Per their company website, Peloton offers two separate shoes for purchase and use with the Peloton bikes. As it pertains to sizing, they offer instruction for each type so that you can more easily select the one that works best for you.
Cycling Shoes
The standard cycling shoes sold through Peloton come in both European and American sizes. Additionally, you will find them in men's and women's options. The range goes from US size 5 to 12 for women, which equates to size 36-43 in European standards.
For men, the sizes start at a US 7 and go up to 13.5. For those who utilize European sizing, this equates to a range of 40-48.
Peloton states in the product description that these shoes provide a narrow to normal fit. Furthermore, the company recommends sizing up if you fall into a half size. Therefore, if you are typically a 9.5, you should choose a size 10 for this cycling shoe.
If you have a wide foot, you will want to pay attention to the fact that these shoes can have a somewhat narrow fit. This build can affect the effectiveness of the shoe if you don't have the appropriate size.
Altos Cycling Shoes
As a more upscale version of the standard cycling shoe, the Altos style has a simplified strap system that only utilizes velcro instead of the ratchet system.
These shoes come in larger-sized options than the others available through Peloton and also come in both men's and women's sizes. However, this style is not sold in European dimensions.
For women, the Altos cycling shoes start at size 5 and go up to 12. The men's sizes go from 6 up to 15. The product description states that this style is true to size and is conducive to narrow and standard feet.
The nice thing about the Altos option is that they come in half sizes. Therefore, if you are typically a 9.5, you can select the exact option that you need instead of sizing up.
While the other style could be problematic for those with wide feet, this one is better suited to those needs with their true-to-size dimensions.
You can also wear men's shoes if you're a woman. Here are men's to women shoe sizes.
Peloton Shoe Size Chart for Women
Women's Peloton Shoe Size
36 EU = Women's size 5 US
37 EU= Women's size 6 US
38 EU= Women's size 7 US
39 EU= Women's size 8 US
40 EU= Women's size 9 US
41 EU= Women's size 10 US
42 EU= Women's size 11 US
43 EU= Women's size 12 US
Peloton Shoe Size Chart for Men
Men's Peloton Shoe Size
40 EU= Men's size 7 US
41 EU= Men's size 8 US
42 EU= Men's size 9 US
43 EU= Men's size 10 US
44 EU= Men's size 10.5 US
45 EU= Men's size 11 US
46 EU= Men's size 12 US
47 EU= Men's size 13 US
48 EU= Men's size 13.5 US
How Is Peloton Different From Other Cycling Shoes in Sizing?
As was mentioned above, there are circumstances in which certain brands have different dimensions. This difference can be for various reasons, but it is beneficial to know prior to purchase so you can account for the differences and plan accordingly for your needs.
Lake MX 241 Endurance
While this shoe is not explicitly created for the Peloton, you can use it in conjunction by adding the appropriate cleat mount.
One of the best things about this brand is that they offer a sizing guide to help you get the exact shoe you need.
Additionally, the Lake MX 241 Endurance comes in regular and wide sizes. Customers who have used the shoes say that they are true to size and ideal for those who need more volume.
Shimano IC5 Indoor Cycling Shoe
As another shoe compatible with the Peloton with the addition of cleats, the Shimano IC5 offers various sizing options and a thorough sizing guide to help you select the perfect option for your Peloton workout.
One of the most remarkable things about the Shimano IC5 is that it utilizes the BOA system for shoe closure.
Having this ability allows you to get a custom fit for your foot. Many who have used this type of cycling shoe compliment its comfortability and ability to conform to your size.
GIRO Cadet Shoe
The GIRO Cadet shoe also works with the BOA system, which provides a custom fit for your cycling needs.
This brand, in particular, also has a synchwire upper, which better conforms to the top of your foot and provides a higher level of support and comfort.
GIRO comes in standard and HV, with the standard accounting for medium width and the HV being for more significant width.
The sizes for the Cadet are in European, but the sizing guide also allows for adjustment due to half-size requirements.
While GIRO recommends a professional foot measurement and fitting, they offer dimensions to match your size on their website.
Most concede that they run close to actual size but can be a bit small as well. Therefore, if you are close to outgrowing a size, it is best to size up for this brand.
Nike SuperRep Cycle
Nike shoes have been known to be true to size but can cause problems in some people's arches. For this reason, it can be challenging to use the brand for workouts. As a cycling shoe, the Nike SuperRep Cycle can be combined with the appropriate cleats in order to be utilized for the Peloton.
When going the Nike cycling shoe route, keep in mind that these shoes often have a snug fit and are not conducive to those who require a wider shoe.
The company recommends that you size up to have more volume if you fall into this category.
The shoes are offered in American sizes ranging from 5 to 15, including half sizes. Having the velcro closure system allows you to customize the fit of your footwear and get the appropriate comfort.
In Summary
Utilizing cycling shoes can allow you to properly grip your Peloton bike pedals for the most productive workout.
Using a standard workout shoe can cause issues such as slippage, which will hinder your exercise routine upon occurrence.
The Peloton company offers cycling shoes that are compatible with their bikes on their website.
Having this available allows users to purchase shoes that will work best for their equipment and workout.
But how do you know what the correct Peloton shoe sizing is? It is imperative to have the appropriate size in order to have the experience you desire in your workout. This guide provides the guidelines for finding the right size for you.