Rupert Sanderson designed a statement spring collection which has something for everyone. It's playful and creative but still includes what I call the "staples", like the new Elba pointed-toe pump. Elba is a red carpet favorite which we've seen on Zoe Saldana, Naomi Watts, Michelle Dockery and Emma Stone. Several styles feature an embroidered cockatoo appliqué and there's even a wedge boot with western stitching.
My top 3 favorite designs: the metallic pink Harting sandal, Latifa lip suede platform sandal and the Zandy cut-out arrow sandal in white leather
Gwyneth Paltrow, Amanda Seyfried & January Jones have also worn styles from this collection plus Victoria Beckham loves the Birdie pump (pictured below)!
Birdie embroidered cockatoo appliqué pump in black suede; available online at Rupert Sanderson, MyTheresa and Footcandy
Birdie embroidered cockatoo appliqué pump in nude suede; available online at Rupert Sanderson
Duessa cut-out sandal in blue suede; available online at Rupert Sanderson
Duessa cut-out sandal in nude/pink with python detail; available online at Rupert Sanderson
Elba pump; available online in warm beige suede at Ssense, white patent leather at ShopSavannahs and several different styles at Rupert Sanderson
Elba pump in beige stingray-effect leather; available online at Rupert Sanderson
Elba pump in nude snakeskin; available online at Rupert Sanderson
Elba pump in warm beige leather; available online at Rupert Sanderson
Elba pump in iridescent leopard-print; available at FarFetch & Rupert Sanderson
Floria cut-out pink suede sandal; available online at Ssense & Farfetch and black suede at Rupert Sanderson & Harrods
Floria cut-out sandal in wysteria suede; available online at Rupert Sanderson
Frisia lip sandal; available online in blush & lilac suede at Rupert Sanderson and lilac at Browns Fashion & Farfetch
Harting metallic mesh sandal; available online in black & gold at Rupert Sanderson
Ivory strappy leather sandal; available online in blush, navy & turquoise/navy at Rupert Sanderson and blush at Footcandy
Ivory strappy sandal in brandy; available online at Rupert Sanderson
Jussy stitched wedge boot in nude suede; available online at Rupert Sanderson
Jussy stitched wedge boot in saffron calf; available online at Rupert Sanderson
Kibo printed wedge in pink & yellow; available online at Rupert Sanderson, Farfetch, Footcandy & Harrods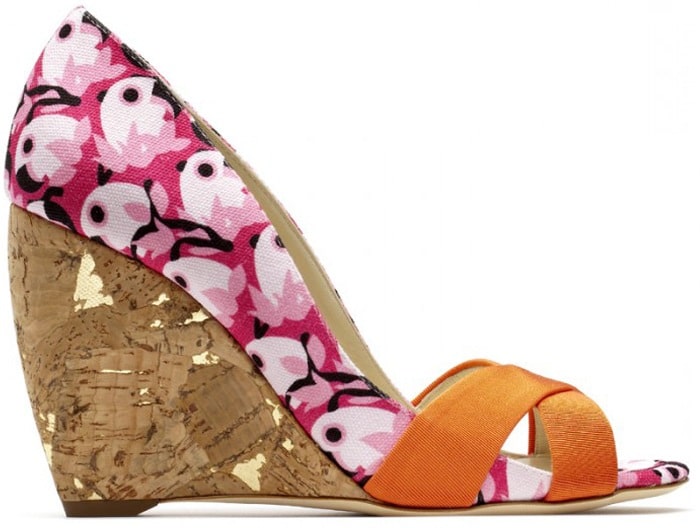 Kibo printed wedge in pink & orange; available online at Rupert Sanderson, MyTheresa & Matches
Kibo printed wedge; available online in green/yellow & orange suede at Rupert Sanderson
Latifa platform sandal; available online in nude suede with orange lips at Rupert Sanderson & ShopSavannahs
Peggy peep-toe wedge; available online in nude & orange patent leather at Rupert Sanderson and nude at Matches
Roslyn cut-out Mary Jane pump; available online in coral at Rupert Sanderson and pink/black at Harrods
Shelley strappy patent leather pump; available online in navy & nude at Rupert Sanderson
Suzy peep-toe platform pump; available online in yellow & black leather at Rupert Sanderson
Tundra platform sandal in saffron calf; available online at Rupert Sanderson
Wenjen strappy platform sandal in nude patent leather; available online at Rupert Sanderson
Wenjen strappy sandal in blue, turquoise and green patent leather; available online at Rupert Sanderson
Yani embellished t-strap sandal in black suede; available online at Rupert Sanderson & Bloomingdales
Yani embellished t-strap sandal in daffodil yellow satin; available online at Rupert Sanderson
Zandy cut-out arrow sandal in patent leather; available online at Rupert Sanderson
Zandy cut-out arrow sandal in white leather; available online at Rupert Sanderson