I think Anna is a fabulous editor ( I love Vogue); I respect her role in the fashion industry and overall admire her style. Last week when I was flipping through the photos from couture week I spotted a lovely picture of Anna & Blake Lively at Chanel Haute Couture. As my eyes were admiring the photo (okay, scanning for fabulous shoes) I saw something I wish I never had. If you look at the photo below you will see both of Anna's pinky toes hanging out of her sandals! I had an immediate flashback to Anna Paquin in the fishscale Stella McCartney sandals. I can deal with celebrities wearing a shoe half size too big or maybe too small but piggy toes hanging out of sandals? No!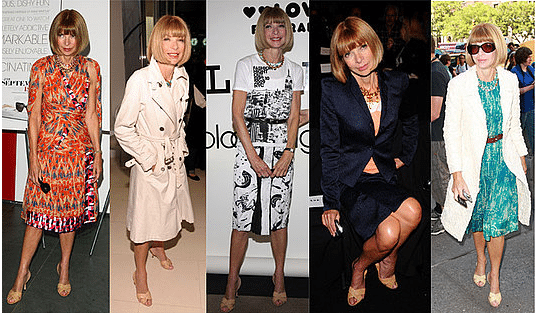 I began researching this sandal. I immediately knew it was Jimmy Choo or Manolo Blahnik. I quickly found out that Anna wears these sandals everywhere. In fact she has been seen in them for years. I too have a favorite pair of shoes that I have had for years – no crime there, but if something you own is ill fitting, it's time to let go. Anna could probably wear any shoe from any designer she ever wanted; it's time to go shopping!
What She's Wearing: Manolo Blahnik patent lizard sandal; season ??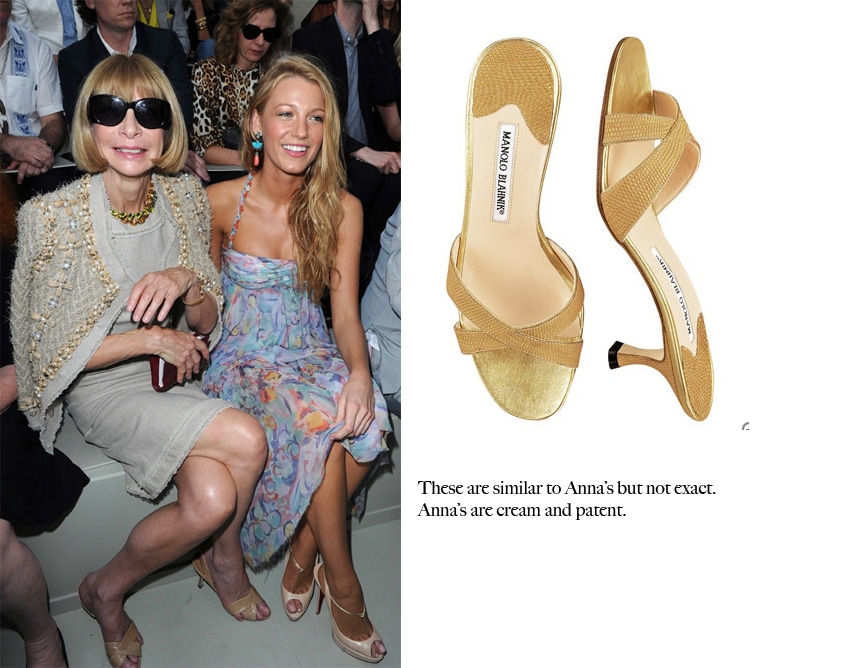 Shoes She Should Have Worn: Anna style is classic and she obviously prefers kitten heels. When selecting new alternatives for Anna I stuck to Jimmy Choo & Manolo Blahnik.
1. Jimmy Choo Brandy mirrored leather slingbacks – This metallic slingback would have worked fabulous with her outfit.
2. Manolo Blahnik Chiffon & Satin d'Orsay – The different textures in this d'Orsay would have complimented her Chanel jacket.
3. Jimmy Choo Laser patent leather slingbacks – This slingback is super basic but I think it would look better on her feet than the Manolo's she's is currently wearing.
Which ones do you think Anna should have worn?