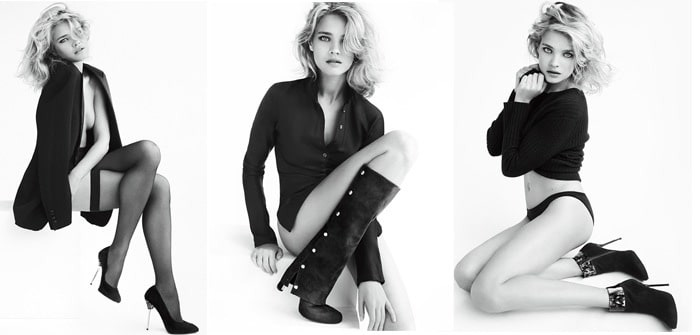 This is the second season Natalia Vodianova has been the face of Weitzman's campaign and the ads are stunning! There are many craveable fall/winter boots. My top three favorite styles are the Backflip bootie, Spats boot and Closecall boot.
The collection is quite large so I've featured some designs from their fall look book. Visit Stuart Weitzman's web site to see more styles.
In addition, they've also launched their second Young Hollywood Cares Collection to help raise money for ovarian cancer. Brooklyn Decker, Julianne Hough, Nikki Reed, AnnaSophia Robb and Chloë Grace Moretz worked with Stuart to each co-design a footwear style. Proceeds will benefit Dr. Marsha A. Moses' pioneering research in ovarian cancer.
Shuffle cap-toe boot by Brooklyn Decker | Naughty Pipe pump by Anna Sofia Robb | I'm Strapped platform pump by Nikki Reed | Lift It Up bootie by Julianne Hough | Tomboy by Chloë Grace Moretz
This season they've also debuted a new 'Walking After Midnight' film series directed by James Franco featuring Petra Nemcova. It shows a young woman on a midnight fantasy stroll on the streets on NYC wearing one of my favorite styles, the Backflip bootie! This film captures the attributes of the Stuart Weitzman woman; independent, confident, sexy and playful in a visually seductive and intriguing way.
This is the first episode and the next three episodes will be released every "Weitzman Wednesday". The entire film will go live on October 26th.
Dagger pin heel stiletto pump | available online in black at ShopBop, in gold at Designs by Stephene and in several colors at Stuart Weitzman
Remember Abby? She's my sister/assistant extraordinaire and works with me on the web site. As you can imagine her love for designer shoes has now hit a new level especially since she writes about them 7 days a week. She also has this little adorable 5 month old monster and has to keep up with him.
Check out her new beautiful red leopard Backflip boots! They're the perfect manageable height for her featuring a 3.25″ heel, red leopard printed calf hair, engraved metal plated heel, suede tassels and side zipper. These boots run true to size and have a tapered/pointed toe.
You can find the Backflip online in leopard at Zappos and in red/leopard at Stuart Weitzman.
Right pony hair bootie | available online in green at Neiman Marcus and in bordeaux/green at Stuart Weitzman
Glopear pointed-toe pump | available online in black satin at Amazon and in slate satin at Stuart Weitzman
Vixen strappy sandal | available online in gold & silver at Zappos
Wallapalooza lace-up bootie | available online at Stuart Weiztman
Imback boot | available online in black suede/black/brown at Zappos & in black suede/slate suede at Stuart Weitzman
Uprise leopard print pump | available online in leopard/stone leopard at Zappos, in leopard at Designs by Stephene and in leopard/stone leopard at Stuart Weitzman
Credit: All image from Stuart Weitzman and boots, gifted by Stuart Weitzman