This past fall an employee at a McQueen store I was visiting "warned" me about the shoe prices this spring & she wasn't joking. Last season, McQueen's priciest wedge was over $4000 and this season, there are several shoes priced over $6000!
Kim Kardashian debuted the Kanye West x Giuseppe Zanotti sandals featuring embroidered pearls at Paris Fashion Week and Emma Stone wore the Lanvin Opanca sandal to the Golden Globes.
My sister Abby is in love with the Dolce bow pump & my favorite style is the Lanvin sandal.
A look at this season's most expensive shoes:


Alexander McQueen wrap-up wedge | Christian Louboutin Daffodile | Alexander McQueen beaded wedge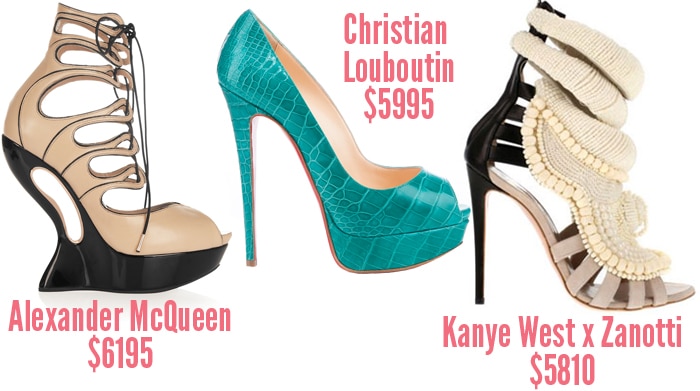 Alexander McQueen lace-up wedge | Christian Louboutin Lady Peep Croc | Kanye West x Giuseppe Zanotti


Alexander McQueen ombre wedge | Dolce & Gabbana crystal satin pumps | Christian Louboutin Very Mix


Christian Louboutin Sexy Strass | Giuseppe Zanotti embellished sandal | Christian Louboutin Torero


Lanvin Opanca sandal | Christian Louboutin Fifi Strass | Christian Louboutin Devidas pump
There are several crystal embellished designs on Christian Louboutin US, around $3995 and Gianmarco Lorenzi & Phillip Plein are also in this price range online at FarFetch.