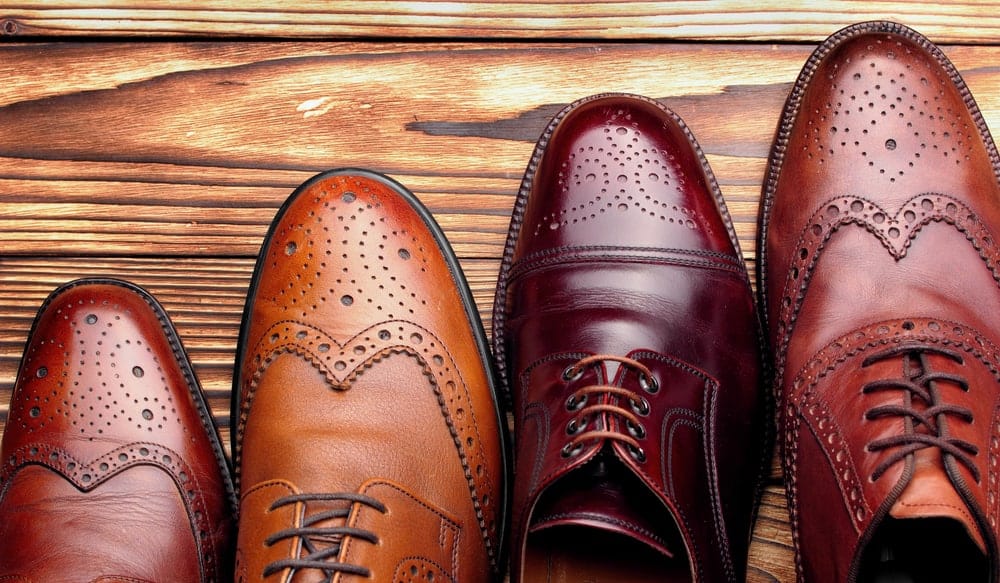 When it comes to footwear for formal occasions, men have many options available to them. From typical neutral-toned dress shoes to more modern, striking options, formal shoes for men come in a range of styles. While the formal shoe selection isn't as broad for men as it is for women, there are still several options for all ages and style preferences.
Shoe shopping for the perfect pair of formal shoes involves several factors. Will you be wearing the shoes in warm or cold weather? What types of occasions or venues will you be wearing the shoes to? What style of shoe will coordinate best for your wardrobe, and do you prefer a more casual or dressy look? You should consider all of these questions before deciding what type of formal shoe will be the best addition to your wardrobe.
Formal shoes come in a variety of colors. For dressy occasions, it's a wise choice to stick to classy, neutral tones. Shades of dark brown, tan, and black are the most common options. Many types of formal shoe are made of leather, which provides a sharp, elegant look. Consider wearing black patent leather formal shoes for occasions at which you'll be wearing a black suit or tuxedo.
Below, we've listed out the main types of men's formal shoes for your reference. You'll learn about the background of these shoes, as well as the key features that each type offers. These formal shoes have been worn by men for countless years, and there's truly an option for everyone.
Different Types of Formal Shoes for Men
Loafers
Loafers are a classic men's formal shoe that you'll easily find in any shoe store. This slip-on shoe is inspired by Native American moccasins and is also one of the most comfortable varieties of formal footwear for men. Moccasins are flat-soled shoes without a heel. Loafers feature the same general design, but often also have a short heel.
Loafers have a long history, and the origin of this shoe is debated by some. It's commonly said that loafers were conceived by a Norwegian shoemaker as a cross between the Native American moccasin and typical Norwegian footwear. The invention of the shoe came around the 1930s, although it's quite difficult to know for certain. Others say that the loafer was born in the UK when Wildsmith Shoes was tasked with making a house shoe by King George VI.
There are multiple varieties of loafer, each with its own defining features. One of the most common types of loafer is the penny loafer. Penny loafers have a decorate strap across the front with a slit about the size of a penny. This simple visual element makes the penny loafer a common choice of work shoe.
Another popular variety of loafer is the tassel loafer. Tassel loafers, quite simply, have decorative tassels attached to the vamp of the shoe, positioned right about where the strap of a penny loafer would be. The tassels are generally small and add visual interest to an otherwise simple shoe.
Main Features of Loafers
Loafers are a common dress shoe for men in the spring and summer months. This is because the slip-on design is highly comfortable and more lightweight than other formal footwear options, which improves breathability. Loafers may not be the best choice in snowy and rainy weather, as the slip-on style offers little protection from the outdoor elements.
The decorative section of a loafer, which is where the tassels, penny strap, etc. are located, is often referred to as a saddle. Some styles of loafer have no saddle or decorative elements, providing a simplistic, more casual look.
Many men's loafers have a raised seam around the perimeter of the toe section. This seam adds definition to the shoe for visual interest and is typically found on loafers with moccasin-like designs.
The vamp of a loafer doesn't rise to the height of your ankle, leaving it exposed. Socks are generally visible when worn with loafers, which is something to consider as you put together outfits.
You may also want to check out different types of wedding shoes for men.
Oxfords
Oxfords are a timeless type of formal shoe for men. With a streamlined design featuring closed lacing and a narrow side view, Oxfords offer a sharp look. Plus, as a classic shoe type, you can easily find Oxfords at virtually any shoe store or department store, as well as small boutiques.
Early versions of the Oxford have been around since the 17th century. While some believe that this shoe got its start in Scotland and was first called a "Balmoral", others believe that it was a later version of a boot with side slits, eventually getting adapted into the Oxford we know today. It's known that students attending Oxford University in the 19th century took a particular liking to the Oxford and boosted the shoe's popularity.
The defining feature of the Oxford shoe is its closed lacing. Shoes with closed lacing have eyelets sewn under the upper portion of the shoe, creating a clean, pulled-together look. The closed lacing sets Oxfords apart from other types of formal shoe, such as the Derby or a dress boot.
Main Features of Oxfords
The closed lacing of an Oxford provides a snug fit. The fitted look of an Oxford is preferred by some to the more relaxed aesthetic of dress shoes with open lacing.
Oxfords show off the shape of the foot and provide a more defined silhouette than other types of men's formal shoes.
There are multiple varieties of oxford shoes, and the main difference between them is the seams. Cap toe Oxfords have a seam running horizontally across the toe section of the vamp, while wingtip Oxfords have a cap with a seam that has two arcs and a point in the center.
Oxfords generally have a slight heel.
Derbies
The Derby shoe is quite similar to the Oxford with one crucial difference. With the Oxford is defined by its closed lacing, the Derby features open lacing. Also, whereas Oxfords are mainly for aesthetic purposes, Derbies provide a looser, more comfortable fit. The comfortable aspect of the Derby shoe can be traced back to its origins as a sporting shoe.
The Derby shoe dates back to the 19th century. The complete history of this shoe can't be known for sure, but the style evolved from Derby boots, which were worn by soldiers. Derbies were seen as preferable to Oxfords by many due to the more relaxed and forgiving fit.
Main Features of Derbies
The open lacing of a Derby shoe provides extra width for the foot. This is a particularly attractive feature in warm weather, when your feet are more likely to swell.
The Derby is a formal shoe with sporty accents and a relaxed fit. Given that it was made for sport and hunting attire, it's no surprise that the Derby has maintained its reputation as a shoe that combines dressy and casual elements.
The design of the Derby shoe shows an exposed ankle, covering the top and sides of the feet. This makes it a great footwear choice for the spring, summer, and fall months.
Like the Oxford, Derbies have a slight heel for a subtle boost of height.
Chukka Boots
For cold weather and certain outfits, a formal boot may be your best choice. The chukka boot is a popular type of boot for men. It combines dressy and casual design elements for a shoe that you'll feel truly comfortable in.
Chukka boots are defined by open lacing and a limited number of eyelets, usually two to three. This shoe is a short boot that doesn't come high up on the ankle. In fact, most chukka boots only rise to about ankle height. This provides a distinct look that looks great with tailored trousers.
The history of the chukka boot is unclear. One popular theory is that this boot was inspired by Jodhpur boots, which were worn by Polo players. Chukka boots were occasionally worn by Polo players as a more comfortable alternative to riding boots following the conclusion of a game.
Main Features of Chukka Boots
Chukka boots are rounded at the toe, providing a softer, more casual look than some other varieties of dress boot. The rounded toe box is also comfortable for the toes and provides a comfortable fit.
Chukka boots are typically made from a suede or leather material. These types of material provide a sharp, dressed-up look. However, suede and leather don't fare well in water, so these boots aren't a good choice for walking around in the rain or snow.
This type of shoe is an excellent choice for the autumn months. This is because boots are a departure from summery formal shoes, but the ankle-height design isn't practical for winter.
Chukka boots have open lacing, which allows for some additional width across the foot without sacrificing a snug fit.
Given that chukka boots rise to ankle height, the hem of full-length trousers, jeans, etc. can either be tucked into the boots or left outside. A tucked-in look with show off the open lacing of the boots, while the hem over the shoes will lengthen the line of your legs