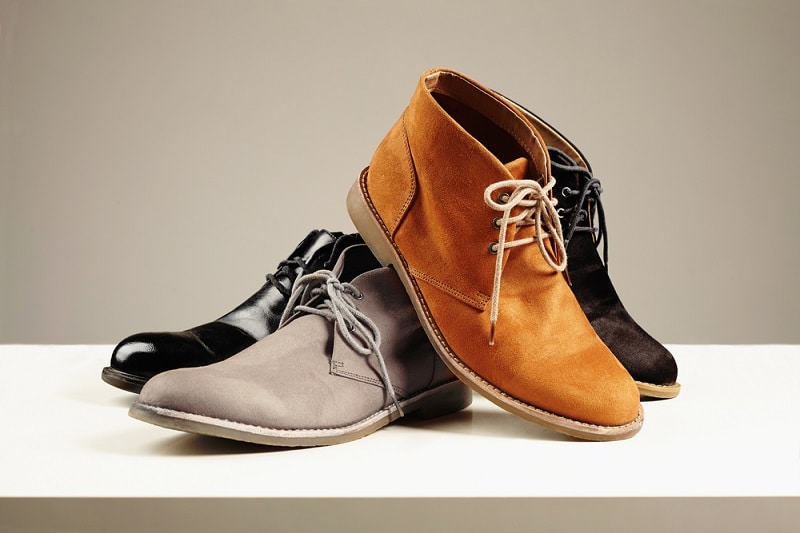 Whether you're a guy who knows everything about men's fashion, or you're more of a classic jeans-and-sneakers sort of personality, the truth is, there are tons of men's shoe styles available on the market today.
If you're looking to switch up your style or be more aware of what's out there for you to try with different outfits, you've come to the right place. We're going to take a look at various types of shoes for men and go from there.
Different Types of Shoes for Men
Without further ado, we are going to jump right into all of the styles that you should know about and potentially own, starting with dress shoes and going on from there.
Dress Shoes
Every man should own at least one decent pair of dress shoes. There are occasions in your life where sneakers and slippers are not appropriate. Functions like weddings, church, and even working in an office merit a more sophisticated and regal appearance, and dress shoes can help you achieve that look.
Lace-Up Shoes
Lace-up dress shoes are super common and very popular for men. Lace-up shoes are available in a wide variety of styles, including the Oxford, the Derby, and the Blucher. We consider all of them to be elegant, classy, and timeless, and they look great with formal wear, suits, and dressier apparel.
While the Oxford shoe was developed in England as early as 1830, they were made more famous by alleged students who wore them despite the popularity of high and mid-calf boots at the time.
Oxford shoes are designed with clean lines, a narrow shape, and a smooth surface with an additional seam that runs across the tops of the toes. They are perfect for pairing with a tuxedo and are considered much too formal for any leisurewear.
The Derby and Blucher shoes are very similar to the Oxford shoe in style and design with slight differences. While the Derby is revered as a comfortable and elegant lace-up shoe, the Blucher is geared more towards a gentleman's countryside wardrobe.
The Derby shoe is best known for its open lacing, which makes it easier to put on and wear than an Oxford. They are more versatile and casual, but its smooth and sophisticated look is also appropriate for business meetings and looks fantastic when paired with a suit or even a nice pair of jeans.
Finally, the Blucher is similar to the Derby in that it has open lacing. It is known as a sporty-business combination shoe that looks great with jeans, corduroys, and khakis, although many deem this style unfit for pairing with suits.
It's worth it to mention that cap toes, in most cases, also fall under this category. Cap toe refers to the additional layer of leather that is near the front of the shoe, i.e., over the toes. Many cap toes use the extra leather to emboss designs on the shoe. Some find this less formal, but it adds a rare touch of uniqueness and style to the shoe while still keeping them appropriate for suits, tuxes, and even jeans.
Loafers
Don't be fooled by the common misconception that loafers are for older folks like your grandfather. On the contrary, loafers are trendy in the business world as they deliver a sense of fashion and respect, along with comfort.
Loafers look similar to other dress shoes, but they lack the lace-up portion. Instead, they feature a slip-on design with a squared-off brim that usually features a strap or some other simple adornment, like a gold bar.
Loafers are sleek and straightforward; many businesspeople enjoy them during business trips. Because they are so comfortable and easy to slip on and off, they make traveling a more positive experience. No one likes to hassle with laced-up footwear through airport security, so loafers let you make it through with ease and style.
You can pair your loafers with jeans or dress pants. Many folks also agree that you can wear darker styles with a suit. But, style experts will advise you only to do so if you're not also wearing a tie.
Of course, it's important to note the difference between formal loafers and casual ones. Casual loafers tend to more closely resemble household slippers. Meanwhile, dressy loafers are typically made of leather or suede and sport minimal heels and minimalistic designs.
Monk Straps
Monk strap shoes feature a similar shape and design to classic lace-up dress shoes, they just don't have laces. Unlike loafers, these shoes are narrow and thin. In place of laces, they boast a buckle strap across the top of the foot.
Monk straps can be found with one, two, or even three straps across the bridge and in a wide variety of colors and materials – though leather is the most common. Monk straps can either have a cap toe or a wingtip, showcasing bold stitching and designs or sticking to a classically smooth appearance.
This type of men's dress shoe is great for anyone who wants to display a unique and different style without stepping outside of formal social norms. They deliver a timeless look that's fabulous for dress pants or jeans.
As an added bonus, monk straps give you more room to match and achieve a sleek look by pairing the color of the buckle with your belt, watch, or cufflinks. Anyone who can pull this off generally looks classy and well put together.
Dress Boots
Dress boots are certainly not a super standard style of footwear for the everyman, but they are perfect for someone who appreciates fashion as well as a bolder look.
Most men's dress boots are very minimalistic in style, given their typically leather design and lack of adornment or patterns. They are usually slip-on with elastic along the sides for a snug fit, or they lace up in the front like standard dress shoes such as the Oxford – just with a higher ankle.
Dress boots are awesome for cold, rainy, or snowy days. They deliver much more coverage and protection for your feet than regularly dress shoes do but offer the same professional and classy style. You can wear dress boots with suits, jeans, or khakis.
They also come in various styles like brogue, wingtip, monk strap, and cap toes.
Wingtips
We have mentioned this style a few different times in reference to a variance of another form, but wingtips are also a type of dress shoe all on their own.
The name of this style refers to the shape of the cap toe stretching across the top front of the shoe. Wingtips are beautifully designed dress shoes that are excellent for maintaining professionalism and class while showcasing a sense of style and taste.
In fact, you can even find two-tone wingtips that utilize two different colored pieces of leather in one shoe. They have become very popular and are known as smart-casual to wear with dress pants or nice jeans.
Casual Wear
Aside from dress shoes, men have the option like everyone else to purchase and wear shoes for more comfortable and relaxed use.
Moccasins
Moccasins have risen in popularity due to their high levels of comfort. Reminiscent of Native American footwear, moccasins are slip-on shoes that come in their own extensive range of styles.
You can find moccasins in more formal styles, made from leather with rubber soles and various designs like tassels. On the flip side, you can also buy moccasins that more closely resemble slippers, made from soft fabrics with plush lining inside to keep your feet warm and comfortable.
You can wear your moccasins with jeans, casual pants, sweatpants, and basically any other comfortable clothing.
Boat Shoes
Boat shoes are another slip-on shoe that brings both comfort and style to men everywhere. While these shoes do feature laces, it's more a style feature than a functional one. Many men describe these kinds of shoes as the best looking casual footwear. Not only are they easy to grab and put on in a hurry, but you can get away with wearing them with your business casual clothing.
You may see men rocking their boat shoes with jeans and a button-down shirt, but you can also pair them with patterned shorts too. Their lace-up design looks good, but their slip-on feature lets you wear them without dealing with the laces.
Boat shoes are mostly made from leather with a rubber sole, but you can find less expensive styles made from other various fabrics to pair with the rubber bottoms.
Sneakers
Sneakers are possibly the most popular and common types of shoes for men that we will talk about today. Everyone owns sneakers of some sort, whether they are athletic or not. These versatile shoes have many uses, and the styles and designs they come in expand every day.
Sneakers are made more and more to suit the specific needs of the wearer. There are casual sneakers that are made for everyday things like walking your dog, going grocery shopping, and meeting a friend for coffee.
Then, there are sneakers explicitly made for runners that offer engineered support especially to support the arches, work the legs, and increase stability.
Beyond that, you can find sneakers made for weightlifting, playing tennis, shooting hoops in basketball, and differences in indoor and outdoor design. There are also designs made for hiking, biking, cheerleading, and more.
Basically, you can find sneakers for anything you need them for. There are even sneakers with a more high-end design that you can pair with dress pants or jeans, depending on the environment you're in. With an endless amount of design and color options, sneakers deserve an article of their own to explore the possibilities.
You may also want to check out different types of formal shoes for men.
Boots
While we classify a certain style of boots under our dress shoes, there are still a few other kinds of boots out there that men can choose from and wear when the situation calls for them.
Combat Boots
Combat boots liken the design of a military tactical boot without all of the extra grit and toughness. Combat boots in terms of fashion range from a casual shoe to a classy-looking dressier boot.
You can find this high-ankle boot typically in a leather design with different shades of color. They usually implement the use of metal lace eyelets to tie up and tighten, but some of them use the standard lace holes as well.
However, they all lace starting at the top of the foot up to the top of the ankle and offer great support.
With rubber soles and a more robust and rugged exterior look, you can pair combat boots with jeans, chinos, or cargo pants, depending on the specific design of the boot. They also become very popular in the fall and winter.
Cowboy Boots
Cowboy boots tend to be more of an eclectic, very taste-specific style. As most would suspect, they are prevalent in the southern states. As their name suggests, cowboy boots were initially designed for those working on ranches and riding horses.
However, cowboy boots have certainly grown in popularity and have become quite the fashion trend for men and women alike.
Cowboy boots are great because they come in a wide range of styles and functionality, making them great for pretty much any occasion. While you shouldn't wear them with a formal suit, business casual styles look great with dress pants and jeans alike.
Pointed, round, and square toes deliver variety, and you can buy certain kinds for style and other types for hard work outdoors.
Winter Boots
When it comes to winter boots, we're talking full functionality and particular use. While they may not be the first thing that comes to mind when you're thinking of buying a new pair of shoes, they are indeed the kind that you're glad you bought when the time comes to use them.
Winter boots are built tough and last long. They are specifically designed to help you make your way through the rain and snow and boast waterproof features to keep your feet from getting wet.
Additionally, many winter boots are lined with some warm fabric to keep the cold out as well. A lot of these boots are made with their specific use in mind, but there are some that kept the style as the main factor, giving them a rustic leather look to pair nicely with a good pair of jeans.
Hiking Boots
Hiking boots are another functional shoe that has the ability to keep fashion at the forefront, should that prove to be an important deciding factor for you.
The primary purpose of hiking boots is to provide extensive support for long periods of walking on rough terrain. Many people use their hiking boots solely for hiking excursions, but others also find them useful for camping, walking their dog, and exploring various parts of nature.
Some hiking boots are simple and straight to the point, while others come in various colors and designs. You can find waterproof hiking boots, boots that keep your feet warm, and high or low ankle boots.
Check out best shoe brands for men here.
Sizing
After selecting your desired style of footwear, the next most crucial decision you can make it what size you should get. Many people think that they know their shoe size, but unfortunately, many styles vary in size. For example, you may be an 11 in your sneaker size, but you might find that the leather design of a dress shoe requires you to scale up to a 12.
The best way to determine your shoe size is by trying shoes on before you buy them. In our world of online retailers, that's not always possible. But if there's any piece of clothing you should aim to buy in-store, shoes would be the one.
When you try on a shoe, it should feel snug around your heel and midfoot. Towards the front of your foot, you should have enough room to wiggle your toes around a little bit. After putting on a pair of shoes, take a minute to walk around the store. Make sure your heel doesn't slide out of the back, and you don't feel like you're squishing your toes.
If you find that you're having discomfort and tightness as you walk, you may need to try a size larger. If your foot does not remain inside the shoe and there's a lot of movement, perhaps a smaller size would better do you justice.
Once you have found the perfect shoe style and the perfect fit, you will be set to go. Remember that there are tons of styles out there, but they all have their appropriate settings. You can know all of the styles in existence, but if you wear the wrong one at the wrong time, you will quickly learn that there is a time and place for everything.
Use this guide to figure out what kinds of shoes are out there before you start your shopping experience, and don't be afraid to try new styles!