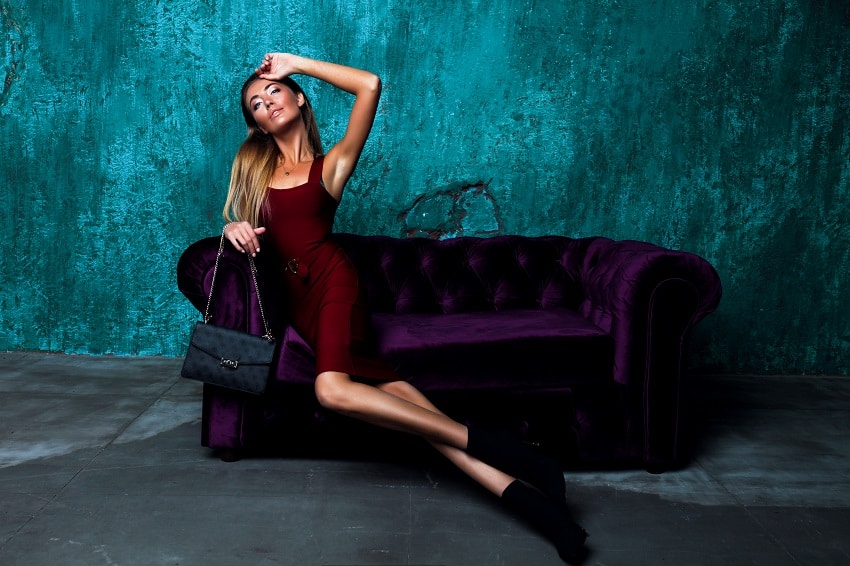 Burgundy dresses are coming back into style, especially during the colder months of the year. Burgundy is a regal, warm color, and it's always a show-stopper when it's incorporated into a dress! However, as a relatively dark shade, burgundy has some strict styling restrictions that you should follow.
In the following paragraphs, well teach you all about what color shoes to wear with a burgundy dress. Burgundy is a wonderfully flattering color, but it's not overly compatible with other colors. We will walk you through the best shoes to pair a burgundy dress with below.
What Is Burgundy?
Burgundy is a dark, almost wine-red color that sits firmly on the darker end of the color spectrum. As such, there are some precise accessorization rules to follow when wearing it! Burgundy is technically a shade of red, not a pure color like purple or yellow. As such, while most colors that work with red will also work with burgundy, you will also need to follow the rules of styling dark colors, too.
Fortunately, burgundy is an extremely attractive dress color if you can pull it off! A popular color in evening wear especially, burgundy frequently makes appearances in red carpet gowns and the like. However, it does tend to be a very seasonal color. While it can theoretically be worn year-round, especially if you style it consciously, burgundy most suits the autumn months. It works in winter, too.
While burgundy certainly doesn't have an extensive list of colors it pairs with; you aren't limited to only black. On the contrary, some of the entries on this list of what color shoes to wear with a burgundy dress may surprise you. Some examples include:
White shoes
Teal or turquoise shoes
Tan and brown shoes
Gold shoes
Silver shoes
What Color Shoes to Wear with a Burgundy Dress
Black Shoes
Of course, black shoes are the most common (and most reliable) shoe to wear with a burgundy dress. Since burgundy is already a semi-dark color, black shoes bring out the midnight tones in a good burgundy dress, too. Additionally, since black shoes go with everything, you can't go wrong!
Black shoes are genuinely one of the best pairings for burgundy dresses. If you're looking to turn your burgundy dress into a black-tie outfit or a workplace staple, black shoes are the way to go. However, black shoes can just as quickly turn up the appeal of a short burgundy dress at a party or out on the town.
The versatility of a good pair of black shoes can never be overstated, but this is especially true when paired with a maroon or burgundy dress. In most cases, you won't need to go any further than your favorite black dress shoes to perfect your clothing, but if you're looking to change things up a bit, you can certainly get more creative.
White Shoes
When considering creative and out-of-the-box colors to wear with a burgundy-red dress, white is certainly a big contender. White shoes might not initially seem like they match with a burgundy dress (and in some cases, they do not), but in actuality, they can often create a bold, eye-catching look that few people will forget.
However, remember that white shoes tend to clash just too much with dark burgundy dresses. If your clothing tends to be on the lighter end of maroon, you can likely pull off a pairing with white. However, if your burgundy dress is on the dark side, stick with black shoes instead.
Tan Shoes
Tan shoes are a stunning example of an ideal light shoe to wear with a dark dress. When you combine the powerful feel of burgundy with the airiness of tan and other like colors, you get a sophisticated, professional, and even sexy combination. Of all of the colors that can be worn with tan shoes, burgundy is one of the best.
Don't hold yourself to tan shoes only, though! There are many similar tones in the same color family that work to enhance burgundy just like tan does. Some of these related colors are:
Beige
Nude
Cream
Off-white
Sand
Tan shoes with a burgundy dress is an excellent combination at work. Nude shoes have always been a reliable and safe choice for the workplace, but the addition of burgundy to this mix enhances the look without overwhelming it.
Surprisingly, tan shoes can work very well in a formal setting, and even a cocktail setting, too. While it can be a bit more challenging to make this combination work for you in a party setting, it's most definitely possible.
Burgundy Shoes
Unsurprisingly, burgundy shoes can work to match a burgundy dress, too! However, when matching the color of your shoes to the color of your clothing, there are a few fundamental rules you will need to follow. For one, your burgundy shoes should be the same color as your burgundy dress. If they're even one visible shade off, the ensemble will no longer work.
While some people don't like to pair shoes with a dress of the same color, the pairing can work well if you know how to accessorize it. For example, when pairing burgundy shoes with a burgundy dress, you always want to add in some accessories of another color. Black accessories are great for this purpose. You can throw in extras like:
Jackets or cardigans
Pantyhose or tights
Scarves or ponchos
Purses and satchels
An accent in a different color is a great way to break up the "matchiness" of identically-colored shoes and dresses. Just make sure that accent color (if it isn't black) goes with burgundy first!
Silver Shoes
Silver shoes, despite being a light color, actually match surprisingly well with burgundy dresses. Burgundy, as a color, is particularly well-suited to jewelry and shine, and silver brings out the bling of any jewelry you wear with your burgundy dress.
Silver is an excellent way to up the playfulness of a burgundy dress, too. Burgundy tends to be a very sensual color, and a pop of silver on your feet is an excellent way to turn some of that sensuality into impishness instead. A person in a burgundy dress with silver shoes comes off as confident and in-charge, yet still flirty and approachable.
Silver shoes are excellent to wear with a burgundy dress because they can work in just about any setting. While wearing silver shoes in the workplace may be a bit too much, they work in both formal and informal environments. Silver shoes can complete both a long evening gown and a short cocktail dress just the same.
Gold Shoes
Gold shoes accessorize a burgundy dress in much the same way silver shoes do. However, pairing gold with burgundy is much more luxurious than silver and burgundy can ever be. Gold is the color of riches and royalty, and when you pair gold with burgundy, you will look like royalty yourself!
A pair of delicate golden heels are excellent for a formal date night or even a professional function. Just be sure to tone down the bling on any metallic shoes you wear if you decide to wear gold and burgundy in a professional setting.
Gold shoes are incredibly versatile with burgundy dresses. Regardless of your burgundy shade or your gold shade, the two will match together. Rather than focusing on color, it's more important to focus on style for gold shoes.
For example, you might have gold shoes in any of the following styles:
Gold roman sandals
Strappy gold heels
Gold booties
Gold heels with jewels or gemstones
Each of the shoe styles above is best for a different environment, regardless of what the exact shade of gold is. Gold booties, for example, are best for the colder months and tend to go well with short, sassy dresses. Strappy gold heels, on the other hand, work well with long skirts, especially those with peek-a-boo slits or other opportunities to see the shoes.
Roman sandals, on the other hand, work excellently for casual dresses and everyday wear. Jewel-encrusted high heels tone up the glam of any burgundy dress, especially if you accessorize them with equally-shiny jewelry.
Brown Shoes
Brown shoes are excellent for bringing out the earthy notes of a deep burgundy dress, especially in a casual setting. While brown doesn't tend to be formal enough for a black-tie affair, it's easily a strong enough contender for both a cocktail party and for a professional environment. Brown shoes are great for dressing down a burgundy dress, too.
Brown shoes, even though they can be a bit informal, are extraordinarily versatile because of the plethora of styles they come in. You'll frequently see brown shoes in forms such as:
Cowboy boots
Booties
Knee-high boots
High heels
Pumps
Roman sandals
Necessarily, if you've seen a shoe before, it's likely available in brown! Since burgundy pairs so well with brown, you'd be hard-pressed to find a brown shoe that wouldn't go with a burgundy dress. However, when venturing into dark shades of brown, be careful to pick warmer tones, as cool browns may not match as well with your burgundy dress.
Grey Shoes
Similarly to silver shoes, grey shoes commonly work well with burgundy dresses. Dark charcoal shoes, in particular, bring out the mysterious nature of a burgundy dress well. However, some lighter-colored grey shoes may not work as well with burgundy dresses. Keep this in mind as you accessorize!
Turquoise Shoes
If you're looking to venture out of your comfort zone with your burgundy shoes, look no further than a pair of turquoise shoes! Turquoise is a contrasting color to burgundy, so it will stand out very strongly against a burgundy-maroon backdrop. While this color combination will verge on overwhelming for most people, the opportunity to use it is there if you find the right occasion.
If you're looking to test the limits of style or make a lasting impression, turquoise or teal shoes may be the answer you have been looking for. However, we don't recommend wearing teal shoes to any black-tie or professional events, as this color combination can be too jarring for these receptions.
Navy Shoes
If you're looking to venture into blue territory, but you're not quite willing to go with turquoise yet, navy might be your color! Navy blue is a dark, almost midnight-blue color than compliments burgundy well. Most of the time, a good pair of navy shoes will look almost black, but people will be surprised by the presence of stylish navy when they get close enough to see it!
Navy shoes work best with styles that can show off this beautiful, dark color, such as booties. However, heels aren't out of the question, either. Navy shoes are an excellent way to turn up the professionalism of a burgundy dress, too.
Red Shoes
Despite contrasting sharply with burgundy, red or scarlet shoes can make a burgundy dress pop under the right conditions! While you might initially think to stay away from red shoes when styling a burgundy dress, this isn't always the best case. In some outfits, red shoes can bring out the bright colors of the burgundy and contribute to the overall impact of the outfit.
However, when looking at red shoes to go with a burgundy dress, make sure that your shoes are noticeably different from your clothing. If your shoes are not different enough than your dress, the combination will confuse more than pleasing people. Instead, pair scarlet shoes with a dark burgundy dress, or put oxblood shoes together with a lighter burgundy outfit.
Red shoes with patterns can work well with burgundy dresses, too, as long as you make sure to pick up the other color tones in the design. Consider a classic red and black checkered pattern, for example. If you were wearing shoes with this pattern, you would want to add some black accessories to your outfit to tie everything together.
Printed Shoes
Printed and patterned shoes are another area where burgundy dresses excel! Whether your patterned shoes are floral print, animal print, geometric print, or none of the above, as long as burgundy can be tied into the pattern somehow, they will likely mesh easily with your dress.
One notable exception here is animal prints. Leopard and cheetah print, most importantly, doesn't need the presence of burgundy within the pattern itself to look good. Leopard print shoes match exceedingly well with burgundy dresses, especially darker ones. However, some other animal prints can also work surprisingly well, such as:
Snakeskin
Crocodile scales
Furs
Zebra print (sometimes)
Though it's not clear why animal prints work so well with burgundy dresses, we like to think it's because of the predatory nature of the color burgundy. Who wouldn't want to wear animal print shoes with the color of fresh meat?
Read Also: What Color Shoes to Wear with a Champagne Dress
Styling Burgundy Dresses
Because burgundy is tied so strongly to the colder seasons, specifically Autumn, accessorizing it is relatively straightforward. While it's best to wear burgundy dresses in the Fall, they can be worn at other times of the year, too, depending on the style. When we think of burgundy dresses, we see overcast days, red and orange leaves, and early sunsets.
However, above all else, you should style your burgundy dress how you think it should be worn. Burgundy is an attractive and versatile color, and with enough dedication, you can make it work with just about any outfit. Just make sure to consider the impact that your styling choices will have before doing it!
For example, while a burgundy dress with white shoes might be excellent for a day out in the summertime, the same ensemble is not appropriate for wearing to work. However, by moving the color over just a tad to tan instead of white, you now have an acceptable workplace alternative. With one more step down to brown, you now have an earthy, warm ensemble perfect for Fall.
The material and cut of your burgundy dress matters, too. While a heavy burgundy sweater dress is an excellent casual pick during Winter (and sometimes even an acceptable professional option), it's not nearly formal enough for a black-tie affair.
In the same way, a floor-length burgundy dress would be far too formal for a dance floor. This is not only because the hem of your clothing would be trampled by the time you finished dancing but also because it's not playful enough. A long-length dress is meant to be elegant and statuesque, not flirty and playful.
However, in the same way, a short, lacy burgundy dress is improperly suited to Wintertime, too. While a short, frilly dress would likely be too lascivious for work, it would be an excellent choice for a night spent out dancing.
In the end, styling a burgundy dress is not all that different than styling any other outfit. However, it's helpful to keep the unique restrictions of the burgundy shade, as well as its learned connotations, in mind while accessorizing it. Once you've mastered these tips on what color shoes to wear with a burgundy dress, you'll be enjoying beautiful maroon dresses, complete with matching shoes, in no time!