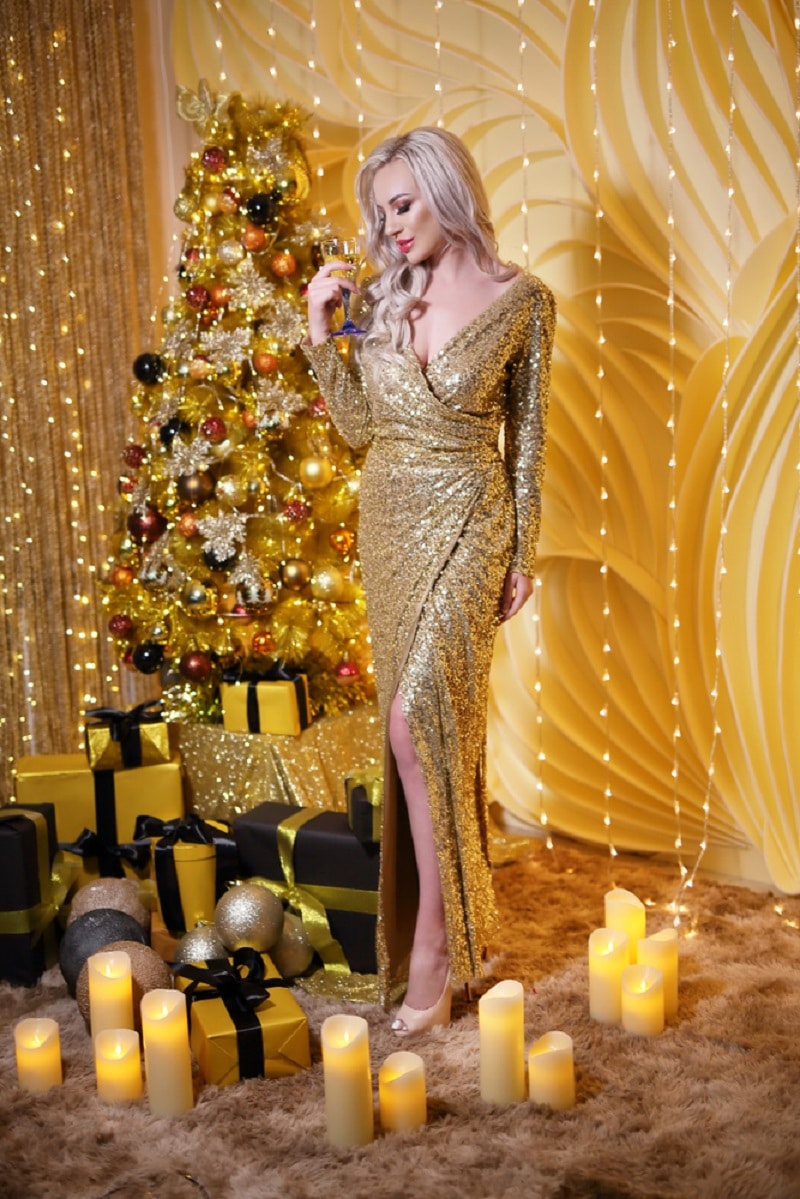 It's prom. It's a formal business dinner. It's a wedding. It's a prestigious ceremony. Whatever the situation is, you have a champagne dress and no idea which shoes to wear with it.
Luckily for you, you most likely have a pair of shoes in your closet right now that will look great with a champagne dress — both color and style of shoe. Keep reading to find the perfect outfit to impress people in any situation.
What Color Shoes to Wear with a Champagne Dress
There's some contention over what precisely a champagne-colored dress is. If you look up "champagne dress" on Google, you'll see a slightly darker beige to a lighter off-white to a simple tan dress. Some styles are matte, others metallic.
All these styles change what color shoes to wear with a champagne dress. Take stock of the dress you have in your possession right now. Some of the advice we give could change depending on the exact shade of champagne you have. For the most part, though, all the below colors will work with champagne.
Metallic Shoes
Metallic shoes are both eye-catching and simple. The glittering shoes catch the light while maintaining a neutral color. The metallic gray won't clash with the champagne color.
Since metallic is a bit sparklier than white or gray on their own, you can complete a beautiful look with minimal effort — the sparkly shoes do the work for you.
If you have a pair of metallic shoes in your closet, go ahead and break them out with your champagne dress. However, be wary if the dress itself is shiny, such as if it's made from satin. The two light-reflecting materials can overwhelm the viewer and lead to a tacky appearance.
What Types of Metallic Shoes to Wear?
Pumps
Pumps are a go-to for any formal occasion. They're elegant yet uncomplicated, allowing you to walk easily throughout the night in an upscale outfit.
Metallic pumps allow you to catch people's attention the way the light catches the shoe's reflection. You'll look put-together and high brow wearing metallic pumps with a champagne dress.
If your dress reaches the floor, you could get away with wearing metallic pumps with a satin or reflective dress, as it's unlikely people will see your shoes unless you sit down. However, it would be best to avoid the double-reflection and wear metallic pumps only with a matte dress.
Boots
If your dress is shorter, say going up between mid-calf and mid-thigh, you can wear boots with your dress. The boot's length depends on the length of your dress. You can pull off knee-high boots with a mid-calf dress, but it would look a little bit odd to wear knee-high boots, show a little bit of skin, then have the hem of your dress (unless that's your style).
Ankle-high boots or boots that go up to the mid-calf would be cute. However, for metallic boots specifically, limit the height to the ankle. Anything else would be an eyesore — and would look odd to wear at a formal event.
Flats
Metallic flats are stylish without gobbling up too much attention. Especially if you're tall, metallic flats will be a great way to complement your champagne dress while adding a little pop of color at the feet.
Flats tend to be more comfortable to wear for a long period than pumps or high heels. If comfort is your concern, you can't go wrong with a cute pair of metallic flats to wear with your champagne dress.
Gray Shoes
If you don't have metallic shoes and don't feel like renting or buying a pair, gray is the second-best option for you. Gray is like metallic shoes, except they don't reflect light. You can have all the benefits of wearing metal without as much attention landing on your feet.
Notice what shade of gray your shoes are. Light gray, bordering on white, looks better with a champagne dress than darker grays. If you have the option between the two, go for the light gray pair of shoes.
It's also more likely that you have a gray pair of shoes in your closet than metallic. You can bust them out for your champagne dress and call it a night — you'll be looking great in your gray shoes and champagne dress in no time.
What Types of Gray Shoes to Wear?
Flats
Flats are a classic, and you probably have a pair of gray flats. Light gray flats are a classic, chic look to complement a variety of outfits — particularly a champagne dress.
Gray flats are lowkey and simple. They don't clash with the tan champagne color, but they also don't look boring in comparison to the beautiful moment the champagne dress is giving you. They're the right balance of offering support without taking away too much attention.
Pump
Of course, you can't go wrong with a gray pump. Gray pumps are a classic, timeless look to wear with a champagne dress.
The heel of the pump elevates your height a few inches and makes your calves look great. Not only that, but their gray color will look incredible against the champagne dress. If you have a gray pair of pumps in your closet, whip them out for your champagne dress. You'll be sure to get envious looks throughout the night.
Oxford
A bit unexpected, but hear us out. Oxford shoes, or gray leather shoes in general, would look elegant and modern with a champagne dress. Suede would look particularly attractive, but you can opt for finished leather if you don't have suede lying around.
Oxford shoes are the exception to the "use lighter gray over darker gray" rule raised earlier. Most leather shoes will only be available in dark gray anyway, so you shouldn't search for light gray leather shoes unless you find an excellent deal on a pair.
A dark pair of suede or Oxford shoes will suffice with a champagne dress. The shoes will not only be more comfortable to wear but elevate your dress to a whole new look.
Gold Shoes
Gold is another good option for a champagne dress. Now, we can hear your rebuttals. "Gold shoes are tacky!" This can be true in some cases — you can probably come up with some examples in your head right now.
So, don't wear the examples of the shoes in your head right now, and you should be fine. For example, a low key pair of gold shoes like this one would be fine to wear with a champagne dress.
Gold shoes could be tacky and overpower the dress. But cultivating a refined eye could provide a tasteful look to your dress and add the right amount of color to the outfit.
What Types of Gold Shoes to Wear With a Champagne Dress?
High Heels
Gold high heels are not hard to come by. They can be found in most shoe stores — though they're not going to be the first thing you see on the shelf. Gold heels are a bit niche, so you'll have to go digging through the store's wares to find a pair. When you do, though, you're bound to find a good fit for your dress.
Unless they're flashy and attention-grabbing, gold high heels can tastefully accent a variety of outfits, such as white and black dresses, in addition to champagne ones. Bust out a pair to perfectly match your outfit.
Flats
Gold flats are perhaps a bit less ostentatious than gold high heels, but they'll get the point across nonetheless. The point? That you're fashionable and know how to complement a champagne dress.
Gold flats could stud the background of most shoe stores. Some women want them to take a simple outfit to the next level. Gold works with most skin tones, and the slightly metallic look to them adds an attractive sheen.
Again, be careful of wearing two reflective articles of clothing — the champagne dress and the gold shoes. But if your dress is matte, gold shoes add a pop of color without overpowering the gorgeous dress you're wearing.
Boot
Gold denotes money, power, and influence. Boots are strong and durable, so wearing a gold boot with your champagne dress screams sleek affluence.
The gold boots don't have to be flamboyant. You can get a lowkey boot if you want to have a low key vibe to your outfit. Boots can be ankle high or snake a little bit up the calf if you want to show off your fabulous boot more. Your boot could also look like a leather shoe or just a classic, stereotypical boot aesthetic.
Whatever you decide, boots are a great accessory to a champagne dress if the situation allows for it. Boots are a bit less formal than a pump, flat, or high heels, so use your discretion if you think you can get away with wearing gold boots with your champagne dress.
Sandals
If it's hot outside, you don't want to wear boots. Sandals are the way to go, and gold sandals, in particular, can excellently accompany a champagne dress.
Sandals are simple — they protect the soles of your feet while letting them breathe. Most sandals are open-toed, so you can show off the paint job on your nails if you went all out. If you have an outdoor event in the summer, you'll want to wear gold sandals to not only stay cool but look cool in your champagne dress.
Black Shoes
The classiest color that can accompany any dress, pants, shirt, or another garment. Black is a universal pairing. It can match a champagne dress fabulously — especially if the dress has black accents on it as well.
Black is perhaps one of the most common shoe colors you can find. You can find any style of shoe in black, meaning you most likely have a pair of black shoes in your wardrobe right now.
Black is elegant. Black is slimming. And when paired with a champagne dress, black is a beautifully complementary color for the gorgeous dress. Black may be down on this list, but black could be your number one choice if you're looking to bring a sophisticated fall look to your champagne dress as opposed to the lighter neutral colors above.
What Types of Black Shoes to Wear With a Champagne Dress?
Pumps
Every woman should have a black pair of pumps in their closet. Black pumps go with any outfit, and they'll go perfectly with a champagne dress. Not only are black pumps elegant to look at and timeless, but they can also match well with a black purse or earrings you might have as well.
If you have dark hair, all the better. Black is one of the most complementary colors you can wear.
Not only that, but black pumps give an adult look to an already elegant color of champagne. When people first look at your outfit, they'll see the tasteful dress matched with a classy pair of shoes.
Besides, since you most likely have a pair of black pumps from a previous function, the pair you own is most likely broken in. You can don your new champagne dress and wear a comfortable pair of shoes with ease. No need to buy and break in an uncomfortable pair of shoes.
If you're hoping to look the part — look beautiful while not standing out, black pumps are an excellent choice to wear with a champagne dress.
Leather Shoes
Black suede is elegant and slightly masculine. If you want a gracefully androgynous air to your outfit, you can pair your champagne dress with leather shoes.
You could go for finished leather in addition to suede, but the latter looks softer and more inviting than the former. Suede shoes would look better with a dress, as finished leather shoes could look a bit too masculine with a dress, clashing the look.
Take stock of what you have and the overall goal of your look.
Flats
Black flats are timely. They're sexy. They're universally wearable, meaning you can wear them with a red dress, a white one, black, or, of course, a champagne-colored dress.
Black flats, paired with a champagne dress, look put together and classy. It says, "I know I look good — I don't need to impress anyone else." Since they lack heels, flats can be worn by those who are self-conscious of their height.
Mature, sleek, and exuding class, black flats are the quintessential shoe to wear with a champagne dress.
Read Also: What Color Shoes to Wear with a Purple Dress
Shoe Colors Never to Wear with a Champagne Dress
Tan
Remember how we said there are various shades of champagne? There are also other shades tan. Champagne is a specific color, but its variations make it hard to dress for. You'll likely find a shade of tan that doesn't exactly match your champagne dress. The difference will be noticeable and look weird to the casual viewer.
Besides, even if you do manage to find the exact shade of tan to match your champagne dress, champagne doesn't look good in monochrome. The color-matched against itself looks bland and boring. It doesn't have the inviting allure of black or the purity of white. Tan against tan is acceptable, but you can do better than that.
Opt for black or even white shoes over tan ones to wear with your champagne dress.
Purple
Maybe you're trying to break those deep purple pumps out. You think the neutral color champagne could be their moment, but we've got some bad news for you.
Purple and champagne do not go together. At all. Perhaps you could get away with a dark, dark purple that inches close to black. But any lighter shade of purple clashes against the brownish tinge residing within champagne.
Purple and brown look bad together. Since champagne is essentially a lighter version of brown, keep your purple shoes away from it.
Orange
Orange is a warm, happy color. Champagne is subdued and broody. The two "vibes" from the colors alone mean they don't compliment each other. And there's not a shade of orange you can use to complement champagne. Whether light or dark, orange doesn't belong anywhere near your champagne dress.
Your orange shoes deserve a day in the sun. If you think that day also involves a champagne dress, think again.
Red
No. Just no. Red and champagne don't look good with each other. Red is energetic and seductive. Champagne is calm and profound. The two colors clash with each other. The eye will be drawn to the shoe rather than your dress, and you don't want people glancing at your dress when they talk to you.
Keep those red shoes ready for a black, white, or red dress — not a champagne one.
Champagne isn't a standard color to wear, which is a shame because it's so beautiful. If you're lucky enough to have a champagne dress in your closet, heed these tips to the fullest. You don't want to ruin an outfit by wearing the wrong color shoes.