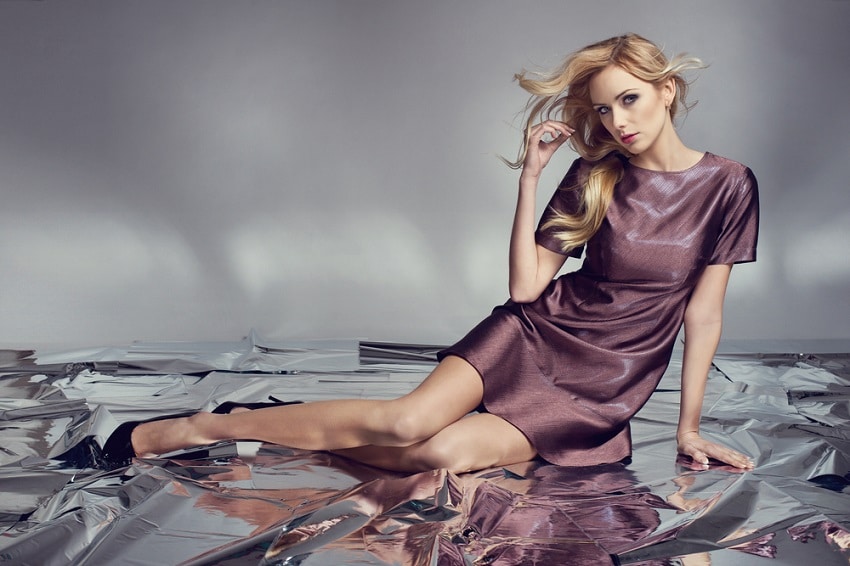 Purple has always been the color of royalty. The color has always been in style, and today is no exception to this rule. Purple dresses aren't as standard as black or white dresses, but when you do see them, they always look dashing!
However, the color purple, especially in a dress, can sometimes be tough to accessorize. This is especially true for the many hues and shades of purple, as a purple dress can range from plum to violet to periwinkle or anywhere in between. With just a few tips and tricks, though, you'll know what color shoes to wear with a purple dress, regardless of the color, shape, or occasion!
What Color Shoes to Wear with a Purple Dress
Black Shoes
If you're wondering what color shoes to wear with a purple dress, the most reliable color to pick, as usual, is black! Black shoes complement almost any color outfit, and purple is no exception. A pair of attractive black shoes will highlight the majestic nature of your purple dress regardless of the shade, cut, or fabric it's made of.
Black shoes are especially fit for formal settings, such as weddings and black-tie affairs. However, black shoes work very well in a professional environment, too. If you'd like to wear your favorite purple dress to work, then you can't get much more professional than a pair of black pumps.
While black shoes will work with just about any shade of purple, you may want to look for a lighter shoe color if you're wearing a casual lilac dress. A bright purple dress with a relaxed cut and summery fabric can be weighed down by black shoes, even if they do match.
Think of a short lilac dress made of lace, for example. If you're looking to wear this dress out during the day, you'd do well to dress it down with a pair of brown or white sandals instead. However, once your day is over, you can immediately turn up the formal factor of your dress by switching to black shoes instead!
Black shoes do exceptionally well with purple dresses when you also add a black accessory to the mix. A black leather jacket, dark charcoal scarf, or even a midnight belt around your waist can make the purple of your dress pop next to some dark shoes! However, be aware that this tends to be a bit of a wintry, gothic look, and it may not always be appropriate for summer.
Purple Shoes
Predictably, purple shoes can also go quite well with a purple dress, but you will need to know what shade of purple to wear with your dress before attempting to pull it off! When matching your shoes to your purple dress, you will end up in one of several scenarios:
Your shoes perfectly match the color of your dress
Your shoes are one or two shades off from your clothing, either in color or brightness
Your shoes are significantly lighter or darker than your dress, but still the same base color
Your shoes are the same color as your dress, but a different material
When your shoes and your clothing are the same color and material, generally, the pair will be safe to wear. You may want to avoid this combination in casual settings, as it can look a bit too "matchy-matchy" for a day out and about. However, as long as you add in another color to break things up, such as black pantyhose or silver bling, this combination usually works well.
If your shoes are only a shade or two off from your dress, don't wear them. This tends to look like you picked your boots in a hurry rather than looking intentional, and it can get in the way of your other accessory choices, as well. However, if your shoes tie into another color that's present on your dress, this is a different story – go ahead and wear them!
If your shoes are significantly lighter or darker than your dress, then you can usually wear them without issue. It depends on the style and formality of your clothing, but for the most part, dark purple shoes will work with a light purple dress, and vice versa. However, do keep in mind that dark shoes tend to formalize an outfit, while light shoes tend to make it more casual.
If your shoes are the same color but a different material than your dress, the decision to wear them is ultimately yours. If you're experimenting with a few different textures, you may be able to pull off this look. It also works well if you have a theme that can tie into your dress or other accessories, such as some silver bling. However, some materials are just too different to match each other well, especially under very formal circumstances.
Gold Shoes
Gold shoes are incredibly regal (and extremely flexible) color to wear with purple dresses. A good pair of gold shoes can work with just about any style and shade of the purple dress, especially if you know how to accessorize it properly. Purple dresses tend to complement most metallic shades, but gold is an exceptionally luxurious color to choose from.
The beauty of gold shoes with a purple dress is that, depending on the footwear, they can suit just about any occasion. There's a reason why gold and purple have both been traditional colors of royalty – they look incredibly dignified together!
Think about the different types of shoes that can come in gold. An open, strappy sandal, for example, is an excellent summer choice that would complement any cocktail dress from lilac to plum. However, a bling-covered gold pump, the more formal selection of the two, would turn up the appeal on just about any evening gown. Gold is an incredibly versatile metallic that will always bring out the color of your purple dress!
The secret to accessorizing with gold shoes is to know what style of shoe will best suit your occasion. While you can wear the gold pumps from above to a more casual setting, for example, they might border on too formal. Similarly, you could theoretically wear the same strappy sandals to a formal event, but they likely wouldn't do the evening dress justice.
Silver Shoes
Silver shoes are nearly as versatile combined with purple dresses as gold shoes are, and they make a beautiful complement to just about any shade of purple.
However, unlike gold, the secret to styling silver with purple is to pay attention to the tone of the silver itself. A darker, charcoal silver goes incredibly well with light purple dresses, while lighter, brighter silver shoes can turn up the brightness of a dark purple garment.
Generally, you'll see these types of silver shoes when you're looking to accessorize with them:
Dark, charcoal-silver shoes
Light, mirror-like silver shoes
Bling-covered silver shoes, complete with crystals or gemstones
"Clear" silver shoes (see-through)
The above is not a hard-and-fast rule; in fact, it defies the general rule of shoe formality, where dark shoes tend to be more formal than light ones. It depends on where you want to wear your dress, too.
While dark silver shoes tend to match best with lilac dresses, dark silver also tends to match very formal gowns, too, regardless of their shade. In the same way, light silver shoes tend to be less formal than a darker shoe, as most shoes tend to be.
Overall, you really can't go wrong with a good pair of silver shoes. Wearing a pair of silver shoes with a purple dress is almost always a safe bet – no need to even think about it!
White Shoes
White shoes can be an excellent complement for a purple dress, but be careful! White shoes generally only go well with light purple dresses, such as those in lilac or periwinkle. White shoes tend to stand out too much when worn with a dark purple outfit, and you should avoid this whenever possible.
You may be able to get away with wearing white shoes with a dark purple dress if both the clothing and the shoes have a lot of "bling." However, this is not a reliable method, and you shouldn't count on it as a way to make white shoes work with a dark purple dress!
White shoes are summery and light, and as such, they go well with other light, summery dresses. They can work with long skirts, but they tend to work best alongside short or high-low dresses. Dark purple dresses, in contrast, tend to be wintry and dark, and as such, they clash with the light, playful look of white shoes.
Brown Shoes
Depending on the style and color of the dress, brown shoes (or even boots) can add much to a purple outfit. However, whether or not brown shoes work depends heavily upon the dress itself and the shade of both the clothing and the shoes.
Firstly, brown shoes tend to be slightly informal. Seemingly contrary to this, though, they are very professional and work well in any workplace setting. Nude shoes, especially, go excellently with a purple dress worn to work.
In most other scenarios, though, you should only wear brown shoes or boots with somewhat informal purple dresses. Like silver shoes, the color of brown shoes tends to work inversely with the color of your purple dress; light brown shoes (but not too bright) tend to work well with dark outfits, while darker brown shoes work well with light dresses.
You can even wear a good pair of brown cowboy boots with an informal purple dress. However, you need to wear a flowy, summery dress to pull off this look!
Because brown shoes are so flexible, you will most likely be able to find something brown that matches your purple dress, even if not all brown shoes are appropriate for all purple dresses. Some of the varieties you'll come across while accessorizing are:
Brown high-heeled boots
Nude pumps
Cocoa sandals
Beige high heels
Red or Blue Shoes
Red shoes, or even shoes ranging from wine to rose, tend to go well with specific purple dresses. Blue shoes tend to follow the same rules. Just as with brown shoes, this heavily depends on the color and style of the dress itself, but these shoes should never be overlooked as an excellent alternative option to other colors of shoes.
The reason why blue and red shoes go so well with purple dresses is that purple is a combination of red and blue hues. As such, if your clothing tends to drift more to the red end of purple, red shoes will highlight this color, making it stand out. The same works with blue shoes; a good pair of blue heels will bring out the color in a blue-tinted purple dress.
However, while accessorizing these shoes the opposite way is possible, it is challenging. We don't advise trying it unless you feel very confident doing so. However, the general rule of thumb when mixing red-tinted shoes with a blue-tinted dress (or vice versa) is to make the boots darker than the dress itself.
For example, if you're wearing a bright, light periwinkle dress, you can get away with blood red shoes. However, if you're wearing a dark, wine-purple dress, your blue shoes should be dark – almost navy.
Yellow Shoes
If you're looking to make some bold choices with your purple dress, you can't go wrong with a bright pair of yellow shoes. If you've seen a color wheel before, you know that yellow is the complementary color for pure purple. As such, wearing a bright yellow shoe with a bold purple dress is a stunning and eye-catching move.
While this color choice won't be appropriate for all dresses and all environments, it tends to look universally stunning when you do it correctly. However, keep in mind that whether or not yellow will work with your dress depends on the hue of the dress itself.
Let's take a look back at the color wheel again. If your dress edges more towards blue, then it will work better with shoes that edge towards orange-yellow. If your dress drifts closer to pink or magenta, it will look better with lime green shoes instead.
In this way, pairing a dress color with its complementary-colored shoe is a universally-appreciated choice. However, do keep in mind that this also tends to be a bold choice. It may not be appropriate for some formal and black-tie events.
Read Also: What Shoes to Wear with Khakis
Other Dress Rules
When wearing a purple dress to any destination, you will need to keep in mind several things:
The fit of the dress
The length of the dress
The color of the dress
The material of the dress
Just as not all lengths and fits of dresses will be appropriate for all environments, not all colors and materials will be, either. Take the workplace, for example. For the most part, dresses that are on either end of the spectrum – either too formal or too playful – will not be appropriate for work. Many dresses that fall in the middle will be suitable to wear.
In the workplace, you will also want to avoid dresses that are very long or very short. Your workplace may have its own specific dress code rules, but generally, as long as your dress comes lower than the midpoint of your thigh, it is long enough to wear. However, if it goes past your ankles, it may not be short enough for the workplace. Any dress in between the two should be an appropriate length.
Another thing to keep in mind is the amount of skin that the dress reveals. While you don't need to be ultra-conservative in most workplaces, an outfit that exposes too much skin is also not appropriate. However, you can sometimes remedy this by pairing a low-cut or strapless dress with a blazer or shawl.
Some dress materials are not appropriate for work, either. However, it can be difficult to tell when the substance of a dress makes it inappropriate for a particular activity. This is because dresses can sometimes be made up of many materials and patterns. Lace, for example, tends to be a bit too playful for work, though small amounts of it are sometimes permissible.
In the same way, just as it's inappropriate to wear a sheer dress to a professional function, wearing a long and formal outfit to a cocktail party can come off as prudish or even snobby. Similarly, wearing a short dress to a black-tie event can come off as promiscuous or disrespectful.
On the whole, though, the rules for what color shoes to wear with a purple dress are not too hard to master. For the most part, purple dresses go best with neutral shades and colors, unless you're working with complementary or related colors. Purple is a color that can go reliably with several shades, but there are also some more challenging options to pick from if you want to get a bit adventurous!