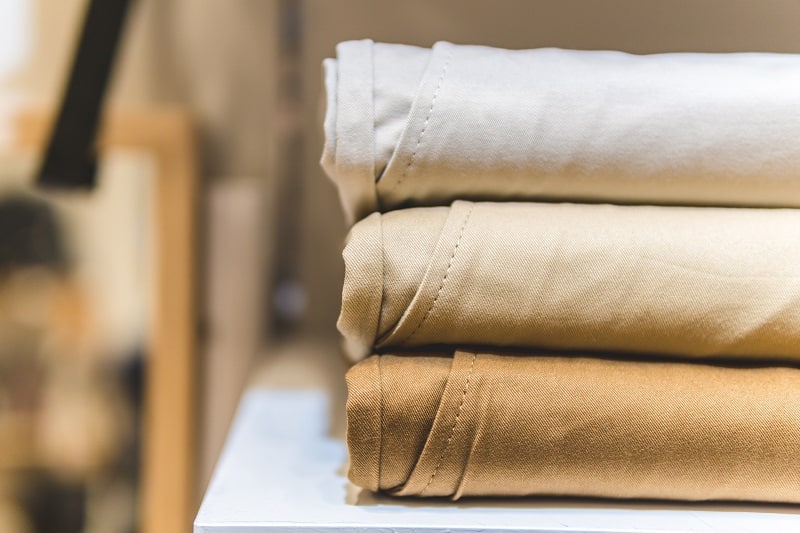 Khakis are a wardrobe staple for men and women. But there are so many different styles of khakis that you might wonder what shoes you should wear with them. Look no further; here's your comprehensive guide to what shoes to wear with khakis.
The Anatomy of Khakis
Khakis are semi-casual cotton pants that can be dressed up or down. They usually come in a tan tone, but the hues can range from white to dark brown. Khakis typically come in neutral, earthy shades, though. You might find them in army green, whiskey, or beige.
Nowadays, however, these pants can come in brighter colors, such as coral and turquoise. That's especially true for women's pants.
Some people use the terms khaki and chino interchangeably. Chinos are similar to khakis, although they tend to be made of thinner material and may be a little fancier. Chinos for women may be made of a cotton blend that has some stretch to it.
Clothing manufacturers construct khakis out of more substantial material, such as cotton twill. Khakis may also have a fuller cut that's more relaxed but also more casual.
Khakis can have a utilitarian or formal vibe. Their pockets are generally more pronounced than the pockets on chinos. They can also have flat or pleated fronts. Chinos typically have flat fronts.
Americans wear both styles of pants extensively. The styles are often more comfortable than dress pants. They are more versatile than jeans. Lots of people wear khakis to the office, casual weddings and date nights.
Both khakis and chinos originated in the military. British officers in colonial India wore khakis as their military uniform. The color was named for the Persian term for dust.
Rugged characters on television and in movies, such as Indiana Jones, continued to push the style as a hardy and resilient wardrobe choice for an active lifestyle.
Military men wore chinos in the Philippines during the Spanish-American War. They were produced in China, and the Spanish called them "chinos." To save money, manufacturers streamlined the patterns. They cut the legs narrow and avoided using pleats or pockets to conserve fabric. That's why today, chinos have a more streamlined fit.
In this article, we will use the term khaki for both chinos and khakis. We will let you know what shoes to wear with casual and more formal pant styles, though.
Can You Wear Black Shoes With Men's Khakis?
Most khakis range from light to medium tan. Because they're so light, some experts say that you should avoid wearing them with black shoes. The contrast can be stark, but it can also look dapper.
Other experts say that you can wear black shoes with khakis. In fact, the lighter the pants are, the darker the shoes can be. Still, most people generally agree that wearing black shoes with khakis is somewhat unconventional. Black shoes are typically designed to be worn with formal attire.
But many guys don't wear formal slacks very often. Khakis have become part of the American dress code, and they're not just reserved for preppy people.
If you're going to wear black shoes with your khakis, though, you should probably pull off a more formal look on top. Wearing a black blazer and belt can tie everything together. You can also pair black shoes and khakis with shades of charcoal and gray.
You might have to pull out your dress shoes if you're wearing khakis to a wedding or with a suit. In those cases, some of the more casual shoes that we refer to later on in this article won't work at all. Because khaki suit pants usually have shorter hems than traditional suit pants, you might want to avoid wearing socks.
Don't wear black shoes with khakis if the rest of your outfit is colorful. The cacophony that you create by wearing a green shirt with light khakis and black shoes can be chaotic. It's too much going on at once.
Your shoes should be the accent to your outfit. They shouldn't be the main course. Whatever you do, wear a black belt if you choose black shoes.
Can You Wear Brown Shoes With Men's Khakis?
A smart, brown leather shoe usually looks great with khakis. However, you should probably stay away from oxfords, which can be too formal. You can tell the difference between oxfords and other types of men's dress shoes because oxfords have closed lacing. That means that the sections of leather with the eyelets are attached under the vamp, the front part of the shoe.
This creates a sleek design that's ideal for wearing with formal clothing. However, you can be more casual with the shoes that you pair with your khakis.
A medium-brown dress shoe is an ideal partner to khaki pants, but you can choose just about any brown tone. Calfskin leather is a practical and fashionable option. Derby shoes are a perfect style to wear with khakis.
You might even choose shoes with some brogueing, the perforated design that may run along the shoe seams and flat leather uppers. Those are usually more casual than shoes with no decorations.
Brown suede is another good match for khaki pants. Just make sure that the hue of the shoes doesn't match the khakis exactly. Go for darker suede in brown or gray.
Brown and gray shoes are also perfect to wear with khakis if you have a navy shirt, blazer, or jacket. When you wear navy on top, you can also choose a pair of suede shoes in a slightly darker tone than your pants. This will draw attention to the top half of your body because your shoes will blend into the pants.
Can You Wear Boots With Men's Khakis?
Boots look great with men's khakis. If you're really dressing down, you can go for your favorite pair of work boots. But if you're attempting to look more stylish, choose a streamlined pair of boots, such as chukkas or Chelsea boots.
Chukkas are similar to desert boots. They're ankle-high suede shoes with rounded laces. They also originated in the military but are now a semi-casual look that you can easily pull off with these slacks.
Chelsea boots are more elevated than chukkas. They end a little higher at the ankle, and the calfskin leather makes them shiny and elegant.
If you do choose to wear boots with khakis, make sure that the pants have a streamlined fit. If the pants are too slouchy, they'll bunch up over the ankles and make you look frumpy. A skinny leg that ends just below the top of the boot makes you look stylish.
The khakis that you wear with boots are typically shorter than the ones that you would wear with other types of shoes. If you're the kind of guy who cuffs his pants, you might be able to turn the hem up once or twice when you wear khakis with boots.
What Shoes to Wear with Khakis for Women?
We've discussed many of the shoes that men can pair with khakis. If you're a woman, however, you might want to know how to style these versatile pants for your fashion sense. You're in luck. Women have even more options when it comes to what shoes to wear with khakis.
Honestly, most women can wear any of the men's shoes that we've already referenced in this article. Plus, we talk about more types of shoes to wear with khakis in the sections below.
However, some styles are specific to a feminine look. Take the woman's khaki suit, for example. That's an excellent option for the workday. It's softer than a black suit and is ideal for warmer weather. If you're wearing khaki all over, choose heels in the same tone for a streamlined appearance.
Nude heels can almost always be worn with khakis, regardless of what you wear on top. You can even take your look up a notch by wearing nude heels in a metallic fabric.
Do you want to look a little funkier? Consider wearing black heels and a graphic T-shirt.
If you are wearing heels with khakis, you'll need to choose the right style. The slouchier or wider the legs of your pants are, the chunkier the heels should be. Slimmer pants require a sleeker shoe.
Sling-back kitten heels with pointy toes look great with chinos. High-heeled ankle boots are perfect to wear with khakis in the winter. A classic set of rounded-toe pumps would also look great with these types of pants.
Loafers are a smart option for a business casual outfit. You can wear them with skinny khakis, no socks and a sleek sweater, blouse or blazer.
You have a lot of options if you want to go even more casual. For a bohemian look, consider wearing leather flip-flops or Birkenstock-style sandals. If you're preppy, you can wear white canvas sneakers, such as Keds or Vans. You can also pair ankle-height gladiator sandals with cropped chinos.
What if you don't want to be casual but don't want to wear heels? Flats are a great option to wear with khakis. They are perfect for cropped or ankle-length khakis. You should probably stay away from boot-cut or flare-leg khakis with flats. Those types of pants call for a chunkier shoe.
But you can choose just about any color or pattern. It's fun to have flats in a variety of styles and colors. Feel free to pair these with all of your khakis. If you do wear colored shoes, remember that they don't need to match your outfit exactly. Wearing floral flats with a striped shirt is a unique way to show off your personality.
As you move into the colder weather, you might want to know if you should wear tall boots with khakis. This look is decidedly equestrian. It can work with skinny khakis in the right setting. Pair it with a blazer or plaid shirt for a classic prep-school style, or choose a funky T-shirt if you don't want to look like you just went riding.
Read Also: What Shoes Do You Wear with Mom Jeans
Should You Wear Running Shoes With Khakis?
If you're in a very casual setting, you might wonder if you can wear sneakers or running shoes with khakis. Trainers and running shoes might be too casual to wear with khakis. We believe that most people should only wear those types of sneakers while they're exercising.
When you're aiming to enhance your style, choose a stylish sneaker. Skater shoes typically look great with khakis, and you can tweak them to look preppy or hip depending on your personality. Skater shoes are typically flat throughout the sole. They may or may not have laces.
Vans are a great option. These slip-on shoes come in a variety of colors and patterns. You can show off your flair by choosing an unexpected tone. While these shoes are casual, you can dress them up with the items that you wear on your top half. You can even get away with wearing white vans if you choose a white dress shirt to go with them.
Whether you're a woman or a man, you should use the following guidelines to choose sneakers to wear with your khakis:
Select a laid-back style
Retro shoes look excellent with khakis
Choose earth tones
Anything with European flair works well
Here's what you should avoid when pairing sneakers with khakis:
Velcro
High tops
Puffy styles
Big logos
Anything that's too busy or chaotic
What About Wearing Loafers and Moccasins With Khakis?
Men and women can wear loafers and moccasins with khakis. In fact, those matches seem like they were made in heaven. Loafers can replace just about any other shoe if you're trying to go for a laid-back look.
One of the best parts about wearing loafers with khakis is that you can dress them up or down. A plain-colored T-shirt looks just as great with them as a button-down shirt and blazer. If you want to look a little more put together, consider wearing loafers with tassels. The decoration pulls your sophistication up a notch.
Another benefit of wearing loafers is that you can go sockless. That makes them great shoes to pair with khakis in the summer.
The key to wearing this style is choosing khakis that are slim and stop above the ankle. You don't want your hems dragging on the ground.
A sleek way to wear loafers with chinos is to go with a solid color on top. Wear cognac loafers with dark charcoal khakis and a rusty-toned sweater. Lose the belt if you don't have one that matches the shoes. Another option is to go with chestnut shoes, light tan khakis, a dark brown belt, and a navy T-shirt.
If you don't like loafers, you can go the in-between route and wear boat shoes with khakis. The same rules go for this style. You can wear them without socks or a belt. Loafers, moccasins, and boat shoes are wonderful summer styles to pair with khakis.
Another type of slip-on shoe that's ideal for wearing with khakis is the espadrille. Both men and women can wear espadrilles, which are often made of canvas or cotton fabric.
Espadrilles have a toe cap and a piece of fabric that wraps around the heel. They come in a variety of colors and styles. They might have a straw or rubber sole. The straw sole might look better with shorts, while the rubber one pairs well with pants. Both men and women can wear espadrilles with khaki pants, capris, or shorts.
Read Also: What Shoes to Wear with Jeans
What Shoes to Wear With Khaki Shorts?
Khakis aren't always long pants. Many men and women wear khaki shorts in a variety of colors throughout the summer. Boat shoes work well whether your shorts are casual or chic.
Flip flops are fine to wear with khaki shorts too. If you need to dress them up, choose leather sandals that aren't frayed or too distressed. But if you're going to a cookout or the beach, don't hesitate to throw on a T-shirt and flip flops.
But what if you are wearing smart, tailored shorts? You may not be able to get away with flip flops. Leather slides can give you the freedom of sandals but add a sophisticated flair.
Sneakers can also do the trick as long as they're fashion styles instead of the kind that you would wear to the gym. You can also try loafers, moccasins, and espadrilles.
Black shoes look a little strange with khaki shorts. They're too formal for the summer look. Stick with shoes in shades of tan, brown, white, or navy. You can also wear sneakers in solid colors, such as green or red, depending on the style that you wear on top.
Khakis are casual, but they're vastly different than jeans. If you have a pair of these pants in your wardrobe, you have lots of options when it comes to the shoes that you wear. Ultimately, you have to feel comfortable in your shoes, though. Wear what makes you look and feel good at the same time.