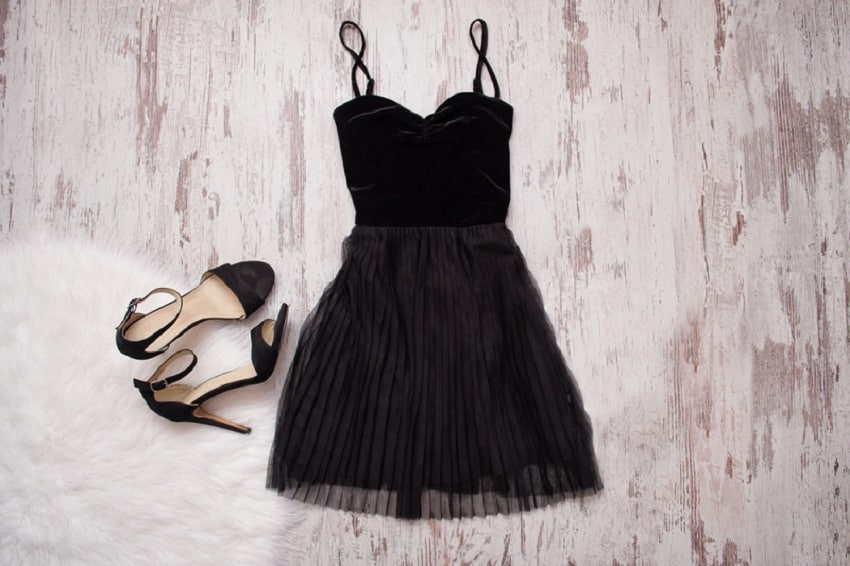 The little black dress has been and always will be a classic. Although you might think that black is dull, you can play up the style of this timeless outfit by swapping out your shoes. In fact, your footwear could make or break the outfit. If you're wondering what shoes to wear with a black dress, you have to consider the type of dress, the occasion, and your personality.
Glam It Up
One of the best ways to showcase your black dress is to pair it with black pumps. When you wear head-to-toe black, you exude an air of sophistication.
High-heel pumps are sexy because they elongate your legs. If your dress has delicate lines and thin straps, wear it with stilettos to create a feminine style. Shoes with pointy toes look streamlined and chic.
Rounded toe shoes are more sensible. Pair a rounded toe with a chunkier heel for a tasteful look that transitions from the office to the club. Classic pumps are also more conventional than stilettos. They're the ideal choice for meeting your boyfriend's parents or attending a corporate event.
Make a Statement
If you're wearing a simple black dress, you can go all out with the shoes. Don't shy away from footwear with plenty of embellishments.
One guideline to go by is this: the simpler your dress is, the more elaborate your shoes can be. When your dress has simple lines and few adornments, your shoes can be bold. Some options for statement shoes to wear with a black dress include:
Gladiator sandals
Strappy sandals
Shoes with glitter, bows or buckles
Patent leather pumps
Reptile-embossed pump
Velvet shoes
Warm weather and a mini dress call for shoes that make a statement. You could wear lace-up gladiator sandals to balance the proportions. Shoes that extend up your legs make the dress look more refined because you won't show as much skin.
Another way to perk up a black dress is with a brightly colored shoe. The brighter, the better! You can pair just about any primary color or jewel tone with a black dress if you want to be flashy.
For occasions that aren't so opulent, consider going with a darker version of a primary color, such as burgundy instead of red or rust instead of orange. You can also choose colorful pastels to tone down a black dress for an event such as Easter brunch or a baby shower.
Glittery shoes are easy to pair with a black dress. Plus, they grab attention and can start conversations. Don't be afraid to wear sparkly shoes in any hue with a black dress. Just try to stay fairly neutral with the rest of your accessories. This is a great way to show off your personality at a fancy evening party.
Have you ever seen lace pumps? These shoes are high heels with mesh lace that covers the top of your foot. The lace often goes up to the ankle and looks like a bootie. You can't wear these with tights or pantyhose. However, they deliver a classic and feminine look to bare legs.
Prints and Patterns
If your black dress doesn't have a pattern, you can wear any shoe design. Reptile and animal prints are ideal for wearing with black dresses. Leopard print has warm tones as well as black and will tie the style together. Crocodile and snakeskin have varying tones of gray and charcoal.
One of the best things about animal prints is that they're bold without being too bright. Most have a neutral color scheme that pairs well with your other accessories, such as your purse, coat, or jewelry.
What about floral shoes? Because black is so crisp, you might feel like it's not right to pair it with frilly flowers. However, like most shoes, florals work well with black dresses. Choose some in bright colors to punch up the outfit. If you're unsure, select shoes with flowers on a black background.
Read Also: What Color Shoes to Wear with a Green Dress
What Shoes to Wear With a Black Dress when Dressing Down
Although black dresses are some of the most glamorous, they can also be quite casual. You can even dress down a fancy dress with your choice of footwear. Don't be afraid to veer away from the style of the dress with your shoes. For example, even though chiffon is formal, it looks great with a pair of stylish sneakers. Here are some options for what shoes to wear to with a black dress to make it more casual.
Sneakers
Black dresses look great with sneakers. This is an aesthetic that contrasts different styles. Even the fanciest dress gets funky when it's paired with sneakers. But you need the right pair to pull off the look.
Running shoes aren't always made with style in mind. You probably shouldn't choose the sneakers that you wear to the gym for your black dress.
Fashion sneakers are the way to go. Here's a video about stylish ways to wear sneakers with skirts and dresses. Notice that white sneakers look great with dresses. Just make sure that they're not dirty or scuffed.
You can choose puffy athletic shoes if they're entirely white or have black worked into the design. These are often the right choice when the black dress is more casual or slouchy. White sneakers with black stripes or vice-versa add a touch of class without being too fussy.
But you can choose just about any fashion sneaker to wear with your black dress. The more masculine or playful the shoe is, the edgier your entire ensemble will be. Don't shy away from unexpected textures and colors. You're already wearing sneakers with a dress—show that you mean it by being brave about your style choices.
Sandals and Flip Flops
If you're kicking back in the summertime, you can wear casual sandals or flip flops with your black dress. Don't overthink it. Just throw the footwear on and head out the door.
Colorful plastic flip flops look cute with black dresses. So do bead-embellished sandals. A plain pair of leather sandals can go a long way toward creating a look that will take you from the beach to the boardwalk.
Wearing flip flops with a black dress makes you feel like you left home in your pajamas, but it looks a lot more put together. Slip dresses are ideal for wearing with flip flops.
Flats
Flats are ideal for wearing with a black dress. They come in so many colors and styles that you'll be sure to find several pairs that work with your dress.
Ballet flats are easy to slip on without socks or stockings. Just put your bare feet in them and head out the door. Loafers are casual but dress up the style a bit. Depending on the colors, you can wear loafers with or without tights.
Flats can easily go from day to night. Choose some with buckles, diamonds, or bows. When the sun is out, they will be casual enough to wear to the office. After dark, you can put on some bright lipstick to elevate the outfit without changing your shoes.
Neutral Shoes With a Black Dress
Black dresses pair easily with neutral shoes. That doesn't mean that you need to wear nude footwear. It just suggests that any neutral tone, such as beige, white, or gray, can pull the outfit together quickly.
You probably already have a pair of neutral shoes in your closet. It's not uncommon to wear black shoes with a black dress. That's a simple choice, and it will never steer you wrong.
However, you can add some personality by choosing a different shade. Metallics are an excellent option to punch up your look. If you usually wear silver jewelry, select metallic shoes in a cool shade, such as pewter. If you lean toward gold jewelry, wear gold shoes for a sophisticated appearance.
Another way to make your black dress pop is to pair it with stark white shoes. Doing this creates a contrast that adds a modern element to your outfit. Plus, white shoes match with just about everything you own. You will get a lot of wear out of white shoes.
Sleek, white booties with minimal ornamentation are classy and contemporary. White pumps or sandals also look great with a black dress. If you're going somewhere casual, you can even get away with wearing white sneakers. You might want to stay away from tall white boots if you don't want to look like a go-go dancer, though.
We mentioned that neutral shoes don't have to be nude in color. However, they can be. A shoe that matches your skin tone elongates the leg. Add platforms for even more leg-lengthening magic.
Nude shoes also look gorgeous if your black dress has nude embellishments or mesh cut-outs. If your dress is patterned with transparent lace, balance out the outfit with nude shoes.
Plus, nude shoes allow your dress to take center stage. Blush and champagne are two more great options to wear with a black dress. They soften the austere black and add a dose of femininity.
If your dress has sequins, glitter, embroidery or beading, consider wearing nude shoes. They'll blend into the background and allow your clothing to shine. Just don't wear tights or pantyhose with nude shoes. They look best with a bare leg.
Black and White Shoes
If black shoes seem too boring and white ones are too severe, what about wearing a black-and-white combo? Shoes with a checkerboard pattern will make you look stylish no matter what. You can even wear black soccer-style sneakers with white stripes along the sides.
This is a great time to pull out your mid-calf boots with a black-and-white plaid pattern. White loafers with black buckles would look great too. You could even wear a pair of wingtip shoes to bring a funky, masculine flair to the getup.
The bolder the pattern on your shoes is, the simpler the dress should be. You don't want your shoes to compete with the look. Make sure that you keep patterns and styles balanced between the top and the bottom of your outfit.
How to Wear Red Shoes With a Black Dress
Wearing black with a few pops of red is classy and daring. It shows that you're not afraid of fashion, but you pay attention to sophistication.
One of the easiest ways to wear red shoes with a black dress is to stay simple on top. You don't have to add any other accessories. However, a metallic or leather cuff bracelet would look excellent with a black dress and red shoes. A red clutch would also look divine. You could also rock a thin red belt around your waist.
Do you want to make your look even more intrepid? Wear red hose with the same color shoes. Just make sure that the dress is fairly simple if you go this route. You're already going to wow people; you don't have to wear an elaborate dress.
Can You Wear Boots With a Black Dress?
Boots of any length look great with a black dress. The most common options for boots include:
Ankle boots
Calf-height boots
Knee boots
Over-the-knee boots
Any of these can be worn with a bare leg or tights. Black boots look sleek with black tights and a black dress. The entire look is monochrome but incredibly elegant. Wearing opaque tights with tall black boots also makes the outfit more conventional and less sexy. You might be able to pull it off at the office.
If you want to be even funkier, look for boots with embellishments, such as fringe. Animal print boots are also perfect to wear with a black dress. Black patent leather can look chic, especially with black tights.
Do you have a long, flowy black dress? Boots would look perfect with your outfit. Taller boots are generally the most appropriate for long dresses. To avoid being encased in too much darkness, consider wearing boots in a different color, such as cognac, burgundy or gray. A long black dress with tall black boots may be too much.
Another option to wear with a long dress in the winter is the plush boot. Choose a bright or dark color. Light beige Ugg boots may be too casual for this look. However, depending on where you live and where you're going, you can even pull off this look.
Don't wear plush boots to a formal function or the office. However, you can totally wear them to brunch or a casual dinner date. These types of boots may not look good with a short dress, though.
Best Shoes to Wear With a Black Dress at the Office
A black dress is easy to wear to the office, especially if it has minimal adornment. Something that you can pair with a blazer is perfect for a business look. You might wonder what shoes to wear with it, though.
You should stay away from statement styles and over-the-knee boots. Sandals are acceptable in some, but not all, office environments. Stick with closed-toed shoes to be safe.
Some of the best options for office shoes with a black dress include:
Refined ankle boots
Pointed-toe flats
Low-heeled pumps
Loafers
Lace-up brogues or oxfords
Are There Any Shoes that Don't Look Good With a Black Dress?
If you believe that every shoe looks good with a black dress, you probably have a point. You can pull off just about anything with this women's wear essential.
However, you might want to be careful when pairing brown shoes with a black dress. It's not completely off-limits, but there are some guidelines that you should follow.
Brown shoes will typically make your look more casual. Therefore, you wouldn't want to wear them with cocktail attire, sequins, or embroidery.
However, brown leather delivers a bohemian vibe to your attire. If you want to look laid-back and bring out your inner hippie, go for it. Tall or slouchy brown boots work well with black dresses. So do brown sandals.
If you're not sure about wearing brown shoes with a black dress, choose a medium, warm brown. Cognac and whiskey tones won't clash with black. Brown shoes also look great if your black dress has embellishments in warm tones, such as red, burgundy, purple, or orange. Medium and dark brown shoes are excellent to wear in cooler weather.
Light beige can also work well in the summer. It will lighten up your look, but it isn't as stark as white.
Another type of shoe that doesn't always pair well with a black dress is the espadrille. However, sometimes, espadrilles are perfect. If you're going to wear this casual slip-on shoe with a black dress, choose one with a rubber sole. A straw espadrille may be too organic to pair with a black dress.
However, there are exceptions to every rule. Perhaps you have a summery sundress that's black with a beige pattern. That might be perfect with straw-soled espadrilles. So would a black linen dress.
When it comes to pairing shoes with a black dress, you have thousands of options. Most importantly, make sure that the shoes fit well and make you feel confident. Your self-assurance is the ultimate accessory.