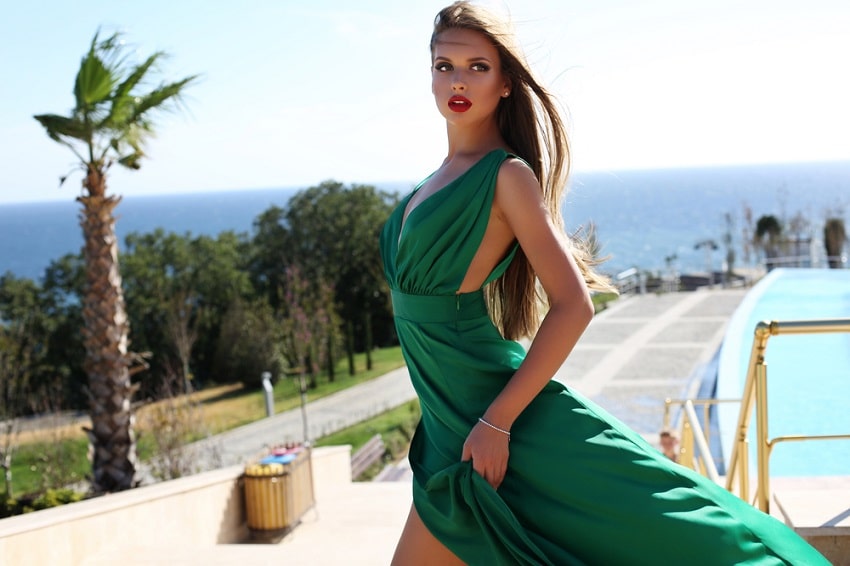 Little black dresses get lots of attention, but other colors can be just as perfect for many events. Wearing a green dress can get you noticed when everyone else is wearing basic neutrals. So you've found a green dress that looks great on you. What Color Shoes to Wear With a Green Dress? This guide will give you plenty of options for shoes to wear with all shades of green.
What Color Shoes to Wear with a Green Dress: Forest and Hunter Green
Forest and hunter green are dark and earthy. They're not as vivid as emerald. They can be almost as dark as black, making them elegant for a formal function. Depending on the style of the dress, you can wear a wide variety of shoe colors.
Black Shoes
Black shoes might be the most obvious choice to wear with dark green. They accentuate the depth of the color without contrasting too much. Black is always elegant. It's also appropriate for a black-tie affair. If you're heading somewhere formal and don't want to chance being underdressed, go with black in a pinch.
However, some of the other color shoes with a green dress that we describe below would also be suitable for a black-tie function.
Metallic Shoes
Metallics look great with green. Forest and hunter tend to have warm tones that look great with gold shoes and accessories. Gold is sunny and luxurious. It goes well with warm greens because it has an earthy appeal. As long as the style of the shoe is tasteful, gold can be worn to traditional functions.
Silver is a little cooler. It's a color that's associated with industry and machines. It's a little more modern and fresh than gold.
If you pair silver shoes with a dark green dress, you'll look chic and tasteful. But you'll also look like someone who doesn't follow every rule. Silver metallic shoes show off your playful, fun vibe and demonstrate that you're not at all stuffy.
Metallics range from glittery to subdued. You can find shoes that look like they've been doused in sparkles. Other metallic shoes have a subtle sheen. Those that are more toned-down are perfect for formal events. Save the louder textures for nights on the town.
Another way to wear metallic shoes with a dark green dress is to choose a champagne hue. It's more restrained than bright gold. It's classy. It can also take your forest or hunter dress into the warmer months of the year.
Ivory Shoes
For spring and summer shoes to wear with a dark green dress, consider slipping on a pair of ivory pumps, sandals, or sling-backs. Ivory isn't as stark as bright white. Therefore, it won't look shocking next to the dark green of the dress. However, it's a conservative, neutral tone that makes you look timeless. You could definitely pair ivory shoes with pearls.
Brown Shoes
If your dress is casual, a perfect color to pair with it would be brown. Leather shoes in any neutral shade look great with the down-to-earth color of a dark green dress. You could wear any style shoe, too.
Brown leather flats, moccasins or loafers are perfect for a preppy brunch or a weekend getaway. Sandals look great with dark green dresses in the summer. Get a strappy pair—the gladiator-style would stand out with a green dress.
Brown boots also complement dark green dresses. Dark brown would look spectacular, but beige and tan also work.
If you're wearing tights with a dark green dress, you might find that it's easier to stick with monochromatic black. Black boots and tights create a solid base for a dark green dress. You can also combine black boots with charcoal tights and dark green dresses.
But you can wear tights with brown boots. You might want to avoid black tights, though. Stick with warm hues, such as rust and ivory.
Animal Prints
While many people animal print shoes with black, brown, gold, and silver, these patterns are stylish with dark green dresses. You could wear a simple hunter-green frock with leopard-print pumps and look completely chic.
There's something about throwing on showy footwear with a simple outfit that makes you look mysterious. People will wonder how you stepped out the door looking so good without even thinking about it.
These shoes would be appropriate for going out to cocktails or wearing to a party. They aren't always the best choice for formal gatherings.
What Color Shoes to Wear with Emerald Green Dress
Emerald green is punchier than forest and hunter. Think of it as grass green. It's the typical shade that many people think of when they consider the color green.
Emerald is bright green. It is named after the gemstone and has plenty of blue in it. Therefore, it has cooler undertones than forest or hunter.
Gold and Silver Shoes
Whereas dark green dresses look flawless with gold shoes, you might have trouble finding the perfect golden tone for an emerald green dress. It can be done, especially if you load up on gold jewelry. However, silver shoes may be more complimentary.
Silver and emerald are a match made in heaven. The color of the shoes will reflect the tone of the dress, emitting an unparalleled vibrancy. Accessorize the outfit with silver jewelry and a matching clutch or purse.
Blue Shoes
You have many other options for shoes to wear with emerald green dresses, though. Shoes in blue shade work surprisingly well. You can go with any version of blue.
Navy can tone down the brightness of the dress and add a prep-school vibe. Cobalt is just as bold as the dress and can infuse your look with a playful quality. Royal blue is more toned down than cobalt but has the effect of drawing together colors that fall next to each other on the color wheel. Pairing blue shoes with a green dress is a great way to show off your personality without looking too flamboyant.
Brightly Colored Shoes
Depending on the situation and your style, you can pair just about any brightly colored shoe with an emerald green dress. Some of the best options are red, yellow, orange, and mauve. When you wear vivid colors together, you show that you're not afraid to take a risk. It's refreshing to see contrasting shoes with a green dress.
Black Shoes
If you prefer a more conservative look, you can always wear black shoes. The overall ambiance won't be somber because the green dress is lively enough to keep things fun. Therefore, consider wearing shoes that are just as spirited.
Look for black shoes with fun details. Patent leather looks stunning with emerald green. It's a classic way to look different than everyone else without worrying that you're dressing too funky.
Bows, buckles, and beads are excellent embellishments for black shoes. Make sure that the style of the shoe doesn't take attention away from the dress, though. If your dress has a lot of accents on it, choose a plain pair of pumps.
In most cases, though, emerald green dresses have simple, clean lines. Many designers realize that the color is the focal point and don't try to take away from it with unnecessary details. Therefore, you can usually pair an embellished pair of black shoes with an emerald green dress.
What Shoes to Wear with a Lime Green Dress
Lime green is one of the most dynamic shades of the color. If you're wearing a lime green dress, the chances are high that you want to be noticed. Lime green is refreshing, a little vintage, summery, and sprightly. It calls attention to itself.
In some cases, you don't want your shoes to taking people's eyes off of the dress. However, if your style is all about being bold, you can go ahead and make an ostentatious fashion decision by wearing extravagantly colored shoes.
Citrus Shoes
Pair another citrus shade with a lime green dress. Think about the color of the peel and flesh of an orange, grapefruit, or lemon. Any of these colors, including yellow, orange, and coral, would be perfect with a lime green dress. Lime green also pairs well with marine shades, like turquoise and aqua.
Patterned Shoes
Don't be afraid to combine a flashy color with a pattern. Anything from polka dots to stripes to florals would work well. The color and pattern will affect the total style.
If you want to appear playful, consider wearing striped or polka-dotted shoes. Graphic patterns also look funky with lime green. Seventies-style florals would add a retro vibe.
If you want to look more conservative, consider wearing pastels with a lime green dress. Soft florals tone down the style and could help your dress work for an Easter brunch. You might also consider wearing lace shoes with a lime green dress for a more classic feel.
Sneakers
You might have more shoe color options if the dress is casual. In that case, the sky is the limit. You could wear almost any color sneakers. White would look clean and young. Brightly-colored running shoes would even work with many lime green dresses (and we don't usually recommend wearing running shoes as a fashion statement).
Gray Shoes
Gray sneakers would look great with a lime green casual dress. Canvas slip-on or lace-up shoes in a range of charcoal shades are neutral and casual enough to wear every day. They're easy to pull on with a lime green dress because gray goes with everything.
Sandals
In the summer, lime green dresses call for flip flops or sandals. You can wear white, ivory, or brown leather sandals. Espadrilles also look excellent with lime green dresses. They give off that vacation feels that looks airy and laid-back, just like your dress.
What Color Shoes with Seafoam Green Dress
Seafoam green is a popular color for bridesmaid dresses. But finding the perfect shoes to pair with it can be challenging. Seafoam green is a pastel hue that has some aqua in it. It's a medium-range tone that's fairly versatile when it comes to finding the perfect shoe color.
Nude Shoes
In recent years, many people have been pairing nude shoes with seafoam green. Nude is a safe option whenever you're looking for the perfect footwear. It matches your skin tone and goes with just about any dress color.
Nude shoes disappear into the background and don't compete with the shade of the dress. Plus, nude is just as soft of color as seafoam. Therefore, it gives off a delicate air.
One of the challenges that you might run into when pairing nude shoes with a seafoam green dress is that everything becomes too soft. Too many pastels can make you look juvenile. Nude is light enough without being too gentle. It's even a little sexy and can prevent you from looking too sweet in your seafoam green dress.
But if you want to take the nude up a notch, choose a tone that has some pink in it. A blush-colored shoe would be ideal with a seafoam green dress as long as it's not too peachy.
Metallic Shoes
Many people choose metallic shoes with seafoam green dresses. Silver is probably more expected because the color ranges on the cool side. However, gold and champagne are perfectly acceptable.
In the warmer months of the year, white shoes are perfect with seafoam green dresses. Because the hue of the dress is so gentle, it doesn't contrast starkly with white shoes. Don't be afraid to wear black with seafoam green either, though. The contrast looks sharp and can prevent a washed-out look.
Purple and Patterned Shoes
If you're worried that the soft color of the dress is too subdued for you, get wild with your shoes. Purplish mauves and some blues go well with seafoam green dresses. Patterns can also work nicely. A gorgeous, floral shoe would bring a seafoam green dress to a whole new level.
Gray Shoes
Gray is also a lovely way to combine a neutral shoe with a seafoam green dress. Many shades of seafoam have some gray in them. Therefore, pairing them with this tone of the shoe makes sense. Choose a shade of gray that's slightly darker than the dress for a put-together look that works well for just about any occasion.
Read Also: What Color Shoes to Wear with an Orange Dress
Holiday Styles
Green is a popular color for holiday dresses. If you're trying to be festive, you can try out some unique shoe options.
Christmas might be the only time of year that it's appropriate to wear red heels with a green dress. You'll look like a Christmas tree, but that might be the point.
Otherwise, gold and silver are wonderful options. They're reminiscent of tinsel and will make any green dress festive for the holidays.
You might also consider wearing fuzzy boots with a green dress in the winter. You could opt for black or brown shiny boots with a furry lining. Another way to wear boots with a dress for the holidays is to choose ankle boots.
Ankle boots in black, brown, silver, gold, or white work well with green dresses for the holidays. You might want to stay away from red unless you want to look like an elf.
Patent leather is perfect for wintertime. It dresses up a holiday outfit and adds an element of pizzazz to your dress.
What If Your Green Dress Has a Pattern?
If your dress has a pattern, you might want to steer clear of patterned shoes. However, that's not always the case. There are so many different dress designs that it's difficult to provide a guideline that works across the board. Mixing simple patterns is an easy way to get creative with your footwear.
Still, you might be nervous about whether your patterned shoes go with your decorative green dress. If you're not sure, you might want to stick with solid color shoes.
Don't worry about choosing a footwear color that matches a hue on the dress. You don't need to look as though you picked out your shoes using paint swatches.
In many cases, neutral shoes are the best to wear with patterned dresses. Nude and brown shoes work well when your dress has earthy tones in it. Metallics are easy to pair with patterns. White and black are other great options that shouldn't detract from the detailing on the dress.
When your dress is busy, consider keeping the shoe style clean. Strappy sandals might be too much with a dress that's covered in an intricate design. You might want to choose simple sandals or pumps instead.
The same goes for embellishments. If your dress is beaded, choosing shoes with glitter, beading, embroidery, or other decorations might be overkill. Opt for satin or another sleek material instead.
Some people say that the shoes make the outfit. When you're wearing a green dress, you might not want people to pay attention to your shoes, though. A bold outfit should stand on its own. Still, you should put on footwear that accentuates the color and style of your dress. Ultimately, as long as you feel confident in the shoes, they're probably perfect for you.