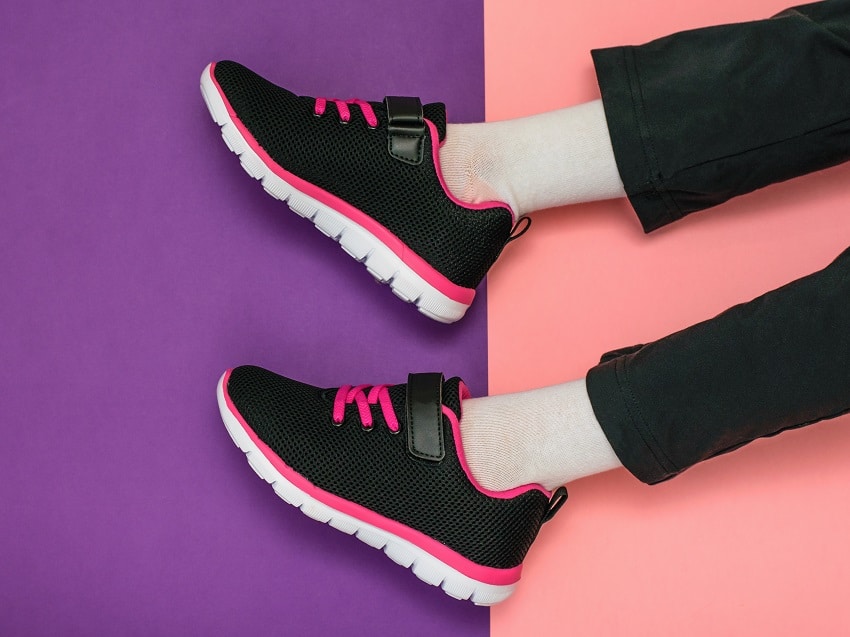 Sweatpants aren't an overly formal type of clothing. However, if you're looking to make an outfit out of them for any reason, it pays to know what shoes to wear with sweatpants. Unless you had a particular purpose in mind, after all, you would never wear dress shoes with sweatpants, for example.
In this guide, we'll go over what shoes to wear with sweatpants (and why they go together), sweatpants styling tips, and other tricks that will change your understanding of sweatpants forever.
Sure, they're widely regarded as an ultra-casual, goes-with-anything option, but that doesn't mean sweatpants don't have their own styling rules to follow!
Wearing Sweatpants as an Outfit
First of all, it's essential to understand that, while most people keep sweatpants to wear with their workout clothing, as pajamas or loungewear, or to the airport, they can be used as a part of an outfit, too. They can even look good while doing so! While it might feel like a foreign concept to planning a pair of sweatpants as your trousers for the day, it's not quite as out-there as you might think.
The first thing you need to differentiate before you can know what shoes to wear with sweatpants is gender. If you prefer to follow women's style rules, you will be wearing different shoes than men's style rules would call for, for example. The rest of the outfit changes dramatically, too, of course!
If you don't align with the men's or women's rules, you can always mix and match standards between the two, as well. Just be aware that doing so may throw others off slightly. However, the rules for looking good in sweatpants are very forgiving, so don't be afraid to get a bit creative!
The next thing you must do before turning your sweatpants into an outfit is to pick out a pair of well-fitting, high-quality sweatpants.
Sweats that are too loose or egregiously large will always look messy, regardless of how you style them, so it's essential to dress with pairs that fit you properly. This goes for both men and women. Avoid those oversized, grey cotton sweatpants whenever possible, too!
We realize that wearing well-fitting sweatpants defeats the purpose of sweatpants slightly. You were probably thinking, "I can turn my favorite sweatpants into a cute outfit and feel comfortable all day."
While this is possible if you own the right pair, not every pair of well-loved sweatpants (especially if they're covered in paint, full of holes, or threadbare at the heels) is appropriate for real fashion.
That being said, sweatpants are not meant to fit like leggings! Even if your oversized sweatpants are more comfortable, a smart, well-designed outfit featuring well-fitting sweatpants will be more comfortable than just about anything else.
The last and most important thing you must take into account is that sweatpants are not appropriate for every venue. No matter how you accessorize them or dress them up and down, sweatpants are not slacks, and they are not jeans, either. Some places and events will be too formal or too professional for sweatpants.
For the most part, you will want to stick to wearing your favorite sweats-centric outfits in situations like:
Shopping
During travel
Outside on a fresh fall or spring day
To the gym
Around the house
Running errands
That being said, sweatpants come in hundreds of different styles and types, and celebrities on the red carpet have continually surprised us by wearing sweats in new and exciting ways. If you get creative, you can find sweatpants or sweatsuits for just about any occasion!
What Shoes to Wear with Sweatpants
Sweatpants come in hundreds of different styles, looks, and formality levels. There are even styles called dressy sweatpants, for example, which seems a bit like an oxymoron! However, sweatpants are starting to become a pervasive part of culture and outfits, even in unexpected places.
As long as you're careful of the boundaries between casual and too casual that are unique to your environment, you should feel safe creating an outfit out of sweatpants!
Naturally, the shoes you wear with your sweatpants follow the same rules, too. Formal shoes are more appropriate for dressier settings, while lounge shoes and everyday shoes are more appropriate for wearing out and about.
As we said above, the first thing you need to do is build your sweatpants-centric outfit and determine how formal it is. If you're wearing a custom tracksuit, for example, it may be appropriate to wear heels with it. Tracksuits are seeing a resurgence among consumers, especially on the athletic-loungewear scene.
In general, the shoes that you wear with your sweatpants all depends on the rest of your outfit. Alone, sweatpants can go with virtually any casual shoe, but what works beyond that is entirely up to you!
However, do keep in mind that sweatpants are generally a cool-weather article of clothing, so they may not always be appropriate for summertime.
When you're styling sweatpants, don't stop with your shoes, either. Since sweatpants tend to be rather versatile and straightforward, an outfit built around them lives and dies by the accessories you pair it with. Think things like:
Hats
Sweaters
Jackets
Purses and bags
Sunglasses
Scarves
Chunky Sneakers with Sweatpants
We all own a pair of large, bulky walking or running shoes that we use for various activities. Maybe we wear them to the gym, or perhaps they're our favorite shoes for walking the dog.
Maybe they're your favorite pair of shoes to wear grocery shopping. Whatever the case may be, you've probably worn these shoes with sweatpants before, but not with the intention of turning them into an outfit!
Sweats with chunky tennis shoes are all about comfort! When done correctly, this outfit gives a general feeling of defiance, comfort, and indifference that many people like.
By wearing these tennis shoes with a pair of loose-legged sweatpants, you might look ready to cuddle up with a cup of coffee at the nearest café. Alternatively, a pair of straight-legged sweats with cuffs might make you look like you're ready for a brisk walk in the fall air.
Accessorize your outfit with winter and fall hats, sunglasses for sunny days, and warm sweatshirts and hoodies. Chunky tennis shoes and sneakers are excellent for full sweatsuits and tracksuits, too, especially if you plan to wear them to the gym.
Read Also: What to Wear with Gray Shoes
Slip-On Sneakers with Sweatpants
While slip-on sneakers serve a similar function to the chunky tennis shoes we used above; they create a much different look! Slip-ons give much more of a comfortable loungewear vibe than lace-up tennis shoes do, so your outfits should follow suit. Matching sweatshirts and sweatpants, for example, make an excellent pairing for slip-ons, especially if you plan to take a nap on an airplane!
Slip-on sneakers are a classic and timeless look, and they're about as comfortable as your favorite pair of sweatpants, too! However, do keep in mind that slip-ons aren't very appropriate for exercise, so it's best to wear them for lounging purposes only. If you're planning to go shopping, run errands, or go to the gym, a more secure shoe is likely in order.
That being said, one of the foremost redeeming qualities of slip-on sneakers is their versatile styling options. These shoes come in hundreds of different styles, colors, and material finishes, and a cute pair of slip-ons can jazz up even a basic sweatsuit. Chunky tennis shoes, on the other hand, tend to be relatively limited in style terms.
Some ideas for off-the-wall slip-ons you might want to add to your sweatpants-friendly arsenal are:
Chuck Taylors (not slip-ons, but these have the same silhouette and general "feel")
Nurse shoes
Patterned sneakers, such as checkerboard sneakers
Mesh slip-ons used for gentle exercise
Because of the way slip-ons are finished with just one piece of upper fabric, they're incredibly versatile when it comes to color, design, and even material. Don't be afraid to get creative with your slip-on collection, as they make great partners for sweatpants!
High Heels with Sweatpants
Heels with sweatpants is an undeniably daring look. You have to have a robust and unique sense of style to be able to pull this look off, but it's not impossible, especially if you know just what types of sweatpants to wear!
As we said earlier, one option that's seen a resurgence as a popular pairing with high heels is luxury tracksuits, especially name brands. Since these suits can be expensive, even though they're meant for exercise, they have become associated with wealth and affluence in certain circles. As such, the luxury of a high-heeled shoe can work surprisingly well with them!
Keep in mind that it can sometimes be challenging to reconcile the airiness of a high-heeled shoe with the warmth of a tracksuit. You can't exactly wear socks with most high-heels, and tracksuits generally taper to a cuff at the ankle, which can make the transition between pant and shoe a bit sloppy.
However, if you don't feel confident wearing a pair of high-heeled pumps with your luxury tracksuit yet, think about investing in a pair of wedge-heeled sneakers instead! These shoes are a combination of high heels and casual sneakers, and the effect is somewhere between formal and sassy. These shoes, while relatively uncommon, make an excellent pairing for tracksuits and sweatsuits alike.
Flip Flops with Sweatpants
While wearing flip flops with sweatpants creates a bit of a confusing weather dichotomy, it's a look that has exemplified effortlessness and relaxation for years. You can't get much more vacation-friendly than a pair of lightweight, cuffed sweatpants with your favorite flip flop sandals. This style works for both men and women, too!
While this style is excellent for vacations and the like, it tends to be a bit too casual for much else. Flip flops have always inspired thoughts of "beach bums," and that's still true today, regardless of whether they're paired with sweatpants or not! Depending on where you live and what time of year it is, this outfit may or may not be appropriate, so keep this in mind before wearing it.
For example, it goes without saying that flip flops are mostly inappropriate for colder seasons. This is why flip flops and sweatpants can create a confusing look together: while sweatpants are great for colder seasons, a pair of flip flops will leave your toes feeling chilly and unprotected! However, as long as you're comfortable with the temperature difference, no one can stop you from rocking this casual look!
Read Also: What Shoes to Wear With Jogger Pants
Dressy Sweatpants
Dressy sweatpants are an entirely different monster when it comes to styling. Dressy sweatpants are a relatively new concept, and they tend to be lightly structured, legging-like, or slightly loose pants that aren't quite what most of us would define as a "sweatpant," but end up called sweatpants nonetheless.
Dressy or smart sweatpants are a bit of a novel concept for women, but they've been around for men for some time. As long as your sweatpants fit well and aren't made from that iconic grey cotton, they can be turned dressy relatively easily.
For a men's dressy sweatpants, look for something a bit more structured than your typical lounge pants. Sometimes, this includes pockets, decorative folds, belt loops, or even buttons. However, these extra features are not required.
The meat of the matter is that "dressy sweatpants" don't tend to fit like sweatpants; they imitate classier pants and create the façade of dressiness. Whether you can pull off the look or not all depends on the way they fit, what accessories you choose, and what shoes you wear them with.
Naturally, dressy sweatpants tend to shine when you wear them with slightly more formal shoes. Some examples of formal shoes to consider include:
Loafers
Booties
High heels
Lace-ups
Accessorizing Sweatpants
While shoes are an essential part of turning sweatpants into a respectable outfit, they're not the only thing you should be looking at, either. The other accessories you add to your sweatpants will make or break the look of the outfit, so make sure to choose them carefully!
Hats
Hats are an excellent addition to a sweatpants-centric outfit, especially since hats tend to go along with colder weather, just as sweatpants do. However, winter caps aren't the only hat options out there, let alone the only ones that go with a good pair of sweats. Some other hats you can accessorize with, especially in warmer seasons, include:
Baseball caps
Fedoras
Wide-brimmed sun hats
Beanies
While sunglasses aren't necessarily a type of hat, they can be used to accessorize an outfit in much the same way.
Jackets
Since sweatpants are a clothing solution meant to keep you warm, it goes without saying that they pair well with jackets and sweaters. If you can do so, wearing a pair of sweatpants with a matching hoodie or sweatshirt can be an excellent choice. However, if this isn't possible, jackets, pullovers, and even shawls can make excellent substitutes.
If you're looking to make your outfit a bit more warm-weather appropriate, choose a mid-length sweatpant that you can pair with a light sweater. The possibilities for sweatpants and sweater combinations are endless!
Shirts
Of course, any outfit requires a shirt, and outfits featuring sweatpants are no exception. However, don't default to white t-shirts or tank tops when wearing sweatpants, either! A good pair of sweatpants has limitless outfit potential, and wearing a white t-shirt with them limits you to casual loungewear unnecessarily.
Instead, treat your sweatpants like casual legwear instead of at-home loungewear. This simple mental exercise is enough to open new styling options up before you. Before you know it, you'll be seeing newer and better ways to build sweatpant outfits!
High and Low Fashion
Believe it or not, there is a term in the fashion world that describes the trend of turning sweatpants into respectable outfits. This term is called "high and low fashion." High and low fashion involves adding a low-fashion item into a set of otherwise high-fashion articles, or vice versa.
In the case of sweatpants, this could mean adding a dressy-looking pair of sweatpants to a formal outfit, or it could mean adding dressy high heels to an otherwise-casual tracksuit, for example.
Today, high-low fashion has made an especially strong comeback due to resurging interest in thrift shopping, donating, and reusing, especially with clothing. Young people and older people alike love to keep an eye out for budget-friendly outfit makers, and sweatpants are an excellent example of this!
Sweatpants, on the whole, were never really intended to be worn outside of lounge or exercise wear. However, that's how many of history's most radical fashion movements were started!
Wearing something unexpected with something else unexpected is the best way to change up your style and set trends, all while feeling good about yourself at the same time.
However, the next time you wear sweatpants, make sure to remember what shoes go best with them! While sweatpants can be made to match most any pair of shoes, don't forget that your other accessories will make or break the rest of your high-low outfit.