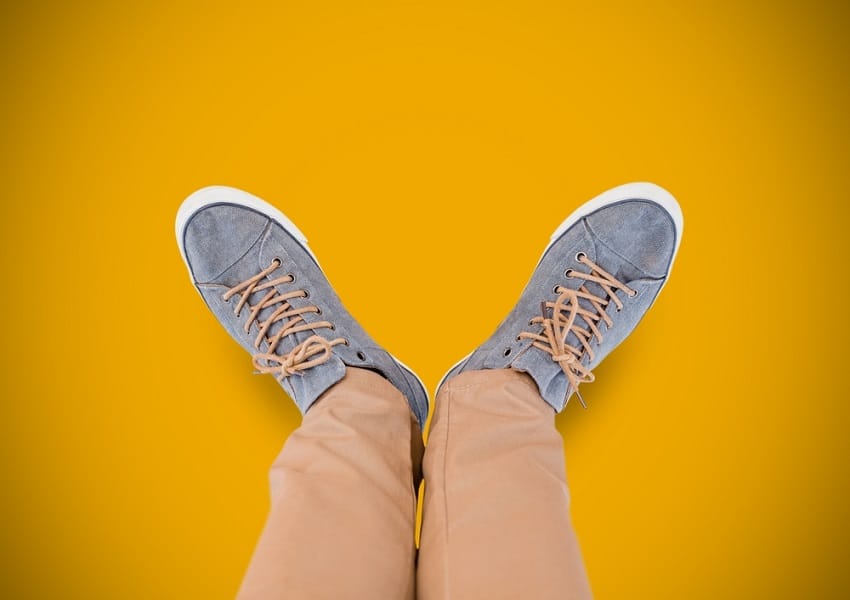 There has always been a bit of a grey area when it comes to grey shoes. Because there are so many different styles of shoes that come in grey shades, it's a hard topic to avoid. That's why we think it's essential to address this topic now. You might be at a confusing loss for what looks good with your grey kicks.
Whether you're a man or a woman and we're discussing dress shoes or casual wear, we're going to hit all the major areas of shoes and figure out what looks best when it comes to the color grey.
Starting with men's fashion, let's dive into what to wear with grey shoes.
What to Wear with Grey Shoes for Men
Men's fashion is an interesting topic sometimes because your average male doesn't seem to be too involved in the fashion industry. However, some men care deeply about how they look – and much of that comes from what they wear.
Grey shoes, depending on the context, can be a bold choice in some cases, so we're going to tell you how to wear them and what to wear with them.
Formal Wear
When men dress formally, it's usually for an important event like a wedding, a funeral, or a ceremony. You may have also noticed that professionals tend to dress formally for things like red carpets and charity events.
In these cases, the general look for a man is a tux or a very nice suit, in which case, you'll find black dress shoes on their feet.
But who says that black is all you can wear?
In recent years, wedding parties have gotten very creative with things like footwear for the wedding party. This may be a case when you find that grey dress shoes are highly appropriate and fashionable.
Grey dress shoes are undoubtedly appropriate for formal occasions. Tuxes and suits come in a variety of colors, from the classic black to grey, navy, and brown. With the right pair of luxury grey dress shoes, you could easily pull them off with a black, grey, or navy suit for an exclusive and formal occasion.
Professional Wear
While there are formal outfits that will go well with grey dress shoes, professional wear tends to be the most popular category for this color shoe.
Professional wear is so much broader than it used to be. While your dad or your grandfather likely wore a suit to his office every day, your work environment today may be more casual or lenient in terms of its dress code.
A great look in the professional world is a suit – no doubt about that. It will always be classy, professional, and appropriate for office settings and professional events like business meetings, conferences, and office parties.
With individual styles and colors of suits, you can certainly wear a grey dress shoe. Grey dress pants go well with grey dress shoes. You can complete this outfit with a grey jacket, or you can stick to a dress shirt. The white dress shirt with grey dress pants will never go out of style, but don't be afraid to add a pop of color like a purple or blue shirt to compliment the grey shoes.
Even khakis can look beautiful with grey dress shoes if done tastefully. Perhaps you shouldn't rock your grey shoes with khakis and a brown sweater, but a nice grey sweater with a collared shirt underneath would look awesome with your grey shoes.
In the professional world, dress shoes are no longer the only type of shoe considered appropriate for the office environment. Many business people like the comfortable yet luxurious style of a loafer.
Though some loafers can look a lot like slippers, there are many styles that are made for professional and even formal atmospheres. A quality pair of grey loafers could have a handsome heel along with a classy buckle. You can easily wear a pair of grey loafers with dress pants, khakis, or even nice jeans.
Jeans tend to bridge the gap between the professional world and the casual world. Once upon a time, jeans in the office seemed barbaric. Nowadays, many professionals are rocking jeans – albeit very nice, quality jeans – to business lunches and strategy meetings.
Jeans are great because they go with tons of different styles of shoes – and they all match with the color grey. That being said, go ahead and wear your grey dress shoes, loafers, and more with a pair of jeans to impress your clients with your casual yet stylish and put-together look during your lunch outing.
Casual Wear
When it comes to casual wear for men, there's a fine line between wearing something to run out to the hardware store and grabbing a meal with a buddy. In this area, we run into a lot of different personal choices and ideas of style.
For example, a man who cares about their appearance might still prefer to look nice in a casual setting. A man invested in his style is the kind of guy who could grab a pair of grey dress shoes and pair them with their favorite pair of jeans and an old yet still crisp button-down shirt. Maybe he'll also roll up his shirt sleeves to give himself a more casual appearance.
On the other end of the spectrum, you have guys that, outside of the workplace or a formal event, will happily wear sweatpants and sneakers everywhere they go. To these men, comfort is everything – and that's perfectly fine when appropriate.
Just know that you can certainly wear your grey sneakers with a beat-up pair of jeans or even a super comfy and casual pair of grey or black sweatpants.
Colors
Grey can be a very low-key kind of color, or it can have a shocking and attention-grabbing effect on an outfit. The result is up to you and what you want people to see, and it's all about the colors that you pair it with.
As we mentioned earlier, grey suits are very classy and professional and have even become a popular choice for wedding parties to wear. However, you can do a lot with a grey suit color-wise to make a statement.
In cases of grey shoes, the same kind of logic stands. Your grey shoes will look great with a grey pair of pants and a white shirt with a grey jacket. But there are some vibrant colors that many stylish men love to pair with their grey shoes to showcase their personality.
Try pairing your grey shoes with shirts in electric blue, orange, green, light pink, bright red, and even yellow. These combinations work even better when you pair a brighter shade of the color with a darker grey shoe. Add in a grey pair of suit pants, and you have yourself a bold yet professional look that shows off your fun personality and love of men's fashion.
Grey works well with these colors because of the stark contrast it provides. Dark on dark looks will never go out of style, but if you're looking for something new and eye-catching, a grey shoe with a colored shirt will do the trick for sure.
Read Also: What Color Belt to Wear with Grey Shoes
What to Wear with Grey Shoes for Women
Men's fashion is definitely legitimate, and there are all kinds of styles and outfits being innovated every day. However, women's fashion always tends to be a broader market with more style options, patterns, designs, shapes, and sizes.
This is especially true when it comes to shoes.
If you know any generally true statement about women, it's that we love our shoes. Whether we are fashionistas with a million pairs of pumps and high heels or extreme athletes with a pair of sneakers in every color, shoes matter to us.
And although we differ from men in many ways in the fashion world, one thing remains the same: we have the same trouble as they do when it comes to grey footwear.
You'll find many color staples in a woman's closet. Many females will have a pair of black heels and probably a pair of nude heels. You will also likely find a pair of flats and a pair of wedges.
But the one thing you might not find is grey shoes. It's not considered a staple, so many women don't bother buying it. If it's not fashionable or practical, we likely do not own it.
So to help those of us who do own grey shoes out, let's take a look at what you can pair them with.
Formal Wear
Grey shoes tend to look best when paired with minimal colors and styles when it comes to more formal events. It's not often that you see women wearing grey shoes with colorful dresses to cocktail parties and weddings – and for a good reason. It simply doesn't look great.
However, you can rock a pair of grey boots or classic heels with a simple white dress or a formal outfit containing soft pinks, creams, charcoal, and black. These colors tend to be received well during formal occasions, while other colors don't sit quite right.
Note that there is a big difference between a grey shoe and a silver shoe. Silver shoes are much more versatile than grey shoes. They are lighter in color and have a shiny surface texture that makes them fun and flirty, while grey shoes seem to have the opposite effect.
For that reason, we recommend sticking to very mild and subdued colors when wearing grey shoes at formal events.
Professional Wear
In the world of women's professional wear, grey is most definitely a staple. Something about grey on a woman screams business, leadership, and confidence. There's not much a woman feels like she can't conquer when she's rocking a smart, grey business suit in at a presentation.
For this reason, grey shoes seem to outshine many others when they wouldn't work in any other setting.
In a professional setting, a pair of grey heels can come to life when you wear them with a pants suit or a sleek grey pencil skirt. When wearing pants, you can wear black, dark grey, or even a medium to light grey to go with your grey pumps.
On top, you can wear your matching suit jacket, and this is where things get fun in a woman's world of grey shoes. Like men in the professional world, women can also wear a fun-colored shirt with a suit and a pair of grey shoes.
Rather than sticking to pretentious black and white or grey and white, you can wear a grey suit with grey shoes and a pink, purple, yellow, or blue shirt. These colors stand out against the dark shade of the grey and give a pop of life to your outfit while remaining professional and in charge.
While some colors may look odd with grey shoes, grey pants or a grey skirt in between the shoes and the colored shirt almost serve as a type of barrier to pull the whole outfit together.
And in a more casual yet still professional setting, a woman can always wear her grey heels with a nice pair of dress pants or jeans and a more casual colored top.
Casual Wear
Casual wear becomes a bit easier when it comes to women's fashion and grey shoes. There are lots of cute options for a woman to choose from for a casual event, whether it's grocery shopping, a trip to the mall, or lunch with the girlfriends. Plus, grey shoes match with practically everything.
Casual shoes that come in grey can be fuzzy boots, ballet flats, or canvas sneakers. There are also simple slide-on sneakers that are made more for running errands than for running a marathon.
All of these shoes in grey pair excellently with leggings and a big sweater or jeans and a t-shirt. There's practically no way to go wrong when it comes to grey shoes.
Many women love to pull on a pair of grey Ugg-style boots in the colder months over a pair of jeans or leggings. This look can be turned cute with a less-casual top, or you can keep it comfy with a sweatshirt or a long-sleeved t-shirt.
Girls like to keep it casual and comfy too, so pulling on a pair of grey slides or slippers with a pair of sweatpants is always a welcomed experience – and they will feel about ten times as cuter and comfier if their slippers happen to match their PJ pants.
When it comes to being casual, women still appreciate it when their clothing matches, and they can still look a little cute. So, grey colors in casual footwear are perfect options for females to rock.
Athletics
There's a relatively newer style that has hit the fashion scene in recent years and it's called athleisure. Athleisure is a way for people to wear athletic clothing when they're not at the gym or working out.
While sneakers have historically been made for peak athletic performance, they are now being made for style and taste to wear during everyday activities other than sports. Though the focus used to be on the quality of the material, the support in the sole, and the security of shoelaces, it's now on the colors used, the brand logos, and the range of prices.
The same goes for athletic leggings, shirts, hats, and jackets. The style encompasses the idea that you can wear athletic clothing during non-athletic events. It's not uncommon to find even celebrities rocking expensive athleisure outfits to what we would consider a more formal occasion.
In short, athleisure can be confusing.
That being said, athleisure opens up another avenue for you to rock grey shoes regularly. There are certainly grey sneakers on the market today, and they are easy to pair with things like leggings, shorts, and soccer pants.
In some cases, you can wear your sneakers with jeans, and even women have started pairing high-end sneakers with sundresses for style. Grey sneakers are pretty standard in the athletic world, so whether you're hitting the gym or the court or you're just going to hang out with some friends, you can wear your grey shoes with athletic clothing and still look good.
There are even sneakers made for women that have built-in high heels. They are made similarly to wedges but are entirely covered in the fabric of the sneaker.
There are tons of grey areas when it comes to the fashion industry. With all the creativity, personality, and innovative that comes in on a daily basis, it can be hard to know what's "in" and what's "out."
Much of typical fashion comes from common sense. If you think something looks off or wrong, there's a good chance that it probably does. You don't have to be a fashion expert to understand how to match something like a grey shoe with the right outfit.
Trust your instincts, use your resources, and try your best to learn a little more about the world of fashion.