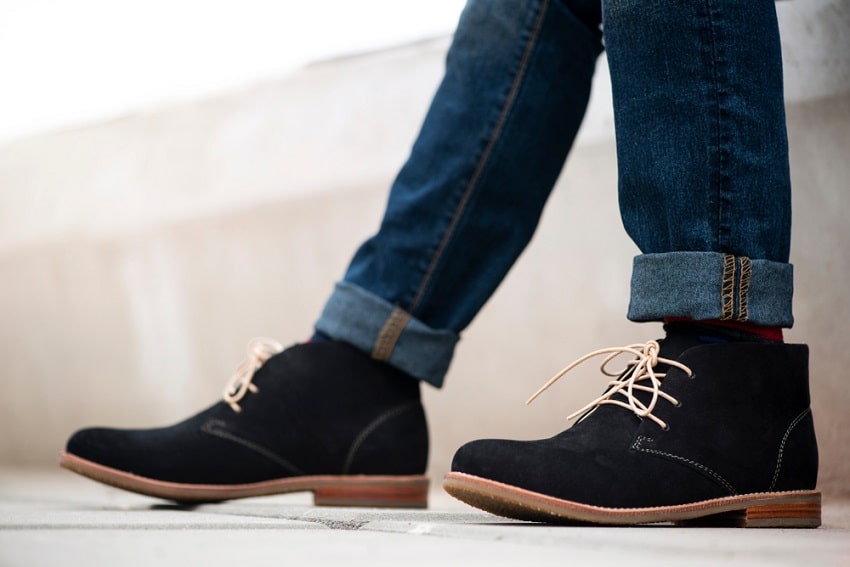 Ankle pants are the ideal style choice for transitioning between warm and cool weather seasons. But sometimes, it's hard to pick the perfect shoes to wear with them. One thing that all ankle pants have in common is that they put your shoes in full view. This guide will help you select the best shoes to wear with ankle pants for every season.
What Are Ankle Pants?
Before we get into the shoes, let's make sure that we're on the same page regarding ankle pants. These are pants with hemlines that fall to the ankles or just above them.
If you're just getting used to wearing ankle pants, you might think that they feel like they're just barely too short. However, these aren't the high-water pants that you still wore after you grew out of them as a kid. Ankle pants fit well throughout the waist, hip, and thigh and are designed to show a little bit of leg.
There are different lengths of ankle pants, including crops, pedal pushers, and capris. Those styles tend to be shorter than traditional ankle pants. However, many people use the terms interchangeably. Therefore, this article will give you ideas for shoes to wear with various hem lengths.
Most ankle pants have tapered or straight legs. These provide a streamlined contour. They elongate the leg because they don't provide a significant break between the hem of the pants and the edges of the calves and ankles.
Some ankle pants are wider, though. A wide-leg can balance out curvy hips and give you a more relaxed look. Flares fit well over boots.
Some people choose to wear wide-leg ankle pants with fitted tops. Another balanced look is to combine narrow pants with a slouchy or loosely draped shirt.
But, honestly, it's all about the shoes. Ankle pants are versatile because you don't have to alter the hem length to wear them with flats one day and high heels the next. You can also switch out your shoes to transition from day to night without changing our entire outfit.
Showing a little ankle is sexy at any age. Reveal your fashionable nature by pairing these pants with the perfect shoes for every situation.
Ballerina Flats
Most women feel that ballerina flats are the clear shoe choice for pairing with ankle pants. These slip-on shoes typically have a thin sole and show off the top of your foot. The fact that you'll be able to see skin from the lower leg to just above the toes gives you a streamlined appearance.
Ballerina flats can have pointed or rounded toes. Either style is appropriate for wearing with ankle pants. Rounded toes have a casual vibe, whereas pointy toes can go from day to night.
If you're heading to the office or going out to an elegant dinner, you might want to choose flats that taper to a point at the toe. Also, be aware of the foot coverage that your flats give you. If the upper extends midway up your foot, it's more of a loafer or moccasin, which takes away from the formality of the shoe. You'll look more elegant with a flat that has a gentle curve toward your toes.
Ankle Boots
One of the perfect shoe styles to pair with ankle pants is the ankle boot. Sometimes, ankle boots can be challenging to wear with regular-length pants. You can't pull the pant leg over the top of your boot because it creates an unsightly and uncomfortable bump. Style experts recommend that you don't tuck your pants into your boots, either. Doing this can make your legs look shorter.
If you wear long pants with ankle boots, you should probably cuff the hems. The sliver of skin that peeks out between the boots and the pants elongates the legs. However, a wide cuff cuts you off at the ankle, visually shortening the leg.
That's why ankle pants are ideal for wearing with ankle boots. You don't have to cuff the pants if they're short enough.
One of the most fashionable ways to wear booties with ankle pants is to crop your denim. Skinny jeans look great when they're cut off and frayed at the bottoms.
When you customize your pants yourself, you can make them as short as you need to in order to match the height of your boots. Just pull out some sharp scissors, cut the pants to the perfect length, and run them through the wash a few times to fray the edges.
Booties are an excellent style choice for getting through the colder months. They'll cover your ankles, keeping them warm. You can even pair boots with wide-leg ankle pants and colorful tights for a pop of boldness and a practical way to approach cool weather.
You can also match the tights to the boots to lengthen the leg. Can you wear black booties, black tights, and white ankle pants? Certainly.
Ankle pants also give you the freedom to wear boots that have laces. When you're wearing lace-up booties under long pants, there's a lot of rubbing going on. The laces get stuck inside the pant legs, and the look becomes less streamlined. However, every detail of your cute booties will be fully visible when you wear them with ankle pants.
Loafers
Do you ever feel like loafers are masculine when you pair them with jeans, slacks, and other long pants? Loafers make you look more refined. They're classic and preppy. But they don't have much feminine allure when you wear them with traditional pants.
However, they're a wonderful balance with dainty ankle pants. Showing a little skin on the leg provides some sexy appeal and can take loafers out of the menswear department.
Because your shoes will be in full view, make sure that they're in good shape. You can also get bold with your shoe choices. Conventional penny loafers will always work in a pinch. However, you might want to opt for metallic shoes or those with unexpected details so that you really stand out.
Oxfords
If you like menswear fashion, you may want to wear oxfords with your ankle pants. These dress shoes are traditionally worn by men. Oxfords originated in Ireland and Scotland. Some people from those areas refer to the shoes as Balmorals, named after Balmoral Castle. However, most people know these shoes as Oxfords because they originated from the Oxonian half-boot that was popular at Oxford University in the 1800s.
Oxfords are the perfect shoes for taking ankle pants into the fall. You can wear them with dark denim, twill or cotton. You might also be able to wear these shoes with cords and other autumn looks. A chunky sweater or velvet blazer would look sharp with oxfords and ankle pants.
Try to avoid wearing long socks with your oxfords and ankle pants, though. You'll need something to protect your feet inside the shoe, though. Choose socks that end at the ankle so that they aren't visible on the leg.
Sneakers
Fashion sneakers have been finding their way back into the world of style. You shouldn't wear running shoes with most ankle pants. If you're dressing to look good, you probably shouldn't wear running shoes if you're not, well, running.
However, there are plenty of other sneaker styles that pair well with casual ankle pants. Skater-style shoes, such as slip-on flats with rubber soles, work well with many types of ankle pants. The key is to make sure that the pants are as casual as the shoes.
If your sneakers are in great shape and look high-quality, you can wear them with dressier pants. But casual sneakers require laid-back pants. This is the perfect time to pull out your joggers or trendy cropped sweats and white tennis shoes.
Heels
Are there any pants that you can't wear with heels? Pumps and other types of heels make your legs look longer and add height. They look great with ankle pants because they add a touch of sophistication.
If the weather is warm, consider wearing heeled strappy sandals with your ankle pants. In addition to showing off your ankles, you'll reveal some skin on your feet. It is a sexy way to stay professional while being slightly seductive.
Kitten heel pumps are chic for the office and daytime get-togethers. They're practical. The low heel is easy to walk in. However, kitten heels are also flattering because they raise your foot just enough to give you some height. This is a cute, casual way to bring some pizzazz to your ankle pants.
Slingback heels are also appropriate to wear with ankle pants. They're not ideal for cooler weather, but they're perfect for warmer seasons.
Flip Flops
If your pants are made of casual material, such as linen or cotton, you can wear flip flops with them in the summer. Pairing brightly colored pants with fun flip flops is a great way to make the most of a day by the water or a picnic in the park.
You can throw on flip flops without worrying much about your appearance. The key here is to be relaxed about your style choices.
Leather flip flops are a little more refined. They're still totally casual, though. Flip flops are not the style option to select if you're heading into work.
Gladiator Sandals
Gladiator sandals are summer's version of the bootie. They're perfect to pair with cropped pants because the shoes extend past your ankle. If you're showing some skin in that area anyway, you can accentuate it with fun shoes.
Because gladiator sandals have lots of straps and ties, you should wear them with relatively neutral styles on top. Don't worry about being trendy—your shoes are the standout piece in a scenario like this.
Heeled gladiator sandals that end near the hem of your pants are perfect. You can also choose flats that wrap around your ankle and tie at the calf. Make sure that the pants don't cover the top of the shoe. If the shoes are too tall, they'll be uncomfortable and create a visual traffic jam where they meet the pants.
Platform Heels
If you're curvy, you might feel like wearing skinny cropped pants with slim shoes makes you look unbalanced. Opt for a chunkier shoe to add some equilibrium.
Platform heels can look daunting because they have such a large sole. Sometimes, the heels look so high. However, if the platform extends to the front of the shoe, it creates a gradual slope. In other words, the heels on platform shoes aren't usually as high as they look.
These types of shoes are some of the most comfortable heels that you can wear. You can often, but not always wear them to the office. You're sure to be able to wear them for a fun time out with your friends, though.
What Shoes to Wear With Wide-Leg Ankle Pants
Wide-leg crops are flattering. They're the pants' answer to the A-line skirt. However, it can be challenging to select the right shoe to wear with them.
Wide-legged pants can visually shorten the leg. Therefore, combining them with high heels gives you a leggy look. As long as the pants are dressy enough, you can wear them with pumps or high-heeled sandals.
More casual pants look better with casual shoes. That doesn't mean that you have to ditch the optical illusion that heels deliver, though.
Wedges pair well with wide-legged pants. The substantial heft of the soles of these shoes balances out the structure of the pants.
Mules or similar shoes with block heels also look good with wide-leg ankle pants. You'll get the height but retain an informal look. Mules are also professional enough to wear to work.
You can also wear flats with this type of pant. Whether they're sandals or ballet flats, these shoes are easy to slip on and complement almost any type of clothing.
One kind of shoe that doesn't always look great with wide-leg ankle pants is the sneaker. You may be able to pull off the style of the pants are casual enough. Just make sure that the shoe isn't too clunky. Lightweight, slip-on sneakers might be a better option to avoid looking frumpy.
What if you want to wear your cropped ankle pants with boots? Make sure that the boots extend to the hemline. It looks strange to have booties, a whole lot of leg, and cropped pants. If your boots are on the shorter side, you might want to wear them with monochromatic tights.
What to Do If Your Ankles Get Cold
As you head into winter, you might wonder how to wear ankle pants without freezing your legs. In many cases, wearing ankle pants without socks is a no-no. However, bare ankles look out of place in cold weather.
If you don't want to suffer for fashion, you can go ahead and wear socks with your cropped pants in cold weather. Socks look better with pants that graze the ankle or top of the foot than they do with skinny crops that end just below the knee. There are some pants that you should put away when the warm season is over.
One foolproof way to wear socks with your shoes and ankle pants is to choose heavier footwear. You can wear chunky socks with suede or leather booties. As long as you aren't wearing too many prints above the knee, you can get away with socks that have a cute pattern on them.
Another option for wearing socks with ankle pants is to pair them with high-topped sneakers, such as Vans. The high tops should protect your ankles, and the socks will add another dose of warmth.
If you love wearing your oxfords with ankle pants, you can add some socks for the winter. Just make sure that your socks are the same color as the shoes. Black pants, socks, and shoes are classic. You can also wear brown oxfords with socks in the same color family and jeans.
Do you wear sneakers with your ankle pants? Don't choose white socks even if the sneakers are white. You'll create a sleeker look if you wear black or charcoal socks.
Take It Up a Notch
When your shoes are in full view, you can get more playful with the way that you style them. Think of ankle pants as a way to accentuate a cool shoe instead of the other way around. You might want to pull the shoes out of the closet first. Then, decide what pants and top you're going to wear with them.
Don't be afraid to wear shoes with bright colors or unique details. Animal print is a classic way to dress up a pair of skinny crops. If you love loafers, consider buying some in a juicy hue to perk up your jeans-and-t-shirt combos.
The shoes make the outfit, especially when they're not covered up by your hemline. If you love wearing ankle pants, make it a goal to grab a few shoe options that can help you get through every season.