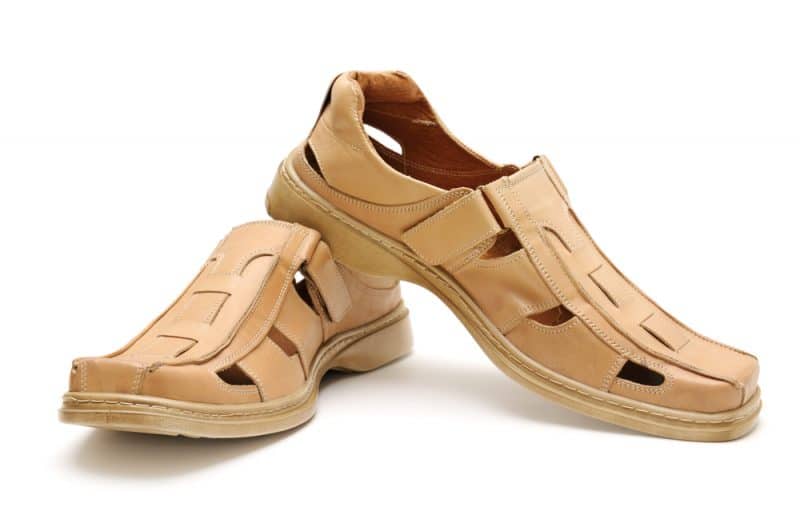 If you need to know the best leather sandals, you're in the right place. Many moons ago, shoppers had to rely on word of mouth and suggestions from a salesperson when it came time to buy a new pair of sandals. But the internet has made it possible for you to be a savvy shopper. Thanks to reviews like these, you can know the best leather sandals before you buy them.
Our Top Picks
What Are Sandals?
For those of you in a hurry, we've provided our top three favorite leather sandal brands. But for the rest of you, we're going to go more in-depth and explain what qualities you want in a leather sandal. If you don't know what you need, you could buy the wrong shoes and be a disappointed shopper. That's no fun.
Sandals are a shoe that is often open-toed and is secured to your foot with at least one strap over your instep. Some sandals might also strap around your ankle for even more stability.
Sandals allow plenty of air circulation to your feet. Perfect in summer months when it's too hot to stuff your feet into a pair of tennis shoes or loafers. They're easy to slip on and off, which I'll admit is one of my favorite qualities of these kinds of shoes.
And they're typically made of leather and strap to your feet for a secure fit. When you're wearing sandals, there's less chance that they'll slip off or twist, as can frequently happen when you're wearing flip flops, another popular summertime footwear choice.
Who Wears Sandals?
Sandals can be worn by men and women, although it's more common to see women wearing sandals. You might see men more frequently wearing flip flops, which are shoes that are made with a sole and held on your feet with one strap that goes between your big toe and pointer toe and over the top of your foot.
Generally speaking, most sandals are not going to be unisex. Men and women have different foot shapes, so it's difficult, but not impossible, for both genders to wear the same kind of shoe. That's why, for this review, we're going to provide the top five best sandals for men and the five best sandals for women.
Important Factors of a Good Leather Sandal
Before you buy a pair of leather sandals, there are some essential things you need to consider. You're not going to want to buy a pair of sandals that clash with your style, so appearance is important. But you shouldn't buy a pair of shoes just because you like how they look.
Comfort
Before picking your sandals, you need to make sure they're comfortable. Slip them on and walk around the store. Does it feel like there's enough cushion in the sole to keep your feet happy if you're going to be wearing them for a long time? Is there anything that might irritate your feet, like a tag or an arch that comes up too high?
If you can't try them on, look at the specifications and pictures. Does it look like there is enough padding in the midsole area? Are these sandals intended for special conditions like flat foot or support or a high arch or weak ankles? How thick is the sole? What material is it?
Sandals Should Fit Correctly
Wearing shoes that fit improperly can make your feet hurt, even if you've only had them on for a short time. Ill-fitting sandals can also cause you to have blisters or calluses. Calluses are unsightly, and most people prefer not to wear open-toed shoes that will show off these rough patches of skin.
Walking around in shoes that don't fit can also make you look weird. If the sandals are too tight, your toes will be pinching, so you might start limping. If they're too big, you might have to shuffle your feet to keep your sandals on. Not only will you look funny, but this can slow you down – not good if you're in a hurry.
Sandals should be snug enough to stay in place without being too tight to cut off circulation. You want a 1 to 1.5-centimeter space between your foot and your sandal, all the way around your foot.
If Your Sandals are Too Big
When you're walking around in shoes that are too big, you run the risk of having to stop walking every few feet to slip your feet back into place. You might trip over your feet or even twist an ankle. And you can sound like a horse clopping around if you wear shoes that are too big.
Wearing shoes that are too big can also cause you to get blisters as there's too much friction from the straps rubbing against your foot. And you could even accidentally break your shoe in the middle of walking, which could leave you in a precarious situation.
But if They're Too Small
However, you don't want your sandals to be too small, either. If your toes or heel stick out past the sole of your shoe, they are too small. Walking around in shoes that are too small can cause severe pain, and in some cases, damage to your heel or toes.
You also put yourself at risk of kicking your toe instead of keeping them protected. And wearing shoes that are too tight can cut off circulation to your feet. Let's not forget that wearing shoes that are too small can also make your feet look cramped, which is unattractive.
How to Pick the Best Leather Sandal
Now that we've covered what you need to know about sandals let's review some tips for how to pick the best ones. We'll explain how men should make their pick, as well as what steps women should go through before making their selection.
How to Pick the Best Leather Sandal for Men
When men wear sandals, it's referred to as mandals. However, if you prefer to continue calling them sandals, we don't blame you. Some of us still prefer that term, as well. However, to stay true to fashion, we'll refer to male sandals as mandals, as well as sandals.
Take care of your feet
Men, if you're going to wear sandals when it's warm, the first thing you have to do is take care of your feet. If you have corns and cracked feet with untrimmed yellow toenails, stick with shoes that keep your feet covered. Women aren't going to want to see that.
If you're insistent on wearing mandals, consider getting a pedicure. If you think it's just for women, think again. Why wouldn't you want to relax in a massaging chair while letting your feet soak in hot bubbling water and then massaged by a trained professional to work out all the pain?
Don't be cheap
It's smart to be money-conscious, but it doesn't pay to go cheap on your footwear. If you want to get the best performance out of your sandals, you want to find a high-quality pair – this does not have to mean the most expensive. The shoes we recommend won't break your wallet or your budget.
When you're looking for new mandals, consider factors like your style, how much support you'll get from them, and where you'll be wearing these sandals. If you want a pair of comfortable leather mandals that will last you the entire summer season, you'll have to be prepared to spend a little money.
Sandals are casual wear
We get that your shoes can be so comfortable that you'll want to wear them all the time in favor of your other footwear, but sandals are only appropriate for certain activities. In other words, you shouldn't be wearing these open-toe shoes to the office.
Likewise, you shouldn't wear them to after-hours functions like business dinners or cocktail parties. And you most certainly wouldn't want to wear them to a party that requires formal attire or a black tie.
Limit your mandals for your days off or when you're not punching the clock. Because sandals allow your feet to get air circulation, they make the best footwear choice for when you'll be spending time outside while it's hot. Bar-b-ques, camping, the river, going to the movies, or even having a night out on the town are all great times to wear sandals.
Socks with sandals is debatable
Fellas, our whole purpose of this review is to help you pick the best mandals, so you look your best and feel comfortable. With that said, here's the skinny on wearing socks with male sandals. Some people think that socks and sandals are a mortal sin. For these people, no matter what pairing you make.
For other people, socks and sandals can be a good look, if done right. If you're going to wear socks, avoid solid colored. Instead, try marle knit socks with a modest pattern. I wouldn't recommend wearing wild styles with sandals unless that's your typical fashion. Your socks should be fashionable yet basic.
Don't wear sandals on a date
Just like we've advised you not to wear mandals to work, you also shouldn't wear them on a first date. You shouldn't wear them on dates at all unless you've settled into a serious relationship with a woman who has seen you at your less than best and doesn't mind you going casual.
If you're a die-hard sandal fanatic and couldn't imagine not wearing them when you go out, casually bring up the topic of fashion, and mandals in general, to find out how your companion feels. It's quite common to see men in sandals these days, so she may not have a problem with it from day one.
Show them off
When you're wearing sandals, you want to look good. What's the point in spending a bunch of time finding the perfect style and look to cover them up with your pants legs? Instead, roll your pants up above your ankles into a pinroll fashion.
You can roll as high as you want, but mandals look best with at least one fold of your pants. Pinch the inseam and fold it in. If you don't want to rock the rolled look, pick a pair of trousers that aren't too long. If they touch the back of your heel, they're too long for sandals.
Make a fashion statement
So we've said that mandals are casual wear and that you should never wear them to work, but there are ways you can still wear sandals with a suit. It actually makes a pretty powerful fashion statement if you pair the right leather mandals with a casual suit.
Fashion experts recommend something like a colored blazer with white trousers and a pair of casual leather mandals. Or, if you want to go with shorts for an even breezier outfit, pair mandals with a seersucker or linen blazer and some flat-front pastel shorts. You can also wear sandals with your swim trunks if you're headed to the beach.
Read Also: Best Sandals for Flat Feet
Best Leather Sandals for Men
To be the best, you must give us everything we're looking for and then some. Lukpol didn't disappoint with their men's leather slip-on mandals, which is why we're rating it as our Editor's Pick for the Best Leather Sandal for men.
Made of buffalo leather, these shoes will last for multiple seasons without wearing down. Leather looks better as it ages, so by next season, these mandals should have lots of beautiful, unique distressing marks. You could even use them as a conversation piece if you've got a particular distress mark that comes with an exciting story.
Available in four colors – brown, cognac, black, or chocolate – these sandals are comfortable and fashionable enough to wear for any casual activities. However, they are not meant for advanced activities such as hiking. Weighing just 400 grams or 14 ounces, these sandals are light enough to wear all day without feeling too heavy.
The soles are orthopedic foam, so you'll feel like you're walking around on clouds, no matter if you're hitting the hiking trail or just hitting the town for dinner and some shopping. If you have standard foot complains like flat feet or high arches, these sandals offer the perfect support.
The longer you wear these mandals, the more comfortable they become. The insole layer of leather and foam molds to the distinct shape of your feet. Eventually, they become a perfect replica, providing support in all the right places. If your feet swell and change shape throughout the day, this molded sole might be a problem for all-day wear.
These sandals do slip on your feet and stay in place with a solid heel. They have a closed toe, but there are vents along the top and sides to provide plenty of airflows, making these breezy and comfortable for all-day wear.
They are slightly adjustable via a half-velcro strap, so if you have smaller or wider feet, you might have a problem getting a proper fit.
If you're looking for a male sandal that provides the ultimate orthopedic support, comfort, and style, Lukpol Men's Leather Slip-On might be the right sandal for you.
Pros:
Easy to put on
Closed-toe and heel for maximum protection
Orthopedic foam insoles
High-quality leather
Stylish
Cons:
The closed design might be too hot for some people
Not meant for extreme activity
Molded insole might not fit appropriately if feet change shape throughout the day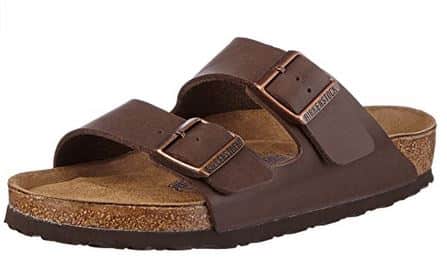 It can be hard to find comfortable sandals if you have flat feet or a high arch. You've become accustomed to having to buy specialty soles to place inside all your shoes so they'll fit properly. Or worse, you have to pay a horrifying amount of money for specialty shoes. Birkenstock wants to help you break this cycle with their Arizona Soft Footbed Sandal.
Although Birkenstock is pricier than other leather sandals, it's money well spent. Available in only one color – brown – these sandals are a simplistic design with two suede-lined, leather straps, with metal buckles that allow for limited adjustment.
Birkenstocks sandals are comfortable, they have built-in arch support and a midsole made of corkscrew and latex. Cork is a quality material to use for the soles of your shoes as it's the most effective natural shock absorber you can find. If you have flat feet or plantar fasciitis, this midsole will conform to the specific curves of your feet to provide the perfect fit in the areas where you need it most.
The soles are topped with extra cushioning covered with soft suede to provide extra comfort. Your feet are sure to stay chilled and protected in these slip-on leather sandals. And if you want a summer shoe with maximum comfort, these Birkenstocks even have a toe grip for extra support.
These sandals weigh around two pounds, which are a bit heavier, but the denseness of the cork makes it feel lighter. An EVA bottom sole gives you grip and traction so you won't have to worry about slipping or skidding. And your feet will stay comfortable.
Because the sole molds so well to individual characteristics, it becomes difficult for someone to wear second-hand. Once the sole stayed molded for so long, it's hard to mold differently. And unfortunately, these are not the kind of sandals you can wear a size too big or too small.
If they're too big, they can slip off, causing you to trip. If your foot slips out, your heel can land on the hard rim, causing discomfort. If you wear them too small, you also run the risk of stepping on the hard edge with your heel or toe. It's best to get the right size by trying them on before buying. Remember that you want a little bit of space but not much.
If you have a foot that needs extra support for common medical foot problems, Birkenstock Arizona Soft Footbed Sandal could be precisely what you need.
Pros:
Lightweight, formable cork midsole
Cushioned footbed
Two adjustable leather straps
Good for flat feet or plantar fasciitis
Gripped EVA sole for traction
Cons:
Hard to wear second hand
Hard to wear if not the right size
Does contain latex, which is an allergen for some people
If you're on a budget, you can still find a good pair of leather mandals that are stylish and comfortable enough for all your casual needs. Whether you're walking down the beach or through the mall, Dr. Scholl's Fisherman Sandals are suitable for whatever your plans.
These are available in black or briar, which is like a brown color. They are imported from outside the USA and have a tumbled faux-leather top portion with contrasting white stitching. You have a low degree of control over tightness with the hook and loop strap.
The soles are memory foam, which molds to your feet for maximum support. High arches and sore heels will find instant relief with immediate shaping. Unlike other sandals, Dr. Scholl's adds a little extra wiggling room for your feet. If you try wearing these in the wrong size, you could end up with blisters and aches.
If you have the misfortune of having a foot that doesn't fit traditional sizes, you're in luck. Dr. Scholl's have wide widths and size 7, 13, 14, and 15. On top of the memory foam cushioning, you also get added protection from a fusion footbed.
These sandals have a half-open toe design, with plenty of air vents in all the essential places to provide maximum coolness. And at just 10 ounces, you might forget you're even wearing shoes. There is a pull tab at the back of these sandals that might irritate some people.
The synthetic bottom of these sandals has an appealing tread design, which provides grip and traction, so you don't struggle with your footing. While durable, these mandals are not made for extensive strenuous activities.
If you want a stylish, supportive sandal for a reasonable price, check out our Budget Pick Dr. Scholl's Fisherman Sandal.
Pros:
Offers wide options
Closed-toe for protection; vented for air circulation
Memory foam sole
Fusion footbed
Light
Cons:
Pull tab at the back can be irritant
Limited control of fit with half-Velcro strap
Imported
The best part about warm weather is that you want to get outdoors and do things. If you have active hobbies like fishing or hiking, you need a pair of mandals that can hold up. The company Clark designed the product Malone Cove to be everything you need in your next pair of leather sandals.
The upper part of these rugged sandals is made of full-grain tumbled leather and has dual hook and loop straps, one at the upper portion of your foot and another at the back behind your ankle. This shoe is a fisherman sandal silhouette and has a mostly closed toe with vented pieces at the optimal places.
Your feet will stay happy, comfortable, and dry with a thickly padded footbed covered with breathable PU lining – helps to wick moisture from your feet. The outsole, or bottom of your sandal, is made of polyurethane, a durable substitute to rubber, and has a ton of tread so you'll have traction as you're hiking up those challenging hills.
Unfortunately, this product does not come in wide so that these sandals wouldn't be for everyone. You can wear socks with these sandals, as long as you have enough room. You don't want the leather to be too tight against your feet.
As for style, these sandals look great whether you're wearing jeans, shorts, or even swimwear. And they only weigh 14 ounces, so you'll barely notice you're wearing them. You have a choice of black or brown leather sandals. Why not get both so you'll have an extra pair?
If you're looking for a sandal that can work for the city or the country, Clarks Malone Cove Fisherman Sandal could be your winner.
Pros:
Suitable for hiking, fishing, and other extreme activities
Wicking properties
Lightweight
Can be worn with socks
Gripped bottom for good traction
Cons:
Doesn't come in wide
Limited control of tightness
Not much padding
If you like minimalistic design, the Vionic Men's Canoe Leo Backstrap sandal might be the orthopedic sandal you desire. Available in multiple colors, these mandals have a full-grain leather upper part and three adjustable hook-and-loop fastener straps.
These sandals were designed by a podiatrist to provide excellent foot support in a sporty fashion. At just 14 ounces, these sandals are lightweight enough to wear all day long. They do not come in sizes for wide feet, so it's not a one size fits all shoe.
The midsole is cushioned EVA that eases the strain on your feet, ankles, and knees. It also has wicking abilities so that your feet stay dry and odorless. The bottom of these sandals are made of TPR and have a wave pattern for improved traction and grip.
These mandals are the true definition of sandals in that other than the straps; there is no material or fabric to cover your feet. But, because of the minimal cover, these sandals are meant for outdoor activities rather than socializing.
What we like about these sandals is that the sole is made of rubber so it's water repellant. When your feet stay damp, you risk getting fungal infections or even getting cracked or busted skin. The thin rubber soles of these shoes keep your feet dry while also providing enough grip to keep your balance and a steady walk.
If you want to keep your feet the coolest, while still getting enough support and comfort, give the Vionic Men's Canoe Leo Backstrap a chance.
Pros:
No fabric other than leather straps
Rubber sole – useful for keeping your feet dry
Orthopedic design
Full-grain leather
Great for being active
Cons:
Minimal control of strap adjustment
Not much cushioning
Very casual
How to Pick the Best Leather Sandal for Women
When it comes to sandals for women, there are so many more options than for men. Just about any kind of thin, strappy shoe can be called a sandal, even if it has a heel. For instance, you have wedges, flip flops, sandals, thongs, and also heels like wingbacks and peep toes.
We get that you always want to look fashionable, no matter what you're doing, but that doesn't mean you have to forgo essential traits like foot support and comfort. You want the type of sandal you pick to fit the needs of your feet during certain activities.
Casual Flat Sandals
If you're going out on the town or shopping, casual sandals work just fine. You could wear a pair of simple leather sandals that have dainty straps that go around your ankles with thin soles. Or you could even wear a pair of light leather or rubber flip flops – thin-soled shoes that have a u-shaped strap that goes between your toes. You'll be stylish and comfortable – for a while.
Dressy Sandals
Some types of sandals, like wingbacks, wedges, or peep toes, can be worn to complete a professional ensemble. You can also pair them with a cute, flirty dress for your next date. And depending on the style, some sandals can be worn in formal settings or to tone down a fancy outfit.
Active Sandals
Now, if you plan to do some significant walking or even hiking through the woods, you'll want sandals that have flat, cushioned soles. Take my advice and avoid thongs. Get your mind out of the gutter. I'm talking about the shoes that have a strap that goes between your big toe and pointer toe to keep them on. Wearing these while doing extensive walking can cause blisters and be painful. You want sandals with thick, adjustable ankle straps.
Best Leather Sandals for Women
Naot is a company that has been in production for decades. They have a massive selection of shoes and dozens of varieties of sandals. Whether you're looking for flats or heels, Naot will have a shoe for you. We like all the features the Sabrina Flat sandal has to offer.
Made of 100% quality leather, these imported flats have a heel of 0.75″ and a platform of .5 inches. They have a synthetic sole with built-in arch support and gore at the front of the instep and backstrap. These sandals will mold to your feet with use due to the cork and latex footbed. Suede covering keeps your feel protected from chafing.
Sabrina is available in seven colors so you can have a pair for every outfit. The metal ornament and rivet accents give these women's sandals a chic look that works in the office or for after-hours drinks. Pair these stylish shoes with your favorite jeans or a cute skirt to make an impression.
These sandals are a slip-on, with an elastic band securing the sandal around your ankle. There is no adjusting, so if you have a wide foot or thick/thin ankle, you may find that these shoes don't fit you properly. You might also have to deal with the decorative accents digging into your skin.
Although cork is an excellent shock absorber, these sandals are thin, so there isn't much cushioning. If you have sensitive feet that require a lot of padding, you might want to look elsewhere. These shoes are not waterproof, so it's best not to wear them during wet conditions.
Overall, we love that the Naot Sabrina Flat Sandal is cute yet functional and can work for so many different occasions.
Pros:
100% leather
Built-in arch support
Stylish design
Suede-covered
Multiple designs
Cons:
Includes latex
Pricey
Straps are not adjustable
We've featured Birkenstock as one of the top five best sandals for men. They're such great sandals that we had to feature them as part of our women's top five as well. We adore the simplistic yet stylish look of the Birkenstock Mayari Sandals.
You won't believe the color options you have – 13 to be precise. These cork soled shoes will mold to the various curves and indentations of your feet over time so that they become exactly like your tootsies. The heel sits about ¾" whereas the platform measures 1⁄2″ thick.
The thin straps 100% Birkibuc, a synthetic material used in place of leather, that's made of acrylic and polyamide felt fibers. This material is tear-resistant. There's two metal buckles for slight size adjustments. And a stable leather ring that offers extra security. The footbed has a deep heel cup, a roomy toe box, and complete arch support.
The sole is EVA, so it's flexible, durable, lightweight, and absorbs shock. You won't have to worry about aching or blistered feet with these stylish flat leather sandals. These shoes can work for narrow or wide width feet.
It's better to make sure that the Birkenstocks you pick fit you appropriately. If you wear them too tight, it can cut off circulation to your toe and foot. You could also end up stepping on the hard rim. If they're too big, your toe could get blistered from the leather ring.
The top layer of these Birkenstocks is jute, which wicks away moisture while the bottom layer adds strength to the soles. Your feet will be comfortable and dry in these cork sandals. You want to keep your feet sweat-free, so they don't start to smell. No one wants to deal with sweaty feet.
If you want a stylish option for your Birkenstocks, you should think about our Luxury pick the Birkenstock Mayari Sandal.
Pros:
Stylish
Made of cork
Multiple color options
Molds to feet with use
Wicks away moisture to keep feet dry and odorless.
Cons:
Can hurt to step on edges
The ring can cause blisters
Not suitable for all foot types
You shouldn't have to pay a fortune for shoes. If you're looking for an attractive sandal that delivers style and comfort without damaging your wallet, we recommend our Budget Pick, the Vionic Palm Daisy Toe-Post Sandal.
These imported sandals come in four different colors – natural snake, rose gold, black, and toffee. The thin unadjustable straps are made of leather, as is the EVA footbed. The simplistic design of these strappy slip-on sandals can go with any fashion occasion. And keep your feet cool and comfortable.
However, wearing an incorrect size sandal can cause blisters or foot injury. If you wear a size too large with these sandals, you can sound like a galloping horse. And look quite silly trying to keep your shoes from sliding off your feet.
The midsole is made of EVA foam and has ergonomic arch support, which provides lasting relief to your feet, ankles, and legs all day long. If you have a problem with sweaty feet, you might like these lightweight, leather sandals.
These sandals are hand made with quality ingredients, including lightweight rubber outsoles for exceptional arch support and slip resistance. These sandals have a slightly elevated heel, which might be problematic for some people.
The arched insole makes these great sandals for women who have common foot problems like flat feet, metatarsalgia, or plantar fasciitis. You can look cute while catering to your feet's particular needs — all without breaking the bank.
If you're looking for a cute sandal that won't break your pocketbook, consider these strappy leather sandals Palm Daisy by Vionic.
Pros:
Cute design
Multiple colors
Good for common foot problems like flat feet
EVA foam midsole
Budget price
Cons:
Has to be a proper fit
HIgher arch won't work for some users
Straps can be tight on some feet – unadjustable
Clark's is another brand that we've already featured, but they make excellent shoes for women as well, such as the Leisa Annual Sandal. If you want a sandal that's easy to slip on and off, these could be for you. These sandals are a practical design that comes in five colors. These shoes do have a slightly raised heel, which some customers might not like.
The straps are 100% leather with a slightly-adjustable hook and loop closure that secures these sandals to your ankle. The shaft measures 1.45″ from the arch, the heel is 1″, and the platform is about 0.5″. They're lightweight at less than two ounces.
These sandals also have contrast stitching along the upper portion and around the outsoles to give an appealing appearance. There's also a contoured OrthoLite footbed that will keep your feet pain-free so you can enjoy your time to the max. The soft liner and contoured sides provide extra comfort.
The outsole is lightweight EVA, so you'll almost forget you're wearing shoes. There's a moderate grip on the bottom of the sandal, so you'll have a fair degree of traction. These sandals work great if you'll be busy running errands or sightseeing in a new area.
They're durable enough to withstand long trips without making your feet hurt from constant walking. Or you can wear them for your trip to the beach. They'll make walking across the hot sand a breeze. And they're easy enough to slip off so you can get the sand out of your shoes.
If you want a practical orthopedic leather sandal with a slight heel, Clark might be the answer to your prayers, with their product Leisa Annual Sandal.
Pros:
Orthopedic
100% leather
Multiple colors
Lightweight
Arch support
Cons:
Raised heel
Minimal control over tightness and fit
Plain design
If you want a simple chic leather sandal that comes in a massive assortment of colors, you've got to check out the Blowfish Malibu Granola Fisherman's Sandal. They have over 40 different color choices! Talk about variety.
These sandals are 100% faux leather, which means a leather substitute. For people who prefer the look and feel of leather without having to resort to animal skin, you might like these. These flip flops also have faux cork sole and midsole, which still provides the same dense, lightweight shock absorbency.
The shaft measures 1.55″ from the arch. The thin faux leather straps criss-cross over your feet, which is something you'll want to consider if you'll be spending a long time outdoors in these shoes. You will get some funky tan lines.
These also lace between your toe in a thong style. There is one fastener on the back of the heel near the ankle, which gives you a small degree of adjustment for tightness. However, these sandals might not be right for people who have wide feet or feet that fluctuate in size.
There is light cushioning in the cork footbed but not as much as other sandals. If you plan to do a lot of heavy walking, these might not be the right shoe for you. But if you want a pair of sandals that can work with denim shorts, a pair of jeans, or even to wear to work or on a date, Granola might be your new favorite.
These flip flops are great for all occasions – from work to the beach. Although you should know that the weight of these shoes is three pounds, which can feel heavy after a long day of walking. The thong design can also cause blisters.
If you need a classy sandal that you can wear anywhere, that you can customize to match every outfit you own, give Blowfish Malibu Granola a try.
Pros:
Classy, stylish design
Huge selection of colors
Adjustable strap
Can be worn for work or play
Slight arch support
Cons:
`The crisscross pattern can leave tan lines
Heavier than other leather sandals
Not meant for extended walking
Look for Brands that Have Leather Sandals for Both Genders
If you want to get a pair of leather sandals that will provide all the support and design you need, you'll want to go with a reliable company with a long history of customer service excellence and premium, long-lasting footwear. Look for brands that cater to men and women like our top three picks. To recap, our editor's pick is Lukpol Men's Leather Slip-On, our luxury pick is Birkenstock Arizona Soft Footbed Sandal, and our budget picks is Dr. Scholl's Fisherman Sandal.
You can't go wrong with any of our top three picks listed above. No matter if you're shopping for a woman or a man, they are sure to not disappoint.