If you have a job that requires you to spend all day standing up, odds are your feet, legs, or even your back are always sore. Even if you love your work, that pain can make you dread leaving the house each day. Little makes the day drag by like that kind of pain; aching feet can make minutes feel like hours.
That isn't just an inconvenience; it can cause serious, lasting medical problems if you don't address it. And it can be a cyclical issue—the worse the pain, the more you change your posture to compensate for it, which causes wear and tear on other parts of your body.
It may feel hopeless, but it's not! There are steps you can take to give your feet the support they need to make it through a long day on the job. The first thing you might think of is to buy a pair of orthopedic shoes. These are effective, but they're also expensive, and it can be challenging to find the right pair. Not many people realize that the right pair of socks can make a world of difference, as well!
If you're starting to develop some chronic issues from being on your feet all day, it's imperative to find the right socks to help you treat your pain. And if you haven't quite reached that point yet, it's just as necessary to address it preemptively! If you have time, follow along as we break down the best pairs of socks to treat specific conditions. But if you're too busy, and need the bottom line, here are the best socks available for standing on your feet all day:
Our Top Picks
Buyer's Guide
To find the right socks that fit your needs, you first need to know exactly what you're looking for. There are several different factors to consider. Follow along with this handy buyer's guide, and you'll be sure to find the perfect socks for you.
Types of Pain
Before we're able to find the perfect sock to help address your pain, we first have to identify what problem we're trying to solve here. Several different types of pain can be caused by standing on your feet all day. Once we learn what precisely you're suffering from, we can move on to finding the right pair of socks to address it.
Swelling and Inflammation
One of the most common ailments that comes from standing all day is swelling and inflammation in the feet and lower legs. Standing all day can affect your circulation, especially in your legs. Blood begins to pool in the lower parts of your body, and eventually, it becomes increasingly difficult for your veins to return the blood to your heart. In turn, this causes swelling in your legs.
That isn't necessarily dangerous in and of itself (though it is painful), but it can lead to varicose veins over time.
Another thing that can cause swelling in your leg is if you've recently sustained a soft tissue injury, like a sprained ankle or knee. Having to spend every day up on your feet can delay your recovery and increase inflammation.
Plantar Fasciitis
Plantar fasciitis is another common foot ailment. It is an inflammation of the plantar fascia, a thick fibrous ligament connecting the front of the foot to the heel. It can be intensely painful, feeling almost as if the middle of your foot is tearing apart.
It generally occurs from wear and tear and overstretching of the plantar fascia. That means people who spend all day on their feet are especially at risk, particularly if they don't have footwear with arch support.
Arch pain can also come from other factors, including a dropped arch (also known as flat feet).
Blisters
Blisters are small bubbles of fluid that form just below the last layer of skin. They are generally caused by irritation from friction on sensitive parts of the foot. If your footwear is too tight, or consistently rubs on one part of your skin, blisters can be very common. Moisture, like for example sweat, can increase this friction, and make someone more susceptible to blisters.
Blisters can be excruciating on their own. But they can also be dangerous if left unaddressed. Especially if they burst, blisters can lead to severe infections.
Types of Pain-Relieving Socks
Now that we know what kind of pain you're dealing with, it's time to break down what, specifically, to look for to find the right pair of socks to support you. There is a specific type of sock we recommend for each of the ailments listed above. So that is the next thing to consider: what kind of socks you need.
Compression Socks
If you're looking for heavy-duty support, you might be interested in compression socks. These tight, woven socks compress your feet, ankles, and calves, supporting healthy blood flow and boosting circulation.
The pressure applied by compression socks squeezes your leg tissues and the walls of the blood vessels in your legs. That increases the pressure in your blood vessels, making it easier for your blood to circulate between your legs and your heart.
The level of pressure in compression socks are measured in millimeters of mercury, otherwise known as mmHg. 8-15 mmHg is the lowest level, designed for mild relief. The most common levels are 15-20 mmHg and 20-30 mmHg. Compression socks will be available as high as 50 mmHg, but anything over 30 should only be worn if prescribed by a doctor.
It's clear, then, that compression socks could be right for you if you're dealing with varicose veins or other circulation issues, but that's not all. Improved circulation can also help with swelling and inflammation, general aches and pains, and even if you're recovering from injury. Blood flow helps injured tissue heal, so compression socks can be beneficial in these circumstances.
Socks with Arch Support
There are other types of socks designed to prevent foot pain, as well. If you're suffering from plantar fasciitis, flat feet, or other pain in the arch of your foot, you could benefit from wearing socks with arch support.
Socks with arch support are often made with similar material as compression socks, but rather than focusing on vascular areas of the leg, this compression is used to hold the arch of the foot in place.
Most arch pain, including plantar fasciitis, is caused by repetitive stress. Constant standing and walking without arch support causes wear and tear on the structural integrity of your foot. Wearing the right socks with arch support could relieve that pain while putting your feet in the correct position to heal.
Anti-Blister Socks
Finally, we're going to look at some anti-blister socks. Blisters may seem minimal relative to varicose veins or plantar fasciitis, but when they become a chronic issue, it can be unbearable.
As we mentioned, blisters form when friction damages the skin, causing fluid to gather underneath the last layer of skin. Heat and moisture are often the cause of that damaging friction. The wrong socks can actually encourage blisters to form. But if you are prone to blisters, there are socks you can look for that could potentially reduce blisters.
Anti-blister socks are typically lightweight, with some type of moisture-wicking technology. They are designed to remove moisture no matter how much you sweat, and accordingly minimize friction as much as possible.
Additional Factors
We've covered the most significant factors—the ailment you're dealing with and the type of sock that covers it—but before we move forward to your recommendations, here are a few more things to consider to find the right sock for you.
Length
One thing to consider is the length of the sock. As always, the best way to figure out the length you need is to find the problem you're trying to address and work backward from there. If you have arch pain, corns, or blisters, the problem is likely localized to the bottom of your foot. That means short, no-show, or crew-length socks will probably be able to do the trick.
On the other hand, if you're dealing with swelling, inflammation, or varicose veins, you could likely benefit from a sock that goes all the way up to your knees. Pain can bounce from one part of the body to another. But a simple rule of thumb is to seek socks that cover where on your feet or legs the pain is localized.
Material
Some of you may not care about the material at all. But to others of you, it may be essential. Socks come in a wide variety of materials, often in a blend of some kind. Many socks are made with natural materials like cotton, wool, or even bamboo, whereas others are made from synthetic materials like nylon. Some socks are made with a latex blend, so if you have a latex allergy, it's important to be on the lookout.
Socks Reviews
So, now that you know what you're looking for, here are our reviews of many of the highest-rated pain-relieving socks available today.
Compression Socks
Compression socks are excellent for those who are suffering from inflammation, circulation issues, or soft tissue injuries. Here are some of the bestselling options on the market.
While some compression socks are made for athletes, or recovery from surgery, the Sockwell Circulator Moderate Graduated Compression Socks are explicitly made for professions that require all-day standing. They are thigh-length compression socks with four zones of graduated compression. The level of compression varies in each zone, specially designed for each part of the leg.
Compression socks boost circulation by compressing the blood vessels in your legs. These are made with a moderate (15-20 mmHg) compression grade; this means the focus is on reducing swelling and boosting energy throughout the day.
Sockwell prioritizes eco-friendly materials; the Circulators are made from a blend of merino wool, rayon from bamboo, stretch nylon, and spandex. In addition to their graduated compression, the Sockwell Circulators are made with substantial arch support, thin sole cushioning, and a seamless toe.
The Sockwell Circulators are available in a variety of different styles, with nine different colors (primarily earth tones) to choose from. Each color comes with a stripe design. They are only available in two different sizes: medium/large fits men's shoe sizes 7-10, and large/x-large fits sizes 10.5-13. They are machine washable.
Pros:
Made for all-day wear
Reduces swelling and inflammation
Graduated compression
Arch support
Cons:
Some customers have reported durability concerns
Limited size range
The SB Sox Lite Compression Socks are the most affordable compression socks on our list. These come with graduated compression, with a moderate 15-20 mmHg compression level. The SB Sox Lite Compression Socks are made with a lightweight nylon/spandex blend, which emphasizes breathability.
While they aren't as expensive as some of the other models on the list, the SB Sox Lites still provide competitive performance. They're thin and lightweight so they don't affect mobility, but they still offer moderate circulation. Heel pain is the most common type of foot pain in the United States, so the SB Lox Lites feature a reinforced heel with extra compression and padding. The anti-odor fabric fights the growth of fungus and bacteria. As a bonus, it even comes with a free health and fitness eBook.
The SB Lox Lite Compression Socks are available in 11 different colors, including some fun stripe and argyle patterns. They come in two different sizes. If you're on a budget and looking for a starter set of compression socks, these might be the socks for you.
Pros:
Affordable price
Durable material
Graduated compression
Heel support
Cons:
Limited size range
Some customers have said they run too long
The Laite Hebe Compression Socks are Amazon's top-selling compression socks! These unisex socks feature firm compression paired with a casual fashionable appearance. They come with a higher compression level than some of the other socks on the list, with 20-30 mmHg. That is strong enough not only to boost circulation and reduce inflammation but also to prevent lactic acid buildup and varicose veins.
Laite Hebe is far more focused on fashion than other brands. Their compression socks just look like any other knee-high socks and have a wide array of appearances available. There are 16 different variety packs, including some with bright, vivid colors, earth tones, fun patterns, and holiday themes. If you want compression socks that are fun and fashionable, Laite Hebe Compression Socks could be the pick for you.
They are also available in a greater variety of sizes, with women's small/medium fitting women's shoe size 5.5-8.5, and large/XL fitting size 8-15.5. Men's small/medium fits men's shoe size 5-9, and large/XL suits size 8-14.
Laite Hebe compression socks are made primarily of a breathable, nylon blend, designed for everyday use. But they do contain a small amount of latex, so customers with latex allergies should look for other options.
Pros:
Wide variety of fashionable options
Stronger compression
Covers more sizes
Prevents varicose veins
Cons:
They're made for everyday use, but extra compression makes them a challenge to put on
Contains latex
Physix Gear Sport Compression Socks are some of the best low-cut compression socks available. For many people, getting compression socks that are knee-high is the driving factor of the appeal. But for other people, it can be a negative. You want relief in your feet, but find the high socks to be unnecessarily restricting.
If this sounds like you, Physix Gear Sport Compression Socks could be the perfect option. They are double-stitched, ankle-length socks with additional arch and heel support. They have robust 20-30 mmHg compression throughout the sock, so while they don't compress your entire leg, they do promote improved blood flow in your feet, reducing soreness and inflammation. They also come with a high back to prevent slipping and reduce the risk of blisters on the back of your ankle.
Physix Gear Sport Compression Socks are made with anti-bacterial fabric to reduce odor. They all have a black base, but they are available in 12 different colored highlights. They come in two sizes, each for both men and women. Women's small/medium covers shoe sizes 5.5-8.5, and large/XL includes size 8-14. Men's small/medium covers shoe sizes 5-9, and large/XL covers 9-14.
Pros:
Low cut, less restrictive
Very sturdy
Heel and arch support
Moisture-wicking fabric
Cons:
Not as much compression
Can cause soreness if you wear them too long
2XU 24/7 Compression Socks are crew-length compression socks with several exciting features. They have graduated compression ranging from 15-20 mmHg, with extra padding on the heels and balls of the feet. Its fabric blend is made primarily of nylon but also featuring cotton and Lycra. They're constructed with flatlock seams to prevent chafing.
An interesting feature of the 2XU 24/7 Compression Socks is the UPF 50+ fabrication. These socks protect your feet from UV rays (both UVA and UVB), which can be tremendously helpful if your work takes you outside. They also have moisture-wicking fabric to help keep your feet dry, and fight blisters.
They come in the greatest variety of sizes of any of the compression socks on the list. They have four sizes each, for both men and women. The women's sizes range from shoe sizes 5 to 15.5, and the men's sizes range from shoe sizes 3.5 to 14.
These crew length socks offer an excellent middle ground between the restriction of thigh-high socks and the lack of coverage of ankle socks. Mid-calf crew-length compression socks provide more range of motion than thigh high socks, while still giving compression to the lower half of the calf as well as the foot. If you find this balance appealing, these socks might be the ones for you.
Pros:
Mid-calf length provides a balance of motion and performance
Graduated compression
Wide range of sizes
Protects from UV rays
Cons:
No variety of colors
Customers have raised durability concerns
Anti-Blister Socks
Here are several of the best-reviewed socks available for preventing pesky blisters.
The Balega Blister Resist No Show Socks are an excellent set of anti-blister socks designed to keep feet cool and dry under all conditions. They are made with a blend of Drynamix polyester, mohair (the hair of the Angora goat), and wool. The polyester wicks away moisture, while the mohair has a hollow fiber structure that helps regulate temperature. That keeps your feet fresh in the summer and warm in the winter. Further, they have specially constructed microfiber panels that keep the most vulnerable areas of your feet most dry.
The socks have extra cushioning throughout for additional comfort when standing all day. They are low cut, no show socks, but they have a high heel tab to prevent them from falling off your feet.
The Balega Blister Resist socks are available in three youth sizes, four men's sizes, and five women's sizes. The men's socks range from shoe size 4.5 to 14, and the women's socks range from sizes 3 to 15.5. They are available in eight different vibrant colors, and they are fully machine washable.
Pros:
Mohair blend provides temperature control in all climates
High heel tab prevents sock from slipping
Mesh panels target maximum moisture-wicking to most vulnerable areas
Wide range of sizes
Cons:
Very thick—if your shoes run small, these socks might not fit
Some customers reported concerns about durability
These socks are the most expensive anti-blister options on the list. But that's because they go above and beyond. The ArmaSkin Extreme Anti-Blister Crew Socks could be the best option for people who just can't seem to beat chronic blisters.
The ArmaSkin extremes aren't even necessarily socks, in the typical sense. They are sleeves you wear underneath a separate pair of socks, right against your skin. They are engineered like a wetsuit for your feet. Made from a blend of polyester, spandex, and silicone, you roll them onto your feet, where they should fit tight and snug. The solid outer layer absorbs any friction from the shoe, preventing it from irritating your foot.
This is a unique product, a rather extreme measure for people who can't shake blisters. But the company guarantees it will prevent blisters in all circumstances. It also comes with a hydrophobic inner layer to keep your feet dry and odor-free.
There are four sizes available for men and women. The women's socks range from shoe size 5 to 15, and the men's sock ranges from 3.5 to 13. These socks need to fit perfectly to be effective, so you must follow the sizing chart carefully.
Pros:
Very effective blister prevention
Moisture-wicking material
Odor-free
Cons:
Difficult to put on
On the expensive side
A more comfortable, lightweight option, the Pure Athlete Ultra Comfortable Anti-Blister Running Socks have targeted anti-blister technology. These are thin, breathable socks with a mesh top for maximum airflow. To combat blisters, they use targeted anti-blister dots—efficient, strategically placed pads in the areas of the foot most susceptible to blisters. If you want thin, lightweight socks that still fight blisters, these could be the perfect fit for you.
These socks are made with moisture-wicking technology and a tight cuff at the top to prevent slipping. While they're designed for running, they're great for wearing day-to-day as well.
The Pure Athlete Ultra Comfortable Anti-Blister Running Socks are available in seven different colors. They have a narrower size range, with two sizes each for men and women. They cover sizes 6 through 12 for men and sizes 6 through 13 for women.
Pros:
Lightweight and breathable
Anti-blister dots target most vulnerable areas
30-day 100% satisfaction guarantee
Cons:
Limited size range
Not much padding for long term use
These socks are designed for hiking, but you don't need to be an avid hiker to get your money's worth. Hiking socks are designed for maximum comfort when spending all day on your feet, just like you have to do at work.
The defining feature of the Randy Sun Unisex Waterproof & Breathable Hiking Socks is their multi-layer structure. The outer layer is made with a fully waterproof nylon blend, keeping external moisture out and absorbing blister-causing friction from the shoe. Then it has a breathable inner layer that wicks moisture out to the exterior of the sock, away from the foot. This unique design allows the sock to be both thoroughly water-resistant and completely breathable. That keeps your feet dry from both inside and out, preventing any moisture from increasing friction and causing blisters.
These socks have extra cushion to keep feet comfortable for as long as possible and are 100% seamless. They're not only functional but stylish as well, available in a wide variety of vibrant designs. They come in four different sizes, covering women's shoe sizes 6 to 16 and men's shoe sizes 5 to 15.
Randy Sun recommends hand washing these socks, but they are machine washable. Just make sure to hang dry them rather than tumble drying.
Pros:
Multi-layer design is both waterproof and breathable
Many colors and patterns to choose from
Wide range of sizes
100% seamless
Cons: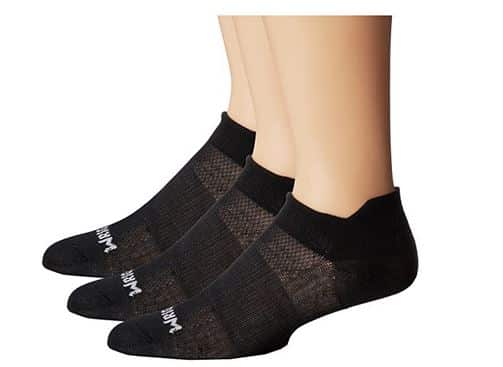 Another low cut, no-show anti-blister sock, the Wrightsock Coolmesh II Tabs are made with a blend of polyester, nylon, and Lycra. Their proprietary Dri-WRIGHT fibers are designed to manage moisture and temperature, keeping feet cool and dry. The sock sits below the shoe, but the high heel tab prevents blistering on the back of the heel. They're also made with moderate arch support
The top panel is lightweight mesh for maximum breathability. They are only available in two colors: solid white and solid black.
They are made in unisex sizes. Small covers women's shoe size 4 to 6. Medium covers men's shoe size 5 to 8 and women's size 6.5 to 9. Size large spans men's size 8.5 to 10.5 and women's size 9.5 to 11. Finally, size XL covers men's size 12 to 14. They are fully machine washable on cold.
Pros:
Lightweight and breathable
Arch support
Proprietary moisture-wicking blend
High heel tab
Cons:
Some customers reported the fit was too tight
No colors
Socks with Arch Support
Socks with Arch Support can relieve conditions such as plantar fasciitis and dropped arches, as well as basic arch soreness. Here are some of the best available today.
To treat plantar fasciitis, you might need to wear a compression sleeve in addition to a regular sock (or on their own, when you're lounging around at home). These sleeves are able to deliver maximum arch compression. SB Sox is a trusted brand (their full-length compression socks are on our list as well), and this product is no exception.
The SB Sox Compression Foot Sleeves are made with 20-30 mmHg, and compression is distributed throughout the arch and heel. That creates natural arch support and also boosts circulation through the plantar fascia ligament. They have additional heel support, as well.
The SB Sox Compression Foot Sleeves are designed for daily, prolonged use. They also have anti-bacterial fabric to prevent odor and fungus. They're available in nine different bright colors. There are four different sizes available, which you select based on the detailed sizing chart SB Sox provides. The chart takes into account shoe size, arch circumference, and calf size to make sure you get the right fit.
Pros:
Strong compression throughout the arch
Heel support
Detailed sizing chart
Anti-odor fabric
Cons:
Not full socks—can't be worn on their own with shoes on
Non-dryable
A full mid-calf length sock, the SockWell Plantar Cush Crew Sock is designed to provide support for and promote blood flow in the plantar fascia and Achilles tendons. They're made from a blend of Merino wool, bamboo rayon, stretch nylon, and a small amount of spandex. They feature graduated compression, designed to promote arch support, plantar support, and ankle support as well. The compression also provides increased blood flow and oxygenation in those areas.
They also just look like regular socks. They come in fun, attractive designs, and they're perfectly discreet—no one will know you're wearing supportive compression socks. There are seven different colors available, all with a print design.
The fabric is designed to wick away moisture, prevent odor, and even regulate temperature, keeping your feet cool in the summer and warm in the winter. It is currently available in two sizes. Small/medium covers women's shoe sizes 4 to 7.5, and medium/large fits women's shoe sizes 8 to 11. They are fully machine washable.
Pros:
Attractive, discreet design
Wide variety of support—arch, heel, and ankle
Moisture-wicking, anti-odor fabric
Cons:
Limited sizes available
Less compression than other options
Another pair of cutoff compression sleeves, the Dowellife Compression Sleeves provide 20-30 mmHg of compression on the arch and heel. It is made from a thinner, more breathable fabric, which is particularly useful given that you will have to wear these sleeves along with another pair of socks—that can be a lot to fit inside a shoe all at once! When you have to spend all day on your feet, thicker compression sleeves may cause as many problems as they solve. So if you have tighter shoes, these could be the sleeves for you.
In addition to providing arch and heel support, this model also functions as an ankle brace by providing stabilization throughout the ankle. The material is 75% polyamide and 25% spandex, reinforced around the ankle and heel.
The Dowellife Compression Sleeves are available in four different colors: black, tan, gray, and pink. They come in four unisex sizes, covering men's shoe size 3.5 to 12 and women's shoe size 3.5 to 14. The detailed sizing chart covers arch circumference as well as shoe size. They are fully machine washable.
Pros:
Graduated compression
Thin fabric makes for an easier fit in shoes
Functions as an ankle brace
Cost friendly
Cons:
Not full socks—can't be worn on their own with shoes on
Some customers have complained they are too tight in the heels
The rest of these socks are made to wear throughout the day, providing pain relief on the go. But some people who have to be on their feet all day still come home with aches and pains, no matter what they wear throughout the day. If this sounds like you, you might be interested in cold therapy.
These NatraCure Cold Therapy Socks contain cold gel that runs across the bottom of the foot, spanning the plantar fascia. They also have another gel pack behind the heel. When you get home from a long day, put on the socks to immediately chill your feet. Cold therapy kills pain and effectively reduces inflammation, so it will make you feel better in the present and help you heal for the future.
It is available in three different colors (black, green, and blue), and has extra supplemental cold gel packs for sale as well. Unfortunately, it is only available in a very narrow size range. They only have one size available, which covers women's shoe size 6 to 9 and men's shoe size 4 to 8.
Pros:
Instant pain relief
Long term cold therapy
Supplemental cold packs available for purchase
Cons:
Not a sock that you can wear out and about
Extremely narrow size range
The Verdict
Depending on your needs, you can't go wrong with any of the socks on this list. The perfect pair for one person might be completely different from the ideal pair for another. With so many different products with so many varying strengths and weaknesses, it can be challenging to pick just one winner. That said, weighing all the factors, here are our picks:
Best Overall
There were many contenders for this spot, but we believe that the Sockwell Circulator Moderate Graduated Compression Socks are the best overall socks for people who have to stand all day. They are designed with expressly that purpose—long, day to day usage—in mind.
They offer moderate, graduated compression that isn't overwhelming in terms of pressure but is specifically targeted to the areas most vulnerable to damage and inflammation from standing all day. And the boost to blood flow could help give you the energy you need to get through your long shift. Plus, they have added arch support to help you avoid issues like plantar fasciitis.
This isn't a perfect product. They have a limited size range, and some (though not the majority) users reported concerns with their durability. But weighing all the factors together, we believe this is the best overall pain-relieving sock on the market.
Best Premium Product
Our choice for premium product is the ArmaSkin Extreme Anti-Blister Crew Socks, It isn't cheap, and they aren't even a full sock—you still wear another pair of regular socks over them. But you get what you pay for with this product. If you've been battling blisters, the ArmaSkin Extremes are your best bet to knock them out of any product available.
Where other anti-blister socks simply look to wick moisture and provide extra cushion to sensitive parts of the feet, the ArmaSkin Extremes essentially act as a shield for your feet. The exterior layer absorbs any potential friction from the shoe, while the interior layer transfers all moisture away from your feet.
Relative to other anti-blister socks, you have to pony up a bit. But they're also the best performing.
Best Value
For the best value on the list, we're going with the SB Sox Lite Compression Socks. This was a pretty simple evaluation. They are high performing in their own right, bringing many of the same benefits as the Sockwell Circulators. And they do so for less than half the price.
If you're on a budget and looking to get the best bang for your buck on compression socks, these could be the perfect choice for you.