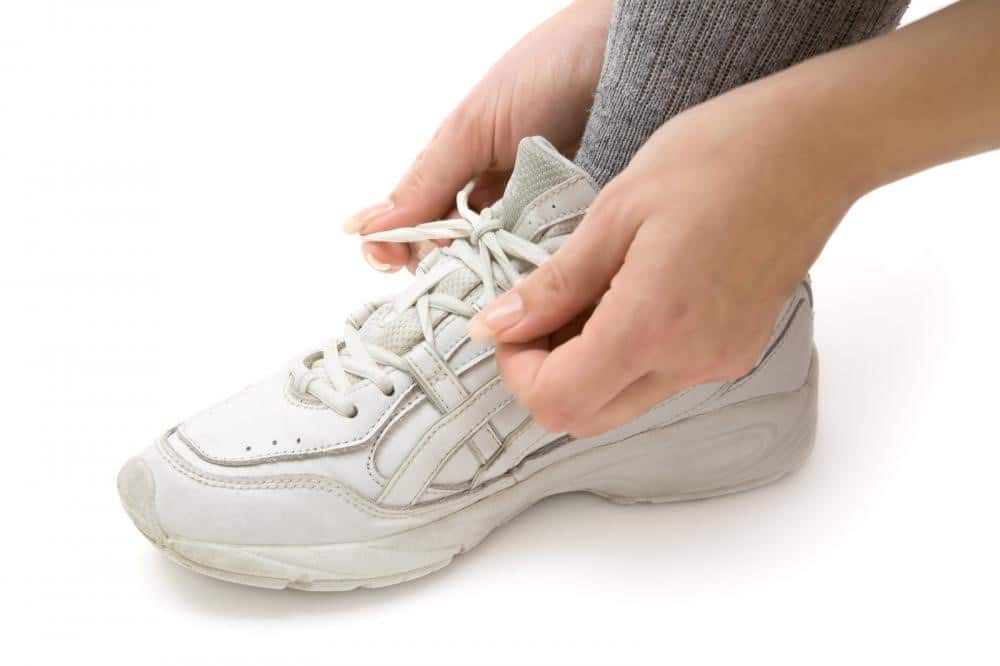 Ankle injuries are among the most common sources of foot discomfort. One of the most common reasons why people suffer from ankle injuries is the over-rotation of their ankle joints. Wearing the right shoes can provide you with ankle support, thereby reducing the risk of ankle injury.
When selecting footwear for any indoor or outdoor activity, most people do not consider ankle support as a major factor. But, if you get an ankle injury, performing even the simplest tasks becomes impossible. From playing your favorite sports, running, hiking, or even walking, an ankle injury can put you on the sideline for a long time, depending on how severe it is.
After all, the ankle is a crucial joint in the human leg. It plays a very important role as the ankle supports your entire weight and ensures proper balance. The link between your ankle joint and the heel and metatarsals means that your footwear can reduce the chance of injury.
If you are looking for a pair of shoes that offers great ankle support, you should know that it takes a considerable amount of understanding and knowledge to find a suitable fit. There are thousands of models out there, but not all of them offer the right ankle support. When you are buying shoes for ankle support, choosing from the number of choices available may be overwhelming.
If you are having a hard time finding the best shoes for ankle support, you do not need to worry. We have put together a guide that explains everything you need to know so that you can pick the most supportive shoes. From the importance of ankle support, to the features you need to look for in ankle support shoes, we have compiled everything in this guide.
Additionally, we have included a list of reviews of the top 10 shoes for ankle support. This way, you can use all this information and compare it with the reviews to find the most suitable pair for your needs.
Buying Guide for Best Shoes for Ankle Support
Before we take a close look at the best shoes for ankle support, check out this guide to understand the importance of ankle support and the qualities you should expect from shoes that offer the best ankle support.
Can Wearing the Right Shoes Really Help?
It is not surprising that the people who work out, run, or play sports regularly are probably going to look for the best possible ways to avoid getting ankle injuries. The question is: can wearing the right shoes really help? Yes, wearing shoes designed to offer ankle support can help wearers prevent ankle injuries.
Those who are at high risk of injuries or recovering from ankle injuries may be keen on getting supportive shoes. It is imperative to improve the support your ankles get to limit their movement and keep them from over-rotating, thereby lowering the risk of injury.
Emerging research suggests that footwear solutions can have a major impact on reducing the likelihood of ankle injuries. Specialized footwear can change the gait patterns and muscle activation to reduce the load on your ankle joints.
Things to Consider While Buying Shoes for Ankle Support
Understanding the importance of ankle support and the role that shoes can play in reducing the risk of ankle injuries is very important. Now that you know that, we are going to look at the factors you need to consider before buying shoes that provide ankle support.
Not all shoes are made the same. The following considerations will give you an idea of what you should expect from shoes that offer a good amount of ankle support.
Fit
Getting a proper fit is one of the first and most important things you need to consider. How your feet fill up the shoes, how comfortable you feel, and how much support the shoes give your feet depend on their overall fit. You need to consider a few factors to determine the right fit for your shoes:
When inside the shoe, your toes should not touch the front of the shoe. There needs to be a half-inch space between your longest toe and the front of the shoe.
When you are walking, you may have noticed that your feet experience swelling. The extra room in your shoes gets filled up for a complete fit during the course of the day.
The shoes should wrap around your feet for a snug fit. They should not be too tight on your feet or leave too much room for your feet to move around within the shoes.
The tongue on the shoes should not only create a barrier between the laces and your feet, it should also help provide additional support and comfort to your feet.
The fit of the shoes is a highly significant aspect of getting proper ankle support. Remember that not all feet are the same. So, a pair of shoes that fit your friend might not fit your feet. Make sure to measure your feet before getting a pair of shoes. Remember, when you wear the shoes, you should be able to experience a comfortable fit.
If the shoes cause you pain or discomfort, they are not right for you. Similarly, if you feel any looseness or tightness, that indicates an ill-fitting pair.
Comfort
Determining the correct shoe fit is no doubt an important factor. But, it is just one part of the entire process of helping you find the right shoes for ankle support. If your shoes fit snugly on your feet, but do not have much to offer in terms of comfort, they are pretty much useless for you. Comfort is determined by a myriad of factors with the cushioning of your shoes having a big say in that.
Many ankle support shoes come with a lot of cushioning, while others do not have any cushioning. Some people prefer stiff cushioning in their footwear, while others might need soft cushioning, depending on what application they need the shoes for. The arches of your foot and pronation types are also major reasons that can affect the need for cushioning.
Your personal preference also makes a major difference. If you are in search of additional comfort, you should take a good look at the footbed. A contoured footbed can offer you great arch support to reduce foot fatigue. A removable inner sole that you can replace with a customized orthotic sole can further allow you to increase the overall comfort.
The material of the shoes also has a huge impact on their overall comfort. Natural materials like genuine leather and suede can change their shape over time, adapting to the shape of your feet. That can result in a sort of tailor-made comfort for your feet. Likewise, there are synthetic and other lightweight materials like mesh, knit, and canvas that offer a sock-like fit.
Some materials, such as faux leather, are not as malleable, and it will likely not be as comfortable for everyone.
Features
Footwear stability is one of the more important features that can help prevent ankle injuries. Whether you are wearing high top or low top designs, comfortable or uncomfortable shoes, well-fitted or loose shoes – these factors mean very little if you can twist your feet easily while walking. One of the major factors to consider is the features your shoes have to prevent over- rotation and injury.
This is where the emphasis on stability comes in. The stability of the shoes is necessary because it helps distribute your weight in a way that you are less likely to slip or slide, whether you are standing up or on the move. You need to look for shoes that will make you feel safe and secure on your feet. Solid footbeds that balance out cushioning and support, Velcro straps, adjustable laces, or even both can come in handy to this end.
Let us take a deeper look at the features you should look for and what you can expect from them in ankle support shoes:
Midsoles: The midsoles provide additional comfort to your feet as well as create a more stable environment for them. The midsole lies between the inner sole and the outer sole, and it is responsible for reducing the load rate as well as providing pushback.
When you take a step, the midsole absorbs the force of the impact, and then releases the energy to help launch the foot back up into the next stride. Their ability to reduce the force of impact effectively helps your shoes decrease the pressure on your ankle joints and reduces the chance of injury.
Tongue: The tongue is typically considered to be nothing more than a slight barrier between your feet and the laces of your shoes. In shoes that offer ankle support, the tongue has to do more than that. It should contribute to a snug fit and provide a better lockdown for a more secure fit.
In some shoes, the tongue slips to the side, reducing the level of support it provides. If you do not have a pair of fully supportive shoes, you increase the chances of suffering a foot injury if the tongue is not in the right position. It is crucial to check the tongue of the shoes and see if it increases the overall snug-ness of your shoes.
Shank Plate: A large number of shoes feature a supportive plate integrated into the soles. The shank plate is a rigid part of the shoe that strengthens its structure and keeps it from folding in on itself. Shank plates can be made from a variety of materials. Since they do not make direct contact with your foot, they can be made with any material that can hold its shape well.
While you cannot even see the shank plate, it is one of the costliest parts of your shoes, if it is made from premium quality materials. Typically between the outer sole and the inner sole, the shank has a significant impact on the stability and durability of the footwear. A good ankle support shoe will not easily bend in the midfoot area due to high quality shank plates.
Heel Counter: Right at the rear of your shoes on the inside is the heel counter. This part of the shoe can either add a lot of balance to your footwear or take it away. Depending on the design of the shoes, the heel counter helps provide balance to the wearer.
High-grade shoes made for basketball have a different heel counter than the shoes made for everyday casual wear, even though the heel counter in both the shoes plays the same role for respective wearers.
The heel counter design for basketball players is designed to make sure that the heel stays in place within the shoe during rapid multidirectional movements. The same heel counter would be too much for a casual wear shoe because the wearer does not engage in such fast-paced movements.
When you are looking for shoes that offer ankle support, you need to consider the application you will use those shoes for. Based on how you will use them, you need to get a pair of shoes that offer the appropriate heel counter for better overall stability.
Style of Shoes
Speaking of the application of footwear, the different styles of shoes can also make a difference in how supportive they are. For instance, high top shoes can decrease the risk of ankle injury by providing a snugger and secure fit around the ankles of the wearer. In case the foot is at an awkward angle, the high top will decrease the inversion of the ankle joint.
Of course, it does not present a foolproof solution. If the movement is too fast and the ankle joint inverts a lot, a high top might not be able to prevent the joint from over-rotating. High tops and low tops are not very different in cases of over-inversion.
That being said, if you wear low cut shoes, you give the muscles around your ankle joint more of an opportunity to build up strength. Stronger muscles in that area can reduce the chances of injuries. People recovering from ankle injuries should wear high top shoes, while people looking to build up strength in the ankle joint can consider low cut shoes.
Frequently Asked Questions
These are all the most important things you need to keep in mind when you are out shopping for ankle support shoes. We understand that you might have some questions regarding ankle support shoes. This is why we have created a section that contains answers to the most frequently asked questions regarding ankle supporting footwear.
Q. Can low-cut shoes offer good ankle support?
While a lot of people assume high top shoes can provide them with good ankle support, low-cut shoes can also be very good for that purpose. A pair of shoes that provide good ankle support essentially needs to reduce the amount of excessive pressure on the ankle area. High top shoes are well-known to reduce the pressure on ankles.
Low-cut shoes also offer increased ankle support due to the overall construction of the shoes. There are a lot of low-cut style shoes. Different shoes can provide a decent amount of support for the wearer, based on the application they are used for.
Q. Is it risky using my running shoes for hiking? Both of them offer ankle support, right?
Different types of shoes are designed for different purposes. If you use a running shoe for hiking, or a hiking shoe for running, you are defeating the purpose of the shoe. While it may not increase the risk as much as wearing six-inch heels to the race track, it is slightly comparable.
Both styles of shoes offer great ankle support for the particular purpose they are designed for. When you use the shoes out of their element, they cannot perform their best to provide support for your ankles.
Q. What are the best ways to reduce the risk of ankle injuries?
Other than getting the right kind of supportive footwear, there are a few lifestyle changes you can make to decrease the chances of getting ankle injuries. Choosing the right shoes based on your needs is the most important way to reduce risks.
Eating a proper diet also helps. A well-fed body will strengthen your muscles as compared to someone who is not getting the right nutrients.
Another thing you can do to reduce the likelihood of getting an ankle injury (or even other types of foot injuries), is to do warm-up exercises and stretch before you begin an intense or vigorous fitness/workout session.
Last but not least, you should know when to give your body some rest. If you feel too tired to continue working out, your body is telling you to rest. You need to give your body some time to recover before you start working out again.
Q. What are the best designs if you suffer from arthritic ankles?
If you have arthritis in your joints, the first person to look for advice regarding footwear is your doctor. Arthritis is not all the same and different types of arthritis can require separate methods to address them.
There are shoes like rocker-sole footwear that have a curved sole. The curved shape of these soles helps the walking motion and reduces the load rate on your ankle joints. Again, this is something you should talk to your doctor about before you buy shoes.
Read Also: Best Shoes for HIIT
Our Top Picks
Best Overall Shoes for Ankle Support: New Balance 928v3
Best Premium Quality Shoes for Ankle Support: Danner Kinetic 8-Inch GTX
Best Value Shoes for Ankle Support: Propet Life Walker Strap
---
Best Shoes for Ankle Support
Now that you have all the information you need to differentiate between a good ankle support shoe and a bad one, we think that you are ready to take a look at these reviews. After conducting hours of research, we have put together a comprehensive list of the best footwear for ankle support. Our research consisted of reading about the products, our personal experiences, and reviews from people who have been using these shoes.
Based on all of that information, these shoes qualify as the top contenders for you to consider.
New Balance is an innovative brand that is leading the footwear industry, especially in terms of motion control and supportive shoes. Among the company's line of exemplary products is the 928v3, which is a pair of great shoes that provide wearers with ankle support. This ordinary-looking pair of shoes offers more to the wearer than meets the eye with comfortable and stable performance.
New Balance strategically used a combination of synthetic materials to make the 928v3 shoes. This might not make the shoes as durable as leather products, but there is still plenty more that goes in favor of these shoes than that. The 928v3 offers one of the best motion control and stability systems that you can expect from decent footwear.
One of the winning features of these shoes is the Rollbar technology, which has been developed by New Balance. This technology helps hold the heel of the wearer more secure in its place within the shoe. The Walking Strike Path system used in these shoes can guide your feet to take proper steps and stabilize your feet during movement as they make contact with the ground.
The synthetic material is perforated in all the right places, making these shoes breathable. The inner lining is made of Phantom Liner, a material with a seamless finish and odor-resistant qualities. These shoes help reduce the risk of smelly feet, keeping your feet comfortable, stable, and safe. What more could you want?
Pros
Rollbar Technology for better stability
Motion control and guidance system
Cushioned midsole
Odor-resistant lining
Seamless lining
Cons
Some customers found these shoes too stiff
These shoes are relatively heavy
---
If there is one thing you are guaranteed with the Danner Kinetic 8-inch GTX shoes, it is better support for your ankle area as well as throughout the rest of your feet. Danner did a fantastic job of designing the Kinetic GTX version with a greater height. Made using a combination of leather and canvas, the upper section is adequately breathable, durable, and flexible.
These shoes do not just provide great support; the Kinetic GTX also looks amazing on your feet. The designers did not compromise on aesthetics to accommodate comfort either. These shoes also feature remarkable comfort features that help protect your feet in different environments, all day long.
Typically, waterproof shoes or boots lack in breathability. The Kinetic GTX allows wearers to enjoy the advantages of both waterproofing and breathability. The Gore-Tex liner in the boot has a major role to play when it comes to waterproofing. This liner also takes on the responsibility of keeping your feet cool and dry.
The Kinetic GTX is also great if you look at it purely in terms of performance. The kinetic outer sole of these boots makes sure that you do not slide or slip anywhere. Multi-directional lugs work with the material of the outer sole to provide superior traction on a variety of surfaces. The material also adds to the overall durability of the shoes.
You can expect to experience enhanced stability and support with these boots. You can wear them at work for long periods, and you can even take them out for a spin as casual wear, courtesy of their good looking design.
Pros
Canvas and leather upper
Great traction
Ankle high work boots
Good looking pair of boots
Breathable and waterproof Gore-Tex lining
Supportive midsole
Comfy footbed
Cons
The zipper closure is not as durable as compared to the rest of the boot
---
If you know diabetic patients, or if you are diabetic yourself, you must have heard of the Propet. The brand is popular among medically-approved footwear designed to accommodate people with all kinds of foot-related issues. It is not surprising that the brand also has a product in its production line that specializes in providing better motion control and stability to wearers.
The Life Walker Strap ankle support shoes are orthotic-friendly, comfortable, and approved by Medicare. The upper section of these shoes is made using leather and it features a padded collar that provides more security to the wearer. These shoes are not high-top design and they prove that ankle support does not always come from ankles being wrapped in the shoes.
A padded tongue, along with a dual-strap closure, works with the padded collar to ensure a more secure fit. The straps are strategically placed to keep your feet firmly locked into the shoes while allowing you to put them on and take them off easily. No more complicated laces to tackle. There are many reasons to believe that this could be one of the best ankle support shoes out there.
The EVA midsole of the pair offers a decent amount of cushioning, along with a firm heel counter that keeps the rear of your foot stable. If you feel inclined to use custom orthotics, you can remove the footbed from the shoes and easily replace them with your own. The herringbone pattern on the outer sole offers a long-lasting finish with great traction as well.
Pros
Cushioned EVA midsole
Removable footbed
Easy-to-use double strap closure
Medicare-approved
Firm heel counter
Cons
Velcro straps tend to loosen over time
Has a tighter fit than standard shoes
---
Dr. Martens is a classic from this manufacturer that is reputed for manufacturing stylish boots. The 1460 does not just find a place on the list of the best ankle support shoes because it is a boot and it can wrap your ankles up really well. The model has plenty more features, which make it an easy pick for the list. The boot style obviously is a factor when it comes to offering good ankle support to wearers. But let's take a look at the reasons why we like these shoes for this purpose.
Dr. Martens 1460 has a classic punk silhouette, which is iconic for the shape of a boot. These shoes come with eight eyelets in the laces that allow wearers to get a fully adjusted fit based on their convenience. These shoes feature top-of-the-line air-cushioned soles, developed by Dr. Martens. If there is an air-cushioned sole that can give products from Nike a run for the money, it is the sole used in these.
True to its boot nature, Dr. Martens are comfortable and durable shoes. Goodyear welt construction ensures that they can hold their own for a very long time, and even if the soles do become undone when their time comes, the shoes can easily be resoled without damage to the design. This effectively makes the shoes capable of at least a decade of use, including resoling one time. The high top-line works well with the cushioned sole to provide your feet a stable base.
Expect these shoes to give you support in all the right places, especially your ankles. This is a versatile pair of shoes that you can use for work and for casual wear. The evergreen design ensures you will not have to worry about them going out of style.
Pros
Genuine leather upper
Goodyear welt construction
Air-cushioned inner sole
Ankle height shoes
Fully adjustable lace closure with eight eyelets
Cons
Not the ideal shoes for people with wide calves
The feet look a lot larger than they are due to the shoe design
---
People prone to suffer from ankle problems or any other joint-related ailments typically tend to think that they cannot enjoy good old-fashioned physical activities, such as hiking or trekking. We think that if you have the right footwear on, you will not need to deprive yourself of the amazing health benefits from these fun physical activities.
KEEN has developed the Targhee II shoes, keeping your ankle support needs as a paramount consideration. If you want comfortable, rugged, and most importantly, supportive shoes to spend some quality time in the great outdoors, the Targhee II might just be the right footwear for the task. These shoes are going to keep your feet cool and dry as well as comfortable.
Featuring a heel lock system, the Targhee II allows you to adjust the level of support you need from the shoes. This is a quality that can come in handy, based on the difficulty of the terrain you are using these shoes on. If there is one thing people who go on hikes hate, it is getting wet feet.
The KeenDry membrane found in this pair of shoes is a moisture-wicking material that removes moisture from sweaty feet. The waterproof leather construction of the upper ensures that the water you may encounter on your trails does not get easy access into the shoes.
These shoes owe their high-level comfort to the removable dual-density EVA foam KEEN uses. The footbed is formed in a way that it can anatomically align with the natural shape of your feet, giving you additional support and comfort due to the tailor-made feel. The midsole is also made using EVA foam to provide extra shock absorption and cushioning.
Pros
Adjustable heel locking mechanism
Removable EVA foam footbed
Breathable membrane
Waterproof upper section construction
EVA midsole
Cons
These shoes are not as long-lasting as you'd like them to be
---
It would be a shame if a pair of shoes made by ASICS did not make it to at least the middle of the list of ankle support shoes. If you were wondering where the brand was, the ASICS Gel Kayano 24 is right here to fill in the spot as a great pair of ankle support shoes. There are plenty of reasons for this shoe to be on the list.
First of all, these shoes are effectively running sneakers that give you a glove-like fit, thanks to the stretchable upper section material. These shoes prove that people prone to ankle injuries can still enjoy a good run every once in a while if they have the right pair on. FluidFit upper technology is ASICS' own development. The stretchable mesh material does not just adjust to the shape of the feet. It also supports your feet where it is needed the most.
The shoes' multi-directional capability to stretch means that they are also able to give your ankle joint a good amount of support. After that, there is a heel clutching system designed by the manufacturer that provides an even better fit. The heel clutching system does pretty much what the name suggests. It is able to hold your heel steady within the shoe, creating a more stable environment. The heel counter is placed on the exterior of the shoe so that it absorbs the force of impact where it is needed the most.
These shoes also have an impact guidance system that makes sure you have a more stable gait as you transition from one step to another. The advanced technologies used by ASICS for the construction of these shoes definitely make them a strong contender to consider, especially if you enjoy running.
Pros
Impact Guidance system technology
FlyteFoam midsole
Heel clutch system technology
FluidFit upper construction
Cons
These shoes can be a little expensive for some customers
---
The Vans Sk8-Hi is another decent entry on the list of the best shoes for ankle support. The fact that they are considered to be some of the best skateboarding sneakers is not due to their appearance alone. While they are a sight for sore eyes, these shoes offer all the support you need in your ankles and provide an excellent grip at the same time – both critical qualities for using the skateboard.
The padded collar on the Vans Sk8-Hi gives these shoes a snug fit. The padded collar applies just the right amount of pressure on the ankle area to keep your feet securely locked in the shoes. The collar also raises the overall comfort level while allowing you to get a good amount of mobility in your ankle joint.
Their canvas upper is one of the best materials you can use on skateboards. The material is light and airy, but it is durable enough for the sport. Expect to get a decent range of motion through the flexibility it offers. The material does not stretch, so you also get a good amount of support where you need it. Getting these shoes can be a very good investment for skateboarders.
Pros
Canvas upper section construction
Padded collar
Reinforced toe area
Waffle-like outer sole design
Excellent traction
Cons
Does not support the use of orthotics
---
A company made by women for women, Easy Spirit is one of our favorites, especially when it comes to shoe variety. From the perspective of ankle support shoes, their Romy shoes highlight their goal of making your life easier through footwear. Their lightweight shoes are designed to make you feel carefree and light.
The Romy is among their most popular shoes, and we do not see why it shouldn't be. It is not a pair of shoes designed for high-intensity sports. These are casual wear shoes, ideal for walking and the experience of wearing them really does reflect the brand's commitment to its customers. The sneaker-like design means that you can also wear them for your jogging and other exercises.
The upper of the shoe is made using leather, but the leather is very comfortable. These shoes last long due to the material used. They are also very easy to take off and put on. The removable sock liner makes the shoes easy to wear. If you ever feel like it, you can always swap the removable sock liner with custom orthotics. The footbed of the shoe is made of impact- absorbing materials for a smoother experience.
The Easy Spirit Romy looks good enough for casual wear. It is also a very versatile pair of shoes. Above all, its ankle support allows you to get through the day without worrying about the risk of ankle injuries.
Pros
Suitable for walking and light running
Orthotic-friendly shoes
Removable sock liner
Genuine leather upper
Can last long
Comfortable
Cons
Sizing is a little unreliable
These shoes do not offer good arch support
---
These cross-training shoes are perfect for anybody who is looking to get a few exercises while enjoying a secure fit and stability in their joints through it all. These shoes look fantastic and allow you to take on multiple activities. Primarily designed keeping dance aerobics in mind, you can even expect to pull off high-intensity workouts without a worry wearing these.
However, these shoes are made only for women. The shape and the structure of these shoes allow you to execute standard movements and pivots with relative ease. Ryka used high-quality rubber to make the outer soles of these shoes so that you can apply pressure in multiple directions without worrying about slipping or falling. The Flex Foil and Direct Fuse materials on the Tenacity also enhance the overall stability of the foot.
A Velcro strap over the midfoot area adds to the secure fitting of these shoes. A breathable upper material mesh ensures your feet remain cool and dry through the most intense workouts. But, you need to keep in mind that these are not exactly the lightest shoes on the market.
Pros
Velcro strap on the midfoot for a better fit
Great traction
Supportive construction
Breathable upper mesh
Pivot design outer sole
Cons
Not lightweight
Does not come for men
---
Seeking inspiration from one of the greatest athletes ever to play the game, Steph Curry, Under Armour Curry 3 had to be on the list. The Curry 3 is a pair of basketball shoes that offer a lot of support for the wearer in a lightweight package. Basketball players know and recognize the significance of ankle support when they are out on the court.
Your feet go through a lot of stress due to the high-intensity maneuvers you have to pull off to get the upper hand in the game. This pair of shoes gives your feet the support they need to help improve your performance. The Threadborne upper is a signature material used for the third edition of these incredible sports shoes. Their molded shape offers a comfortable fit for the wearer.
A multidirectional pattern on the outer sole ensures excellent grip, which is ideal for quick turns and change of pace. The shoes also boast strong shock absorption with the die-cut EVA liner that works with the outer sole to reduce the force of impact, and then help you launch into the next stride with decent pushback. The locked-down fit helps keep your feet steadily in place, so you get optimal support through a wide range of motion during the game.
Even if you are not on the court, these shoes work well for casual use because they are quite an attractive pair to look at.
Pros
Molded sock liner for greater support
Excellent outer sole material
Fantastic traction
Neoprene upper
Cons
Some customers have reported sole separation
The die-cut EVA sock liner gives it a tight fit
---
The Winners
Now that was quite a long list of shoes to look at. From high top boots for use on the skateboard, to shoes designed keeping medical ailments in mind, and even shoes made for basketball, there are a lot of different types. We understand if you might have a difficult time choosing the best pair for yourself from the list.
Take your time and read the guide properly. Compare the qualities of these shoes to your needs and expectations, especially considering that you have ankle support shoes for every application here. If you need a little more help narrowing down the list, we have some great top picks for you to consider.
Best Overall Shoes for Ankle Support
When we think of shoes that offer amazing ankle support, along with all the necessary features at a great price, the New Balance 928v3 is the first pair to come to mind. This is our overall pick for the best ankle support shoes. They are easy to wear and comfortable.
Best Premium Quality Shoes for Ankle Support
If you are willing to get all the best features at a pretty good price, nothing beats the Danner Kinetic 8-Inch GTX. The only reason why they are not our best overall pick is because of their high price tag.
Best Value Shoes for Ankle Support
The Propet Life Walker Strap probably would have been our best pick if it were a more versatile pair of shoes. Definitely fetching a reasonable price, these shoes are perfect for people prone to suffer from ankle injuries.