Both the younger and older generations are all becoming aware of the health benefits of regular exercise. More and more people want to take advantage of the benefits that different kinds of training routines have to offer them. High-intensity interval training is the primary principle that drives most of the popular workouts today.
Also known as HIIT training, fitness enthusiasts find themselves cycling between bursts of high-intensity activity and then recovery periods in between them. This manner of working out combines resistance and cardiovascular training into a single, and more challenging workout.
Since HIIT is a workout regimen that requires all kinds of body movements, the person working out needs to take a good look at their shoes and decide whether or not the pair will be able to accommodate their needs. If you are looking for the best shoes for high-intensity interval training, you have come to the right place.
We understand that there are hundreds of different models out there, made by several manufacturers. Choosing the one that will work out the best for you can get a little overwhelming, especially if you do not know anything about HIIT workout shoes. This guide will tell you everything you need to know so that you can understand the shoes better, and know exactly what to look for when buying them.
Additionally, we have included a list of reviews for the top 10 shoes made for HIIT.
Buying Guide for Best Shoes for HIIT
We will cover everything from what the exercise itself entails, to all the information you need to know about the shoes when you are buying them. By the time you are done reading this guide, you will be able to identify the best pair for your workout needs.
What is HIIT?
High-intensity interval training, or HIIT, is a training method consisting of short but intense bursts of energy, followed by short recovery periods. Athletes are in love with HIIT because this exercise regimen allows them to get the most out of their workouts and burns calories at a very high speed.
The intensity of a HIIT workout is significantly higher than that of any kind of traditional cardiovascular workout regimen. It increases a person's heart rate, keeps it up, and burns calories faster in a short time period.
How Does HIIT Work?
High-intensity interval training is great for burning fat, which is the reason why a lot of people opt to choose this exercise regimen. HIIT can help you burn a significant amount of calories and fat as it results in excessive post-exercise oxygen consumption.
During the course of the intense workout itself, the heart rate goes up and the body needs more oxygen. The shortage of oxygen created during the workout requires your body to consume a lot more oxygen after the workout while you recover. This means, your body will still be burning a significant amount of calories after the workout even as you hit the showers. This 'after-burn' effect gives HIIT the metabolism-boosting reputation people know it for.
Why is HIIT Beneficial?
There are several reasons why HIIT is becoming increasingly popular now. Firstly, most HIIT workouts are less than half an hour long. This is a very big bonus for someone who needs to squeeze in some time for working out in their busy schedule.
Another great thing about HIIT exercises is that they generally rely on your own bodyweight to give you the exertion you need. You do not necessarily need dumbbells, kettlebells, and other kinds of gym gear. You can actually perform the workouts anywhere, provided you have the right footwear.
Why You Should Not Use Running Shoes for HIIT
A lot of people wear running shoes for HIIT workouts. This should not come as a surprise. While wearing running shoes for HIIT workouts is not dangerous, it is not something that we recommend.
Some running shoes might work for you, but others are made to optimize straight running. HIIT requires your feet to move in all kinds of directions. You might cut laterally across and move backwards during the workouts. To support a good balance through the rapid multidirectional movements, you need shoes that can handle the load.
Moving side to side puts a lot of strain on the body. As a result, your shoes also face a lot of abuse. Run in a Heisman motion side to side and look down at your shoes while you are doing this. If the shoes look flimsy as they make contact with the ground on this angle, chances are, they are not suitable for the side-to-side movement. They will not support your weight properly.
Over time, your shoes will become damaged. The same applies to your backward motions, though your shoes will fare better in the backward movement as compared to the side-to-side movements. During your HIIT workouts, you can expect to get down to the floor in a really fast movement. Your shoes need to be able to support the rapid movements involved in getting down to the floor and quickly getting up again so you can start running in place.
The series of movements involved are generally easy for some running shoes to handle. If the shoe is flimsy, it might not be able to hold up well on the ground. The toe area is where ill-equipped running shoes can face problems during HIIT workouts that involve movement along the ground. A robust toe area will be necessary. A very soft toe area will not be able to help you keep your balance well, or support your toes enough to protect them.
If your HIIT workouts involve lifting weights, that is where proper footwear becomes important. Lifting weights is not just stressful for your body, but it takes a bit of toll on your footwear as well. Inferior quality shoes can break down within weeks of starting HIIT workouts, the same will be the case with shoes made for other purposes. If you lift weights regularly, even if they are just dumbbells, you are putting these shoes through more pressure than they were designed for.
As running shoes are lightweight and minimal in their construction, not all types of running shoes are suitable for HIIT exercises. The latest running shoes are sleek with a minimal profile and feather-like weight. They are also soft to the touch.
The fact is that running shoes are supposed to be lightweight. You need to apply a minimum amount of force to move your feet wearing them. Their cushioning is made in a way to suit fast-paced movement in a singular direction. This reduces their weight, ensuring they can perform optimally for running.
With the requirements of moving in all kinds of directions during your HIIT workouts, you cannot get the same experience from most running shoes.
Things to Look for in HIIT Shoes
Just like shoes for any other kind of physical exercise, shoes suitable for HIIT workouts have certain qualities to make your workouts more efficient and safer. We are going to take a look at the factors you need to be on the lookout for when you are weighing your options to find the best HIIT shoes.
Support
If you want to do HIIT workouts, finding supportive footwear is critical. In any workout session, you can find yourself moving from a pushup into a burpee, to side planks to side shuffles, and anywhere in between. You will need shoes that can support the weight of your body as your feet move forward, sideways, diagonally, or backwards.
During a HIIT workout session, intense movements and the sudden shifts in direction can result in a sprained, rolled, or even a broken ankle, among many other types of injuries to your legs and body. If your shoes do not support your body weight properly, you risk rolling an ankle, losing your balance and falling badly. This is why you need to look for highly supportive shoes for HIIT.
Outer Sole: The outer soles need to have a supportive design. They should also flex, based on your foot's movements without compromising support. There are a number of technologies developed by manufacturers that create supportive outer soles for high-intensity interval training exercises. They give your feet the adequate room for movement, without letting you fall.
Arch and heel Support: Arch and heel support count a lot because these features help you retain your balance. When you are going through a very intense workout, these features will reduce your risk of falling and injuring yourself. You need these supportive features if you do not have normal pronation.
You should be aware if you under- or over-pronate because lateral movements with pronation issues can result in a higher risk of injuries. If your shoes do not help you balance yourself well through high-intensity movements, you can even develop long-term issues, originating from debilitating injuries from pronation issues.
Upper: The upper material of the shoes also plays a role in how supportive they are. The flexibility of your uppers is necessary to give decent room to your feet for movement, but that does not mean mesh material alone can provide the kind of support you need for high-intensity movements. Mesh is a lightweight material that is breathable and flexible. It's not supportive.
The best shoes for HIIT have overlays or underlays of another material, or strategically added layers of mesh to provide the extra support you need to prevent you from falling and injuring yourself. The supportive uppers are also more durable than standard mesh materials.
Traction
After the amount of support your footwear offers, the traction they feature is the second-most important thing to look out for when you are getting yourself a pair of HIIT shoes. Supportive shoes that do not offer traction are pretty much a waste of materials. Traction is absolutely important because it is the key reason you will find yourself able to stay on your feet.
You might argue that running shoes offer a lot of traction. We do not disagree. Running shoes have great traction – but not for lateral movements. They also do not offer a lot of traction for backward movements. And there is the fact that there are so many running shoes will make you slide if you try to pull off a planking move with them on.
There are some running shoes that offer the kind of traction you need for your HIIT workouts. In order to find shoes that offer the right traction, you need to look at the outer sole of the shoes. They are supposed to have treads or grooves, but that is just the first sign.
Rather than simply having a tread or groove pattern, the bottom of the shoes needs to have the appropriate patter. The grooves or tread should allow the shoes to grip the ground well and prevent injuries. The depth of the grooves and the frequency of the patterns may differ from model to model, and even manufacturer to manufacturer.
Typically, the more the number of grooves, the better the grip the shoes will offer your feet. Of course, if the grooves are too thin and bunched up closely together, the shoes will not offer you much in terms of traction. Manufacturers tend to mix up the groove patterns and treads to optimize the traction that HIIT shoes offer. Remember that you cannot compromise on the traction when getting HIIT shoes.
Shock Absorption
While you might find it surprising, cushioning is not as important as the support and traction of HIIT shoes. We are not implying that your workout shoes should not have any cushioning at all. It is just that too much cushioning can actually hinder the shoe's ability to flex along with your foot through the most intense movements.
You need just enough cushioning to prevent your feet and legs from taking on too much strain from the workout movements. The cushioning should also adequately prevent painful rubbing.
The padding of the shoes has to be lightweight yet effective. If there is too much padding, it can make the same firm and supportive shoes very uncomfortable during high-intensity interval training workouts. The shoes need to have lightweight padding inside them as well as on the tongue and collar. The padding should allow the shoes to be breathable, something we will talk about in just a little while.
The inner soles need to provide enough cushioning to absorb the shock of hard impacts during HIIT and support your feet at the same time. They cannot be too bulky or prone to compression that they compromise your balance.
Having thin and supportive inner soles can be balanced out with midsoles that add another layer of cushioning for your feet while offering support. The midsole needs to have the right balance between supportiveness and cushioning.
The outer soles of the shoes also have a major role to play in terms of providing you with shock absorption during HIIT workouts. The outer sole acts as the first line of defense for the wearer's feet. This is the part of the shoes that comes into contact with the ground, protecting your feet from bumps, debris, and other hazards.
The best HIIT shoes have strong rubber or synthetic outer soles. The rubber material needs to be supportive and flexible. At the same time, the outer sole needs to provide an adequate amount of shock absorption for the wearer so that it can dampen the force of hard HIIT workout impacts.
Breathability
In any intense workout, the breathability of your shoes can make a world of difference to your experience and the efficiency of the workout. You need shoes that can provide you with the right amount of temperature control to keep your feet dry and cool. When you are engaged in high-intensity workouts, this quality becomes even more important than ever.
If you wear shoes that offer inadequate circulation of air to your feet, you are effectively making your shoes turn into a highly irritable, hot, sweaty area of odor. Hot and sweaty feet means you will want to stop your workout session as soon as possible. The best way to get breathable shoes for HIIT is to be on the lookout for the use of mesh.
An upper made entirely of a single layer of mesh is breathable, but it will not be durable against the strain of high-intensity workouts, and it will not be supportive for your feet. The combination of mesh in layers or with overlays and underlays makes a huge difference to how breathable they are. Mesh is a preferred material due to the fact that it is lightweight, breathable, durable and supportive.
Frequently Asked Questions
Q. Are Nike and Adidas the only shoe manufacturers that produce great HIIT shoes?
These two brands produce excellent quality shoes for HIIT workouts, but there are plenty more manufacturers out there producing great shoes suitable for HIIT workouts.
Q. Can I use HIIT shoes for other athletic exercises like running?
Technically, it is possible for you to use HIIT shoes for other exercises like running. The reason why we would not recommend that you use them for other kinds of workouts is that they are designed with the aspect of lateral movements and sudden change of direction in mind. There are some activities you can perform well wearing these shoes, but when you are running, you are better off investing in a running shoe focused on encouraging forward movement in one direction.
Q. Are HIIT shoes good for a walk?
You can wear your HIIT shoes for walks. The only thing is, they are not designed for sustained movements in a singular direction for a long time. Walking or running with these shoes on for a long time can become painful for your feet. They are also not ideal for wearing to work where you find yourself on your feet all day.
Read Also: Best Shoes for Rucking
Our Top 3 Picks
Best Overall Shoes for HIIT: Reebok CrossFit Nano 8.0
Best Premium Shoes for HIIT: Nike Metcon 4
Best Value Shoes for HIIT: ASICS Gel Venture 6 MX
---
Best Shoes for HIIT
Reebok's CrossFit Nano 8.0 is the ideal shoe to start off this list with. The very name of the model has CrossFit in it. The name shows that Reebok intended these shoes for exercises that find their way to HIIT workouts. If there ever was a shoe meant to be used for HIIT, it would be the CrossFit Nano 8.0.
Reebok is a big name brand in shoe manufacturing. The brand has manufactured some of the best shoes that athletes have been using over the decades. The Nano 8.0 combines excellent cushioning with remarkable shock absorption and a low cut design that allows for ease with fast movements in multiple directions.
Reebok created the CrossFit line with the intent to accommodate Olympic athletes who find themselves lifting heavy weights or performing other exercises which put a lot of pressure on their feet and shoes. These shoes come in as ideal footwear to handle high pressures and hard impacts.
The shoes have a clean and sleek look, but make no mistake of it, the shoes are well ventilated. The upper is designed to let the moisture and air within the shoe go out and let fresh air flow through to the feet of the wearer. The mesh design is perfect to provide breathability and comfort for long hours. The NanoWeave material wraps around your feet like a glove for a snug and secure fit even through the most rapid movements.
The synthetic rubber sole has an ample amount of grooves to give you optimal traction and grip while you work out.
Pros
NanoWeave mesh upper for breathability, support, and comfort
High-abrasion resistant rubber outer sole for better grip and traction
CMEVA midsole for ideal support through hard impacts
Low-cut design to encourage faster movement
Synthetic sole that has a lightweight
Cons
The durability is questionable according to some customers
The width is inconsistent with these shoes
---
Nike should not be a big shocker on a list of some of the best shoes of any category for literally any application. They have been the leading manufacturer of sporting goods for decades, and with every new product, they keep proving why. Nike has produced some fantastic sports application footwear in the past, but the Nike Metcon 4 is on another level entirely.
Made with the needs of weightlifting and cross-training in mind, the Nike Metcon 4 is an instant favorite for a lot of fitness enthusiasts. These are versatile shoes which offer flexibility and support through a wide range of exercises. The shoes are also excellent at gripping any kind of surface to make it possible for wearers to get the most out of their exercises in these shoes.
There are multiple versions of the Metcon 4 and the latest update to this model features more improvements in the upper section. Nike made more of an effort to encourage better breathability and comfort. There is a sandwich mesh with greater padding on the upper that allows for better airflow into the shoes. The double layering helps the shoe retain durability.
The Metcon 4 has a removable inner sole, which actually plays the role of what traditional shoes can expect from midsoles. The softly cushioned forefoot works well for sprints and the thicker heel provides a great amount of stability through heavy weightlifting training as well. The 4mm heel to toe drop is minimal, which allows the wearer to get a good ground feel while using these shoes.
The outer sole is a sticky rubber with a tri-star tread pattern. The patter works remarkably well on a wide range of surfaces indoors and outdoors. The medial and lateral parts feature additional protection for your foot and good grip during the toughest workouts.
Pros
Cushioned tongue for enhanced overall comfort
The polyurethane heel counter provides additional stability and support
Breathable mesh upper wicks out moisture and introduce fresh air to the shoe
Sticky rubber outsole helps the wearer get an excellent grip on different surfaces
Flywire cables are there for additional support
Cons
Pricier shoes
Some customers do not like the low heel to toe drop
---
ASICS might be one of the newer companies on the block, but it is definitely one of the best right now. Relying on the latest technological advancements, ASICS has quickly built a good reputation within the sportswear industry thanks to their state-of-the-art shoes. They constantly keep on producing newer models to cater to a wide variety of athletic applications. One of their ideal models to come out recently is the ASICS Gel Venture 6MX.
Anybody taking on the HIIT workout will need a good grip, breathable shoes, and the right balance between comfort and cushioning. The Gel Venture 6 MX has you covered in every respect. It is very hard to find fault with the Gel Venture 6 MX by ASICS. ASICS' Rearfoot Gel Technology Cushioning system is used throughout the footbed in these shoes to dissipate the force of impact from all the sensitive areas of your foot, ankles and knees.
The Gel based shock absorption in Gel Venture shoes allows you to keep up your intense workouts for longer and longer without losing balance or getting tired. Your muscles do not wear out as fast while wearing these shoes as they would with traditional running shoes.
The outer sole features a special rubber made with a high abrasion resistance that is not just durable, but incredibly grippy. You can rely on these shoes to give you solid traction on the surface no matter which direction your HIIT workout takes you. The reverse lug pattern ensures that the shoes do not slip at all during lateral or backward impact.
They would have been very expensive shoes, but ASICS keeps reducing the price of old models as new shoes come out.
Pros
Rearfoot Gel Technology is top-of-the-line
Reversed lugs provide better traction for lateral and backward movement
The sock liner is removable so you can fit customized orthodontics
High abrasion-resistant rubber designed for better durability and traction
Very reasonably priced shoes
Cons
---
We mentioned that there are shoes out there, which can double as both running and high-intensity interval training shoes. The ASICS Gel Quantum 180 TR is proof of an excellent all-rounder pair of shoes to this end. They are among the newest models made by ASICS for people looking to get into shape. The famed Gel technology developed by ASICS is featured in these shoes to give you superior performance and shock absorption with an adequate level of comfort.
These are lightweight shoes and made for neutral pronators. They come in as a great choice for sports footwear for a lot of people, especially those who value durability and comfort in their exercise shoes. The outer sole on this model is made using AHAR compound. This is a specialized rubber developed by ASICS for its shoes. The outer sole durable and offers excellent traction to the wearer, perfect for HIIT workouts.
The midfoot area is protected by the brand's Trussic System which enhances the structure of the shoe in the midfoot area, creating a more stable base for wearers, especially during rapid lateral movements. The Rearfoot and Forefoot Gel cushioning provides great shock absorption during all kinds of landings you can experience while working out with these shoes on.
The addition of a Solyte midsole material adds the support and cushioning you need in a durable package, which is incredibly lightweight at the same time.
Pros
Mesh and synthetic leather upper creates a supportive yet breathable upper
Rearfoot and Forefoot Gel for shock absorption in all types of impact
Solyte Midsole and Trussic System provide extra cushioning and support to the wearer
The AHAR outer sole is highly durable and provides fantastic traction
Cons
The shoes are not suitable for people with wider feet
Some users complained that the mesh is not as durable as the rest of the shoe
---
People who love athletic footwear are no strangers to Puma. The brand is a longstanding producer of all things sports, especially when it comes to high-quality sports shoes. The appeal for Puma shoes is there for every type of exercise. The Puma Cell Riaze model is perfectly designed for fitness enthusiasts looking for some high-intensity interval training.
The Puma Cell Riaze offers you cushioning throughout all the parts of the shoe. From the midsole to the heel, and even the padded tongue and collar, this is a very comfortable shoe. While comfort is not out of the question with this model, the real question is how well-equipped are these shoes for HIIT workouts?
The shoes are comfortable, but they will not make your feet feel like they are being swallowed by too much pillow-like softness while you work out. The cushioning offers comfort while making sure your feet have the right support where they need it during the rapid movements of your workout. From jump knee tucks to squat jumps, your feet will have the support they need.
The breathable textile upper is going to make sure your feet remain cool and dry throughout your HIIT workout session even as you hit the tail end of it. The breathable upper manages moisture using the Eco Ortholite sock liner. These shoes ensure the healthiest environment in the shoes for your feet through the most intense workouts.
Pros
Snug and comfortable foot for great support
Breathable materials keep your feet cool and dry
Eco Ortholite sock liner enhances conditions within the shoe for your feet
Stable cushioning throughout the shoe
Supportive overlays
Cons
Some users complained that the shoes run a little narrow and small
---
The list would not be complete without the inclusion of a review of the Adidas Powerlift 3.1. As the name suggests, Adidas made these high-performance shoes for weightlifting more than for anything else. The only manufacturer to rival the likes of Nike in terms of experience and ingenuity, Adidas' Powerlift is an exemplary pair of shoes that deliver a great performance.
These shoes are made to fit over the foot in a snug manner. They support your entire foot without a problem and make sure that your feet are comfortable through training every day. The breathable upper allows a substantial amount of airflow to prevent sweat accumulating and keeps the temperature within the shoes under control.
These shoes feature a fantastic closure system. The adjustable lacing system works well with the midfoot strap for enhanced support over the instep area. There is no chance for the laces to fail the wearer even while lifting the heaviest weights. A padded tongue enhances the overall comfort of the shoes, protecting your feet from the laces no matter how tight they get. The heel is well supported even under a lot of pressure thanks to the TPU construction and 12mm heel-to-toe drop.
Pros
Snug-fitting upper due to excellent closure system
Hardwearing outer sole
Die-Cut EVA midsole wedge for a wider base while working out
Hook and Loop strap for additional support
Collar and Tongue made of padded mesh
Cons
Not suitable for people with wide feet
Not suitable for exercises involving running
Expensive
---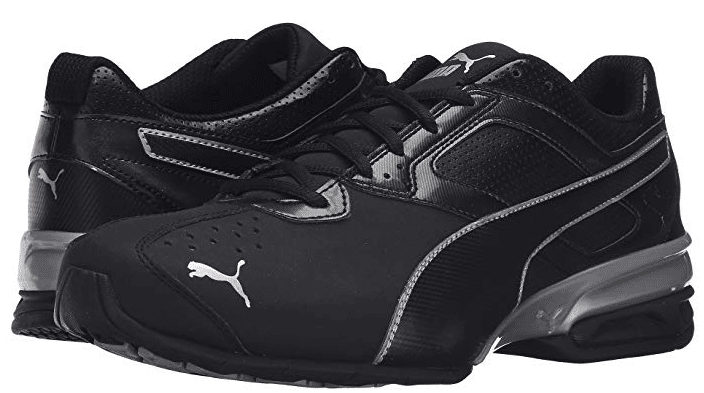 The Puma Tazon 6 FM is effectively known as more of a running shoe than anything else. That does not take away from the fact that these shoes are more than capable of withstanding the harsh punishments which the activities of plyometrics and weightlifting can put them through. This is the second Puma shoe we've reviewed on the list of the best HIIT shoes, and there are plenty of reasons for this shoe to be on this list.
The shoe has a sleek design that is characteristic of running shoes, but it provides an excellent and stable base for high-intensity interval training workouts. The cushioning of the shoes is ideal for where your feet might need it during intense workouts, providing shock absorption where necessary. The heel and the midfoot are cushioned using EVA foam and a midfoot saddle in the shoes.
The thermoplastic polyurethane shank integrated into the outer sole of the Tazon 6 FM is strategically placed to encourage better stability during high-intensity workouts. The TPU shank prevents any overturning of joints during these workouts so you can stand upright and stable through it all.
Pros
Stability shank made using thermoplastic polyurethane
Raised heel for better support at the rear of the foot
Lightweight and breathable upper material for more comfort
EVA cushioning for additional comfort and support
Versatile shoes designed for multiple types of workouts
Cons
Some customers found these shoes a little too rigid for their liking
---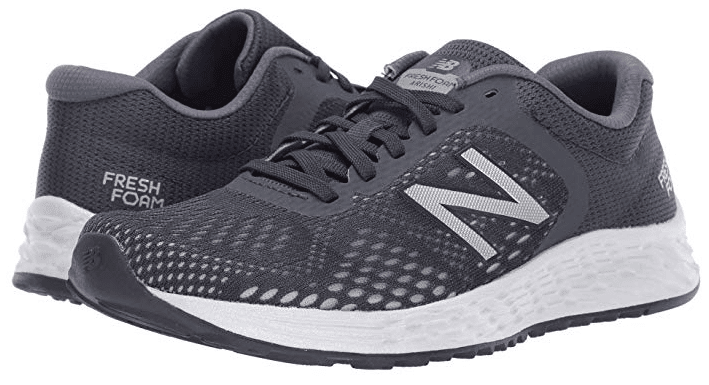 New Balance is also a respectable brand when it comes to making sports footwear. Over the years, the company has manufactured several highly capable sports shoes for a variety of sports, including the Arishi v2. The second version of their Arishi shoes is an upgrade on a previous model that already counts as an amazing shoe. This is a running shoe primarily, but it doubles well as a shoe for HIIT workouts.
These shoes have a lot to say in terms of style and comfort. Someone looking for shoes that make them look good during those high-intensity interval exercises might fall in love with these. There are more reasons to love the shoes, of course. The fresh foam cushioned midsole uses a gel that offers ample cushioning from strong impacts. You can rely on your feet to remain comfortable throughout the entire session every time.
New Balance used a textile and synthetic material to make the upper section of these shoes. The model lets a good amount of air to flow into the shoe and removes the hot and humid air from within the shoe. These shoes provide the perfect breathability for a high-intensity workout. The easy-to-use lace system works well with the perforated upper to help you get the perfect fit.
The New Balance Arishi v2 also comes with a removable performance insert, which allows people who like to use customized orthodontics to use an inner sole that they prefer.
Pros
Perforated textile and synthetic upper material for breathability and support
Rubber outer sole provides excellent grip and traction
Synthetic mesh in upper enhances breathability
Performance insert to improve performance
Engineered mesh
Cons
Shoes run a little wide
Customers have complained about the model's durability
---
Puma happens to be the most featured brand on the list of the best shoes for HIIT workouts. Among their versatile line of products are the lightweight and breathable Puma Prowl Alt 2. This highly adjustable shoe is one of the latest training shoes developed by Puma for those who want to get the most functionality out of their footwear during workouts but also love a great looking shoe.
If there is one thing that this shoe beats every other model we have reviewed on this list, it is the looks. Available in gray or black monochrome colors, they are beautiful shoes, but that is not the reason why we have them on the list. These shoes have a cushioned inner sole and a cushioned midsole. They offer great cushioning for the wearer regardless of the kind of movement they are making.
The IMEVA midsole in the Puma Prowl Alt 2 is a lightweight version of standard EVA foam which disperses the force of impact without adding a lot of weight to the shoe. The Softfoam sock liner ensures adequate comfort levels and provides your feet with a good feeling when you pull these on.
The upper section of these shoes is made with mesh and has three supportive straps on the toe area. Mesh makes the upper really breathable while the straps maximize the support these shoes provide you. You can rest assured that your feet will not move within the shoe or slide to make you lose balance.
Pros
Fully breathable mesh upper construction
Customizable lace enclosure that offers maximum adjustability
IMEVA midsole for superior shock absorption without adding too much weight
Softfoam sock liner for extra comfort
Lightweight rubber outer sole for great traction
Cons
Shoes run a little narrow
They do not provide any arch support
---
The last entry on the list, but not at all the least, Puma's Fierce Core reflects on its name when it comes to the requirements of fitness enthusiasts. These shoes have an elastic bootie-like construction that has a surprisingly good balance between support and elasticity. These are some of the most renowned trainers you can find on the market.
The Fierce Core does not feature any laces in its closure system. Instead, the shoes rely on elastic over the instep to give wearers a tight fit, no matter what kind of foot they have. The elastic material also makes sure that the feet get a good lockdown within the shoe to accommodate rapid movements in all directions.
The shoes have a thick heel, which offers added protection at the rear of the foot, especially during high impact landings during HIIT workouts. The elevation comes in handy to provide you a supportive base during squats. The upper section primarily uses mesh, making it lightweight, comfortable, supportive, and breathable. These shoes will keep your feet cool and dry even during the most intense exercises throughout the sessions.
The synthetic overlays on the upper give these shoes the structural stability they need, and a padded tongue enhances the overall comfort in the Puma Fierce Core. Just in case you were wondering if it will be difficult to pull them on and take them off, the elastic pull loop tabs at the heel will make both of those things very convenient.
Pros
Mesh upper material is breathable, lightweight and comfortable
Elastic closure provides a snug fit for feet
The pull loop tabs at the heel make taking them off and pulling them on very easy
Flex groove sole provides excellent traction
Cons
Shoes offer little to nothing in terms of cushioning
Some users found the shoes a little bulky for their liking
---
The Best of the Best
With that, we are confident that you have all the information you need to become an expert who can pick out the best shoes for high intensity interval training workouts. If you still are facing a difficult time with ten different models to choose from, we have narrowed down the list to our top three picks so you have an easier time deciding on your favorite pair.
Overall Pick for Best Shoes for HIIT
In terms of finding the right balance between premium features, durability, and pricing, the Reebok CrossFit Nano 8.0 is definitely our overall top pick. These shoes were designed by a top manufacturer for HIIT workouts and it serves that purpose as well as you can expect it to.
Premium Pick for Best Shoes for HIIT
Nike has surpassed all expectations with the Nike Metcon 4. If you are willing to pay the premium price for the shoes that have it all, you will love the Metcon 4 shoes. It has all the best features, but they are better at everything than the other shoes we've seen for HIIT workouts.
Best Value Pick for Best Shoes for HIIT
The only reason why the ASICS Gel Venture 6 MX is featured as the best value product and not the best overall product is because of its remarkably low price. If you are wondering why it has a low price tag, it is only because ASICS keeps on producing new models and the older models see their prices lowered. If there is a pair of shoes that offers you unmatchable value for money, it is this pair indeed.