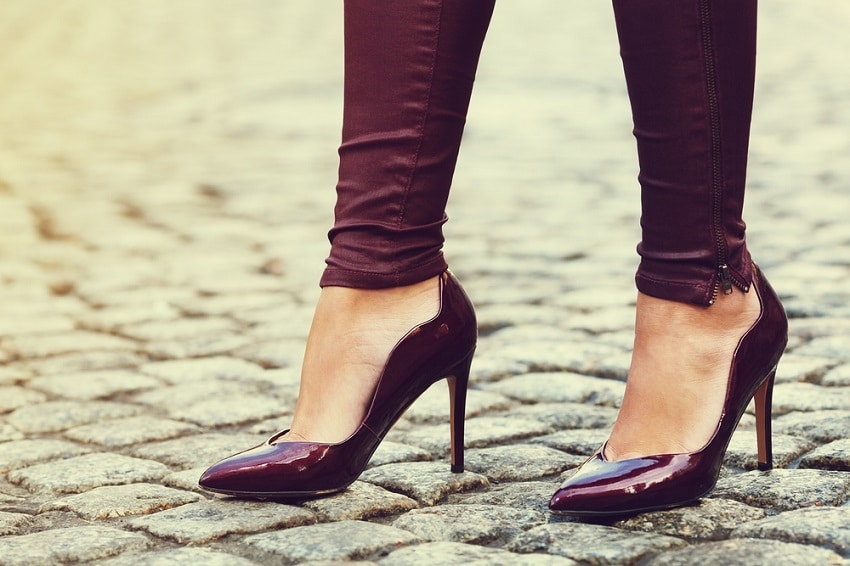 Burgundy shoes are less formal than black shoes but complement just as many, if not more, colors than brown shoes. While you have the shoes ready to go, you might find it difficult to conceptualize what outfit to use them in. Fear not — we have the right advice for you on what to wear with your burgundy shoes.
What Bottoms to Wear with Burgundy Shoes?
Since burgundy shoes are striking, they'll draw the eye before the rest of the outfit. Since the eye lands on the shoe first, the next garment a viewer will see will be the pants or bottoms you're wearing.
Therefore, it's best to put some emphasis on your legs and essentially build your outfit the bottom up.
Black
Black pants should be your go-to with burgundy shoes. Burgundy is a darker color, so the universal neutrality of black looks excellent against it. Black and burgundy give a sleek autumnal look, with hints of the crepuscular. It's excellent for the fall or winter season.
Black Skinny Jeans
Black skinny jeans, in particular, are the way to go if you have burgundy boots, sneakers, or even formal Oxfords for a business-casual appearance. Black skinnies flatter the body and fit your form, providing a sharper edge to your outline to show off your body.
If you have them, skinny black jeans with closed-toes burgundy shoes create a vibrant yet coy look that's alluring and mature.
Types of Burgundy Shoes to Wear with Black Skinny Jeans
Sneakers
Suede shoes
Leather shoes
Flats
Black Trousers
For more formal events, black trousers are a perfectly acceptable companion for burgundy shoes. Tight clothes can seem a bit too casual, so loosening up your appearance — without bordering on baggy — can be what you need to pair your burgundy shoes while still looking classy.
Types of Burgundy Shoes to Wear with Black Trousers
Oxford-style leather shoes
Suede shoes
Flats
Other types of dress-up shoes
Black Skirt
A black skirt is another acceptable choice for burgundy shoes.
For casual events, you could still don your burgundy boots or sneakers. A black skirt looks a bit more refined, so you'll elevate the shoes up to the standard of upscale if you wear a sleek black skirt with your shoes.
For formal events, a knee-length skirt paired with burgundy pumps or flats could provide the right amount of enchantment while keeping the overall outfit chic.
Your black skirt can be of any length, but mid-calf to an inch or two above the knee is preferred. There's no point in styling your outfit to your shoes if they're covered up by a large, floor-length skirt.
Types of Burgundy Shoes to Wear with Black Shoes
Boots
Sneakers
Pumps
Flats
Sandals
Wedges
Black Shorts
The same principles from black skirts apply with black shorts. Black and burgundy are an excellent pairing, but showing a bit of skin in between adds some space between the two colors.
If it's hot outside but still approaching fall, black shorts can help you dress for the season while still keeping cool. A pair of black shorts go a long way, so feel free to pair them with your burgundy boots, sneakers, or flats. Keep your burgundy pumps and high heels for the next garment.
Types of Burgundy Shoes to Wear with Black Shorts
Sandals
Sneakers
Pumps
High heels
Flats
Boots
Black Dress
For formal events in the fall or winter, match your burgundy shoes with a black cocktail dress. Keep the dress simple — the burgundy shoes provide a deeper, more autumnal palette for the dress while not clashing with them. Burgundy is a moody color, not quite as energetic as red but a better color to pair with black than blue or purple.
Burgundy is enigmatic, just like the overall appeal of a black dress. When you want to go to a formal party and steal the show, wear a black dress with your burgundy shoes.
Types of Burgundy Shoes to Wear with a Black Dress
Pumps
Flats
Boots (use discretion)
Sandals
Wedges
Sneakers (use discretion)
Dark Gray
One notch up from black, dark gray is another acceptable choice to wear with burgundy shoes.
Black and burgundy are autumnal, if not a little vampiric, which can totally be your vibe. But if you want a more year-round look, dark gray and burgundy are a great pairing.
Dark Gray Trousers
Since dark gray is so neutral, it pairs well with burgundy shoes without clashing with them. Dark gray is powerful yet refined, with matches with the vibe burgundy provides as well.
Trousers, ones that are form-fitting without getting too baggy, are perfect for both formal and informal events. If you want to dress up, you could wear a dress shirt and blazer on top. If you want to maintain an upscale casual look, a black, white, or gray sweater works as well.
It's good to keep a pair of dark gray trousers in your closet for a variety of scenarios. The pants are universally acceptable to wear and make a great complement to burgundy shoes — especially suede or leather shoes, sneakers, or flats.
Types of Burgundy Shoes to Wear with Dark Gray Trousers
Suede
Finished leather
Flats
Pumps
Loafers
Dark Gray Dress
The feminine version of trousers, a dark gray dress, would look just as lovely with your burgundy shoes as trousers would. A dark-gray dress can be formal or casual, depending on the brand and the material it's made out of, so you can have a dark gray dress for any occasion.
Again, dark gray doesn't have the mournful or undead connotations that black has — especially when paired with burgundy. If you want to wear your burgundy shoes with as many outfits as possible, a dark gray dress is the best course of action.
Types of Burgundy Shoes to Wear with a Dark Gray Dress
Pumps
Flats
High heels
Platforms
Wedges
Sandals
Dark Gray Skinny Jeans
If you want something to wear to class or on casual Fridays, but dresses or trousers aren't your vibes, you can wear skinny jeans instead. Skinnies are comfortable and work with a variety of tops. If you have burgundy sneakers or booties, you can easily tuck your skinny jeans into the ankle for a polished, put-together look.
Dark gray skinny jeans have a simple yet refined look to them. Denim is durable, and so you can wear the dark gray skinnies with your burgundy shoes for years to come.
Types of Burgundy Shoes to Wear with Dark Gray Skinny Jeans
Sneakers
Loafers
Leather shoes
Boots
Booties
Flats
Dark Gray Leggings
If it's too hot to wear skinny jeans, leggings are another option for you. While there's still some debate over whether or not leggings are pants, one thing is clear — dark gray leggings look great with burgundy shoes.
If you want a classier look, you can pair your leggings with burgundy heels or wedges with a flowy white blouse. You could also wear burgundy boots with a long flannel button down for the ultimate fall vibe. There's also the option of wearing suede or leather Oxford-style shoes with leggings for a simple yet powerful androgynous look.
Types of Burgundy Shoes to Wear with Dark Gray Leggings
High heels
Wedges
Boots
Suede shoes
Oxford
Flats
Light Gray
If dark gray is too muted for you, light gray providers a brighter version of an awesome look. Light gray can fit for a variety of situations, both casual and formal, and provide different vibes depending on the garments you wear.
Light gray provides a dazzling companion to the deep and powerful burgundy shoe. Plus, it's a popular clothing color, so you'll find plenty of different options.
Light Gray Suit
Whether it's a wedding, an important meeting, or a job interview, light gray accents a variety of skin tones while still looking professional. Burgundy shoes, then, go great with a light gray suit.
You're providing more visual diversity than what brown leather shoes could provide. Also, the light color contrasting with the burgundy shoe gives a dapper, elevated impression to your overall look. For a clean-cut and refined appearance, a light gray suit with formal burgundy shoes are an excellent choice.
Types of Burgundy Shoes to Wear with a Light Gray Suit
Suede
Finished leather
Oxford-style dress shoes
Light Gray Capris
Capris don't get a lot of love — but there's something lovely about their simplicity. They're longer than shorts but shorter than pants, meaning they're a stylish way to stay cool in the warm months while conserving the amount of skin you show.
Capris not only look great but look polished with burgundy shoes. They have a carefree summery feel to them, so they're best to wear with a flowy blouse and open-toed shoes.
Types of Burgundy Shoes to Wear with Light Gray Capris
Sandals
Wedges
Flats
High heels
Light Gray Pants
Light gray pants with burgundy are a classic pairing. It's high brow and makes you look like you've accomplished stuff in your life. Who doesn't want to project, "I own my own company and plan on acquiring more" than by wearing light gray pants and burgundy shoes?
Extra points if they're trousers and made from the light plaid material seen here. If that's too fancy for you, you can tone it down to a more casual level with uniform gray pants with your burgundy shoes.
Types of Burgundy Shoes to Wear with Light Gray Pants
Suede
Dress-up
Flats
Oxford
Sandals
Pumps
High heels
Navy
Navy is mature and dignified. It's a relaxing color, and burgundy shoes won't overpower it. Navy is also a universally acceptable color, unlike black. You can wear navy at almost every function, and you can add a little pizzazz when pairing navy with burgundy shoes.
Navy Skirts
Flowy yet functional, navy skirts can pair well with burgundy shoes. Depending on the length, the navy skirt and burgundy shoe combination can give a vintage spring look to an otherwise dark-set outfit.
Types of Burgundy Shoes to Wear with a Navy Skirt
Flats
Loafers
Pumps
Sandals
Heels
Navy trousers, shorts, and dresses would also be acceptable with burgundy shoes.
What Color Tops to Wear with Burgundy Shoes?
You have more leeway with tops, depending on the style of shoes and bottoms you wear.
White
You can theoretically match white with any of the above-colored bottoms and burgundy shoes. White is ubiquitous. It's clean and functional. And in a pinch, you can throw it on to complete your look with burgundy shoes.
Consider wearing one of the following with burgundy shoes:
White button-down
White tank top
White cardigan
White T-shirt
Light Gray
Don't match light gray with another shade of gray and burgundy shoes (unless you're wearing a suit — then you must wear gray-on-gray). Otherwise, you'll wear what is called a "groutfit" (a gray outfit), and it can be seen as a fashion faux pas.
Consider wearing one of the following with burgundy shoes:
Light gray tunic
Light gray blouse
Light gray button-down
Light gray dress
Light gray T-shirt.
Black
Black is another universal color, but you can't apply as widespread as white. And you'll have to note when you're wearing black bottoms as well, as it looks a bit weird to pair a black shirt with black bottoms and burgundy shoes — unless the black top is paired with a black skirt. Then it's cute.
Consider wearing one of the following with burgundy shoes:
Black blouse
Black T-shirt
Black button-down
Black cardigan
Black denim jacket
The rest is up to your discretion. Ask your fashionable friends to see if they approve of your outfit or if you need to revise something. When in doubt, talk to someone who has better style than you.
Burgundy isn't as difficult to wear as, say, fuschia. But there are still some colors to avoid and others to gravitate to in order to enjoy the shoes.
What Not to Wear With Burgundy Shoes?
Bright Colors
Burgundy is dark, muted, and almost shadowy. Therefore, wearing a bright color of any hue will look terrible against it.
You can take your pick of what color looks bad with burgundy, but here are our choices below:
Red
Red is bright and energetic. It draws the eye. It demands attention. It does not look good next to its darker, broodier cousin burgundy. Red should be reserved for brighter colors and neutrals. You can pair red with another red to create a chic monochrome look, or you can pair it with other warm colors like yellow and orange. Black, white, and gray also look good with red.
Burgundy, decidedly, does not look good against red — unless the red itself is dark and leans toward burgundy. Otherwise, keep the two away from each other.
Blue
Blue is burgundy's other cousin. Blue is cool and indifferent, calming, and pleasing to the eye. Burgundy is a bit too reddish to match well with blue, so keep the two away from each other.
Granted, you can find a nice blue and burgundy outfit if you get the shades exactly right, as detailed here. You can pull it off if you're a master fashionista, but chances are the shades of blue and burgundy you find will not go together. It's best to cut your losses and find another color to pair with your burgundy shoes.
Green
A quick guide into color theory.
Green is the complementary color for red, which burgundy is pretty darn close to. This means that green and red are opposites on the color wheel, not beside each other as with warm and cool pairings.
Complementary colors tend to please the eye, as with blue and yellow depicted in The Lion King. Complementary color harmony is also why you'll see green and red paired a lot at Christmas, along with country flags of similar color pairings.
However, unless it's the holidays, you shouldn't wear green and burgundy. It's not for a set. You're not dressing to denote the deeper symbolic meanings in a text, as in a movie or a play. Green and burgundy look tacky and like you're cosplaying as the Grinch.
You could maybe, maybe get away with deep olive green, since burgundy itself is a muted color. But the brighter that green gets, the farther it needs to be from burgundy.
Purple
Burgundy could be considered a redder shade of purple, while purple itself contains more blues. Either way, pairing two shades of the same color will look awkward. They'll clash and look like you don't know how to dress. Do yourself a favor and keep purple, either in the tops or bottoms, away from your beautiful burgundy shoes.
Burgundy is an exciting, evocative, and rich color. It's bold without being overpowering, and alluring without being too energetic like red. It's an excellent color to wear, and many have made it their go-to color in all garments but especially footwear.
Dressing for such a wonderful color can be tricky, though, which is why we've written this article to help you out. To minimize the time spent staring at the mirror and trying on different outfits, consider this article the next time you want to bust out those awesome burgundy shoes.