Martial arts, depending on which kind you study, can involve using many different parts of the human body. Frequently, it involves changes in balance, fast or sudden movements, and other highly skill-based maneuvers. While you might not be able to choose what shoes you're wearing out in the world when you end up using your martial arts for self-defense, you should always try to wear the right shoes while practicing your martial arts techniques.
There are many reasons why you should have specific martial arts shoes, if you wear them at all. One reason for this is because of grip. If you're moving around while practicing martial arts and are unable to get a hold on the floor, you could quickly end up either disabled by your opponent or flat on your own face.
Reason number two is stability. Specific shoes might be quick to roll, and you could quickly end up damaging your ankle if you were to land the wrong way in these shoes. Similarly, shoes with large, flat platforms might be too clunky for martial arts techniques.
There are many more reasons besides the above as to why you might want a good pair of martial arts shoes. In the paragraphs below, we'll go over a few more concerns, as well as some of the best shoes for you to choose from.
Our Top Picks
What Are Martial Arts Shoes?
The first thing to know about martial arts shoes is that they are not necessarily the same as street shoes. While street shoes can double as martial arts shoes, some types also exist exclusively to be worn "on the mat," so to speak.
While many types of martial arts are practiced without shoes, this isn't always a clear-cut rule. Some people cannot practice martial arts without shoes for any of a variety of reasons, while some others might prefer martial arts shoes solely for their hygienic value.
While these shoes tend to vary a bit depending on which martial arts style they're meant to be used with, they're all functionally the same: lightweight, breathable, snug, and with a thin, flexible sole. Primarily, martial arts shoes are intended to feel as much like your bare feet as possible while still offering some minor protection.
Martial arts shoes won't protect you from rolling your ankle, but they can protect your feet from being punctured, crushed, or bruised. They're not meant to provide excessive protection, but they do offer grip, and what they do offer is valuable when doing something as dangerous and fast-paced as martial arts.
Some martial arts shoes are even made to function more like a sock than an actual shoe. While these shoes have the least protection to offer, they are the lightest weight and the most breathable, too.
Reasons to Wear Martial Arts Shoes
Keep in mind that wearing shoes for some martial arts can be considered disrespectful or dirty. However, if you can get away with it, there are several reasons to keep your shoes on while practicing martial arts.
Of course, the main reason to keep dedicated martial arts shoes is hygiene. It goes without saying that, for martial arts, you should keep your shoes indoors and keep from exposing them to dirt and the outside elements. If you wear them outside, you could end up tracking dirt and other things into the martial arts area and dirtying it.
However, this goes both ways, too. If you don't wear shoes while practicing martial arts, not only do you expose your own feet to the many germs and organisms left behind by others, but you can spread your own to other people, too. This can be a big problem if you have a contagious foot disease such as:
Athlete's foot
Toenail fungus
Bacterial infections
Ringworm
Anyone with common decency would refrain from taking their shoes off in a shoeless environment if they knew they had any of the above issues. However, it's possible not to know you have an infection before symptoms present themselves, and some people aren't that kind to other people, either. Some people might prefer to take their shoes off and risk spreading disease than risk their reputation.
However, wearing your own shoes while practicing martial arts refutes this two-fold: for one, it prevents your own feet from being exposed to harmful outside sources, and it prevents you from spreading harmful bacteria and fungi to those external surfaces, too.
Also, if the place where your martial arts classes are held is used for other purposes, such as parties, yoga, or other exercises, you might never know what else went on there. For situations like this, it's best to keep some shoes on while practicing martial arts. There could be glass shards or other sharp objects on the floor, unbeknownst to you, or any number of other things, including harmful bacteria and fungi.
While some people practice martial arts purely for the joy of doing so, others practice for the sake of learning self-defense techniques. When you're out in the world and employing these techniques (though we wish you'll never have to), you'll most likely have shoes on.
If you're in a dangerous situation where self-defense techniques are necessary, not only will stopping to take off your shoe waste precious time, but it leaves your feet vulnerable, too. While martial arts shoes are made to be particularly flexible and easy to move in, they provide something closer to the authentic experience of self-defense while wearing shoes.
Additionally, while martial arts shoes are designed to be lightweight and thin, they do provide a small measure of protection, usually through padding. If your foot gets stepped on while sparring, it will undoubtedly hurt less if you're wearing padded shoes at the time. Even if your martial arts shoes are thin and lightweight, it' better than getting stepped on while barefoot!
Read Also: Best Aerobic Shoes
Best Martial Arts Shoes
In the paragraphs below, we'll go over some of our favorite martial arts shoes. These shoes are all very different, but they all fulfill the same purpose: to protect your feet while you practice.
These martial arts sneakers from China are authentic martial arts sneakers. Among martial arts shoes, you'll find that most of them are marketed towards Chinese or American forms of self-defense, as in Japanese styles, it's usually considered disrespectful to wear shoes.
The exciting thing about these sneakers is that, while they're made to imitate the look of popular sneaker styles, they still have complete flexibility. The shoes are made of lightweight, flexible canvas, and the shoes use a thin rubber sole – almost more like a coating on the foot itself than a separate unit – that flexes and bends instead of cracking.
While these shoes are not made to be worn on the street – the thin sole on these, especially, is neither thick enough nor strong enough to prevent your feet from sharp objects or substantial impacts – they are made to look like they can be worn as street shoes.
As someone who partakes in martial arts, you most likely already know that, in any proper martial arts setting, wearing your martial arts shoes into the street would be considered woefully disrespectful — tracking dirt, mud, and pebbles into a place where people wear thin or no shoes is more disrespectful than even wearing shoes in the first place.
In this way, the street-appropriate design of these sneakers and other martial arts shoes may actually work against them. Because they're so stylish, you might be tempted to wear them out one day while in a rush. Resist the urge to do so!
While these shoes provide excellent grip and foot protection as martial arts shoes, they work well for other purposes, too. People have used them for parkour, barefoot running training, working out at the gym, and more. While these shoes (and many other martial arts style shoes) lack in interior arch support, if you can get past this fact, you'll love these shoes.
Pros:
Thin and flexible
Two different color options: white and black
Inexpensive
Holds up well to wear
Cons:
Won't protect your feet from sharp pebbles, glass, heavy objects, or other hazards
If you're looking for name-brand martial arts shoes, Adidas is an excellent place to look. In fact, Adidas makes two of the shoes that we feature in this lineup; this is just the first pair. As far as athletic shoes go, these are lightweight, flexible, and breathable. They're made with synthetic leather and a genuine rubber outsole complete with "pivot points."
It's anyone's guess as to whether these pivot points help the user or not, but they are an advertisement that comes with both of the Adidas shoes in this lineup. The pivot point in question is actually a bullseye-shaped cutout on the outsole of this shoe. Ostensibly, this point is made to make it so moving on that point of the ball of your foot is more natural.
These shoes have a small area of laces, too. For those who want that extra bit of security when it comes to how their shoes fit (especially when wearing them for activities like martial arts), these laces make a noticeable difference. If your shoes tend to slide off your feet already, you may want to invest in a style that features laces, such as these or the previous ones.
These shoes undeniably provide a bit more support and structure than the previous ones. This structure is excellent for supporting your arches and keeping your feet protected from hazards, but it's a trade-off for the feeling lost in this shoe. While these are still incredibly flexible, lightweight, and breathable, these will not feel like you're barefoot on the mat. They take some getting used to.
Unfortunately, these shoes only come in one color, as is the case with many of the options on this list. While this is a shame, it's not particularly surprising. Some martial arts might consider it disrespectful to wear flashy or colorful shoes on the mat.
One advantage that these shoes do have over our previous ones is that the laces are designed to stay tucked away when not in use. Laces can pose a small hazard when working on the mat, as loose laces can fly around and smack you or your sparring partner. While this isn't likely to cause any lasting damage, it can sting.
All in all, these shoes are a step up from our previous shoes by nearly all metrics, including support, price, and stability, but not all martial artists will want that. For those who are looking for a little more help from their mat shoe, this is an excellent option.
Pros:
Medium support level
"Pivot points"
Lightweight and breathable
Hidden laces
Cons:
Runs a bit large
Less freedom than thinner, less supportive shoes
Lifespan can be short
As you can tell by the name of these shoes, they're meant to be a fashion sneaker, not a martial arts shoe. However, they fulfill both purposes equally well. These shoes are naturally a bit more style-focused than your average martial arts shoe, too. If you're looking for a shoe that will look good while you practice your martial arts, this is an excellent option.
Like our last shoes, these are also made of synthetic leather with a rubber sole. Rubber soles are widely regarded as the best options for a natural grip, even if the tread isn't particularly pronounced. Because these and other shoes have somewhat flat treads instead of spiky ones, they're safe enough to use on a sparring partner without causing damage or bruising.
Unlike the other shoes in our list, however, these feature an antimicrobial, moisture-wicking lining that works to keep your feet dry and odor-free. As these shoes are often worn without socks (or with skinny ones), dryness and odor can be a prevalent issue for those with naturally sweaty feet. These shoes help to mitigate or eliminate that problem.
Like our previous shoe, this one has pivot points as well. However, this shoe has a pivot point on both the heel and the ball of the foot rather than just the ball of the foot. If these pivot points are an essential feature to you, this is definitely something to keep in mind.
Instead of closing with laces or functioning as a slip-on shoe, these shoes have a hook-and-loop closure system. This means that there's a Velcro area that keeps the shoe tight on your feet while you wear them. This is an excellent alternative to laces, which can get in the way or come undone during spars.
However, do be aware that counterfeiting can be an issue with these shoes and shoes like them! PUMA is a famous name-brand shoe company, and their shoes can be pricy, too. As such, there are people out there that will prey on buyers by sending an illegitimate product.
Make sure to compare your shoes to the manufacturers' pictures and diagrams before wearing them for the first time, and order them directly from the manufacturer if you have any doubts about legitimacy.
These shoes may have some quality concerns, but many of these complaints likely come from people who received illegitimate shoes. As such, a legitimate version should hold up as a functional shoe for some time, especially if you reserve them only for the mat.
Pros:
Comfortable and lightweight
Medium support
Two pivot points
Black and white options
Grippy rubber soles
Cons:
Prone to counterfeiting
More of a "fashion" shoe
These sneakers from Saucony are undoubtedly a fashion-oriented shoe, but if you're looking for something a bit different from a sports shoe, they have the shape and silhouette to function as a mat shoe, too. While Saucony isn't necessarily a name brand in footwear, these appear to be good quality and a viable option.
Like the other shoes we've looked at so far, these have a rubber outsole that's excellent for gripping the mat. However, unlike our other shoes, these come in several different color options that you can choose from. Thankfully, these colors are all muted enough that they would be appropriate for the mat, though.
Another recognizable feature of these shoes is that they have removable insoles. Because of this, you can remove the insoles that come stock with these shoes and add in something with better arch support. For those with high arches or plantar fasciitis, this is an absolute necessity.
One of the main differences between these shoes and the others in this list is that they're created exclusively to be a retro fashion shoe. While its function is still excellent as a mat shoe, these shoes are built with a different mentality than the others. For one, they come with an extra set of laces, and they have a sturdy nylon build, too.
While these won't resist water like the synthetic leather options in our lineup, they breathe incredibly well, and they maintain the thin, ground-feeling nature of the other shoes in this list. It's essential to be able to grip and feel the ground while wearing mat shoes, as you could lose your balance quickly without it. This is even truer for those who are transitioning from bare feet to mat shoes, as they will need to partially re-learn how to practice with their mat shoes on.
All in all, these shoes are a somewhat unexpected inclusion on our list. While they might be a bit too fashion-forward for some martial arts venues, they're functional and tasteful in a more casual setting. They're an excellent value, as well, though they're not the cheapest option in our lineup. If you're looking for a shoe that will look good both on and off the mat, these can fulfill that role flawlessly.
Pros:
Lightweight, breathable, and flexible
Removable soles
Two sets of laces
Several color options
Cons:
Might be too fashionable for some martial arts
If you like the phrase, "if it isn't broke, don't fix it," you'll thoroughly enjoy these shoes. The SMII is a style of Adidas shoe that has been on the market for more than 18 years, and there's a reason why it's still sold despite its age. These shoes are made to last, and they function incredibly well as a martial arts shoe, too.
Unfortunately, the one drawback of this is that these shoes are not something you can buy from Adidas itself. Despite being loved and used for more than 18 years, the shoes are not being sold by Adidas any longer – only bulk distributors. This can be a bit of a roadblock, but nothing unmanageable if you're looking for a guaranteed-effective mat shoe.
These shoes are very similar to the Adidas shoes we looked at before, as neither shoe is sold directly by Adidas anymore. However, in nearly every way, the Adi-Kicks we looked at earlier is the successor to these shoes, but if you're a purist who prefers an older shoe like this, this is still an excellent option.
These shoes are a tad more expensive than the Adi-Kicks we looked at before. However, the prices are still very close together (depending on when the shoes go on sale, of course), so if you prefer one over the other, there's no reason not to go with what your heart desires.
All in all, these shoes are an excellent option for anyone looking for martial arts shoes. These are virtually the same as the Adi-Kicks we looked at before in terms of build and features, so both are very viable options. The one difference is that these shoes are well-loved, longtime-favorite mat shoes where the Adi-Kicks are more of a modern take.
Pros:
Time-tested and well-regarded shoes
Comes in two colors (white and black)
Cons:
Virtually the same as the Adi-Kick 2 sneaker, but older and more expensive
Now, this shoe from ASICS is a very different offering than anything else we've looked at so far. Most of the reason for this is because the Matflex 5 is a wrestling shoe, not a martial arts shoe. However, wrestling and martial arts share many shoe requirements, so they're worth considering here, too.
The most noticeable difference between these shoes and most martial arts shoes is that these are high-tops. Many wrestling shoes are, but most martial arts shoes are not. This is great for providing extra ankle support, but it can also chafe if you rotate your ankles a lot. If you think these high ankles would make these shoes rub against your legs, it may be best to pass over them.
Aside from that, though, these wrestling shoes are virtually identical to the other shoes we've been looking at so far. They feature a relatively smooth rubber outsole for grip, a thinner sole to allow you to "feel" the ground, and a flexible upper that's great for bending and maneuvering. The only real difference is the high ankle cuff on these shoes.
In practice, we don't know if these shoes will be acceptable for some martial arts or not. They may be okay for some styles, but not okay for others. Alternatively, they might not be suitable for any martial arts style. However, they're definitely worth a try, especially for those that need extra ankle support. If you like these shoes but experience chafing because of the tall ankle cuff, you may even be able to alleviate this with some long socks.
In the end, these shoes are definitely a bit of a gamble. However, if you're willing to give them a try, they may pay off big in terms of comfort and utility. This is especially true if you both wrestle and practice martial arts since you could theoretically use these shoes for both activities.
Pros:
Comfortable and lightweight
Slightly more support than previous shoes
Ankle support
Cons:
High ankle cuffs may cause chafing
Not as flexible as other options
If you're looking for a mat-friendly shoe that's available in many colors to suit your sense of style, these are undeniably the shoes for you. These shoes come in at least thirteen color combinations, and while not all of them are subdued enough for the mat, most of them are. Additionally, if you practice martial arts in a more casual environment, all of these colors could be options!
While we don't necessarily recommend bringing street shoes (and by this, we mean shoes that you have worn outdoors) into martial arts, but it all depends on the regulations at the place where you practice. If you're allowed to wear street shoes, these shoes could be a pair that fulfills both roles. While these shoes function well as a martial arts shoe, they look more like a modern, fashionable street shoe.
These shoes are made of nylon and suede, and like the other shoes in our lineup, they feature a rubber outsole for grip. They're excellent lightweight shoes for running and other light-activity sports in addition to martial arts. They're flexible, and like most of our martial arts shoes here, they don't have much in the way of arch support, but this is intentional.
Unfortunately, these shoes, as fantastic as they are, can be a bit tough to get your hands on. While they're middle-of-the-pack in terms of price, they are a shoe that's sold primarily in Japan. Getting the size you want of this shoe is hard enough, and if you're looking for a specific color on top of that, you may have a tough time. Even the manufacturer's website frequently runs out of particular color and size combinations for these shoes.
However, if you can get your hands on them, these are excellent shoes. They're incredibly comfortable and lightweight, and they hold up to abuse well, too. These shoes even have a bit of a cult following behind them! What more do you need to tell you that these are an excellent choice, both for martial arts and for other uses?
Pros:
Comfortable, lightweight, and sturdy
Breathable
Flexible (less so than some others in our lineup)
Appropriate for martial arts and many light sports
Many color and style options to choose from
Cons:
Many colors and sizes are frequently out of stock
Some colors may be too bright for martial arts
If you're looking for a genuinely time-tested and proven variety of martial arts shoes, you can't get much better than these. These cloth shoes are what have been traditionally worn for practicing kung fu for many years. They're incredibly lightweight and flexible, though they lack some of the tightness that comes with lace-up shoes.
Of course, the styling of these shoes isn't unheard of in America, either. Many casual shoes share this simple slip-on style nowadays, and they've become popular among young people. While these shoes lack many of the bells, whistles, and colors that modern slip-ons have, they're also correspondingly lightweight, inexpensive, and flexible.
These shoes also have rubber soles, but one thing that sets them apart is that they come in two different sole styles. The first style is a flat, traditional outsole that feels more like an extension of your foot. However, these shoes also come in a more modern "sporty" style that's better-equipped for walking and everyday wear. While the traditional type is better for martial arts, both are excellent shoes.
With how inexpensive these shoes are, they don't need to hold up for a terribly long time to justify their price. While they're lightweight and made of thin cloth, they don't wear out particularly quickly, either. While they'll become threadbare and worn faster than a padded variety of shoes would, of course, they're not by any means fragile.
If you're looking to try some mat shoes for martial arts, these are an excellent starting point. Aside from the first shoes we looked at, it doesn't get much more flexible, lightweight, and inexpensive than these. Even if you don't like these shoes for martial arts, the overwhelming majority of wearers enjoy them as everyday shoes and house slippers, too.
Pros:
Comfortable and extremely light
Traditional style and unobtrusive color
Two sole options
Rubber soles
Excellent value
Cons:
No support
Won't hold up as long as reinforced shoes
In the remainder of this guide, we'll be looking at shoes that could work excellently as mat shoes, but aren't necessarily tried-and-true. These moccasins from Acorn are an excellent example. These shoes are designed to wear and feel more like slippers than authentic shoes, but this works in their favor for martial arts. They're exceedingly flexible, padded in all the places that need it, and lightweight, too.
These moccasins are made of plush materials that make them very comfortable to wear. Unfortunately, because of their slipper functionality, these shoes are made to look a bit like slippers, too. People will most likely be able to tell that you're wearing slippers if you use these while practicing martial arts.
However, if you can get over the look factor, these are still an excellent option. One thing to note, though, is that these slippers do not have a rubber outsole. It's marketed as "skid-resistant," but it's most likely made from synthetic materials. This could affect how comfortable and safe it is to wear on the mat.
Additionally, as these shoes have a slipper fit, they're designed to fit quite loose. If you want a snug-fitting shoe that will be appropriate for the mat, you may need to order a size down in these slippers. They may also be too loose for some wearers to use correctly. However, if you're willing to take a chance on these, they have the potential to be some of the most comfortable mat shoes you've ever worn!
Pros:
Extremely plush and comfortable, but thin enough to "feel the ground"
Lightweight
Warm, but breathable
Cons:
No tightening mechanism to keep from sliding
No rubber sole
Not an authentic mat shoe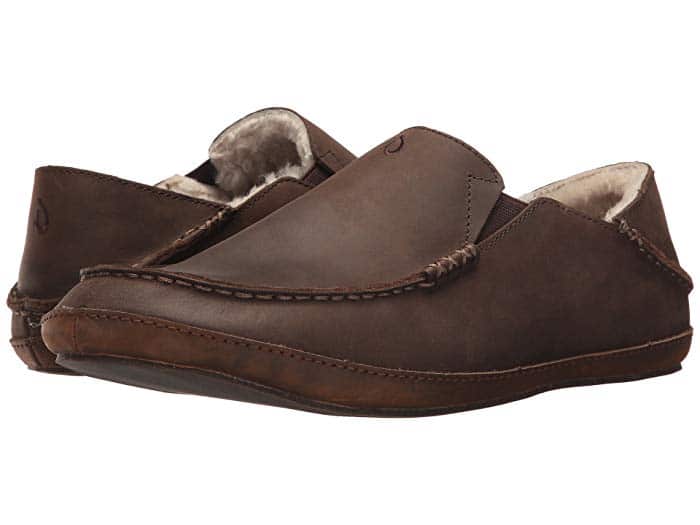 These slippers from OluKai are our next option for "not a mat shoe, but could be used as a mat shoe," and also the last entry on our extensive list. You'll immediately notice that these slippers are made in a moccasin style with a thick fur lining, and their upper is genuine leather (in this case, Nubuck leather).
The main difference between these slippers and our last pair is that these do have a genuine rubber outsole. That means you don't have to worry about slipping and sliding around while on the mat. They're lightweight and thin, too, like our other options on this list.
Like our last slipper option, these shoes also do not have a tightening mechanism. However, that doesn't mean that they can't be used as mat shoes, as these slippers fit quite snugly. You may want to order them a size or so down if you want them to fit like a shoe rather than a slipper, though.
These slippers do have a small amount of integrated arch support. While it's not much, it's enough that people in need of arch support may appreciate these shoes more than the support-less alternatives we've already listed. However, the support is subtle enough that those who don't need help shouldn't mind, either.
Do be aware that both these slippers and the previous ones are not suitable to be worn outdoors. This makes them all the more ideal for the mat, but if you're looking for a dual-purpose shoe, this is not the best option for you. While the Nubuck leather is durable and somewhat moisture-resistant, these shoes are not made to be exposed to the elements, and will quickly become ruined.
One thing to note about these shoes is that, since they're made of genuine leather, they have a bit more of a rigid body than some of the other options on our list. However, this leather body is still flexible despite its rigidity. This provides an excellent middle ground for those that need both support and flexibility, as long as you remember to keep the leather oiled.
Pros:
Flexible yet sturdy
Exceedingly plush and comfortable
Gum rubber outsole
Excellent fit, despite being a slipper
Cons:
Pricy
Not to be worn outdoors
Not an authentic mat shoe
Genuine leather requires some maintenance
In Conclusion
At the end of the day, three of the shoes on this list stood out to us most: the Adidas Adi-Kick 2 sneaker, the OluKai Moloa Slipper, and the UNOW Traditional Chinese Kung Fu Shoes. We have several runner-ups, too, which we'll mention below.
The Adi-Kick 2 sneakers are our best overall option for several reasons. Their quality is the first and foremost reason, of course, but the other main reason is that they're the successor to the Adidas SMII shoe. The SMII is a legendary shoe among martial arts users, and while it's still a perfectly viable shoe option, the Adi-Kick 2s benefit from some more modern design aspects. Both are incredibly viable options, though.
The OluKai Moloa Slipper is undoubtedly our premium option out of all of these shoes. Aside from being somewhat expensive, they are also made of premium leather, and they're heavily padded, too. The Onitsuka Tiger Serrano shoes are an excellent premium runner-up, but they lost because they can be a bit tough to find.
Our best value pick is the UNOW Traditional Chinese Kung Fu Shoes. These shoes are inexpensive, lightweight, and proven useful for martial arts activities through years of history — however, the T.O.P. One shoe we looked at at the beginning is a great runner-up as well, mostly because they can provide more support through their laces. They are slightly more expensive than the traditional Chinese shoes as well as somewhat more casual, however.