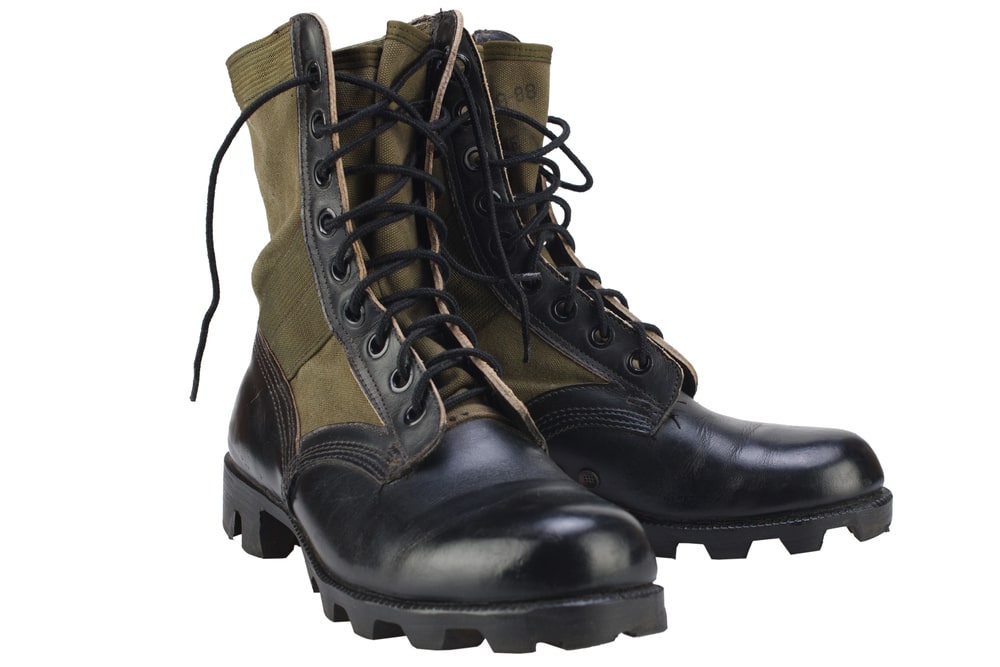 You're about to embark on an expedition into the jungle. You've got your long pants and shirts to keep bugs away, lots of water bottles, and a heavy-duty backpack.
All you need are boots strong enough to withstand harsh jungle demands. With so many boots on the market, though, it might be hard to decide which footwear is best for you.
Our Top Picks
To read more in-depth reviews on all the boots and why we picked them, keep reading.
What to Expect in a Jungle
It's Hot
Jungles tend to reside close to the equator, which is the hottest latitude in the world. It gets so hot because that's where the sun hits our planet most directly, so it gets all that lovely sun heat.
If you're going to the jungle for the first time, expect it to be hotter than you've ever encountered. Not only are you geographically located in a tropical region, but the humidity amplifies the heat by what seems like 100.
Get Ready for Humidity
We've established that jungles are already hot. But they also get a lot of rain, which means that water vapor evaporates and clings to the warm air. And it will stick to you.
So when you walk through a jungle, you're going to feel like you can't sweat well, or the sweat you are producing isn't cooling you down. That's probably because it isn't.
Sweat works because the water from your pores evaporates into the drier air. When the air is also humid, the water on your skin sits there. It could evaporate eventually, but it won't feel as pleasant a cooling experience as in lower humidity environments.
So the humidity will be something to get used to, especially if you live in a dry, arid region. Imagine walking into the bathroom after someone took a scorching shower. That's essentially what high humidity feels like.
It's Wet
As mentioned before, it rains a lot in the jungle, which means you'll have to bring waterproof and rain-protected gear. Waterproof jackets and hats are a must. Shoes with water-repelling properties will also help you out tremendously.
Jungles are full of organisms people have never seen before, both visible and invisible as well. If you or your gear don't dry quickly, you can quickly develop mold on your stuff or infections on your body. No one wants toe jam that turns into something worse.
Nights Get Surprisingly Cold
Lots of tourists, especially those visiting the Amazon rainforest, expect jungles to be hot all the time, but that's not true.
Jungles are warmed by the sun during the day, which makes them so hot. When the sun disappears, though, there's not a lot of insulation keeping the area warm. Therefore, pack a jacket for when night falls.
Also, note the time of year you're visiting your jungle as well. The Amazon's daily temperature between June and November can be highly variable, with cold Andean winds bringing the heat down enough to warrant at least a fleece jacket.
The temperature can drop down as low as 41°F or 5°C. Pack layers, and don't let the cold catch you off guard.
Be Prepared to Deal with Bugs
While you might not see a lot of exotic wildlife in a jungle due to the thick vegetation, you'll see bugs. Lots of bugs.
Mosquitoes, mostly. Mosquitoes like the warm, humid environment in the jungles and proliferate there. For your comfort and safety, it would be best to bring bug repellents to keep these pesky insects at bay.
Opt for all-natural bug repellents to respect the local ecosystem. First, you are avoiding harsh and potentially dangerous chemicals from touching your body. Second, these chemicals can wash off your skin in the humidity or rain and disperse throughout the soil or waterways, which could harm the sensitive wildlife.
You could also bring a bug net for when you sleep, whether in a tent or at local accommodations. Mosquitoes can be a terrible nuisance when sleeping, and they could be potentially fatal if you travel to a jungle region with malaria, such as the Congo.
There Will Be Stores Nearby
Sure, some jungle destinations are pretty remote, especially if these jungles don't see a lot of tourists. For the most part, though, you'll be in a less remote area than you'd expect.
As such, you should be able to stop by a nearby store and grab essential items you forgot to pack or run out of, such as toiletries, hats, and food. Be sure to exchange some money as you enter the country to buy these goods and others, should you need them.
You Should Travel Light
You'll often have to take a boat to get to your jungle exploration destination. These boats can't accommodate large, bulky suitcases or other luggage, so you'll have to travel as light as you can.
Try fitting all you need in a big hiker's backpack. If you can't, you probably have too much stuff. Consider downsizing so that you can bring all your necessary items and avoid leaving your luggage on the dock of a boat.
What to Pack for a Jungle Expedition
Long-Sleeve Shirts
Remember what we said about bugs? Yeah, the less exposed skin you have, the better.
You should opt for a couple of pairs of long-sleeve shirts for your jungle trip — preferably some made from a lightweight and breathable material, such as cotton or perhaps quickly drying athletic wear. Choose shirts in muted and neutral colors as well, as brightly colored shirts or floral patterns can attract insects.
Long Pants
The more pockets, the better. You'll probably carry a day-pack in your jungle trip so that you can carry water, snacks, and a change of clothes if needed, but the more items you can keep in your pocket, the better. It's inconvenient to have to rummage in your bag every time you want to get something small out of it.
As with the long-shirts, avoid pants in bright colors or floral patterns, as they can draw bugs to you.
T-Shirt or Tank Top
You might come across an open area with fewer bugs, or perhaps come across a nice air-conditioned building. Taking off your long-sleeved shirt into something cooler would be a nice break from that sweaty long-sleeved shirt you've been wearing.
Besides, carrying extra t-shirts helps you layer more and stay warmer when the temperature drops at night. The more layers you bring, mean fewer jackets in your back, which saves you space for souvenirs home.
Lots of Undergarments
Maybe bring a few more pairs than you think you need. You'll be sweating so much that you'll want to put on a new pair to feel fresh constantly. Besides, if you get caught in the rain and completely soaked, the least you can do is put on a fresh pair of undies to stay comfortable.
Sun Hat
Keep the sun off your face with a wide brim hat. If you want, you could get one with a cord that can go around your neck, so your hat doesn't fly off or get carried away by a winged creature. You could get a sun hat with a bug net around it for extra protection.
Rain Jacket or Poncho
These items are essential if you're heading into a rainforest. Rain jackets tend to hold in heat, so you don't want to wear one heading into an expedition when it's not raining. It would be best to get a rain jacket or poncho that is stored in a little pouch so you can easily access it when needed.
Hair Ties
If you have long hair, hair ties are a must. You'll want to keep your hair out of your face so you can see the beautiful sights around you. Besides, holding your hair back and exposing your neck will keep you cooler in the heat. And if you get caught in the rain, you'll want to keep your hair tied back, so it doesn't stick to your face.
Sunglasses
While lots of the jungle is covered with the forest's thick canopy, you could be in exposed, treeless areas. Protect your eyes with a pair of high-quality sunglasses.
Don't walk around with the most expensive pair you own, though, as you can easily lose yours in the mud or in the water.
Sunscreen
Just like how you have to protect your eyes, protect your skin from the sun as well — especially if you're visiting jungles on the equator. The equator gets some of the strongest sun in the world, so your skin needs extra special protection.
It's your first instinct to bring as much sunscreen as possible but beware of travel regulations for liquids. You might be able to buy sunscreen from a local shop near your jungle expedition area in case you forget or the one you bring gets taken away. If you want to have a particular brand you like, though, try getting it in a travel size.
Cooling Towel
A quality cooling towel only needs to be wet for a little bit. Then it can keep you cool for hours.
Such relief will be a blessing in the middle of the hot, humid day. Cooling towels conveniently fold up and can be carried in a travel pouch when not in use, so they shouldn't take up too much space in your bag. As long as you have enough water to moisten it, a cooling towel can make you enjoy your trip without having to wipe the sweat off your brow constantly.
Baby Wipes
With all the humidity and sweating in the jungle, your face and other parts of your body could feel greasy, grimy, and straight-up gross. To feel refreshed, even for a little bit, consider bringing baby wipes to use on your trip.
Mosquito Repellent
As mentioned before, mosquitoes love the hot, humid environment of a jungle. And since you're a warm-blooded mammal filled with blood, they'll love you, too.
Mosquitoes can be more than a nuisance, so it's best to protect yourself from their onslaught with durable bug repellent. The more natural, the better, as it will not only benefit your skin but the local environment as well.
First Aid Kit
With all the exotic trees, forests, animals, and terrain around you, you have to act quickly in case you break skin against something.
Carrying around a small, smartly constructed first aid kid can be a lifesaver. Below are some things you should have in it.
Differently sized Band-Aids
Blister dressing
Tweezers
Scissors
Antiseptic wipes
Wound dressings
Aspirin
Vaseline
Antibiotics
Anti-diarrhea medicine
Anti-fungal cream
Gloves
Foot powder
Socks
Hiking boots are best worn with long socks to help wick away moisture. Since it will be hot and humid, keep the wool socks at home. Though wool is odor-free and wicks away moisture, you'll be kicking yourself for having such warm, sweaty feet while wearing them.
Instead, opt for all-natural cotton socks, Coolmax, Quick Dry, or other highly breathable options. Perhaps try upscale running socks, as they'll be expertly designed to keep your feet cool and wick away moisture. That will be what you want in a hot, humid jungle.
Jungle Boots
Perhaps the most important item to bring with you on your jungle expedition is a high-quality pair of jungle boots. These boots have to be water-resistant, durable, slip-resistant, and comfortable enough to wear for hours on end. They also have to be breathable to let your feet lose some of the moisture accumulated in your socks.
Don't skimp out of the jungle boots, as poorly designed or ill-fitting boots can give you blisters, wet feet, and an otherwise miserable experience on what should be a fine time. That's why we've included some of the best jungle boots below.
Read Also: Best Hiking Boots for Kids
Best Jungle Boots Review
The Altama PX Men's Jungle Boot is up first on our list, and they set an impressive bar. They have deep grooves on the outsole for maximum slip resistance, and they have in-step drainage vents to help your feet stay dry.
The all-black model has a steel plate in the shoe to protect the boot from dangerous objects. The tan and coyote models have a thermal barrier for extra comfort on hot surfaces, which could benefit you in the jungle.
These shoes are rugged. They're made from full-grain leather and a Cordura tear-resistant and breathable material. The collar is padded, and the tongue is gusseted so that it keeps dirt and debris out. In addition, the brass speed lace hooks help you keep a secure tie on your boots.
Moisture flows out of the boot to help keep your feet dry. The insole is removable and made from cushioned polyurethane for easier cleaning. The boot comes with an anti-penetration board to protect your feet from punctures thanks to the high-tenacity fibers and pre-treated ceramic.
The Dire Molded sole construction fuses the upper to the outsole, so don't fear sole separation. The vulcanized rubber bottom sole is highly durable and has a deep tread that keeps traction through muddy forest floors.
While expensive, there's a reason we made the Altama PX Men's Jungle Boot our top premium product.
Pros:
The deep tread keeps traction even on muddy forest floors.
This boot is made from tear- and puncture-resistant leather and Cordura
The cushioned polyurethane footpad is removable for easier washing.
Cons:
They won't stay warm when the weather drops.
These shoes have a musty smell when they come out of the box.
5.11 is a company that makes high-quality outdoor and tactical gear, and these shoes are another excellent product from them.
They're suitable for the jungle, but they can be used for any work purpose. Hunting, hiking, combat, or merely working in the yard — these boots can do it all. They can withstand all types of weather, which will help you out when exploring a jungle.
The shoes are made from authentic leather, so they're water- and dirt-resistant while keeping your feet comfortable and protected. The full-grain leather construction also means that these boots are going to last for a long time.
While the outside of the boots is impressive, we think the interior will be especially useful for day-long jungle hikes. The insole bottoms are made from Ortholite X25 foam for improved rebound and cushioning. There's also a layer of Ortholite Lazy on the top to give a more comfortable fit while wearing these boots.
The tongue is designed for maximum airflow. There's even a hidden knife pocket, so "you can be prepared for everything," says the company. The high cut gives your ankles support and protects them from not only the elements but workplace hazards.
5.11 is an innovator in giving military standard products to the general public. These shoes show that craftsmanship, so they're durable, supportive, and ready for anything.
Pros:
The full-grain leather upper is durable and tear-resistant.
The cushioned interior provides maximum comfort.
These boots are resistant to dirt and water.
Cons:
Some claim that the sole separates from the upper after a while.
For another great pair of jungle boots, check out the Bates Hot Weather Tactical Boot. It's designed to keep your feet cool and forbid the elements from entering your shoe while in the jungle.
The upper is made from abrasion-resistant cattle hide leather, so bumping against rocks, spindly plants, or other rough material is no match for these boots. There's perforated material on the edge of the boot to boost breathability.
The inside of the boots have an anti-fatigue system, both in the footbed and the tongue. You can walk around for hours in these lightweight boots and still feel like you can continue.
The bottom treads are slip-resistant and durable, so they'll handle rugged dry substrates like rock and wet porous ground like a muddy trail. You want to be sure the boots you buy guarantees you'll always remain stable and upright without the chance of falling onto something dangerous.
While the tread and breathability are certainly plusses, the zipper is a hidden convenience that boosts how useful these boots are. The side of these boots have a zipper that makes putting on and taking off these shoes a breeze. Gone are the days of tying and untying your shoes. Simply zip them up, and you're good to go.
Pros:
The side zipper makes putting on and taking off these shoes a breeze.
The outsole treads are durable and keep their tread in both dry and wet substrate.
These boots have an internal tread system that prevents your feet from fatiguing.
Cons:
Not a lot of arch support, which could be a problem if you have flat feet.
Another great pair of 5.11 boots come in the form of the Speed 3.0 Jungle Tactical Boots. They're made from 50% nylon, 50% suede, so they're not only aesthetically appealing but abrasion-resistant as well.
These boots are designed for harsh, wet environments. The jungle happens to be a cruel, damp environment, so the Speed 3.0 Jungle Tactical boot holds up well against the mud, moisture, and myriad plants you'll come across.
The rapidly drying nylon vamp and side panels prevent these boots from feeling soggy after rain. The footbed and outsole also reduce how much fatigue your feet feel after walking for several hours. The footbed and outsole have forefoot lugs and a fence-climbing toe for maximum foot agility.
The treads are also oil- and slip-resistant on multiple terrain types. Muddy trail, dry rock, wet riverbank, these shoes can handle it all.
Overall, the 5.11 Speed 3.0 Jungle Tactical Boots are lightweight, breathable, and moisture-wicking. The interior has ortholite cushioning for maximum comfort. If you plan on partaking on other long-term outdoor excursions beyond just the jungle, these boots could be your go-to hiking shoes no matter where you are.
Pros:
Ortholite technology makes these shoes incredibly comfortable to wear.
The tread is slip-resistant in a variety of terrains.
These shoes are breathable, lightweight, and moisture-wicking.
Cons:
Some users have said that the shoes aren't breathable enough for their liking.
These boots look like they're made for jungle exploring. They feature leather and ballistic nylon construction on the upper for the best comfort and durability. The CoolMax lining helps wick away perspiration to help keep your skin dry and cool.
The padded collar helps protect your ankles from chafing and from damage. You never know what your feet could hit when walking through dense brush. The stitching on these shoes are not only enlarged to show detail, but it's also extremely durable. It's going to take more than a few knicks and scraps to tear a seam on these shoes.
The upper has breathable mesh grates to keep your feet cool and comfortable. The removable shock-absorbing insoles not only feet great against your feet but are removable so that you can wash them with ease. The inner lining also resists water, so it will take a lot of rain before your feet feel wet.
The side zippers allow you to put on and take off these shoes with ease, and the bottom soles are slip-resistant — which is what you'll need when traversing through unsteady, wet ground.
For a high-quality pair of jungle boots, the Ryno Gear Tactical Combat Boots are good enough for all-day adventuring. They're not ideally designed for jungle excursions, but they'll get the job done if you're hoping to save money.
Pros:
The mesh panels on the upper are breathable while the durable lining resists water.
The tread retains its grip even on moist surfaces.
The side zippers on these shoes allow for easy put on and take off.
Cons:
Some customers say they had difficulty finding the right size boots.
If you're willing to invest in a long-lasting pair of jungle boots, the Danner Men's Tachyon Tactical Boot could be for you.
Danner takes its craftsmanship seriously, which is why each boot is constructed with the utmost care and precision. The company has years of experience creating high-quality shoes, and we can tell that's the case in their tactical boots here.
The upper is made from leather and synthetic material, which reduces the weight of these boots. They also have the added benefit of super-fast drying. A thick rubber sole that keeps its grip even when on wet ground.
The speed lacing is a breeze with the 3-layer comfort system that helps make a snug, comfortable fit. These boots are comfortable enough to wear all day and will withstand the demands of a thick jungle.
Pros:
The robust tread on these boots keeps their traction — no matter the terrain.
These shoes have a fast-drying upper with a highly comfortable footbed.
The speed lacing system helps keep a secure, snug knot on your shoes.
Cons:
Customers report that these shoes won't last after a couple of years.
The Wideway Men's Military Jungle Boots are military-grade tactical boots that are made from a remarkably breathable nylon fabric upper and full-grade cowhide leather upper for long-lasting support.
Though these boots don't look it, they're incredibly lightweight, so they won't make your legs feel tired after a day of exploring the desert. These shoes also have slip-resistant treads with enough room in the toe area for people with wide feet to feel comfortable.
The collar on these shoes are padded, and the footbed included a removable insert for easy cleaning. The laces on these boots are durable as well and won't rip or tear any time soon.
The lining on these shoes is breathable as well, which is perfect for the hot and humid jungle environments. You'll stay comfortable with your feet cool all day. And while the company says that these shoes are for men, women can wear them as well.
If for some reason, you don't like these boots, Wideway offers a 30-day no-risk 100% refund assurance. If you do decide to keep these shoes, you have a full warranty for a year after purchase — all the more reason to try the Wideway Men's Military Jungle Boots.
Pros:
These shoes are made from a breathable material that helps keep your feet fresh.
They have lots of padding on the inside for maximum comfort while walking.
There's a 30-day 100% refund period after buying these shoes in case you don't like them.
Cons:
They only come in wide sizes, which could be uncomfortable if you have narrow feet.
For another pair of great-looking jungle boots, look no further than the Military Uniform Supply O.D. Green Jungle Boots.
The upper is made from genuine leather and cotton canvas, with nylon webbing on the collar and side.
The sole is slip- and oil-resistant thanks to the vulcanized Panama sole. The insole of these shoes is removable as well, so you can remove it and insert your orthotic, or you can simply wash the inside of your boot better.
The eyelets are made from durable aluminum and steel shanks, which allows for easier lacing. For sturdy shoes that can last you in a jungle environment, pick the Military Uniform Supply O.D. Green Jungle Boots.
Pros:
The soles are slip-resistant, even on oily surfaces.
The upper is made from durable leather and cotton canvas.
The eyelets are made from aluminum and steel shanks.
Cons:
According to the product description, these shoes contain a chemical that the state of California recognizes to cause congenital disabilities and other reproductive harm.
For our last pair of 5.11 boots, we have the Evo Tactical Boot. The first thing you'll probably notice is that these boots have a side zipper that makes putting on and taking off these boots much easier. No longer will you have to hassle with laces.
The upper is made from full-grain polishable leather and nylon, which protects your feet from the abrasive material you could encounter while walking through the jungle. The laces on these boots are thick, meaning they'll stay tight and secure while you're moving.
The breathable textile lining on these boots helps keep your feet fresh. And the Ortholite insole ensures your feet remain comfortable while you wear these boots — even if you're wearing them all day. The full-length EVA midsole absorbs some of the shocks of each step as well, which reduces foot fatigue.
The EVO Cupsole platform cements the upper to the sole, so you don't have to worry about these shoes coming apart any time soon. The nylon shank keeps these shoes lightweight and a breeze to wear, and the rubber outsole prevents slips even on wet surfaces. The bottom sole also forbids squeaks while walking as well.
For another great pair of boots from a highly renowned company, check out the 5.11 Tactical Evo.
Pros:
The uppers are durable and protective while the bottom soles resist slippage.
The lining on these shoes is breathable and helps keep your feet fresh.
The upper is cemented to the sole so that these shoes won't come apart for the foreseeable future.
Cons:
The breathable lining tends to allow water in, so these boots aren't waterproof.
For a tactical boot that looks more like a hiking boot, check out the Merrell Work Moab 2 Boot. It's part of the Merrell Work Collection — an array of top gear designed to help you succeed outdoors.
The shoes are made from hardy leather and ripstop textile on the upper for durable protection on your feet. The waterproof membrane all around the shoe helps keep your feet protected from the elements.
The bellows tongue helps keep debris out of the shoe, allowing you to feel the safest and comfortable. The Inside zipper enclosure will enable you to put on and take off these shoes with ease.
The toe cap is made from a protective, abrasion-resistant rubber, so your toes don't get damaged while out in the field. The collar is padded for extra safety and security.
The mesh lining around this shoe is breathable, aiding the airflow within this shoe. The Kinetic Fit footbed has plenty of arch support and heel cushioning for daylong comfort. The air cushion in the footbed also absorbs some of the shock of each step, which reduces fatigue after a long day of walking.
Finally, the Vibram TC5+ outsole delivers plenty of traction even when walking over mixed terrain. For a great pair of jungle boots you can wear for years to come, consider the Merrell Work Moab 2 Tactical Boot.
Pros:
The Vibram TC5+ gives you plenty of traction on the wet jungle floor.
These shoes are highly breathable and comfortable enough to wear all day.
The Merrell Work Moab 2 Tactical Boot has arch support and a padded collar to protect the ankle.
Cons:
These shoes stay warm and waterproof, but they're not very breathable. Your feet will feel stuffy after a few hours of wearing these shoes.
The Verdict
Those were all the shoes we picked as the best jungle boots. While every item on this list will help you remain cool and comfortable on your next jungle expedition, these three shoes have made a particularly lasting impression on us.
5.11 is a company that consistently makes excellent outdoor gear for a variety of terrains. Whether it's hiking through a forest or a jungle, as in this case, their equipment never fails to impress us. That's why we have many jungle boots from the company on this list.
What with the durable material, gripped sole, and comfortable footbed, it's easy to see why we picked the 5.11 Men's Speed 3.0 Tactical Boot as our best overall choice. The boots are reasonably priced and long-lasting, making them an easy choice for this list.
While the Altama PX Jungle Boot is a bit pricey, we thought it performed well for the price tag. The boot does an excellent job of taking what a harsh jungle environment throws at it. It's slip-resistant. It's breathable. It's lightweight. And best of all, the boot is comfortable enough to wear all day.
We understand that price can be a top concern for some of our readers, and we understand why. But if you can swing it, we feel the Altama PX Jungle Boot is a solid choice for anyone heading into a jungle.
For those hoping to save a few bucks without sacrificing your boots' performance, we know the right choice for you. It's the Wideway Men's Military Jungle Boot.
Not only are these boots attractive, but they do a pretty good job of staying dry in the constantly wet environment, let your feet breathe, and remain comfortable enough to wear all day. The slip-resistant tread is deep and made from thick rubber that's sturdy and durable. They're even padded on the inside for added safety.
If a jungle journey awaits you, you have to prepare the best you can to ensure you don't have a bad experience. We've included a list of things you should pack for your trip, but perhaps the most important item is your shoes. Don't skimp out on your shoes — get the best pair you can afford to have the best time in the jungle.