When you have sweaty feet, choosing your next pair of shoes can be a bit more difficult than normal. You might end up thinking, will these shoes make my feet sweat? Can I wear these shoes in the summertime? Will these shoes get stinky quickly, or can I wear them for a while? These questions and more can plague those who are cursed with naturally-sweaty feet.
In the sections below, we'll go over some of the essential parts of choosing sweat-friendly shoes, things you can do to mitigate these moist conditions, and what shoes work best for those with sweaty feet, among other things. With the right footwear choices, you can leave the unpleasant odors and health conditions of sweaty feet behind you permanently.
Our Top Picks
The Problem with Sweaty Feet
Sweaty feet might not seem like such an issue at first. If you wear socks, after all, most of your sweat will get absorbed by them, and your shoes should remain relatively unscathed. But what about those days when your sweat soaks through your socks, or worse, when you don't wear socks at all? These days can leave your shoes stinky, unhygienic, and slippery.
Why is this so important? To begin with, when your feet sweat, the sweat interacts with bacteria on your skin. This creates the noxious foot odors that many of us associate with shoes. It's not your feet that stink; it's the sweat that they produce!
As such, with proper management practices, it's possible to cure just about anyone of stinky feet – even those with perpetually-sweaty extremities. Some people may need to take more steps than others, but choosing sweat-friendly shoes is an excellent place to start.
Other things you can do to mitigate stinky, unhygienic feet include:
Wearing moisture-wicking socks
Using foot deodorant and antiperspirant
Wearing open-air shoes (or no shoes) as much as possible
Seeing a doctor about medications you can use
Primarily, stinky feet are caused by too much sweat and too little ventilation. When the sweat on your feet has nowhere to go, it sits on your feet, creating bacteria, odors, and even pleasant environments for foot fungus to grow in! As such, it's always best to take care of these moist conditions as soon as possible; else your feet could suffer from unpleasant health effects.
Health Effects of Sweaty Feet
Wearing sweaty shoes and socks all the time isn't just unpleasant – it's incredibly unhealthy for your feet, too. While you might not notice adverse effects right away, over time, your feet and shoes both will start to feel the impact. There's a reason why your parents told you to wear socks with your shoes when you were young!
Sweaty feet, or Planar Hyperhidrosis, is when your feet sweat excessively. This can happen in warm conditions, cold conditions, and normal conditions alike, though this sweating tends to be linked to things like nervousness and being too warm.
While some medications can increase how much you sweat, true hyperhidrosis is an inherited problem. If you've had it for most of your life, you'll likely be stuck with it for the rest of your life, too. The level that your feet sweat can vary, but if it's enough that you lose traction in your shoes or you experience foot infections, you should look into solutions (such as the shoes we mention in this guide).
Foot infections from overly-hydrated feet, foot odor, and fungal infections aren't the only symptoms of hyperhidrosis. Shame and nervousness tend to follow people with hyperhidrosis, as well, as their feet can stink, look strange, or be sweaty without an apparent reason. As such, the results of this disease can be mental as well as physical. This makes finding a solution that works all the more critical.
Even with special shoes to help your feet stay dry, there are several at-home routines you should master to keep your feet healthy and odor-free. These include:
Wash your feet daily with antimicrobial soap
Thoroughly dry your feet and shoes daily after wearing them
Treat your shoes with an antimicrobial powder regularly
Wash your shoes as they become unpleasant to wear
Wear moisture-wicking socks to keep your feet dry
Change socks throughout the day
Dealing with sweaty feet is all about the little things. While changing your shoes to a more ventilated pair may help your feet stay dryer, it likely won't be enough on its own. Instead, make sure to add all of these little steps into your routine to keep your feet dry, healthy, and smelling fresh throughout the day.
Which Shoes Are Best for Sweaty Feet?
We mentioned this briefly above, but since a lack of ventilation is what causes sweaty, odorous feet in the first place, the best possible solution to the problem is to wear well-ventilated shoes (and socks) as much as possible. In theory, wearing no shoes is the best possible thing to do, but this isn't always possible, especially if your feet are already quite stinky!
When you're in the comfort of your home, be sure to remove your shoes and socks as much as possible. That extra time spent with bare feet will help your feet "air out" between bouts in your shoes. While the first few tries might be especially unpleasant if you have foot odor, it will eventually fade if you keep up with it!
Predictably, the next best thing to wearing no shoes at all is to wear sandals without socks. However, this is only feasible during the summer or in warm climates. In the wintertime, you don't have much choice in the matter. At work and other places with a dress code, your options are limited, too.
If you can't wear sandals, breathable shoes are your next goal. Breathable shoes come in many shapes and forms, and not all of them are acceptable for every occasion. However, there are many different breathable shoe options available on the market today, so you have plenty of options to choose from. We'll be exploring the best breathable shoes for people with sweaty feet in the sections below.
Read Also: Best Shoes for Neuropathy
Best Shoes for Sweaty Feet
While many different kinds of shoes are appropriate for sweaty feet, we've done our best to provide you with a good sampling of them here. With the many choices we've included here for you to draw upon, you should have an idea of what sweat-friendly shoes you need in no time at all.
When searching for shoes that are sweat-friendly and well-ventilated, there are three main directions you can go in: open shoes, mesh shoes, and moisture-wicking shoes. We'll touch on all of these in the sections below.
These shoes from TIOSEBON are our first entry in this list of sweat-friendly shoes, and they're our first mesh shoe here, too. While mesh shoes come in many different shapes, styles, and material combinations, these shoes are a prime example of one type of mesh shoe: the thin, "sock-like" shoe.
Instead of having a robust and structured shape, mesh shoes like these fit more like socks than they do shoes. Because of this, they're lightweight and well-ventilated. Their light weight makes it so you're working less to lift them as you walk, which helps, too.
However, the sock-like nature of these shoes does leave you with a few things to consider. One, should you wear socks with these shoes to begin with? They already fit a lot like a sock, and high-cut socks would look strange with these shoes, too. Fortunately, these shoes are so well-ventilated that most users should be able to get by without wearing socks at all.
Additionally, keep in mind that these shoes have very little in the way of structure and protection. While a typical shoe will provide at least a small amount of protection to your foot because of its rigid outer shell, this shoe offers next to nothing. As a result, your feet are vulnerable to drops, stubbing against things, getting run over, and more.
These shoes do come in many different colors and mesh knits, making them suitable for just about any casual outfit. While they're not ideal for formal occasions, they do come in an all-black option, so some workplaces may allow them, as long as they're safe to wear.
All in all, as long as you liken these shoes more to a sock than to an actual shoe, they'll be incredibly useful. Don't wear them on a construction site or around hooved animals, for example, but while you're out walking, working, or even playing, these shoes provide excellent breathability that will help keep your sweaty feet dry.
Pros:
Incredibly breathable
Thin and lightweight
Inexpensive
Many color and mesh combinations to choose from
Cons:
Little to no structure
No foot protection
The Skechers Go Walk series of shoes has always been a fine line of breathable sneakers, so we've made sure to choose one of their most popular examples in this list! The Go Walk 2 is a slip-on shoe that comes in several colors and mesh and non-mesh varieties. However, the point of this shoe is that it's meant to be a comfortable, breathable shoe for walking and general activity.
There's a reason why Skechers' Go Walk line of shoes has been so popular and long-running, and that's because they're successful. In fact, you could even argue that Skechers is the company that brought lightweight, mesh-style walking shoes to the general public, popularizing them, working out the kinks, and making them generally accessible to people.
While the Go Walk line is more popular with women, several varieties of Go Walk sneakers exist for men, too. The shoes provide the same benefits to both genders, although the available styles are very different.
However, if you're looking for a mesh shoe that still has a bit of innate structure, the Go Walk line is an excellent place to start. This shoe, the Go Walk 2, in particular, is an extremely popular shoe, mainly because of its comfort, affordability, attractive styles, and easiness to wear.
While these shoes can also be worn without socks, for those with sweaty feet, we always recommend investing in a moisture-wicking sock, of course. These shoes have incredible arch and foot support despite their lightweight, flexible package, too.
These shoes may require some breaking in for some wearers, as the Go Walk 2 has a bit more body and firmness than the Go Walk 1 did. However, with that in mind, the entire Go Walk line is an excellent place to start for sweat-friendly shoes. Don't pass them up!
Pros:
Excellent breathability
Lightweight
Flexible (with some breaking-in)
Several colors and finishes
Great foot support
Cons:
Can be hard to get on and off
Next up on our list is another breathable shoe from Skechers. In fact, these shoes are even marketed as "Breathe Easy" shoes, meaning that they should have excellent breathability. While these shoes aren't see-through mesh, like some of the contenders on our list, they're thin-walled with a permeable woven finish on the outside.
A startling number of "breathable" shoes are marketed toward women, and that may be because women look for that comfort aspect more. This is one example of a shoe on this list that, surprisingly, does not come in a men's version. While skechers have similar mesh shoes available to men, this shoe, in particular, is for women only.
If you look at this shoe, you can tell it was made for a woman's foot. The shoe is narrow with a large cutout for the arch, and it almost has a dainty look about it. The shoe comes in several different meshes and woven finishes that are designed to match with just about any outfit. These shoes come in an all-black option, too, so they may even be suitable for the workplace or for semiformal events.
Undeniably, these are a "barely there" kind of shoe, and while they conform to your arches well, they're not the epitome of stability. That's one major downside of this shoe; they're so thin and unimposing that they can be rolled easily. Those who tend to turn their ankles or see themselves in other dangerous situations should think twice about purchasing these shoes.
While these shoes are designed to primarily function as "fashion" sneakers, they can work as comfortable walking shoes for short distances in a pinch. Overall, they have decent breathability, though they may not be quite as good as some of the other mesh options in our lineup. In the end, whether these shoes work depends on your personal preferences; some may like the barely-there feel, while others will prefer more support.
Pros:
Low-profile
Breathable and "barely there"
Several colors and finish options
Good walking and fashion shoes
Cons:
Support may not hold up over time
Thin and easy to roll
Everyone knows about the Crocs clog. Since their inception, Crocs have been a massively popular, multi-functional shoe, and singles and families alike have bought and loved them. This is partially because Crocs completely disregard the usual model for shoes; instead of fitting snugly, Crocs clogs are made to be worn loose. This means they ventilate and breathe exceptionally well, despite being made of non-breathable foam.
Additionally, these shoes are incredibly affordable. Since these shoes are injection-molded foam and nothing more, they're inexpensive to manufacture and inexpensive to sell, too. You really don't even need to know your exact size to get a pair of Crocs; as long as you're in the ballpark, these shoes will fit just fine.
Additionally, Crocs are pleasantly customizable, too. You can paint, draw, or even dye on these crocs to make them your own, and Crocs sells hundreds of different "charms" that pop into the holes on these shoes to personalize them even more. The shoes themselves come in many different colors, too – just about every color of the rainbow is available in a Croc shoe, and some patterned and multicolored shoes are even possible, also.
Unfortunately, Crocs are a bit lacking when it comes to support. While the foam they're made of is comfortable and holds its shape, their loose, floppy nature means that they have little to no arch support. However, that same foam makes them entirely waterproof, too, so many parents choose to purchase these shoes as beach-going footwear for themselves and their children.
While Crocs have fallen a bit out of style in recent years – many people tend to view them more as a fashion faux pas than a fashion statement – they have seen a bit of a resurgence in recent months with the popularization of the "lazy loungewear" look. While socks with sandals are a bit questionable, nothing is more straightforward than throwing on a pair of Crocs!
One of the most important benefits to a pair of Crocs, especially for people with sweaty feet, is their washability. Since Crocs are made of waterproof foam, you can hose them, scrub them, brush them, soak them, you name it, and it won't damage the shoe (as long as you be careful with what soaps and detergents you use, of course).
The main advantage of this is that people with sweaty feet can wear Crocs without socks, then rinse out any remaining sweat later, leaving the shoes clean, fresh, and wearable. However, you can always wear them with socks if you don't want to bother with washing them out in the first place.
Pros:
100% washable, waterproof shoe
Loose-fitting for any foot size
Hundreds of colors and styles
Open-air design is well-ventilated
Cons:
More of a sandal than a shoe
Fashionably questionable
Loose-fitting shoes can be dangerous
Finally, we meet a shoe that's designed to wick moisture away rather than letting it evaporate. If you're familiar with the properties of wool (more specifically, Merino wool, of which this shoe is mostly comprised), you know that it's excellent for moisture control, odor elimination, and temperature regulation.
While we traditionally think of wool in the context of wool hats and mittens, thick sweaters, and warm scarves, wool is just as efficient in the summer as it is in the winter if you use it correctly. These wool shoes keep out the heat in the summertime while retaining heat in the winter, keeping your feet fresh and dry no matter the season.
Since this shoe is made almost entirely of Merino wool, it readily absorbs moisture, too. Then, it lets the moisture evaporate out of the material and away from your feet, keeping them healthy and sweat-free. Moreover, wool has natural antimicrobial properties, so it inhibits odor production, too.
Since these shoes are made with a natural wool upper and a synthetic sole, the entire shoe is also quite lightweight. This is a boon in the summer when heavy shoes can cause even more sweating. However, they lack a bit in traction, so while they'll be warm in the winter, they may be a bit slippery!
Fortunately, these shoes come in several different colors, meaning they can match with just about any outfit. While these shoes don't come in an all-black option, they do come in all-white, so they may still be suitable for some workplaces.
The best thing about these shoes is that they make an excellent "daily driver," so to speak. If you work in a place that allows you to wear these shoes, they can be worn year-round (unlike mesh and vented sneakers), and they can be worn both at work and at play.
Pros:
Excellent moisture wicking
Breathable
Warm in the winter, cool in the summer
Comfortable
Cons:
Finally, a shoe in our lineup that's made exclusively for men. If you've heard the name Under Armour before, you likely already know that the clothing company is one of the foremost producers of moisture-wicking clothing and shoes. As such, these Under Armour shoes are sure to alleviate any sweaty foot woes you might have.
These shoes are running shoes, so while they're very temperature-balanced, they may be a bit too much for someone who's just looking for an everyday shoe. While runners will appreciate the foam insole that helps runners maintain their momentum, ordinary people likely wouldn't notice if it was taken away.
That being said, these shoes are incredibly lightweight, breathable, and ergonomic. They don't need a break-in period to be comfortable, either – you can race, run, or walk in them right away. The shoe does fit a bit narrow, so keep this in mind if you have wider feet.
These shoes are very lightweight thanks to their mesh design, but unfortunately, this same mesh can be a bit fragile. The outer mesh on this shoe is prone to tearing or bursting if it's put under too much stress. While this doesn't make a difference in the shoe's function if the inner lining remains intact, it's something to keep in mind if you need a more durable shoe.
These shoes also come in a few different color combinations, though most of them are monochromatic. Instead of being colored over the entire shoe, each shoe has an accent band and a colored outer sole instead. While this results in a more subtle effect, color-seekers will likely be unsatisfied with the available choices.
Surprisingly, this is an extremely affordable running shoe, and coming from Under Armour, that's even more impressive. The quality that you get for your money is impressive in an excellent way.
Pros:
Lightweight and breathable
Excellent support
Long-wearing
No break-in period
Great value
Cons:
Breakable outer mesh layer
Less colorful than other options
Adidas is another well-known giant in the athletic wear world, and it follows that their shoes are of excellent quality. These women's shoes are fully synthetic with optional laces and a mesh outer layer, similar to the Under Armour shoes we looked at above.
Do keep in mind that, as a name-brand shoe, these shoes are susceptible to duping and other unsavory practices, just as any name-brand shoe is. If you suspect that your new pair of shoes is a fake, return them to where you bought them from immediately.
Like other mesh running shoes, these shoes are breathable, lightweight, and very comfy, but they also have a more rigid fabric and padding layer along the inside. This inside layer gives the shoe its shape, and it helps to keep your feet comfortable, too.
Contrary to their title, these shoes make excellent everyday wear-all shoes. Duped shoes tend to have less cushioning than the official shoes have, so you may feel discomfort if you receive an unofficial pair. The real shoes, though, should be soft, comfortable, and shock-absorbing, just like their name suggests.
Unsurprisingly, this is another women's shoe, but Adidas makes an abundance of running and walking shoes for both men and women anyway. The shoes are easy to pull on and off. In fact, untying and retying the laces with each use is mostly unnecessary, as the shoes function much like slip-ons.
All in all, these are high-quality, if unsurprising, running shoes, and they function much the same way as the Under Armour shoes we looked at above (except these are for women). They're an excellent shoe, but besides the Adidas name itself, there isn't much special about them.
Pros:
Comfortable
Several colors and finishes
Trustworthy brand
Lightweight
Cons:
Generic
Prone to counterfeiting
While breathable, ventilated shoes are all well and good, they'll never compare to the sweat-releasing experience of wearing sandals (or bare feet). As such, we had to provide a few excellent sandal choices in this lineup, too.
These Dockers sandals are indeed open-air shoes, but they have the stability and support of a full shoe. While we can't recommend wearing open-air sandals during strenuous outdoor activities, as you could end up hurting your feet, they're more than adequate for a day spent walking, boating, or seeing the sights.
That being said, this sandal style is not for everyone. This shoe is a bit heavier than most of the styles we've been looking at this far in this guide – enough that it will be noticeable to the wearer. This shoe is not designed to be lightweight; on the contrary, it's designed to provide as much support as possible in spite of being a sandal.
As a result, while it has a very comfortable insole that provides much-needed arch and heel support, this shoe is a bit chunky. However, the weight they have to them isn't necessarily a bad thing, either. Some wearers will not mind the extra weight, while others may find it noticeable and uncomfortable.
Despite being a sandal, the Velcro straps that hold this shoe in place are comfortable and sturdy. This isn't a sandal that will slide around on your feet (as long as you size it correctly, of course). While the shoe only comes in two colors, the brown leather look goes with just about any outfit, especially while out on a beach vacation.
While the best way to wear sweaty feet will always be barefoot, wearing an open sandal like this will get you pretty close to the same result. Please, though – all we ask is that you don't wear these sandals with socks!
Pros:
Extremely breathable
Comfortable and structured
Excellent support
Stylish (as long as you don't wear socks!)
Cons:
Expensive
Heavy
Limited style options
Not suited to cold climates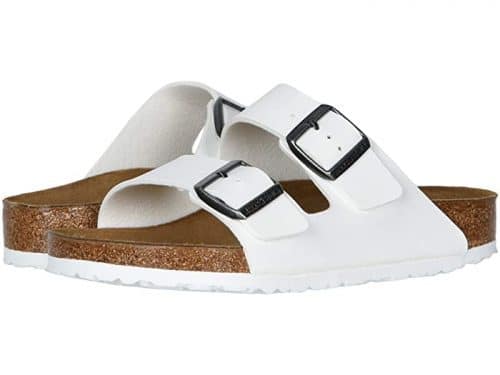 Birkenstock has been known for its fancy, high-quality sandals for many years. While you'll need to drop a pretty penny to get some of these, many people think the shoes are worth it. They're made to stand the test of time, for one, and they also provide excellent foot support, a trait that can be rare among sandals.
More than anything else, Birkenstocks are just plain comfortable. The shoe can come in either leather or synthetic leather, and you can choose suede for the upper strap, too. While the shoes are heavy and a bit unwieldy – some might even call them ugly – they've gone through a resurgence in popularity recently.
Nowadays, many young people love these shoes, despite their previous designation as more of an "old woman's" shoe. In all fairness, Birkenstocks come in many different styles, shapes, colors, and finishes, so if you're determined to get a pair, you're likely to find something that works for you.
The shoes are specifically created to be repairable and resole-able, too, meaning that you may actually save money in the long run over a pair of sandals that wears out quickly. While we're sure most users will either not bother to repair their own shoes or won't wear them enough to see them fall apart, Birkenstock's philosophy on the matter is pleasing nonetheless.
These particular shoes are unisex, so both men and women can get excellent benefits out of wearing them. The top layer of the insole is even designed to be moisture-wicking, which is just going above and beyond!
All in all, if you don't mind the style of this Birkenstock sandal (and the price), it's an excellent, if expensive, option to consider for sweaty feet. While it won't be usable in all climates, it's a great solution to sweaty feet in any place that's warm enough to wear them.
Pros:
Excellent foot support
Moisture-wicking sole
Made to last
Unisex style
Cons:
Expensive
Not suited to cold climates
You didn't think that Crocs only had their signature clogs to offer, right? Since the company's inception, they've expanded their options far beyond clogs and into several other types of shoes. One of these shoes happens to be breathable sneakers!
Like Crocs' other styles, the outside of the shoe is a foamy material, but unlike many of their other shoes, the interior is fabric (specifically, mesh). That means this shoe brings two essential things to the table: permeability and washability.
While these shoes aren't quite as easy to wash as classic Crocs clogs, since they do have several fabric areas to work with, they do dry fast since they're so breathable and permeable. As such, if you're looking for a non-sandal that's safe to wear without socks, these may be your perfect solution. You can wash the sweat and gunk out of these shoes safely after wearing them without worrying about damaging the shoe.
These shoes come in three color options on Zappos: grey, black, and burgundy. While that's a bit lacking compared to the other options in our lineup here, that's still a decent variety to choose from. While we wouldn't suggest wearing Crocs in the workplace, these shoes might blend in enough to be okay. More colors are available on other websites (and under different styles) if you'd like to get a bit more creative, too.
Stigma aside, these Crocs are surprisingly comfortable. The Crocs company is very fond of using foam in their shoes, and this philosophy is no different here. The foam insole and outsole on this shoe are both very springy and comfortable, and you're unlikely to have any issues with discomfort while wearing these shoes.
However, one notable exception with these shoes is that they are not suited to cold climates, despite being more of a shoe than a sandal. These shoes are too porous to wear out in the cold, and the second you step into a water puddle, these shoes will be flooded with water. Additionally, Crocs' foam is not necessarily meant for winter conditions, so they may not hold up as well in them.
Overall, if you don't mind wearing a pair of shoes that are branded as "Crocs," you should give these sneakers a look. They bring the best aspects of both shoes and sandals to the table, and they can be safely worn without socks, too. This is a truly unique shoe, and it might make all the difference for someone with overly-sweaty feet!
Pros:
Unique shoe-sandal hybrid
Foam body with mesh areas
Springy and comfortable insole and outsole
Excellent breathability
Lightweight
Cons:
Not for winter weather
Don't step in any puddles!
In Conclusion
While we love all of the breathable shoe contenders on this list, there were several options that stood out to us as undeniably the best. Each shoe and sandal on this list has its own strengths and weaknesses, and each is suitable to a different person's situation, regardless if they won an award by the end or not.
That being said, our favorite choice for overall value is anything from the Skechers Go Walk line. In this article, we looked at the Go Walk 2 for women, but these shoes are available for men, too! The many styles, fits, colors, and finishes are what put this shoe just a cut above other shoes like the TIOSEBON mesh shoes.
Our premium pick from among all the options on this list is the LeMouton Unisex Wool Shoes. These shoes are an incredible everyday-wearing shoe that can go all year-round (a feat that none of the other shoes on this list can pull off), in addition to wicking moisture and allowing your feet to breathe. If these shoes were a bit more affordable, they'd undoubtedly be our best overall pick.
Our best value pick is – you guessed it – a pair of Crocs! The Crocs LiteRide Pacer is an excellent combination of sneaker and sandal, and while it doesn't stand up to cold weather as well as a standard shoe, it's much more breathable than a regular shoe, too. Because of this dual sandal-shoe functionality, despite its price, we believe that this shoe provides an excellent level of value.
Did you like the shoes and sandals that we included in this guide? While you may not have found the perfect pair of shoes for your sweaty feet in this guide, we hope that we could at least provide you will a solid foundation from which to start. Good luck finding the best shoe options for your sweaty feet!