Slippers are a great way to keep your feet warm and toasty while you're sitting around the house or running errands. But if you suffer from sweaty feet, it might turn into a problem if your feet get too warm. Never fear. We're here to help with 10 of the best slippers for sweaty feet.
Below, we've listed a few of our top picks when it comes to finding the perfect all-around slipper whether you're indoors or outside.
Our Top Picks
Editor's Pick for Best Slippers for Sweaty Feet: UGG
Luxury Pick: Old Friend
Budget Pick: Acorn
What Are Slippers?
Slippers are a type of shoe that slides on smoothly for indoor use. You never want to wear your outdoor shoes through your house as it can scratch or scuff your floors, as well as track in dirt and bacteria from outside. Thus, the invention of slippers.
These shoes are known by other names like house shoes, clogs, mules, sandals, and slip shoes. But regardless of what you call them, they'll have some similar characteristics. However, there are different styles of slippers, so you might not even realize a slipper is just that at first. For example, there are:
Slipper boots
Sandal slippers
Moccasin slippers
Closed slippers
Evening slippers
Slipper socks
How Do You Know It's a Slipper?
Slippers are meant to be flexible, roomy, and airy, which is why they're great for people who deal with swollen feet, like people with diabetes or pregnant women. You get more cushion and warmth for your feet with slippers than you would with just socks. If you have aching feet, you'll appreciate the soft buffer between your sensitive soles and the hard, cold floor.
And keeping your feet warm regulates your body temperature, so you're not cold as often. You could save some extra money on your next electricity bill just from covering your feet. Not to mention that if you're wearing slippers, you won't need socks as frequently – your socks will last longer.
These shoes are typically suede, cotton, or leather, such as sheepskin. You can find hard soled slippers, which give your feet more support and traction, which are great for wearing outdoors. These shoes are ideal for older adults who have issues with stability. Or pregnant women who want the extra grip for more peace of mind.
Or you could choose soft-soled, which is an indoor-only shoe. While these can be comfortable, you don't have much padding to cushion your steps, and these types of slippers wear down easy, causing your feet to be lower on the inside than the outside.
What Do You Need to Pick the Right Slipper?
Slipper sizes are the same as regular shoes for the most part. However, some companies claim to be "true to size" meaning they'll match what size you usually wear, but actually don't. These shoes can fit a bit larger because they're not as stiff as tennis shoes, so you might have to get a smaller size. Also, remember that some slippers, like sheepskin, start tight and loosen up as they get broke in.
The material of your slipper is critical. You want to find sandals that have wicking properties so that when your feet sweat, you aren't stuck with soaking wet shoes. There are also slippers with waterproof features like a high rubber outsole and durable upper like leather. You want a stiff upper and outsole – factors that play into the durability of a slipper.
The inner lining and footbed are also essential for you to consider. These are the areas where your foot will come into contact with the shoe. It's necessary to make sure these places provide comfort and support without irritating your skin. Memory foam is the most popular choice for a footbed, such as EVA foam, which provides shock absorption while being soft enough to cushion the foot.
Read Also: Best Heated Slippers
Types of Slippers
As with other types of shoes, there are different kinds of slippers. The style you pick will depend on your tastes and needs.
Slip-Ons
Slip-ons are the most common slipper type throughout the world. They're easy to put on, take off, and wear. These are usually open-heeled and with a soft or thin rubber sole. It's becoming more common to see slippers made for indoor and outdoor use, meaning thicker outsole. Most slippers are flat-heeled, although you can find some with kitten heels (think of the sexy slippers worn in the 50s and 60s).
Closed Back
Closed-back slippers provide you with a better fit. You won't have to worry about your foot slipping out of your shoe while you're walking. These shoes will be warmer because they wrap around your foot. Most of these are lined with fur and have more robust outsoles for outdoor functionality. These are the slippers most preferred for men, although women can wear this design too.
Moccasins
When you hear the word moccasins, I'm sure a particular image pops into your head. If you're picturing a low-heeled, closed box toe shoe like the pilgrims and Native Americans used to wear, then congrats. You're right. Moccasin slippers have a more durable upper and outsole and are made of suede or leather. They might even have hand stitching or tassels to complete the design.
Novelty Slippers
We've all had a goofy pair of character houseshoes in our lifetime. Big flapping heads protruding from our feet, maybe wobbling or talking as you walk. I had a pair of Tazmanian Devil slippers growing up. These aren't the type of slippers you wear in public, or even outside. They're meant more for fashion or as a collectible than comfort. Not an ideal choice if you have sweaty feet.
Slipper Socks
If you aren't fond of wearing slippers, you're in luck. You can still get the comfort of a house shoe but in the form of a sock. Consider slipper socks as the child of slippers and socks. The only difference between your regular socks and these is that there's gripped soles, and they're thicker. Slipper socks are popular with women and kids.
Lined Boot Slippers
Some people prefer slippers that come up higher, like a boot. You can find these from ankle booties up to mid-shin. These are usually the warmest type of house shoes. You'll often see these slippers made out of wicking material and have a thick, rubber outsole. They're great for indoors or outdoors, and you might not even be able to tell whether they're actual houseshoes or boots.
Top Five Best Slippers for Men with Sweaty Feet
It's hard to have sweaty feet as a man. You have to worry about foot funguses like Athlete's Foot and the embarrassment of foot odor. Your feet ache after a long day's work, so it's nice to slip into a comfy pair of slippers – until you sweat through them. We understand the struggle, so we've put together a list of the five best slippers for sweaty feet.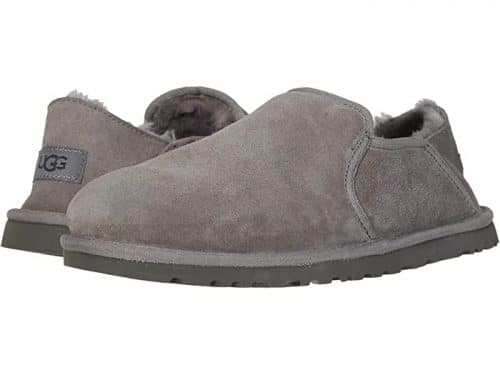 The Ugg Kenton is our Editor's Pick because you get the best of both worlds. These shoes are comfortable like a slipper yet in the trademarked design of the UGG boot. The upper part of these slippers is made of soft suede, providing a slight waterproof barrier along with a classic look.
You have four color options to choose from – charcoal, chestnut sheepskin (tan), chocolate sheepskin (brown), or true navy (blue with a white outsole). Ugg does warn its customers that you might experience slight dye transfer from the darker colored sheepskin the first few times you wear them. This problem does go away on its own.
Available in size from a 7 to an 18, these slippers do not have half sizes or the option for a wide shoe. The width of these is medium, which is an average size width. If you have wide or narrow feet, you might want to find a different shoe option.
If you want a slipper with dual functionality, these shoes have a collapsible heel so you can wear these as a slip-on shoe, or as an open-heeled slide. A foam insole keeps your feet cushioned, so you feel like you're walking on a cloud.
And the trademarked UGGpure wool lining keeps your feet feeling dry and warm as it wicks away moisture. The fur in these slippers does come from sheep/lamb in the United States, Ireland, UK, or Australia. This fur has been artificially dyed and treated.
The outsole is EVA, which is the best foam choice for your slippers. EVA or ethylene-vinyl acetate works as a shock absorber, which makes these slippers able to be worn outside more comfortably than soft-soled house shoes. It's also lightweight, which means you won't be walking around in sandals that weight your feet down. These slippers weigh 9 ounces apiece.
If you want a slipper that's good for sweaty feet that you can wear more than one way, our Editor's pick, the UGG Kenton might be the slipper for you.
Pros:
Sheepskin wicks moisture, making these great for sweaty feet
Thick EVA outsole
Lightweight
Collapsible heel
Wide size options – great for men with big feet
Cons:
No options for wide or narrow feet
Limited color options
Colors do bleed for first few wears
Some companies make slippers that look so durable that you don't even realize they're house shoes. Such as our Luxury Pick, Old Friend Alpine II. At first glance, these slip-on slippers could pass as traditional lightweight ankle boots.
The Alpine II only comes in one color choice, chocolate, which is a rich, dark brown suede upper. Cream-colored sheep or lambskin wool lining from Australia keeps your feet warm and dry on the inside.
The footbed is lightly padded for your comfort, but it does not have as much cushioning as other slippers we feature. For people with foot issues like corns or bunions, these might not be the right slippers for you.
The two-tone black and tan durable rubber outsole provide maximum protection and comfort to your feet, whether you're indoors or outside. These slippers are heavier than other sandals we mention, weighing 1 pound each.
Available in sizes 8 through 16, these shoes will fit men with average width feet. If you have narrow or wide feet, these might not be the slippers for you. However, these shoes do come with an elastic cuff, so you have a bit of stretching power if your feet tend to swell throughout the day.
We want to point out that these shoes do come with a California's Proposition 65 warning, which requires businesses to state if their products contain harmful chemicals that can cause cancer, congenital disabilities, or other reproductive harm.
If you want a slipper that looks great, keeps your feet dry and warm, and can be worn indoors or outside, look no further than our luxury pick, the Old Friend Alpine II.
Pros:
Looks like a real shoe
Real sheep/lambskin lining for wicking moisture and sweat
Slip-on design
Thick, protective outsole
Suede upper
Cons:
Comes with a California's Proposition 65 warning
Only one color choice
Not much cushion on the inside for foot support
Being on a budget doesn't mean that you should have to sacrifice quality and comfort. That's why we're featuring the Hanes Moccasin Slipper for our Budget Pick. You've all heard of Hanes, and might even already wear their undershirts, underwear, or activewear. And now, you have the choice to wear their comfy footwear too.
These slip-ons are available in multiple colors – brown, black, gray, tan, burgundy, and brown/brown, and come in sizes small (6.5) up to 3XL (15). They do not provide the option for half sizes or wide feet. However, most customers said that these shoes are not true to size. Therefore, most of them had problems with getting the proper fit.
The simple moccasin design of these shoes makes it possible to work as a unisex slipper, meaning that women or men could wear these. These moccasins were designed more for comfort than style. However, they are sized and made with men in mind, so women may not get as good of a fit. There is no way to adjust the size or tightness.
The outside is soft suede with a stitched toe box and an extra thick band around your foot for additional support and comfort. The inside of these slippers is a memory foam cushion covered by a plush, plaid liner. Plus, it has Hanes Fresh IQ Odor Protection, which keeps your sweaty feet from smelling.
You're prepared for lounging around your house or running errands outside with these rubber-soled moccasins. The thick sole and intricate gripping make these a great, and safe, slipper for men who need the extra traction.
If you want a quality slipper that won't hurt your penny-pinching heart, we recommend our budget pick, the Hanes Moccasin Slipper.
Pros:
Memory foam footbed
Multiple color choices
Simple moccasin design
Hanes Fresh IQ for odor control
The thick rubber outsole is sturdy enough for outdoors
Cons:
Not true to size
Can't adjust shoe to fit
Not for people with wide feet or half sizes
If slip-ons and moccasins aren't for you, let us present a slipper boot made by Eddie Bauer, the Shearling Boot Slipper. Designed to look like a traditional boot, these slippers are sure to keep your feet warm and dry, whether your indoors or out.
These slippers are only available in beige in sizes 8 to 14. There are no options for half sizes or wide selections. You pull these boots on, so there is no way to adjust the fit if they are too small or large. Most customers felt that they fit true to size, meaning you can order the same size slipper that you would a tennis shoe.
The upper is of full-grain leather and sheepskin suede. There's a molded rubber outsole, which makes these boots great for indoors or outdoors. The rubber band comes up high enough along the sides of these slippers to provide better water resistance.
Dyed sheepskin lines the inside of these slippers, so your feet are sure to feet warm and comfortable. Sheepskin wicks moisture, so sweaty feet won't be a problem for these slip-ons. Your foot temperature will be regulated, so you'll always feel warm but never hot.
These slippers are imported from China and do not have built-in arch support, so for people who have flat feet or high arches, you might want to consider a different option. They do have a cushioning EVA midsole with a shaft size of 6″ and a platform height of 0.75″.
If you prefer the look of boots over moccasins, the Eddie Bauer Shearling Boot Slipper might be your new best friend.
Pros:
Liner made of wicking materials like sheepskin
Thick rubber outsole
EVA midsole
Boot style
Suede upper
Cons:
Only one color option
No arch support
No half sizes or wide shoe options
Not everyone likes slippers that cover their entire foot. So for those of you who want a slipper that's a true slip-on, we present our final best sandal for sweaty feet, the Acorn Rambler Moc. Available in six colors, chocolate, grey ragg wool, olive tweed, black suede, field tan, or olive plaid, these slip-ons have plenty of features for you to love.
These slippers are only available for sizes 7-13, so if you have a big foot, these aren't the slippers for you. They also do not come in wide sizes or half sizes. These imported slippers are 100% wool and are great for indoors or outdoors.
The material for the uppers of these slip-ons varies with the color choice you pick. Made of wool, suede, or a blend of wool, you're sure to get a simple style while still keeping your feet warm and dry, and the leather sidewall is resistant to water and staining. Sheepskin lining helps regulate temperature.
Cloud Cushion memory foam insoles mold to the distinct shape of your foot over time, giving you a customized fit. And the multilayer memory foam is also removable so that you can replace it with a personalized sole.
Elastic panels allow you to get these slippers on and off with ease while providing a secure fit. The patterned outsole is a combination of rubber and jute, which is suitable for indoor and outdoor use to provide support and traction. The back heel of these shoes does not close around your ankle, which can pose a tripping hazard if you wear slippers that are too big.
Suede and leather are simple to clean, which makes these slippers even more appealing. All you need is to wipe clean with a damp cloth and let air dry. Then brush with a soft brush to refresh the fabric once it's dried.
If you want a low-back slipper that provides comfort and durability, we recommend the Acorn Rambler Moc.
Pros:
Cloud Cushion memory foam
Slip-on
Indoor/outdoor outsole made of rubber and jute
Different colors and material for different looks
Easy to clean
Cons:
The low-back heel can be a tripping hazard
No wide size options
Not for men with big feet
Best Slippers for Women with Sweaty Feet
A lot of slippers are unisex, meaning men or women can wear them. However, some women may prefer sandals that are designed just for women, as they might look more stylish than men's or unisex slippers.
We've featured Ugg as one of the best slippers for men, but with such great products, it's no wonder we include it on our women's list as well. The UGG Ansley Moccasin is an enclosed slip-on shoe type that provides full ankle support with a closed heel.
Available in sizes 5-12, these imported slip-on moccasins run true to size, although some customers said the fit wasn't correct. They are not for people with wide or narrow feet. Made of 100% pig leather and water-resistant Silkee suede, these slippers can stand up to mild weather conditions without a problem.
However, you have to provide proper care to keep these slippers clean and in good condition. UGG recommends blotting any spills or stains with a clean, dry cloth immediately after getting wet. Apply a water/stain repellent to extend how long the boots last and reapply repellant every few months to keep these slippers water-resistant.
These slippers weight 2 pounds each and are lined with cream-colored, dyed UGGpure sheep/lamb wool, which can come from Australia, Ireland, the UK, the US, or Spain. Your feet will stay dry and warm due to the wicking properties of wool.
A thick rubber outsole will provide traction and support for customers who need extra grip. Intricate contrast stitching gives these slippers extra appeal, setting them apart from other moccasin slippers. You have a variety of colors to choose from:
Black
Chestnut
Chocolate
Light gray
Spruce
Pink crystal
Slate
Sunset
Bougainvillea
If you want a stylish closed slipper that's guaranteed to keep your feet dry and comfortable, we recommend our Editor's pick, the waterproof UGG Ansley Moccasin.
Pros:
Multiple color options
UGGpure wool
Waterproof suede
Thick rubber outsole for outdoor use
Moccasin style
Cons:
Heavier than most slippers
Needs special care to stay in good shape and waterproof
No wide options
If you like the look of booties that come up over your ankles, but you're not sure if you would enjoy them always being up, we've got the perfect solution for you. Old Friend, who we featured in the men's half of this review, has designed the Ankle Slipper, which is a slip-on that can be worn rolled down under your ankle, or up above your ankle.
At 8 ounces each, these shoes are so comfy you'll never want to take them off. But with the skid-resistant TPR outsole, do you really need to? Wear them with your pajamas while watching tv or with your leggings on a cold day when you're hanging out with friends at the coffee shop. These slippers are stylish enough to be worn as regular boots.
On the outside, these slippers are 100% sheepskin leather with a 3.5″ distance from arch to shaft, a 1″ heel, and a 0.75″ platform. The opening of the boot is 10.5″ around, so if you have narrow feet and legs, these slippers could be a bit loose on you. If you have thicker feet and legs, they might be tight.
What we didn't like is that these slippers don't have much arch support. But it's not a deal-breaker for us since the insole can be removed and replaced with something more substantial. A lot of customers had problems with the insole coming out every time they moved their foot, which can be time-consuming and frustrating to have to fix repeatedly.
The footbed has light cushioning to provide comfort and support, but there is no memory foam. And is covered with a sheepskin fleece lining along with the sole and inner upper shoe and cuff. This fur comes from sheep out of Australia. Your feet will stay dry and at the perfect temperature, thanks to the soft fluffy fleece liner.
You can pick from four colors – Chestnut Ii, Cinnamon, Chestnut, and Gray in sizes 5-12, including wide sizes! Not all color options will be available with every size.
If you want a bootie that you can change to create different looks, we suggest our Luxury Pick, the Old Friend Ankle Slipper.
Pros:
Wide sizes available
The fur-lined cuff can be worn up or down
Sheepskin liner for comfort, warmth, and dryness
Lightweight
Stylish
Cons:
Colors not available in all sizes
Limited colors
No memory foam footbed
If you like the look and feel of fur but don't like the idea of wearing a real animal, Acorn shares your beliefs. That's why they've designed our Budget Pick, the Acorn Faux Chinchilla Collar Slipper.
Don't let the fact that these shoes are cost-effective fool you. There is plenty to get excited about. These slip-on shoes have been certified by The Vegan Society to be safe for vegans. The upper is made of luxurious Italic plush and covers the whole foot in a moccasin bootie style.
Faux Chinchilla fur lines the entire foot, wicking sweat from your feet while regulating your body temperature. You'll never have to worry about feeling damp feet again. The footbed is cushioned memory foam, which molds to the distinct shape of your foot.
You get added height from a 1″ heel, and firm arch support. The rubber outsole is waterproof and has a non-skid tread for traction and grip. Acorn has a trademarked Cloud Contour multilayer insole, which offers support to aching feet. The comfy footbed will cushion sore heels and toes while reducing muscle fatigue, pain, and pressure.
These 8-ounce slippers come in sizes 5- 12, including wide options. However, these slippers are not true to size, meaning you might not wear the same size house shoe as you would tennis shoes. And in four color options:
Black
Crackleberry
Stone
Navy blue (Only available to Amazon customers)
Keeping these stylish booties clean is a piece of cake. Just toss them into a cold, gentle cycle in your washing machine and forget about it. You can even put these shoes in the dryer on low tumble heat. These slippers do have a weird, perfumey smell so you may prefer to wash them before wearing.
If you want a faux fur lined bootie moccasin slipper for your sweaty feet, you can't go wrong with our budget pick, the Acorn Faux Chinchilla Collar Slipper.
Pros:
Comes in wide sizes
Certified vegan shoes
Cloud contour footbed for maximum support and comfort
Arch support
Faux chinchilla fur keeps feet dry and warm
Cons:
Limited colors
Not true to size
Weird scent
Skechers are famous for making great shoes, so when we found out they also made slippers, it was a no brainer to consider them for our top 5 best. With all the perks these slip-ons have, it's easy to see how they made it onto the list with their Bobs Keepsakes Slippers.
Available in regular and wide sizes for women who wear from a size 5 to an 11, these fashionable low heel, slip-on clogs come in a massive assortment of colors. They're easy to slip on without using your hands, but there is a pull tab at the back for people who need the extra assistance getting them on.
Each shoe also has a decorative pin on the top outside part of the shoe to set it apart from other clog-style slippers. Your color choices are:
Charcoal
Solid black
Black and gray
Chocolate
Gray
Charcoal/black
Chocolate/natural
The upper is 100% cable knit fabric, which is visually appealing and comfortable but does not hold up well under wet or icy weather conditions. These slippers are okay to wear outside thanks to the gripped rubber sole. But they are not waterproof, and the grip is not sufficient enough to prevent slipping on wet surfaces.
The inside is layered in plush faux fur to keep your feet toasty and dry. And you can expect maximum comfort with a plush memory foam footbed, and a shock-absorbent mid-sole. However, they do not have arch support. These slippers claim to run true to size, but most customers said these shoes come wide and long, even if you don't pick the wide option.
Therefore, it's recommended to order a size below what you usually would for a snug, comfortable fit. Each shoe weighs two pounds apiece, which is denser than some of our other slippers. If you plan to do a lot of walking, you might start to notice this slight weight difference after a while.
If you want a clog style slipper that stands apart from the rest in function and design, we recommend checking out the Skechers Bobs Keepsakes Ice Angel.
Pros:
Memory foam footbed
100% cable knit fabric for comfort and fashion
Large color selection
Easy to get on
Wicking faux fur keeps your feet dry and warm
Cons:
Heavier than other slippers
No arch support
Runs wide and large so not true fit to size
Clark's is another famous shoe company that makes comfy shoes that we all love. Who doesn't remember rocking their Wallabees back in the day? Well, now, you can make a statement with your Clark's Willodean Fern slippers too.
The upper is 100% leather with a knitted wool cuff, decorated by a large button in the middle. The inside of these slip-ons is lined with plush fur that will keep your feet sweat-free and at just the right temperature. There is a name tag right in the middle of these shoes, which might be an irritant to some people.
Available in sizes 5 to 11, these slippers do not come in wide sizes. You also don't have any arch or ankle support. The back is less than 2″ high, posing a risk of flapping off your foot if you don't have the right size.
These shoes will stretch out with use, which can make them fit improperly after some time. Another disappointing feature is that while these shoes can be worn indoors or outdoors, they are not waterproof. You would not want to wear these slippers during rain or snow.
The sole is a flexible synthetic rubber with less tread than some of our other recommendations. If you need a slipper with a superior grip, these are not for you. They weigh less than 2 pounds, which is a medium-range of the weights of sandals.
Appearance wise, you should be able to find a color that suits your tastes. There are 10 to choose from.
Black
Tan leather
Blue
Navy
Burgandy
Cabernet
If you want a fashionable open-heel slipper that can keep your feet comfortable and sweat-free, Clark's Willodean Fern might be your dream slipper.
Pros:
Large color selection
Fashionable
Easy to put on
100% leather upper
Fur lining will keep feet warm and dry
Cons:
No arch support
The open-back heel can be tripping hazard if the wrong size
Not weather resistant
Which Slipper is Best for Your Sweaty Feet?
Sweaty feet can be a real problem. If you're tired of being embarrassed by smelly feet that always sweat, slippers can be the answer. Remember that you want to find sandals that have a wicking material liner, like wool or fur. To get you started on your search for the best slippers for your sweaty feet, let's review our top three recommendations.
Best Slipper Brands for Sweaty Feet (For Men and Women's Slippers)
UGG – Editor's Pick for Best Slippers
UGG has plenty of slippers and styles for you to choose from, whether you're looking for men's, women's, or even unisex. In our opinion, these are the best slippers you can buy for your sweaty feet.
Old Friend – Luxury Pick
Some people don't mind spending a bit more to get the results they want. If you're one of those people, don't shy away from our Luxury Pick for sweaty feet, Old Friend. You'll have all the features you need for the best slippers you've ever worn.
Acorn – Budget Pick
Living on a budget is something we can all understand. But you don't have to forgo quality to save your wallet. That's why we recommend our Budget Pick, Acorn. They have plenty of choices for men and women. You're sure to find the best slipper for sweaty feet without hurting your bank account.