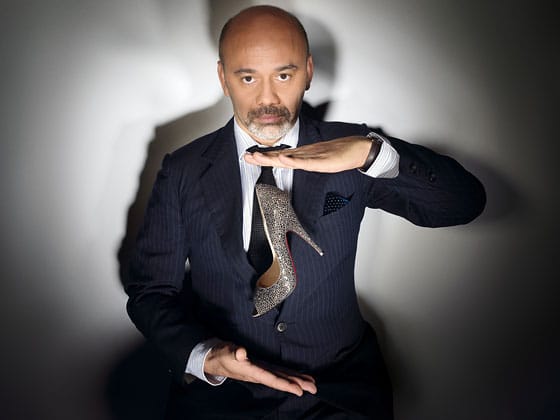 Christian Louboutin has been called the "foremost shoe designer in the world" who creates instantly recognizable and signature heels. Louboutin became fascinated with shoes at the age of 17 when he was apprenticing at the famous Folies Bergère cabaret in Paris. Louboutin says "[The showgirls] influenced me a lot. If you like high heels, it's really the ultimate high heel – it's all about the legs, how they carry themselves, the embellishment of the body. They are the ultimate icons." He began sketching shoes when he saw a sign posted outside of a museum prohibiting stilettos to protect the floors from being damaged. This sign left an impression and inspired Louboutin to sketch shoes.
Christian Louboutin learned shoe designing from the master himself & the creator of the stiletto, Roger Vivier as an apprentice. Louboutin says, "the most important part of the shoe is the body and the heel. Like a good bone structure, if you get that right, the rest is makeup." In 1992, Louboutin opened his own store in Paris and now his shoes are sold in 46 countries all around the world.

Quotes from Christian Louboutin:
"I did not really choose the red sole. Its more like the red sole came to me and had to stay with me. It started as a happy accident, which I kept. I was very inspired by pop art so all my drawings were really full of colors."
"I never was interested in being part of the fashion world – I just wanted to design shoes. I didn't even know Vogue existed when I was growing up. Vogue, what is that?"
"I would hate for someone to look at my shoe and say, 'Oh my God! That looks so comfortable!' That's not what I want to project. But I'm not a sadist. I don't believe suffering makes you beautiful. But comfort is not part of my creative process."
"It's a good addition. There are so many bad addictions. Better be addicted to shoes than something else"
The signature red sole:
Similar to the other serendipitous events in Louboutin's life the famous red sole also came about as an accident. Louboutin was working on a shoe in his studio when he felt something was missing. Louboutin then "realized that the black sole of the shoe was too dark." A nearby assistant was painting her nails red with Chanel when Louboutin grabbed it, painted the shoes sole red and voilà; the red sole was born.
Interview video with Christian Louboutin: (via Net-a-Porter)
More on Christian Louboutin:
Celebrities in Christian Louboutin
New Christian Louboutin US Online Store
Who Wore it Best? Christian Louboutin Clou Spiked Heels