Update: ***Check out the new Christian Louboutin Fall 2012 Collection***
Christian Louboutin's Resort 2011 Collection is such a fun remix! The Bianca platform pump is available in new tie-dye and patent colors like magenta. Glitter is all over this collection & featured on a Lady Peep slingback and Pigalle pump. The only thing I can think of when looking at the new gingham Greissimo knot pump is a picnic! The major standout and unusual piece in this collection is the super fierce denim Pigalle spike pump. What are your top picks? I'm drooling over the magenta patent Bianca – must.have.
You can find current season Christian Louboutin shoes online at: Christian Louboutin's US boutique (there are also e-boutiques available for countries around the world), Bergdorf Goodman, Net-A-Porter, Saks Fifth Avenue, Neiman Marcus & Barneys.
Bianca Tie-Dye Platform Pump
Available online at Neiman Marcus
Bianca Magenta Patent Platform Pump
Available online at Neiman Marcus
Bianca Camel Platform Pump
Available online at the official US Christian Louboutin store
Bianca Black Patent Platform Pump
Available online at Neiman Marcus
Lady Peep Multi-Color Slingback
Available online at Neiman Marcus
Lady Peep Glittered Slingback
Available online at the official US Christian Louboutin store
Miss America Lady Peep Slingback
Available online at the official US Christian Louboutin store
Lady Peep Slingback
Available online at the official US Christian Louboutin store
Lady Peep Ecotrash Slingback
Available online at the official US Christian Louboutin store
Pigalle Spikes
Available online at the official US Christian Louboutin store
Pigalle Glittered
Available online at Neiman Marcus
New Delic Glittered Pump
Available online at the official US Christian Louboutin store
Samira Strauss Pump
Available online at the official US Christian Louboutin store
Greissimo Denim Knot Pump
Available online at Neiman Marcus
Greissimo Gingham Knot Pump
Available online at Neiman Marcus
Lassagi Magenta Patent Pace-up Pump
Available online at Neiman Marcus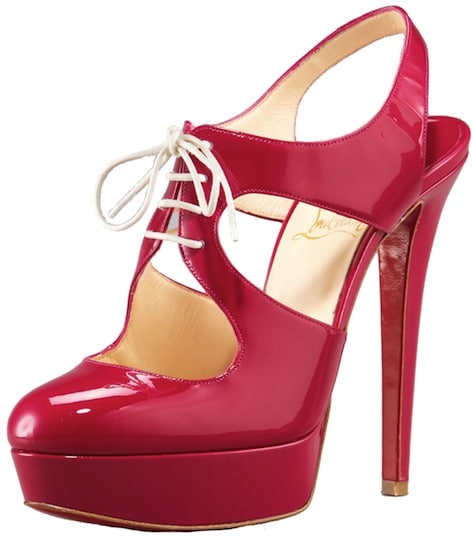 Sexy Sling Glittered Stiletto
Available online at Neiman Marcus
Bibi Beige Thick Heel Pump
Available online at Neiman Marcus
Brandaplato Black Fishnet Bootie
Available online at Neiman Marcus
Brandaplato Champagne Fishnet Bootie
Available online at the official US Christian Louboutin store
Fine Bretelle Mary Jane Slingback Platform
Available online at Neiman Marcus
Henry Studded d'Orsay Pump
Available online at Neiman Marcus
Henry Studded d'Orsay Pump in black
Available online at Neiman Marcus
Deroba Denim Wadge
Available online at Neiman Marcus
Maleva Beige Peep-Toe Mary Jane Pump
Available online at Neiman Marcus
Maleva Black Peep-Toe Mary Jane Pump
Available online at Neiman Marcus
Maggie Chain-Toe Platform Pump
Available online at Neiman Marcus
Samaya Strappy Halter Sandal
Available online at Neiman Marcus
Denis Button Bootie
Available online at Neiman Marcus
Images via US Christian Louboutin store & Neiman Marcus