Fresh on the heels of the 10 year anniversary of the iconic Pigalle stiletto pump, Christian Louboutin's new collection is a veritable bevy of sporty influence, rock and roll chic, and vibrant femininity that proves, yet again, why Louboutins are still the Go-To brand for every fashion forward fashionista.
The thing we love about Christian Louboutin's Spring/Summer collections (other than everything) is that they are always unafraid of making a bold, colorful statement. From patent leather to PVC, from gotta-look-twice embellished wedges to the iconic So Kate in metallic python leather, the SS15 collection is all about putting your best foot forward and strutting with confidence. Though it's difficult to narrow our favorite designs, we can't stop looking at the incredibly vibrant fringe of the Otrot stiletto and the phenomenal new interpretation of the Mea Culpa that is done in a warm gold and polished off with an elongated and elegant curved collar vamp.
The Mea Culpa isn't the only style that has had a bit of an update and we can't take our
eyes off of the unique revamp of Louboutin's sexy signature stiletto, a curved vamp design that continues down to a serpentine heel. That striking wavy design appears in multiple iterations, such as the Dalida, theDeepik, and the Vagachina, but our favorite has to be the Dalidad'orsay design done in patent opaline leather — the curved heel and stitched motif makes it a must-have for the upcoming sunny months.
As if that wasn't enough (we're trying to contain our gushing), Louboutin's 130mm is back and sexier than ever, replete with t-straps, colorful patterns, and peep-toes. We can already picture the sky-high platform pumps on the heels of Dita Von Teese and other style-icon daredevils!
This collection is now available at Net-A-Porter, Neiman Marcus, Saks Fifth Avenue, Barneys and Christian Louboutin,
Bandy pointed-toe pump with multicolored stripes of patent leather & PVC plus a gold specchio stiletto 120mm heel; available at Nordstrom, Saks Fifth Avenue and Chrisitan Louboutin
Boltina multicolor lace-up sport bootie with a 120mm leather covered heel; available at Neiman Marcus
Cataclou sandal with multicolor braided rope, studs and printed fabric plus a 140mm wedge; available at Saks Fifth Avenue and Christian Louboutin
Deepik open-toe d'Orsay pump with sculpted sides and 120mm wavy stiletto heel; available at Nordstrom
Devibroda t-strap sandal in gold mini glitter covered with multicolor beads and 120mm heel
Follies Spikes in beige specchio leather with mutlicolor spikes and 120mm heel; available at Saks Fifth Avenue and Christian Louboutin
Front Double pointed-toe pump in patent leather with a 100mm heel; available at Christian Louboutin
Hot Chick pump in opaline patent leather with scalloped sides and sky-high 130mm heel; available at Christian Louboutin
Hot Wave peep-toe patent leather pump with scalloped sides and 130mm stiletto heel; available at Christian Louboutin
Iriza yellow patent leather pointed-toe d'Orsay pump with 120mm heel
Lady Peep platform peep-toe pump in hand painted fucshia python vulcano with a 130mm heel; available atSaks Fifth Avenue, Nordstrom and Christian Louboutin
Mea Culpa pump in light gold leather with a high heel rise and 120mm stiletto heel; available at Saks Fifth Avenue and Christian Louboutin
Mille Cinque black leather open-toe cage sandal with a 100mm heel; available at Neiman Marcus and Christian Louboutin
Otrot multicolor ankle-strap d'Orsay sandal embellished with long fringe; available at Christian Louboutin
Salonu pointed-toe t-strap pump in white fishnet with nude sheer mesh lining and leather covered 120mm heel; available at Christian Louboutin
Salopatina t-strap pointed-toe pump in black semi-sheer mesh & leather embellished with black crystals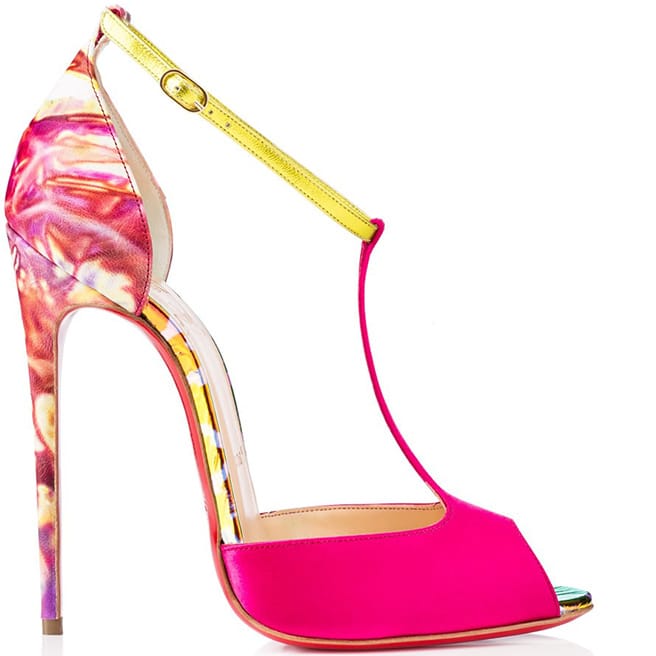 Senora t-strap sandal in fuchsia silk satin, metallic gold leather and poppy printed leather with a 130mm heel; available at Christian Louboutin and Nordstrom
So Kate pointed-toe pump in aquarium-inspired hand-painted python with a 120mm heel; available atNordstrom, Saks Fifth Avenue and Christian Louboutin
So Kate pointed-toe pump in natural python with a blue splattered paint design and 120mm heel; available at Christian Louboutin
So Kate mixed media pointed-toe pump in red & black eel plus white leather with a 120mm heel; available at Christian Louboutin
Talitha t-strap platform sandal in metallic gold leather with an adjustable ankle-strap and 160mm heel; available at Christian Louboutin
Talitha t-strap sandal in red patent leather with a 100mm heel; available at Christian Louboutin and Saks Fifth Avenue
Tibur peep-toe pump in glossy red patent leather with a 120mm heel
Top Vague pointed-toe leather pump covered in tonal stitched lace with scalloped edging and embellished with crystals throughout; available at Christian Louboutin
Vagachina Southwestern-inspired pointed-toe mule in multicolor suede & leather with a 120mm sculpted heel
Victoria black leather pump with a stacked 3-inch platform, round toe and 160mm heel; available at Christian Louboutin
Images via Christian Louboutin | Written by Shannon Weston