I'm back! I apologize for the lack of updates. For the past couple months I've been traveling non-stop while collecting some fabulous heels. Most excitingly I went to Europe and explored Italy, Paris & Lithuania. Here are the shoes I picked up:
Brian Atwood Fall 2011 electric purple Follow Me pump
Purchased at: ShoeIn located at the Wynn, Las Vegas
Available at: Saks Fifth Avenue & ShoeIn
Seen on: Naomi Watts
Fit: Amazing! For a pin heel, I'm impressed and understand why he's the go-to designer for many celebrities. I took a 36.5 in these.
Casadei Fall 2011 steel blade pumps
Purchased at: Casadei store in Florence
Available at: Orange suede & black patent at Endless, in blue suede at LuisaViaRoma, in black leather at Neiman Marcus and in black suede at TheCorner.
Seen on: Lea Michele, Selena Gomez, Cameron Diaz
Fit: I take it back, I take it back! Anything wonderful I have written about these, please disregard! These are so uncomfortable. I tried them on in the store, walked around & decided that I had to have them. I wore them out one evening and tripped all over. It was embarrassing and unlike me; I was born for heels! I don't understand how Lea Michele and Cameron Diaz have worn these multiple times on the red carpet – crazy! These heels are for dinner parties only. I took a 36.5.
** Update – Okay, I have gotten several emails about these pumps. Celebrities continue to wear them, I continue to wear them…I had an obvious love/hate relationship with these heels. No one can deny how sexy they are. They look amazing with so many of my outfits. Everyone's feet are different and for me I had to learn how to balance in them. They still aren't the easiest heels I own however they are beautiful. Also remember they're a bit narrow.**
Christian Louboutin Fall 2011 suede Daf Booty
Purchased at: Christian Louboutin in Paris
Available at: Nathalie Schuterman (You have to call them to order & if you want them I wouldn't wait!)
Seen on: Victoria Beckham and Rihanna
Fit: This is a seriously high & hot shoe. I couldn't believe I went for something in the Daffodile family. I haven't had any problem wearing them and would choose to wear these over the Casadei heels in a heartbeat. They only had a 37, I would have taken a 36.5 but with socks these fit perfect.
DSquared2 Fall 2011 ice skating boots
Purchased at: The new DSquared2 boutique in Paris
Available at: Zappos in white & black, LuisaViaRoma, DSqaured2
Fit: These are my favorite purchase! It took me 30 minutes+ to choose between the black & white. I went with the white because it looks like I just stepped off the rink. These were only made in 38, 39 & 40 so I took the 38. I choose to wear these out of the store…on rue Saint-Honoré on a Saturday – not the smartest move but I was so excited to have them. Two minutes later a photographer from Vogue Japan asked to photograph me! I have no idea where the photo will be – street style section on the web site I'm guessing. These are much easier to walk in than you think. I took a close-up of the bottom to show the two supporting "blades" which help keep them stable.
Oscar de la Renta Spring 2011 embellished cork sandals
Purchased/available at: Oscar de la Renta Wynn, Las Vegas
Fit: These are very easy to walk in. The cork is very comfortable and I've worn them out several times without any issue. At the boutique there were many styles left from spring at 40% off! A sale in mid-October? I'll take it! They also had one of my favorite styles but these embellished cork sandals called to me. I took a 37.5 (his shoes run small).
Giuseppe Zanotti Spring 2012 open-toe bootie with 5.9 inch heel
Available at: Giuseppe Zanotti for pre-order estimated shipping date 11/21
Fit: In June I saw Zanotti's Spring 2012 collection which featured many shoes with this silhouette. I completely respect Zanotti's work – he's a shoe master! I thought this design would be heavy in the front but surprisingly the shoe is very light. I feel like all of my recent sky-high purchases are getting me ready for Noritaka Tatehana's heels : ).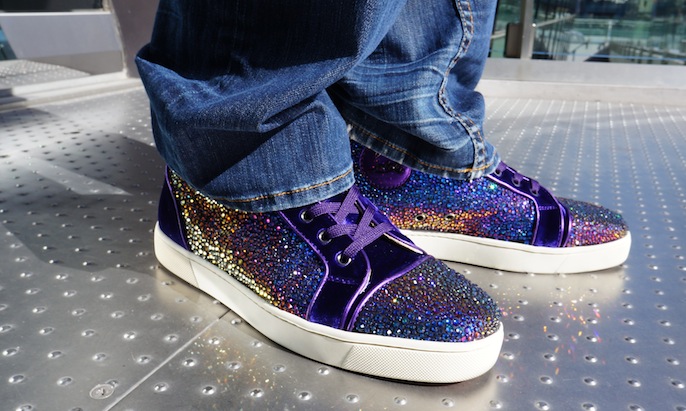 Christian Louboutin Louis Strass
Purchased at: Christian Louboutin at The Forum Shops in Las Vegas
These are my boyfriend's but aren't they beautiful?! He's never been a fan of Louboutin's mens shoes but these caught his eye. There's only one size left online in silver.
Right now we're hanging out in Vegas, catching up on projects and getting ready for Halloween. I'm obviously going to be an ice skater!