Last night I attended the premiere of "God Save My Shoes" sponsored  by The Outnet at the Paris Theatre in New York City. If there ever was an event I was supposed to be at, it was this one. The film was and wasn't about shoes. Of course it was filled with tons of shoe eye candy however it explored an in-depth look at why women are obsessed with them. For some women they can never have enough. For Kelly Rowland shoes are her babies! And for others, heels can help transform them into an alter-ego.
Before the event: Alice & Olivia dress, DVF belt, Nicholas Kirkwood heels & Dalia Koss bracelet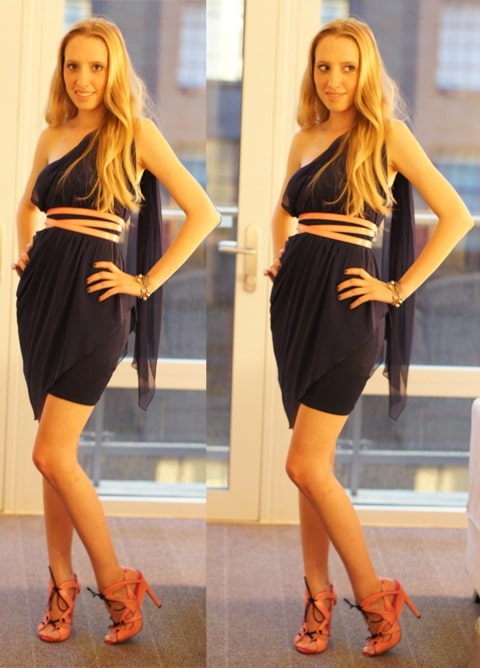 Professional poker player Beth Shak who owns over 1,200 pairs of shoes made an appearance in the film and was the most humorous of all the cast – I appreciate love her blunt honesty!
Former Vogue senior accessories editor Filipa Fino (filmed while she was still with Vogue) also starred in the film. We got a peek at the Vogue shoe closet aka, my heaven.
Burlesque performer Dita Von Teese made an appearance in the film and also at the premiere. She wore Christian Louboutin Very Noeud satin peep-toe slingbacks paired with Elie Saab.
I really recommend watching all of the production diaries. The clips feature more with the designers than the film does. Before the film started last night, director Julie Bensara said they had to clip footage out or it would have been a 3 hour documentary.
After the film we headed over to LAVO through the monsoon to attend the after party. Markus and I had our shoes snapped for SOLES4SOULS. For every fabulous pair of shoes, Caid Productions donated a pair of shoes to someone in need.
The film also premieres in Paris on September 29th. "God Save My Shoes" is planning to be released in France in October and in the US at end of November. P.S.- Check out my previous post on the film, featured on the designers.
Credit: Fame Pictures