by:zenzhu
Our tour of the fashion capitals of the world continues. Next stop? Milan! Let's take a closer look at our favorite Italian exports –nope, not the best-tasting pizza or the creamiest gelato there is –but shoes, of course! Whet your sartorial appetite with these shoes that are just, bellisima.

Dolce & Gabbana
Disney Princess wannabee? Dolce & Gabanna's whimsical heels will make your fairy tale dreams come true. Metallic t-strap pumps were embellished with glitter, multicolored flowers and furry pompoms. PVC pumps were reminiscent of Cinderella's glass slippers –you'd never want to leave a shoe behind, that's for sure –midnight curfew or not.

Salvatore Ferragamo
Furry footwear also tickled the Ferragamo runway. Fur trim adorned the ankle strap on an otherwise classic, muted satin sandal. Toe caps of block-heeled pumps also got the furry treatment, giving the chic footwear the cozy touch of bathroom slippers. Zigzag-patterned lizard skin and suede booties and knee-highs were also playful and edgy additions to the flirty footwear collection.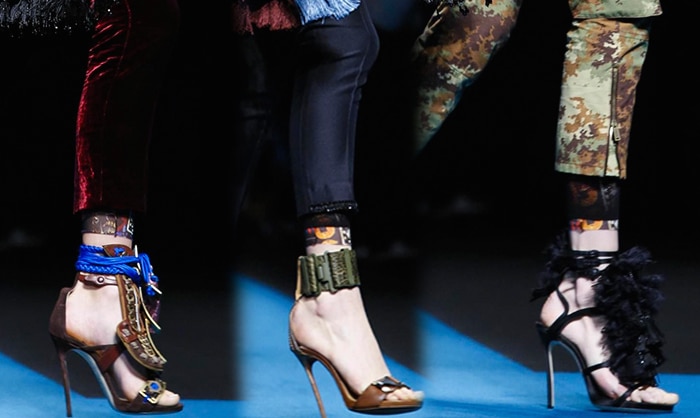 Dsquared2
Stilettos stole the show with its super ornate embellishments –tassels, cord lacing, beadwork, badges, ruffles, belts, straps and buckles were the perfect details to match the military mood of the edgy Victorian coats and Sargent jackets.

Prada
The Prada woman for fall is a traveller who treks, hikes and explores in style. Her nomadic footwear consists of lace-ups with wedge heels, multicolored laces and nautical detailing. Her Prada pilgrimage will continue with glossy patents and color-blocked leathers, adorned with golden buckles.

Roberto Cavalli
Now you can wear a pair of snakeskin platform boots for almost everyday of the week. The go-go boots came in a plethora of colors –black, gold, purple, blue and green –all snag-worthy for the glam-rock chicks out there.

Fendi
Cropped and over-the-knee boots weren't shy of details –the leg covering footwear were heavily dressed up in ruffled leather, scaling, garters and tapered heels. These beauties had an eye-catching color palette too, from cotton candy hues to super bold shades that would light up the streets in the fall.

Fausto Puglisi
With Madonna mash-ups playing the background, you can definitely expect a show that is equal parts sexy, rebellious and edgy. Stomp-worthy combat boots were bedecked with studs and colorblocked with blue or green covering. Cowboy boots were studded and buckled –super sexy when paired with short skirts. Then there's that pair of metallic gladiator boots that are extremely feminine, fierce and totally hot!

Gucci
Alessandro Michele described his dreamy collection as an ode to, as he said, "some of my passions" –the Seventies, The Renaissance and Street Style were celebrated through platform wedges paired with lustrous hosiery. Horse-bit loafers got a fun makeover and were spruced up with a pointed toe and block heels, while your classic round-toe Mary Janes turned into entrancing accessories with its optical illusion print.

Versace
It was a kitten heel parade. Leather ankle booties, got the modest-heel treatment, while pointy pumps already came with zipped up socks for a cosy touch. Ankle strap pumps got a little bit more height and color too. Our favorite? The fluorescent yellow capped stilettos with coral ankle straps.

Marni
Consuelo Castiglioni obviously likes to experiment with conceptual forms. Pointy pumps in high-shine neutrals featured wooden wedges with gold trimming –the shoes were like wearable pieces of furniture. Tall boots were also given added lift by wooden orbs, while other pumps were elegantly accented with curved, swirly-shaped wooden heels.
About the author: Zenzhu is a freelance fashion and lifestyle writer who is also a hopeless shoe-addict. He thinks her 5'4″ height and her love for long walks make her deserving of all the stilettos, pumps, sandals and ballet flats in the world. If only the cupcakes she expertly bakes can be traded in for a new pair (or two, or hopefully, more).