Shoe highlights from Milan Fashion Week Spring 2013:

Credit: Style.com
Gucci
As I started to look at the detailed photos, I wasn't really excited by the patent leather cage designs sandals. However, towards the end of the show, there were a couple beautiful ankle-strap sandals. Most of them feature the signature metal horsebit and one design featured an oversized buckle.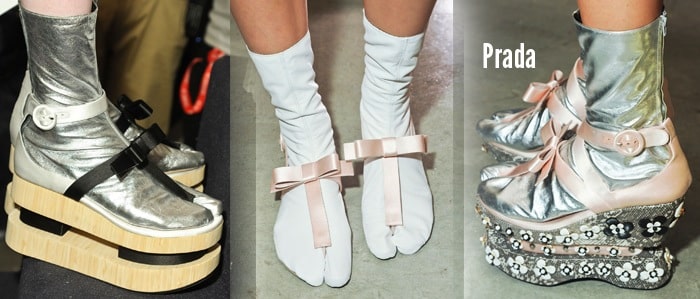 Credit: Vogue UK
Prada
What do you think, futuristic cuteness or alien trashy? This footwear collection features geisha-inspired flatforms, metallic socks, appliqué flowers, pink satin and modern bows. The platform sandal pictured in the middle right above this text is cute however I can't see past the black socks. It would be very nice in the pink satin/metallic silver combination.
These are certainly interesting to look at but thankfully, Prada's off-runway shoes are the platform sandals & wedges we actually purchase :).

Credit: Elle Runway & Ermanno Scervino Facebook
Ermanno Scervino
There were two different types of platform cut-out wedges seen on the Spring 2013 runway. One variation was made of stingray and leather edging, the other featured skinny leather straps across the toe and ankle with a wooden platform.
You can find Scervino's shoes on discount at Yoox and they carry similar platform sandals in suede.

Credit: Vogue UK
Versace
I caught the show on live stream and it opened with the tall black leather gladiator boots featuring a pointed-toe and pvc insert. We then saw the pointed-toe pumps featuring gold rectangles on the straps. The next styles had gold fringe with gold metal detail which matched several of the outfits. The last shoes to hit the runway were the lace-up platforms in nude, orange and navy, these were my favorite. 
The designs were beautiful however I'm over the PVC! Well not completely, (I would wear these) but I refuse to purchase/wear the styles that will suffocate my feet…no one wants to wear a foggy shoe!

Credit: Style.com
Emilio Pucci
I also watched the live stream for this show and the these sky-high platform wedges were a perfect complement to the sheer embroidered long pants and dresses in this Japanese-inspired collection. Several shoes featured an intricately carved wedge with knotted skinny leather straps and others had a metallic gold textured wedge with satin straps. My favorite design is the white leather sandal with the pet dragon, I love how his body wraps around the wedge.

Credit: Style.com
Dolce & Gabbana
I'm ready for a Sicilian holiday! There were predominately kitten heels and flats walking the runway however the few wedges we saw still made a statement. They were all very bright and featured crochet & raffia uppers with either a sculpted, hand painted wedge or wicker embellishment.

Credit: Style.com
Giorgio Armani
The black leather and teal python ankle-strap sandal pictured above was one of the best shoes seen on the runway during this fashion week; it's stunning. I also really like the sandal pictured next to it featuring cut-out black suede with crystal-embellishment.
Roberto Cavalli
I really loved Cavalli's python ankle-strap sandals. They have a platform set atop a gold or silver pointed-toe with a metal strip attached to the ankle-strap and a metallic stiletto heel. My favorite design is the pale lime sandal.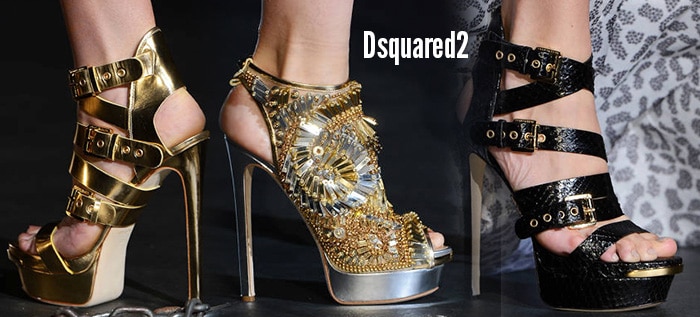 Credit: Elle
Dsquared2
The fashion show featured sky-high platform sandals made of metallic leather and python with buckled straps that wrap around the shoe. Another design had a completely embellished upper with a metallic silver leather platform and peep-toe. The shoes are nice however I'm still thinking about Cavalli's designs…

Credit: Vogue
Salvatore Ferragamo
The obvious standout shoes were the over-the-knee sandal boots. They're beautiful however would you wear these for spring/summer (more for editorial, no?)? The other shoes in the collection were as equally nice featuring a lace-up ankle wrap with a chunky heel and pointed-toe. 
Now on to Paris!
Check out my shoe posts on New York Fashion Week and London Fashion Week.