Salma Hayek wore Giuseppe Zanotti blue suede bow-embellished platform sandals to the 'Savages' photo call in London. She's also wearing a Roland Mouret Mercy colorblock dress.
Salma clearly took a cue from Katy Perry with the blue shoes however they're not a match for this dress. These sandals are too chunky and this blue color clashes…plus, I prefer a bordeaux color.
Shoes She Should Have Worn: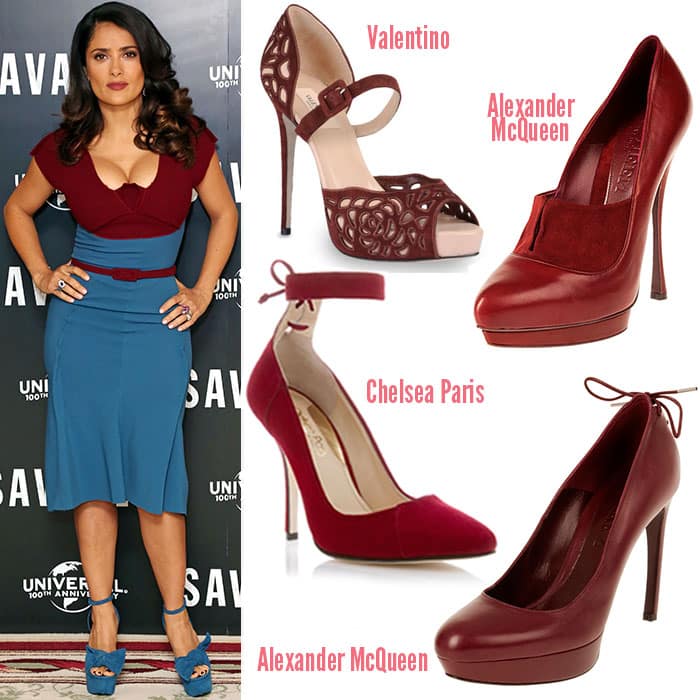 Valentino platform sandal; available online at Valentino
I go through hundreds of shoes for these posts, this was the first shoe that I choose and it made the final cut :). It features cut-out suede with rose details and a pink platform.
Alexander McQueen leather & velvet platform pump
These are a bit more red however I love how the velvet pleat complements the dress's bodice.
Chelsea Paris Catherine suede ankle-strap pump; available online at Chelsea Paris
(sold out, but there are other fall styles available)
These pumps are from the Fall 2012 collection with a flirty lace-up back.
Alexander McQueen leather platform pump
This is the most basic option from McQueen's Fall 2012 collection and the color is perfect.
Which shoe do you like for Salma? My choice is the Valentino. Check out more Shoes She Should Have Worn posts.
Credit: Lia Toby/WENN.com