Shoe highlights from Paris Fashion Week Spring 2013:

Credit: Elle
Anthony Vaccarello
I absolutely support this Giuseppe Zanotti and Anthony Vaccarello team. Last season (this fall) we saw the first collaborative collection and you can find one of the styles at Colette right now, already sold out in my size :(.
I would wear all of these spring sandals! Each design has different sized straps and textures. Many feature leather, patent leather, small nylon cords, metal rings and back-zip. It's easily one of my favorite shoe collections…now I'm debating which one I like more, Casadei for Prabal Gurung or these, that's a tough one.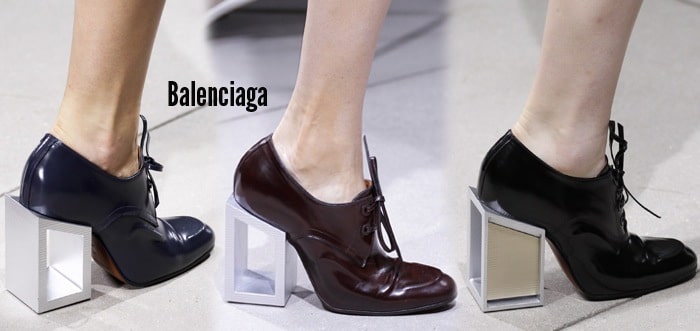 Credit: Vogue UK
Balenciaga
Leather derby shoes elevated with a parallelogram-shaped chunky metal heel. Blogger Rumi Neely tweeted: "Shoes so heavy you can't really casually swing your feet = Balenciaga Derby", that basically sums it up.

Credit: Vogue UK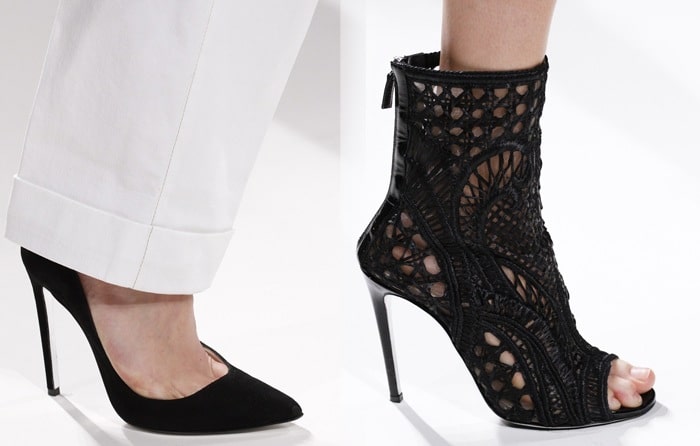 Balmain
It was definitely a classic shoe collection and I was let down. I guess I was expecting more as the last two seasons were full of embellished, over-the-top, beautiful heels. The only shoe that was unique from the other designs was from look 37  featuring a diamond cage cut-out design.

Credit: Vogue UK
Nina Ricci
High-heel sandals filled the runway with the exception of one patent leather bootie seen at the beginning of the show. These heels feature a strap across the toe, sculpted heel and an edge/border along the toe line. It's the same technique we've seen before from Maison Martin Margiela.

Credit: Vogue UK
Lanvin
Lanvin collection included mainly pumps with one sandal & boot. The pumps feature a hidden platform, skinny ankle-strap, iridescent snakeskin, western-inspired stitching, pointed-toe and tapered heel. Both of my favorite styles were the two western designs, especially the pump.

Credit: Vogue UK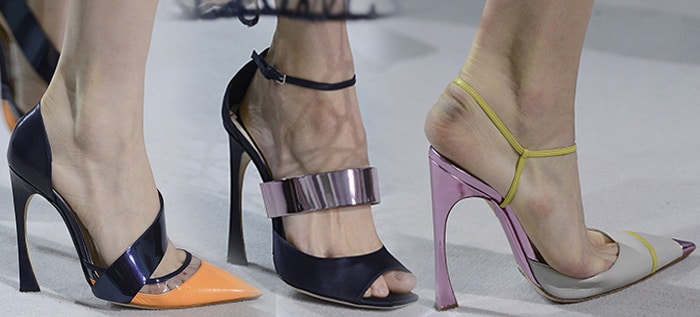 Christian Dior
These shoes have the same curved heel that we saw in Nina Ricci's show. Each style features between 2-4 different kinds of textures including a small PVC insert and metallic patent leather strap. My favorite design was the ankle-strap sandal with iridescent snakeskin, grey snakeskin and pink metallic patent leather strap.

Credit: Vogue UK
Isabel Marant
These sandals feature distressed leather, studs and a stacked wooden heel. I prefer the shoes from the last two seasons (Fall 2012 & Spring 2012) however the designs are nice and I know we will see these shoes everywhere.

Credit: Vogue UK
Givenchy
I've already expressed my distaste for the continuing use of PVC in the Milan Fashion Week post and we're seeing more & more of it (even at Chanel too). I don't find these sandals attractive and dislike how they make the foot look; am I missing something?!

Credit: Vogue UK
Viktor & Rolf

Credit: Vogue UK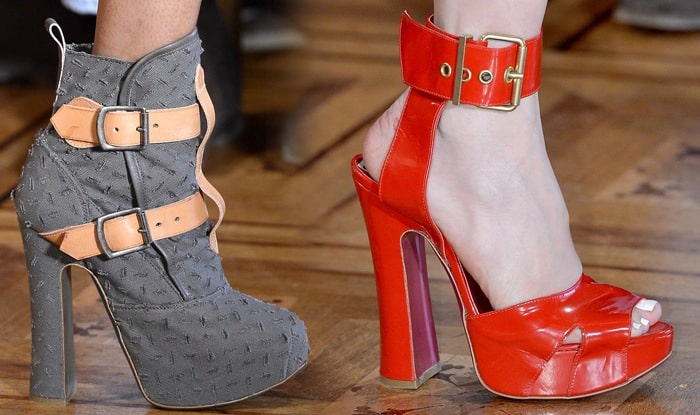 Vivienne Westwood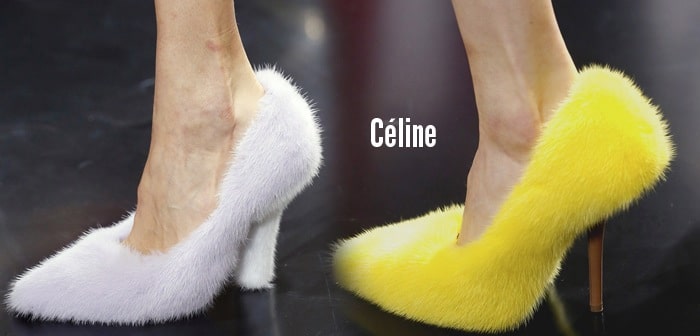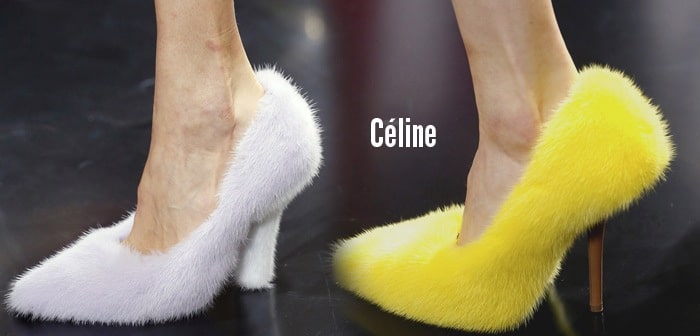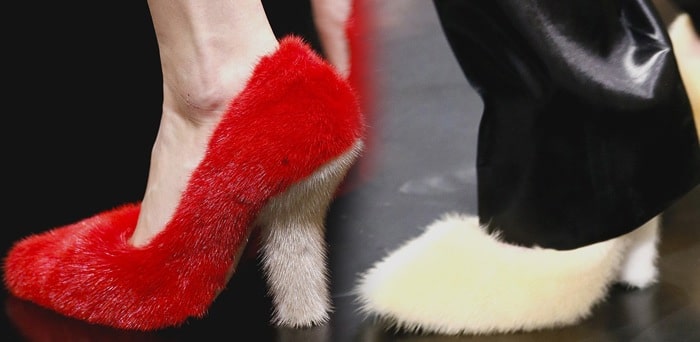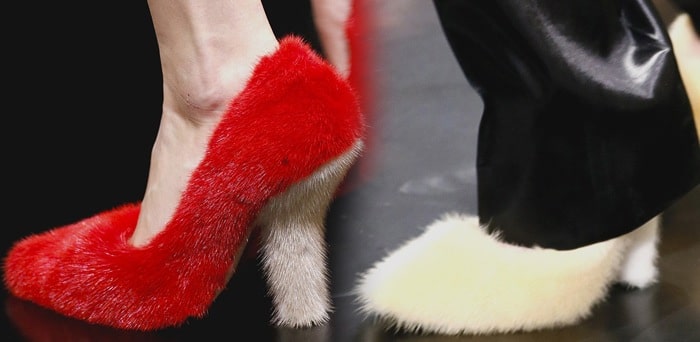 Céline
So far, Céline wins the award for having the most disappointing shoe collection. I was excited since many other collections included ankle-strap sandals. I thought there was a chance we may see something like these again…I was very wrong. Instead, we saw pointed-toe pumps completely covered in mink and faux pedicure heels.

Credit: Style.com
Chanel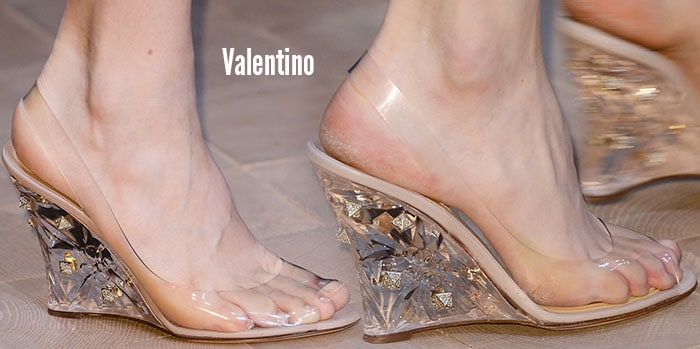 Credit: Vogue UK
Valentino
I know I've been going on PVC rant however I do like how Valentino embellished these shoes – with lucite pyramid studs! The popular Rockstud pointed-toe slingback had a facelift and now features plastic straps and buckles. I definitely see the shorter heels perfect for Elle Fanning & Taylor Swift.

Credit: Vogue UK
Saint Laurent
These remind me of Donna Karan's Fall 2012 shoe collection. There were several Mary Jane styles and a few designs featured a black & gold python cap-toe. 

Credit: Style.com
Alexander McQueen
When I was on a documentary film kick last year I watched several on bees and they're truly fascinating! This collection is beautiful…if only beekeeper suits were this cute. Some of these shoes feature a slip stitch honeycomb knit upper with patent leather and others are completely patent leather. All of the shoes have a metallic gold platform with a sculpted lucite wedge filled with muti-sized crystals.

Credit: Style.com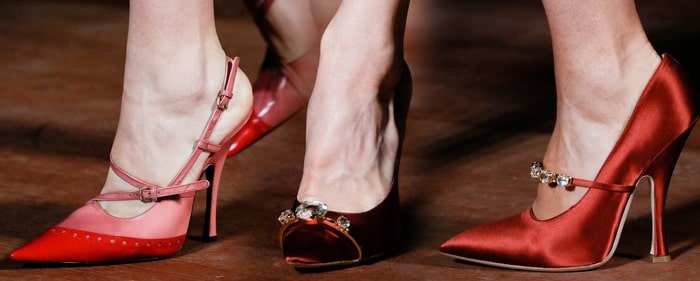 Miu Miu
More shoes to come (Elie Saab)! Check out the New York, London and Milan shoe posts.