What are Crocs? Have you seen children, nurses, housewives, athletes, and dads wearing this popular footwear as you stroll down the local city street?
We aren't surprised! Crocs are some of the most functional, usable, versatile, and comfortable shoes that you can find on the market.
Do you need shoes for everyday use? Do you need a new pair for work? Maybe you need a pair of shower shoes as you go off to college?
Whatever the reason, Crocs can do it for you. But how can you know the difference between real Crocs and fake Crocs?
Original Crocs Shoes
First called 'crocodiles,' Crocs became the nickname and the catchy term for those rubber and sponge-like shoes popular among teens, kids, and adults alike.
Made by Crocs Footwear, these shoes surprisingly have nothing to do with the green amphibian.
Instead, they are solely intended for comfortable beach use and relaxing water. However, due to the versatility of these shoes, they are now used in various situations to keep your feet supported, stable, and comfortable.
Crocs first hit the market back in 2003 and have increased in popularity. With a bright-colored slip-on trap, soft material, distinctive design, and holes on the top of the material, Crocs are versatile to either wear as a slip-on shoe or a flip-down shoe.
When browsing for a versatile pair of shoes that will match almost anything — or stand out among the crowd — you can choose from a wide range of colors, such as brown, black, pink, blue, and green.
Plus, Crocs are available for both kid and adult use! Since they are comfortable and stylish for people of all ages, kids will love the design and the quirky colors.
Adults will love the functionality and the comfort of these shoes for long days on their feet.
However, popularity brings some problems. Since Crocs are globally renowned, manufacturers are trying to find ways to produce counterfeit and knock-off products that can trick unassuming consumers into faulty purchases.
Although the genuine Crocs are great for your feet and your ankles, fake Crocs can wreak havoc on your joints and your feet.
And since these shoes are now so popular globally, fake Crocs are becoming more and more prevalent online and in-person. Being educated can counteract this criminal wrongdoing.
So how can you tell real crocs vs fake crocs? Let's see the differences between authentic crocs vs. fake crocs so you can keep your feet healthy and happy!
The last thing you wanna do is spend extra money on a 'reliable' piece of footwear, only to suffer the consequences of cheap material and poor stability.
Differences Between Real Crocs vs Fake Crocs
If you are trying to find out the differences between real crocs and fake crocs, you need to know what to keep an eye out for.
Just like with any type of footwear, clothing, accessories, or jewelry, understanding the differences between knock-offs and real deals are what can help you save money and avoid a scam.
Although crocs are comfortable and versatile, the last thing you want to do is spend extra money to walk around in counterfeit products.
Instead, know the main differences and signs of original Crocs that distinguish them from the fake imposters. After all, why would you want to pay over $30 for a pair of fake crocs?
Here are several tips on how to spot fake Crocs:
1. Shiny logo
The shiny and authentic logo is the first distinguishing mark that makes the real crocs stand out from the fake version.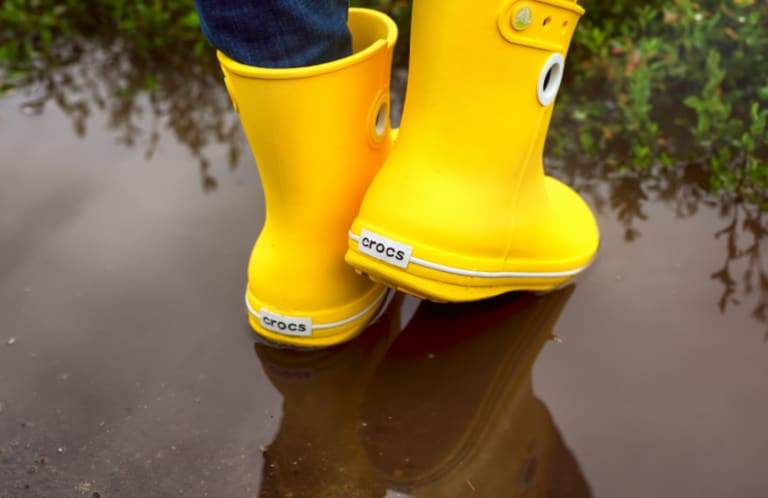 The logo is on the outside of the shoe on real crocs and features a bright button of — you guessed it — a crocodile! So how can you tell this apart from a fake croc? Well, the fake crocs typically have a sticker placed over the shoe — not an authentic and hard logo.
Read Also: Where Are Crocs Made?
2. Hanger with the logo
Are you looking for Crocs in a department store? Maybe you want to find a real pair of Crocs in a clothing store, boutique store, or department store.
If so, make sure you only purchase a pair of crocs that have a real hanger with the Crocodile logo. If you find a pair of fake crocs, these will not have a hanger, and they will not contain the logo.
3. Labeling information
The following way to distinguish real crocs vs fake crocs is the labeling information. The label information on real Crocs includes the size, brand name, model name, and material type.
If you can't find any crucial information, they are fake Crocs. If you are searching for a new pair of versatile and comfortable shoes to wear to the grocery store and school, make sure you inspect the label before purchasing.
4. Crocs logo in the middle
Yes, the Crocs logo must be on the outside of the shoe and the middle of the sole. If you flip over your beloved pair of Crocs to see if they are real or fake, the Crocs logo should be on the direct bottom and center of the sole.
If the logo is off to the side, lopsided, or incorrect, these are unfortunate fake Crocs.
Owners searching for a pair of authentic Crocs should make sure they inspect the crocs logo and follow the manufacturer's link to the website containing product information.
Read Also: Are Crocs Closed Toe Shoes?
---
You might also like:
---
5. Boulder, Colorado
Haven't you heard of Boulder, Colorado? Home to skiing, biking, boutique shops, beautiful weather, and extensive views of the surrounding mountains, this city is home to the Crocs manufacturer.
Therefore, the 'Boulder, Colorado' logo should always be on the outside of the footwear.
Make sure your location doesn't have a period instead of a comma, as this can indicate a pair of fake crocs.
6. Branded bag
Just like recycling ks keys and we don't like cardboard, you won't like cardboard waiters if you purchase Crocs.
Crocs are only sold in a branded bag, never a cardboard box or packaging.
7. Durable material
If you walk around in your Crocs for a few weeks and find the sole of the shoe is peeling off after a few walks in the dirt, these are fake.
Ufnrutaonely, fake crocs are flimsy, cheap, and can break down prematurely. Unlike real crocs, durable for multiple months or years, fake crocs are not meant to be worn outside or for everyday use.
Read Also: Do You Wear Socks With Crocs?
8. Barcode
Just like the logo, every pair of real crocs has its unique barcode. If you find that your barcode doesn't scan, it is invalid, or there is no barcode on the footwear, this is a sign of a fake pair of crocs.
9. Check the color!
Sure, everyone wants to be unique. If you look online and seem to find a color that only you will have, this is a sign of a knock-off.
Even though magenta or fuchsia Crocs may be what you are looking for, if the Crocs official website does not carry this color, the Crocs are unfortunately fake.
Instead, make sure you look at the most popular Crocs colors and the validated website to find a real pair of Crocs for your new footwear purchase.
Read Also: Can You Put Crocs in the Washing Machine?
10. Circulation nubs
What does this mean? Basically, the 'nubs' on the Crocs make them more comfortable and ergonomic, durable, and versatile to wear on different types of terrain. Without these nubs, Croc-wearers would have sore ankles, feet, and heels.
Luckily for you, these nubs are what make authentic Crocs so comfortable and suitable to wear all day long! Why do you think nurses wear them during their 24-hour shifts?
Unfortunately, if your Crocs do not have a pair of nubs, they are fake crocs. When comparing real crocs vs fake crocs, a lack of circulation nubs under your foot sole indicates cheap, flimsy, and non-durable footwear.
Here's a detailed video of how real and fake Crocs look like:
How to Care for Your Real Crocs
After you have concluded whether you have genuine crocs vs fake crocs, you need to know how to take care of this high-quality footwear.
Instead of just letting dirt, grime, mud, and debris build up on the outside, you need to care for the material so it can remain shiny, durable, weather-resistant, and kind to your feet.
Let's go over the basic steps of caring for your real crocs and why they can extend the lifespan of your new shoes!
1. Washing your rubber Crocs
When caring for your real Crocs, washing the rubber material is often the first method used to get rid of dirt and unwanted particles.
Step 1: Rinse the Crocs – The first step is to rinse your shoes with regular water to remove dirt and particles from the outside that can impede the washing process.
Combine soap and warm water – Mix mild dish soap or detergent with a bucket of warm water and sink your Cross in the liquid mixture.
Soak the Corks – Soak the Corks in the bucket while scrubbing them to ensure they are thoroughly soaked and the dirt comes off easier.
Use a brush or rag – The next step is to use a brush or rag to wipe off the excess dirt particles. Make sure you keep going and weigh your process based on eyeing the outside of the shoes.
Magic eraser- After scrubbing the outside of your shoes, use a magic eraser to get rid of stains and discolorations.
Rinse – The last step is to rinse the Crocs and let them dry to see your progress.
Read Also: Are Crocs Comfortable
2. Clean the linings
The next thing to remember while cleaning your authentic Crocs is to clean the interior lining if you have winter-focused footwear.
Step 1: Get rid of the dirt – Since dirt can soak into the winter lining, first use a powder to get stains, odors, and debris from the material.
Step 2: Use the powder on the lining – After gathering the powder on putting it on the stains and disinfectant of the winter lining, make sure you coat the entire lining and use different angles.
Step 3: Let it sit – Although you want to see your progress right away, make sure you let your Crocs sit for a few hours (the recommended 3 hours) to allow the powder to soak into the lining.
Step 4: Dry-clean the shoes – The fourth step of cleaning your real Crocs is to dry-clean your sheepskin lining.
Step 5: Hand Wash the lining – If you do not dry clean your shoes, hand wash the lining with shampoo and warm water.
3. Scrub the canvas material
The third process of washing your real Crocs involves scraping the exterior canvas material. Since crocs come with different lenses and materials, learning to care for each type of footwear is essential.
Step 1: Remove laces – If the laces are stained, remove them and soak them in a bucket of soapy water. You can use mild soap, dish soap, or detergent to get out the discolorations.
Step 2: Use a toothbrush – Dip a toothbrush into the soapy water and scrub the canvas of the Crocs.
Step 3: Use a laundry stain remover – If your Crocs' material has tough stains that don't seem to budge, you can use a stain remover and let it sit for 10 minutes.
Step 4: Use a sponge – Once you use the stain remover, use a sponge to scrub the stain remover into the soles, outsides, and laces.
Step 5: Remove the moisture – Use a towel or washcloth to remove the extra water before letting the shoes dry for a few hours or overnight. Ensure you do not allow the Crocs to dry in a sunny spot, as this can fade the color.
Read Also: Why Are Crocs So Expensive?
Benefits of Real Crocs
So, should you wear Crocs? In short, yes! Crocs are not only functional, stylish, and supportive, but there are numerous benefits of this type of footwear that you may not immediately think of.
Due to their bright colors, funny traps, holes on the top of material, and famous name, people may immediately dissuade the productivity of this type of footwear.
However, Crocs are well-known for their numerous benefits and low price! Let's check out the main 'pros' of why you should consider this purchase for your new footwear for work, school, or hanging out with friends.
Comfortable. As we have said, Crocs are SO comfortable! Due to their soft material, ergonomic construction, and lack of any hard material that can cause rubbing and blisters, Crocs are suitable for all-day use due to their lightweight construction and arch support.
Wide. If you have wide feet that just never seem to work with running shoes, dress shoes, or everyday loafers, Crocs can be the solution you need. Since those with wide feet may easily get blisters and hot spots on the side of their toes and heel, Crocs are suitable for those with wide feet to help reduce any painful bunions or foot deformities.
Shock absorption. Pounding on the pavement and walking around all day at work can be tiring on your feet, heels, ankles, and joints. Haven't you ever gone home by metro all day and found that your back is aching? Wearing Crocs can help protect your entire body from harsh impacts and constant pounding.
Easy to maintain. The next perk about wearing and buying Crocs is they are easy to care for and maintain. Unlike other shoes, such as leather boots, expensive dress shoes, or heels, you may find that the maintenance is not worth the overall price. However, with Crocs, maintenance is easy! Follow our step-by-step guide on how to care for canvas crocs, winter-lined Crocs, or rubber Crocs to keep them durable and stylish.
Supportive. Plus, did we mention they are supportive and stable? Crocs are not only built for long-term use while standing or walking around for work, but they contain APMA support for those who need a little extra. If you are a nurse and on your feet all day, you have back problems from years of standing and sitting, and your hamstrings are tight from running or playing sports, the CrocsRX brand is perfect for you to avoid foot, knee, and back problems.
Style. Plus, Crocs are stylish! Okay, not everyone thinks so. The interesting design, holes on the top of the shoes, the thick sole, and the straps may deter someone from purchasing these funky and psychedelic footwear options. But, the sales of Crocs and the overwhelming popularity around the world say otherwise. With bright colors and a unique style, the aesthetic of Crocs is eye-catching and can brighten up any drab and dreary outfit.
Breathability. If you are walking around all day and find that your feet get sweaty, this can make wearing thicker shoes very uncomfortable. Instead of sweating in your socks and getting blisters due to built-up moisture in your sneakers, dress hoses, or work attire, wear Crocs and avoid any perspiration! Crocs are perfect for those who need to air out their feet. For people who live in hot climates, walk all day long, or need a little extra space, width, and airflow to relax, Crocs are the ideal choice.
Versatility. Lastly, Crocs are versatile. Need a new work shoe? Need a shoe for the summer days on the beach? Need a pair of shoes for wearing around the house? Crocs have got you covered.
---
Latest Posts:
---
Conclusion on Original Crocs vs Fake Crocs
As you can see, there are many things to keep in mind before you consider buying Crocs. Knowing the purpose of Crocs, such as functional use, everyday wear, comfortable shoes for around the house, and the best beachwear and shower shoes for kids and adults alike, helps owners and future buyers distinguish between real crocs vs. fake crocs.
Since you don't want to waste your money, keeping an eye out for signs of authentic and accurate Crocs is key before buying these fashionable footwear items online or in person.
Plus, knowing how to keep your Crocs looking aesthetic and stylish for long-term use is key to making the most of your footwear purchase!