Besides the outfits, one key aspect to consider is picking what shoes to wear with bootcut jeans since they're quite different from other jeans. Unlike straight or skinny jeans, bootcut jeans are wider on the bottom which requires extra effort on styling them. Afraid not! After knowing what shoes to pair with them I can guarantee you to become a huge fan. Dare I say, you'll look fabulous once you know how to style it properly. If you're curious about picking the footwear, be at ease, ladies! This article has compiled some unique and inspiring shoes to wear with bootcut jeans. Keep scrolling to see tons of them.
Top 3 picks
What are bootcut jeans?
Bootcut jeans can be described as denim pants that get a little flare from the knees to the ankles. Usually, the flares are as wide as 18 to 20 inches, unlike flare jeans who are much wider. They also quite fit through the hips and thighs with a slight opening.
In an interview with The Strategist, model Georgia May Jagger stated that she loves wearing bootcut jeans for their classic and high-waisted look. The daughter of the famous rockstar Mick Jagger mentioned how bootcut jeans had been a major part of her family's life.
Other models like Felicity Hayward and Yasmin Geurts also shared their thoughts on how bootcut jeans complement their curvy figures perfectly with The Strategist. Hayward mentioned that the wider leg area balances the body proportion and creates a flattering silhouette. Meanwhile, Geurts felt amazed at how the bootcut jeans made her butts look great with back pocket accents.
What body type should wear bootcut jeans?
Any body type can wear bootcut jeans, but in my opinion, as a 5-year-experienced fashion expert, rectangular and circular body types will look best wearing these certain jeans.
Style expert Jené Luciani Sena also mentioned that bootcut jeans are guaranteed to flatter pear and triangular body shapes. The reason is the wide lower parts of bootcut jeans can balance the body shape and make the wearers look more flattering.
Shoes to wear with bootcut jeans women's
Below is a list of shoes to wear with women's bootcut jeans which I've compiled from various credible sources in fashion and footwear.
You've probably guessed that this type of shoe matches perfectly with bootcut jeans since they share a similar name. I usually always pair the bootcut jean with boots since the bottom part of these pants runs wide. Personal stylist Andie Sobrato suggested opting for block-heeled booties so the hem doesn't drag to the floor and give a nice elegant touch to the entire look. Together, they'll make a chic ensemble for colder days.
If you're not a huge fan of boots, don't worry! Pumps go incredibly well with bootcut jeans. As I see it, any type of dress shoe is one of the best to wear with bootcut jeans since they'll make your legs look slimmer and longer. From my experience, pumps look best with both regular bootcut jeans and cropped ones. It's also the perfect choice if you want to level up the look to be more fashionable.
As I said earlier, heeled shoes will elevate your look while wearing bootcut jeans. I recommend pairing the jeans with platform sneakers if you're not used to walking in heels for quite some time. The solid base provides a strong foundation that's guaranteed to make you look flattering while wearing them. Platform sneakers are my go-to for any casual occasion.
It's a hot summer day, and there's nothing better than pairing your favorite bootcut jean with wedges! I recommend picking longer bootcut jeans that cover half of the wedges to create a more streamlined look. This type of shoe is perfect if you're a fan of bohemian looks and want to look fabulous while still maintaining comfort.
Shoes to wear with bootcut jeans 2022
A year prior now, bootcut jeans were starting to get famous. Today, we're looking back at what shoes to wear with bootcut jeans, according to my experience as a notable fashion connoisseur.
Andrew Roberts, an experienced shoe reviewer said that leopard print shoes are one of the best choices to wear with bootcut jeans, and I agree with that. As a fashion stylist, I recommend choosing pointed toe-heels since they'll make your legs seem leaner and more balanced. I must say that heels and other dress shoes will complement bootcut jeans and create a sophisticated look.
From my observation as an experienced stylist, bootcut jeans with ankle boots apparently remain the most famous ensemble for these slightly flared jeans. Personally speaking, this type of boots has been my favorite for any occasion. These versatile and timeless boots can be worn by both men and women and are guaranteed to make you look flattering paired with bootcut jeans!
If you're not a fan of covered shoes, sandals with heels are the perfect choice to wear with bootcut jeans, whether you choose the regular length or cropped ones. From my viewpoint, heeled sandals are another dress shoes that match your bootcut jean flawlessly. Paired with the jeans, these sandals will give more sleek to the entire look, as well as create an illusion of longer legs.
Who doesn't love the good ol' Converse? These high-top sneakers are another choice to wear with your favorite bootcut jeans. It's perfect for active people who want to look youthful. For ladies, I recommend pairing the shoes with cropped jeans to achieve a modern look. As for men, my fashion guru friend explains that regular bootcut jeans will go just fine with your loveable sneakers.
Shoes to wear with bootcut jeans 2023
We're still at the beginning of the year, meaning that it's not too late to check what's the current footwear trends. Below are some compilations of my predictions on what shoes you can wear with bootcut jeans in 2023.
Let's start this list with another pair of casual chunky sneakers. I admit that this type of shoe can be the ideal option to wear with bootcut jeans if you're not comfortable wearing heeled shoes. The thick rubber sole of these sneakers makes your legs look leaner, which is perfect if you have short and stout legs.
Let's head back to the neutral and all-rounder dress shoes: beige heels. Don't let the plain appearance trick you! A pair of beige heels is another must-have item in women's closets. Besides boots, I prefer pairing my bootcut jeans with beige heels to radiate such elegance. A little advice from my 5-year experience as a fashion stylist: choose bootcut jeans with a length that reaches the midpoint of the heel itself
If you're looking for a pair of unique shoes, these braided and heeled mules can be your inspiration. I recommend combining the shoes with cropped bootcut jeans to show the braids off and accentuate the legs. As I and other fashion stylists mention before, heels can help you to look balanced and not 'drown' in the wide lower parts of bootcut jeans.
Besides leopard print, the snake skin pattern is also popular to give an edgy touch and spice to your plain bootcut jeans. You can either pick regular-length bootcut jeans or cropped ones to wear the shoes with. This one-of-a-kind pair of boots is the perfect option to pick if you want to accentuate the footwear and show your unique fashion sense.
Casual shoes for bootcut jeans
It's quite tiring to always wear dress shoes and boots every time you're heading out with bootcut jeans. Fortunately, as a certified stylist, I can help you compile some casual shoes for your most-liked bootcut jeans, along with some ideas from other notable experts.
Give your feet a break with these pairs of flat shoes. I prefer wearing pointed-toe ones since they'll create an attractive look and complement the entire look. In her interview with HuffPost, founder of The Curvy Fashionista Marie Denee recommended wearing colorful flats to bring some joy to the look. As for the rise, I recommend wearing low-rise bootcut jeans to achieve the classic 2000s look, or opt for cropped ones so you don't have to worry about the hem drags on the floor.
Besides flats, platform sneakers are also perfect to pair with bootcut jeans. For short-framed girls like me, the sneakers' sturdy rubber soles uplift my body so I don't look too small and drown while wearing the jeans. Technically, the platforms act similar to heels, but they provide a wider area for your feet so you don't feel tired while wearing them for some time.
Speaking about wedges, these espadrille wedges are another casual and comfy footwear you can pair with bootcut jeans. You don't have to worry about comfort since the sole is both comfortable and flexible, perfect for spending a lot of strolling. Here's a useful tip from me as a bootcut fan: pair with cropped bootcut jeans to show the belts around the ankle off. Guaranteed you'll look stylish and sweet.
You might've heard plenty of times about how versatile white tennis shoes are outside the court. A pair of crisp white sneakers will surely complement both men's and women's bootcut jeans. I've seen plenty of men mixing and matching the dark bootcut jean with white tennis sneakers to uplift the entire look, and to be honest, they're looking fantastic!
As a bootcut jean enthusiast, I sometimes pair the jean with crisp white shoes to achieve a stunning look with little effort. In an interview with HuffPost, plus-size fashion stylist and blogger Marie Denee also mentioned that you can also pick fancier tennis shoes to look more elevated.
Ankle boots with bootcut jeans
Earlier in this article, I mentioned how the ankle boots and bootcut jeans combo is the absolute 10/10. Keep scrolling to see some ankle boots inspiration to wear with your beloved bootcut jean, according to me as an experienced fashion stylist.
To spice your boring bootcut jean up, try mixing and matching them with fun-patterned ankle boots. As I see it, this star pattern on the boots can give a shining and outstanding accent to the entire look. Pair the boots with cropped bootcut jeans to look appealing and show them off proudly.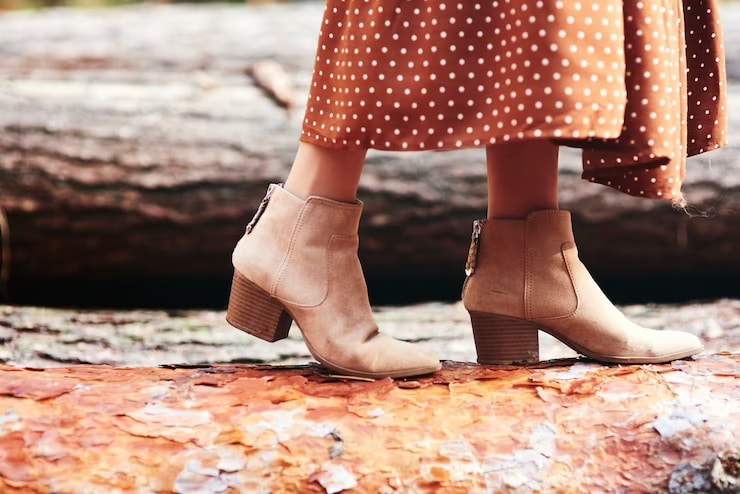 A pair of suede boots have been my favorite shoes since they basically elevate any outfit I wear, that includes bootcut jeans. Most people usually mix and match this delicate and elegant boot with any type of jeans, so there's nothing wrong with that. I combine a pair of suede boots with regular bootcut jeans to look stunning and chic.
Moving on, this fringed boot is perfect if you want to have a statement look and make everyone pay attention to the boots. As a bootcut jean enthusiast, I regularly wear them with cropped bootcut jeans to look more flattering and balanced since the cropped ones will show the ankle boots more perfectly compared to the regular-length ones.
Some of my friends wear zipper ankle boots with bootcut jeans since they're quite easy to put on and don't take too long to wear. Whether you pick the ones with kitten heels or chunky ones, they both will fit your body proportion well and make you look attractive. The same goes for the jeans' rise and length, but in most cases, I pick high-rise cropped bootcut jeans to look more flattering.
Boots to wear with bootcut jeans
Not just ankle boots, there is more type of boots that flatter bootcut jeans as claimed by me and other trustworthy fashion experts. Below are some boots to wear with bootcut jeans.
I must admit that lace-up boots are quite complicated to wear, but I can adjust how tight the lace should be and it provides more comfort when needed. Not only that, lace-up boots will make you look great while paired with bootcut jeans. As I see it, it will balance the entire look and make your legs look leaner.
If you're finding ankle boots a bit uncomfortable to your liking, try wearing these tall boots. I recommend opting for fitting mid-calf to under-knee length and wearing bootcut jeans over them. If you wish to tuck the jeans in, make sure to secure them before wearing the boots. I advise choosing wider boots if you want to wear them over bootcut jeans. Either way, you can choose which one works best and is most comfortable.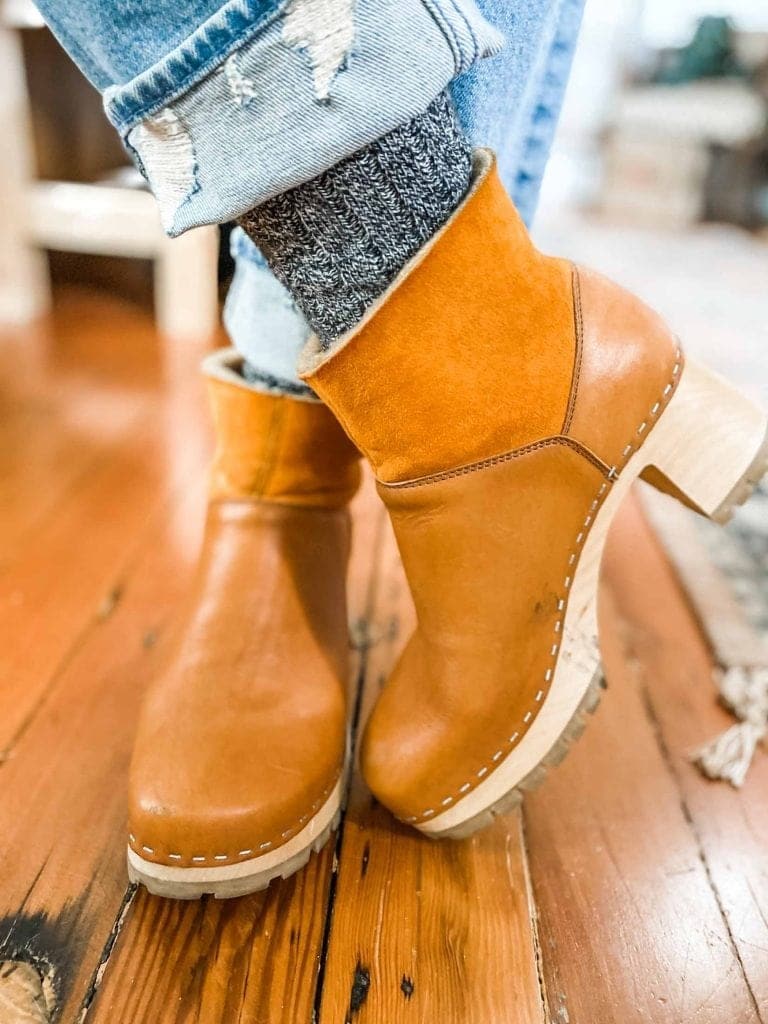 Most clog shoes work best with flared and bootcut jeans, that's why I'm including clog boots on this list. It looks fantastic when paired with regular bootcut jeans for a casual stroll during cold days. To put it in the other words, clog boots and bootcut jeans are a match made in heaven, and you need to try the combination.
Since numerous credible fashion experts predicted combat boots are coming to the trend in 2023, I'll also include this boot to wear with bootcut jeans. You can either pair it with cropped bootcut jeans or regular, but I prefer the first one since I can show the entirety of the boot itself. Content creator and fashion influencer Cate Kittlitz also explained in HuffPost that pairing the edgy classic combat boots with more laidback bootcut jeans creates an interesting combination and adds a touch of Gen Z feel.
Chelsea boots with bootcut jeans
To put it simply, Chelsea boots are another type of ankle boots that has elastic panels on the side. As one of the trustworthy fashion connoisseurs, I have compiled some Chelsea boots to wear with bootcut jeans below.
Light-colored Chelsea boots are famous among women, and I'm one of them. My favorite is Chelsea boots in camel, which I often paired with my good ol' bootcut jeans. In my opinion as a fashion stylist with years of experience, you can wear camel Chelsea boots to complement dark pants perfectly, and I must say it's not disappointing!
Another statement shoe you can wear with bootcut jeans are the leopard boot. Most of the time, I match these Chelsea boots with my bootcut jeans of choice. Whether you pick the regular or cropped ones, these unique pairs will surely flatter your legs. As a fashion stylist, I suggest picking high to medium-rise ones since they'll look better with boots.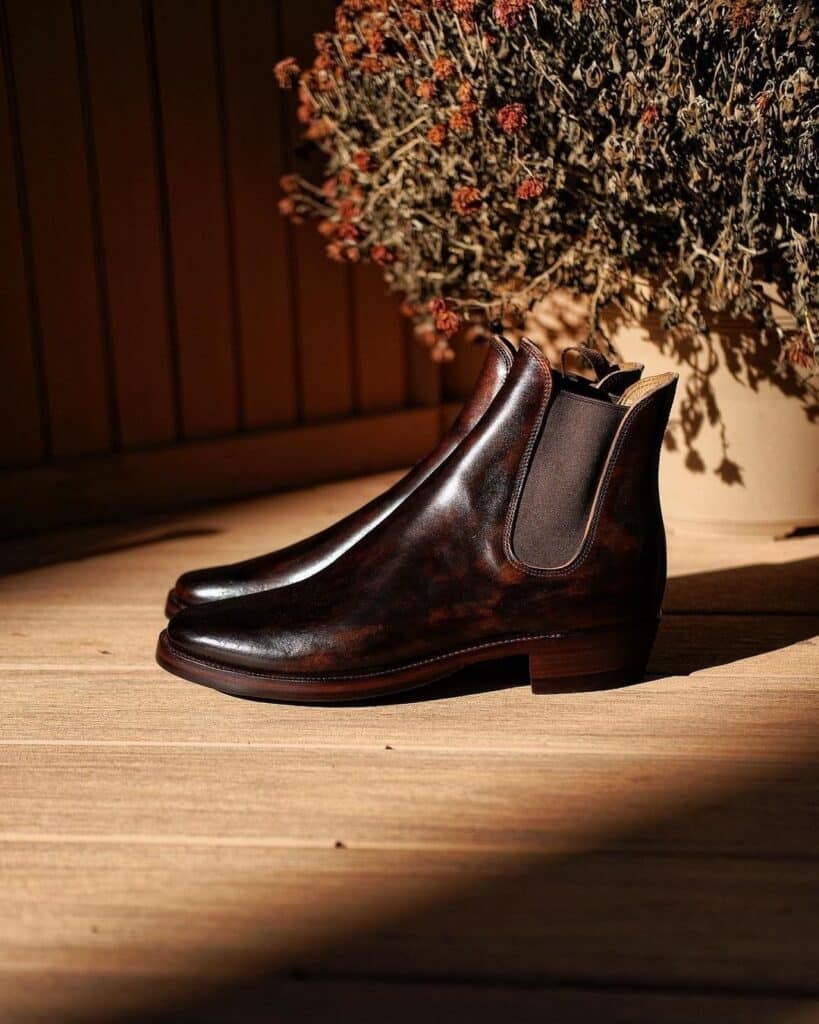 Along with black, dark brown Chelsea boots are popular among men and deemed as the most versatile color. If you have dark bootcut jeans, simply just match them with these Chelsea boots to look great and cohesive. I recommend wearing them over the shoes, but not too long since you'll look awkward if doing so.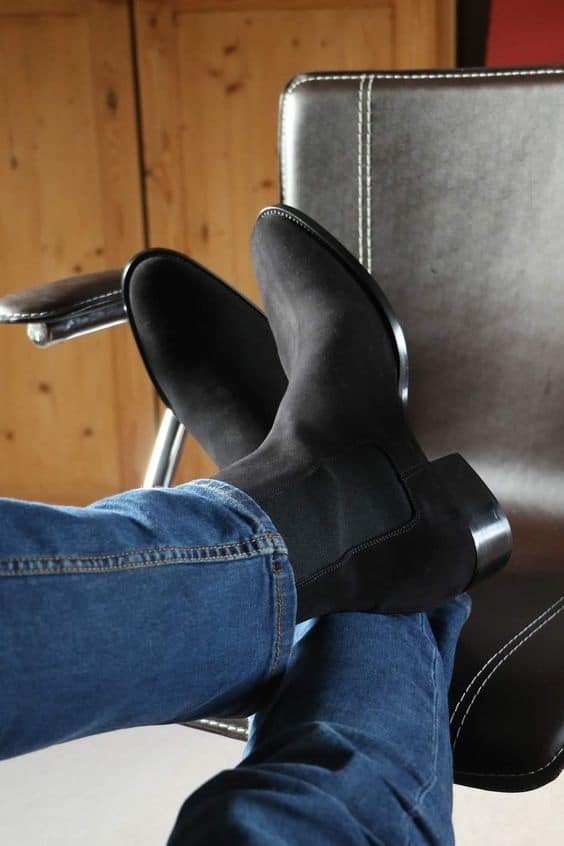 Suede shoes can be found easily in various models, including Chelsea boots. From my observation, this type of boot looks best worn with dark-washed bootcut jeans. Most of my male friends wear suede Chelsea boots in a darker tone that matches their pants, such as black or dark brown. I need to mention that suede Chelsea boots are perfect for casual occasions.
What shoes to wear with bootcut jeans in summer
During summer, it's almost unlikely to wear boots comfortably. If you're looking for some ideas on what shoes to wear with bootcut jeans in summer, here are my best picks to try as an expert in fashion.
Have you ever heard of clogs? From my experience, it takes some time to adjust to walking in clogs compared to any shoes since the structure is a tad bit different. This pair of wooden footwear can be a surprising fashion statement to wear with bootcut jeans. In summer, I usually wear them alone with regular bootcut jeans. Pro tip: you can also add socks to look more fun.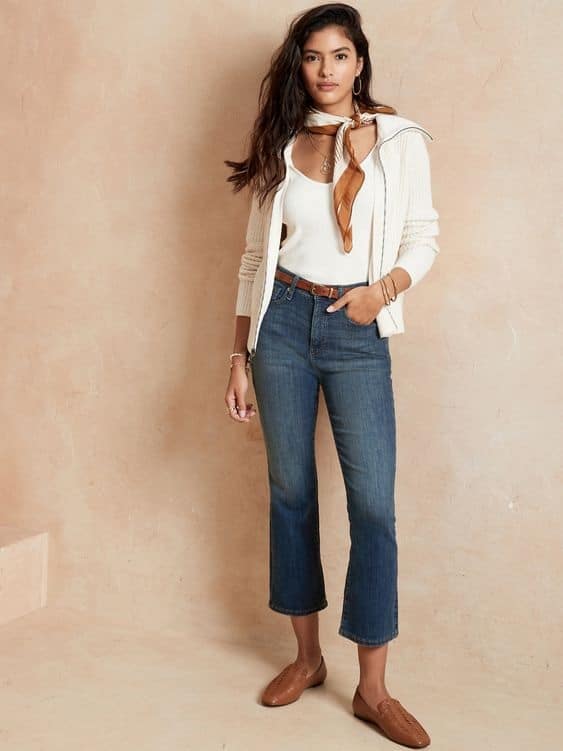 In an interview with the Independent, some fashion enthusiasts mentioned that loafers are both comfortable and reliable to wear during the daytime in summer. It's guaranteed to make you look flattering and still undoubtedly stylish. Regularly, I wear them with cropped bootcut to avoid the hem from dragging on the floor. Loafers are easy to wear since you just have to slide your feet inside, and you're good to go!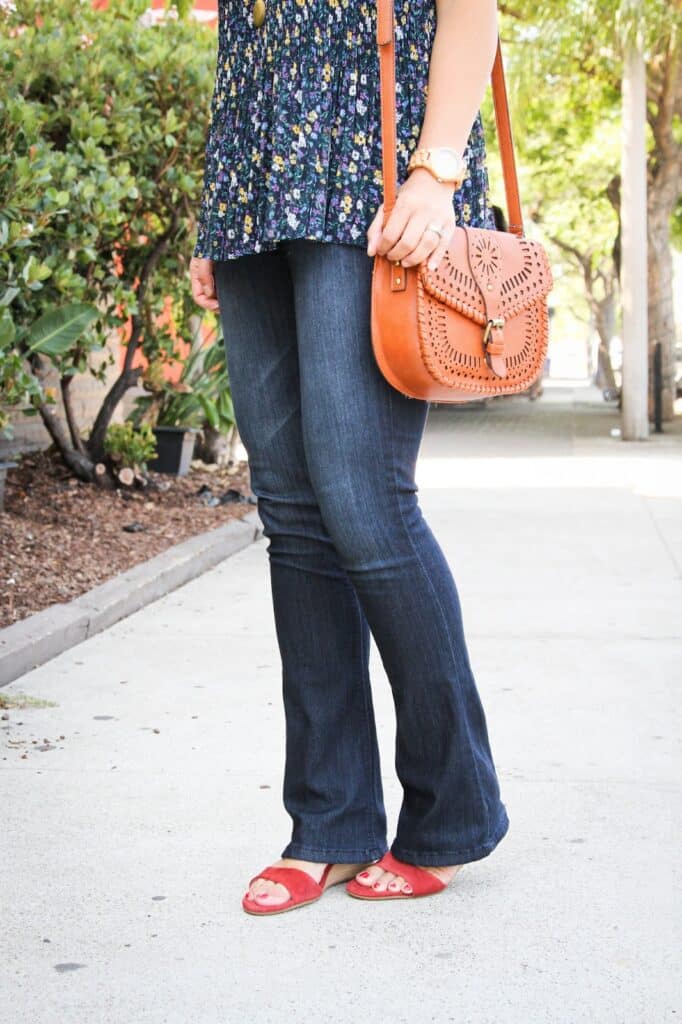 Yes, you can wear open-toe heels with bootcut jeans in summer to look just fabulous. I recommend picking bright-colored ones, like bright red, or opting for light neutral tones like beige to create a nice pop to the entire look. Speaking from my experience, it's best to pair them with cropped bootcut jeans if you want to show the lengthened legs.
These sandals are one of my favorite women's footwear for summer. The unique woven on the heels creates a unique and eye-catching statement that'll make you look stunning. Lesley Tosrson, an owner of a denim boutique mentioned in the Independent that combining wedge sandals with white bootcut jeans creates a youthful look and makes you more confident.
QnA
How to wear bootcut jeans
As a bootcut jeans fan, I'd like to share some valuable and easy tips on how to wear them to look pretty.
Pick your preferred rise. Get a low-rise one if you're not comfortable with the fabric wrapping around the belly area or the versatile medium-rise. High-rise bootcut jeans are perfect as well for tucking the longer tops.
Get the right length. Opt for cropped bootcut jeans for summer or full-length to achieve an elongated leg silhouette.
Choose what look are you going for. Bootcut jeans are usually styled in many ways, from sophisticated sleek and casual to retro sporty and cowboy looks.
What shoes to wear with bootcut jeans men?
For men, boots and Derby shoes are the perfect shoes to wear with bootcut jeans, and I'll explain why. True to their name, bootcut jeans match perfectly with any type of boots. My suggestions vary from polished Chelsea boots to sturdy Chukka and hiking boots. If you're not a fan of boots, I suggest picking a pair of Derby shoes to match the casual energy.
What should wear on bootcut jeans?
There are many items you can wear to complement bootcut jeans to look remarkably stylish. Quoted from the professionals, here are some clothes and footwears to mix and match with the jeans.
Men
Women
Top
Collared shirts
Flowy tops
Vintage t-shirts
Blazers
Sweaters
Coats
Buttoned shirts
Shoe
Boots
Flat shoes
Dress shoes
Boots
Casual sneakers
Chunky heels
Is bootcut jeans still in style 2023?
Yes, bootcut jeans are still in style this year! As a fashion couturier, I even predicted that bootcut jeans will be the main highlight of the 2023 style, and there's a reason why. As I see it, this particular type of jeans provides feminine and sexy cuts that'll flatter your body. Not to mention that bootcut jeans are the throwback from the 60s and 70s, so this is a good chance to feel nostalgic!
Conclusion
In brief, it's important to choose carefully what shoes to wear with bootcut jeans to look flattering and chic. Ideally, you might go for any shoes with heels to complement the slightly flared pants and look fantastic. I hope these shoe ideas can help you deciding what to wear with bootcut jeans!