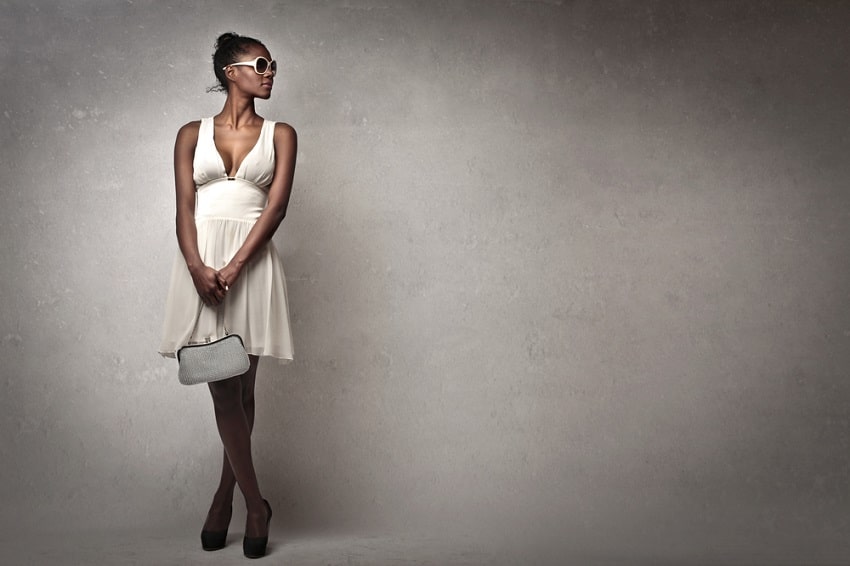 White dresses are the pinnacle of women's fashion: they're airy, attractive, and youthful, and they can be both dressed up and dressed down. A white dress can be worn for virtually any occasion (except for a wedding)! However, styling your shoes with your white dress isn't nearly as easy as a black dress can be.
Some styles of shoes are just too clunky for white dresses, and while white can pair with almost any color of footwear, you must be very careful about your venue while doing so. In this guide, we'll teach you all about what color shoes to wear with a white dress, where and when you can wear different colors and styles, and even how to tie everything together with accessories.
The Flexibility of White
Because white is the absence of all color, it can go with almost anything. Like black, as long as you know what look you're trying to pull off with your outfit, any color can be made to look complementary. However, this doesn't mean that there aren't some standout colors that work particularly well with white dresses. This is even truer when dressing up or dressing down a white dress for a venue or situation.
The tone and coolness of your dress make a big difference in what it works best with, too. Unlike black, white can come in many warm and cold shades, especially if it's just a tad off-white instead of pure white. Accordingly, different colors pair well with crisp white and warm white, and you'll need to keep this in mind while accessorizing and planning your outfit.
However, as a general rule, the following shades will always work well with a classic white dress:
Gold
Silver
Cream or light brown
Blush or rose pink
However, most white dresses work like a blank canvas. Depending on the fabric, pattern, cut, and what you style your attire with, it can go with virtually any color of shoe.
Color vs. Mood
One crucial thing to keep in mind when choosing shoes to match your white dress is the "feel" or "mood" of your dress. White dresses come in many shapes, patterns, and lengths, and which shoe goes best with your dress will largely depend on those variables.
Think about a wedding dress, for example. A wedding dress is typically worn with white or other pale shoes so as not to detract from the beauty of the dress. It would be very disconcerting to see black or patterned shoes with a flowing wedding dress!
However, a smooth, skin-tight working dress might pair excellently with bright red pumps or even black boots, especially when paired with a black leather jacket. In the same way, though, that same skin-tight dress would look out-of-place with a pair of innocent brown flats.
In this way, the way you accessorize a white dress comes down to two main things: the dress itself and the accessories it's matched with. The shape, material, and design of the dress dictate what other styles it pairs with, while how you accessorize it generally determines where to go with colors.
Take the same skin-tight white dress from before, for example. While simple brown flats would be too dull and innocent for the dress above, brown leather-print pumps would be more than sassy enough to complete the look.
In both cases, we're considering brown shoes to wear with a white dress, but one pair works while the other doesn't. This is a clear example of how the mood and intent behind a dress might make it an excellent fit for one shoe but a bad match for another.
White Dress Types
Like we said above, when deciding what color shoes to wear with a white dress, the most important factor to come into play will be the style of the dress itself. There are several parameters to keep in mind that will help determine the form and the "mood" of the dress.
Structure vs. flow
Short vs. Long
Smooth vs. Textured
The three parameters above generally contribute most to the style of your dress or gown. There are a few extra things, of course, such as the dress' neckline, how heavy it is, and its shape and layering, but these are not quite as easy to categorize.
One of the most defining features of a dress is its length, and it's typically one of the first things you think of when looking for a dress for a particular occasion. Highly formal events, for example, tend to suit long dresses better, while cocktail parties and nights out tend to favor short, maneuverable dresses. Things like outdoor receptions and festivities are great for medium-length dresses.
The next defining feature of a dress is how structured it is. When we say structured, we're referring to a dress that's meant to be tight or boned, revealing or accentuating the shape of the body. Flowy dresses, on the other hand, drape loosely over the body and can even feature decorative fabric folds. Typically, structured dresses will be more formal, while flowy dresses will be more casual, but this isn't a hard-and-fast rule.
The last metric, smooth versus textured, refers to the material that the dress is made of. Lace, for example, is a textured material that's very common in formal white dresses. Smooth dresses are just like they sound – they're made of soft fabrics such as synthetics, satins, silks, or even plain old cotton. Texture and smoothness have little bearing on the casual or formal level of a dress, but textured fabrics can affect what kinds of shoe patterns can go with the dress.
What Color Shoes to Wear with a White Dress
White dresses are a "blank canvas," so to speak, and they can adapt to almost any style and situation. A big part of the form your white dress ends up reflecting depends on how you accessorize it. Shoes play a significant role in this, of course.
If you search for pictures of people wearing white dresses online, you'll see just about every shoe type under the rainbow. Everything from sneakers to slippers has been worn successfully with white dresses!
However, there is one significant drawback of white dresses to keep in mind: white dresses are almost exclusively a summer look. With the right accessories and the right apparel, you can create an attractive fall look out of a more substantial, warmer dress, but keep in mind that most white dresses will not be appropriate for the colder seasons.
Besides being summery, the other default "feel" of a white dress will range between elegant and playful. If you want to change the style of a white dress to something else, such as edgy or sexy, you will need to do so with the help of some good shoes and accessories!
Styling for Sexiness
While white dresses are traditionally associated with innocence and purity, it's possible to turn up the sexiness of a white dress by accessorizing it properly. However, it's important to note that a lot of a white dress's innate charm gets lost this way. However, if you want to turn your little white dress into something appropriate for a night on the town, it is entirely possible to do so.
When ramping up the sexiness level on a white dress, there are two colors you'll want to focus on: red and black. While red, black, and white can all work well together with a bit of finesse, we recommend picking one or the other to pair with white, at least to start.
White dresses pair well with black or red leather. White lace dresses, in particular, work great for this. Another popular pairing with white dresses is a bold red lipstick, as this turns up the sex appeal of a white dress without sacrificing its purity.
Of course, if you're looking to style for sexiness, it's always good to go with a high-heeled pump or sandal, as heels will elongate the legs and improve the shape of your profile. However, don't forget to consider other high-heeled shoes, such as:
Boots (especially leather!)
Sneakers
Wedges
Combat boots
Styling White Dress for Earthiness
Another style that white dresses pull off exceptionally well is the earthy bohemian (or "boho") look. The boho look is typically characterized by flowy, textured dresses, either in lace or some other airy fabric. The earthy look tends to favor long skirts, but it's not impossible to get it right with a short dress, especially if you know how to accessorize appropriately!
For an earthy look, you'll almost always want to stick with earth tones, both for your shoes and your accessories. Light brown sandals, particularly strappy ones, work well for this look, but sage green is an acceptable color, too. While wedges are okay, avoid heels and stilettos with the earthy look. Flat sandals work best.
Once you've chosen your shoes, accessories with handmade, rainbow, or leather accessories. Anything antique, hand-crafted, or environmentally-minded tends to go with the boho look. Think woven ponchos, messy hairstyles, leather cinches or belts, and loose, flowing hairstyles. If you're feeling adventurous, you can even pair your dress with a pair of cowboy boots to complete the look!
Styling White for Business
Styling your white dress for business isn't too difficult, even though it isn't usually a preferred color for business settings. For business settings, we recommend sticking with structured, form-fitting dresses, but don't wear anything too tight or revealing, either. A work-friendly dress shouldn't be overly flowy, but it shouldn't be skin-tight, either.
If you're wondering what color shoes to wear with a white dress at work, try to stick to muted, work-friendly colors. Dark browns and maroons can work well when paired with dark accessories. Black and navy are also both safe bets for the workplace. Hunter green can be acceptable in places, as can dark violet or even burgundy.
We don't recommend styling your white work dress with light accessories if you can manage it. While white on light (or even light on off-white) is appropriate in many places, the workplace generally isn't one of them. The color white is already quite bright as it is, so be courteous to others by toning down the rest of the colors in your outfit. Aside from your shoes, you can do this with additional accessories like:
Jackets
Shawls
Hose or stockings
Sun hats
Scarves
Styling for Formal Events
Styling a white dress for formal events can be a bit tricky. While a black or dark dress tends to be rather formal already, a white dress tends to be, by default, more casual and playful. As such, if you want to ramp up the formalness of a white dress, you'll need to do so with the help of some careful accessorization choices.
First, it's important to note that short white dresses tend to be too casual for highly-formal events, even if you accessorize them properly. A long white dress has a much better chance of being formal enough for your black-tie or white-tie event. However, it's not impossible to make it work if you're feeling adventurous.
Fortunately, turning up the formalness of a white dress with your shoes is somewhat easy! Virtually any color of pumps or high-heeled shoes works well with a white statement dress. Just make sure to carry the tone throughout the dress with your accessories! We recommend styling with the following colors for formal events:
Gold
Burgundy
White (use with discretion)
Grey or silver
Rose
Styling White for Cocktail Parties
A white dress can turn into a fantastic cocktail or night-out dress with the right use of accessories and footwear. You'll want to stick to short white dresses and strappy heels for the cocktail look, but some longer dresses, especially high-low dresses, may still be appropriate.
Since white dresses pair with almost any color, you can wear virtually any high-heeled shoes with a short white dress to turn it party-ready. However, we recommend sticking to bright, playful colors like reds, pastels, and even pure-hued shoes to liven up the look of your white dress. Black is an excellent choice, too! Don't be afraid to add chunky jewelry and a sassy coat to complete the look.
Read Also: What Color Shoes to Wear with a Gold Dress
The Colors Explained
Since white dresses (and other articles of white clothing, too) go well with almost any color, choosing the right shoes to go with them can feel a bit daunting. However, you should be feeling the opposite way! The flexibility of white dresses allows you to add just about any shoes you own to your chosen outfit, giving you thousands of different ways to wear only one set!
However, you should know before choosing your shoe that each color (and shoe style) dresses up or dresses down a white dress in a slightly different way. Black footwear, for example, turns up the sassiness of a white dress. Unless you choose your other accessories carefully, a pair of black shoes might not make your dress look quite as formal as you had wanted. You can even wear a pair of black sneakers or combat boots with a white dress to turn up the attitude even further.
Strangely enough, though, the color navy, while very close to black, tends to turn up the seriousness of a dress, not the sassiness. Navy heels or sandals, especially when paired with a matching or patterned scarf, turn a plain white dress into something professional and confident.
Brown shoes and accessories are excellent for dressing down a white dress, especially in the summertime. However, you can again ramp up the professionalism of a white dress by merely stepping away from brown and into nude territory. Nude shoes and accessories instantly turn up the serenity of a white set; for a long dress, nude pumps and accessories make it great for formal events, and for a shorter dress, nude accompaniments make the whole ensemble business-worthy.
Metallic colors, on the other hand, are the best way to make a classic white dress look formal and eye-catching. However, they're not usually appropriate for shoes in the workplace. You can sometimes get away with metallic accent colors, such as on jewelry, but you should avoid it as the major color on footwear if you want to look professional.
Bright, pure colors, especially pastels, are excellent for enhancing the playfulness and sexiness of an outfit. The color red, in particular, is exceptional for turning up the appeal of a white dress. However, too much red paired with a revealing white dress can edge into salacious territory. Stick to more innocent pastels like green, blue, and yellow if you're worried about looking too sexy.
All in all, your choices for footwear to go with a white dress are infinite. As long as you keep your intent and your destination in mind, you shouldn't have any trouble picking out the right footwear to complete your white dress look. You could even argue that the "little white dress" is even more of a staple for a woman's wardrobe because of how flexible it is!