If you love your sports shoes, you might have asked yourself, "Where are Adidas Shoes made?" The company has European origins, but most of its shoes are made outside the continent. According to the Adidas Group, the company uses more than 500 factories in 55+ countries worldwide for production purposes. They own a few factories, but the biggest percentage of their footwear is made in contracted independent facilities.
Where are these factories located, and which county produces the largest volume of Adidas shoes? This article will answer that plus more questions regarding Adidas shoes, their history, and production practices. First, a bit of history to understand when the popular Adidas shoes came into the scene.
When Were Adidas Shoes First Made?
Adidas AG had its start as Dassler Brothers Shoe Factory in 1924. Adolf 'Adi' Dassler, Adidas's founder, began by making shoes in his mother's laundry room in the town of Herzogenaurach, Germany. His older brother, Rudolf, soon joined the business, which they named Dassler Brothers Shoe Factory.
The company got its first major break when U.S. sprinter Jesse Owens wore a pair from the factory in the 1936 summer Olympics. From then until the second world war, the company enjoyed popularity among sportspeople and trainers worldwide.
In 1947, the two Dassler Brothers terminated their business partnership due to personal differences. Adolf formed Adidas two years later, in 1949. His brother, Rudolf, went ahead to form Puma, and the two became business rivals.
The name Adidas borrows from its founder's name, Adi, and the Dassler surname. When Adolf founded Adidas in 1949, it had 47 employees. Today, the company employs tens of thousands of workers globally.
It's also now Europe's largest sportswear company, producing about 379 million pairs of shoes yearly. Worldwide, it's ranked second after Nike. Adidas got its beginning with sports footwear, but its product range has expanded to include clothing, equipment, and accessories today.
Why Should You Know Where Adidas Shoes are Made?
It's important to ensure that the brands you're buying from engage in ethical production practices that don't harm the environment or society or violate human rights in supply chains.
Many large companies that outsource production put little effort into ensuring that their supply partners match their business standards and policies. Adidas provides its list of factories worldwide, complete with addresses and contact information to make it easier for consumers and other interested parties to track down their supply chain.
When Adidas decides to work with a factory to make shoes, they consider factors such as working conditions, health and safety, working hours, and wages and compensation. They avoid production facilities that partake in human rights abuse, forced labor, child labor, and discrimination.
Where Are Adidas Shoes Made? (A List of Countries)
Adidas has made their list of global factories public, so it's easy to know where their shoes are made.
The company released the latest list in July 2021, including a total of 540 factories in 45 countries. The move to be transparent about the factories they use is a step towards proving their ethical approach towards producing their shoes.
The Adidas Group has a set of standards that they hold their primary supply contractors to regarding issues such as worker's rights and sustainable production.
Note that the actual number of factories involved in producing Adidas shoes may be much higher than those provided on the official list. Adidas mostly lists directly contracted factories. These factories may subcontract to others for specific stages in the production process, which widens the supply chain.
1. Asia
Asia is by far where most Adidas shoes are made. There are at least 371 factories in the continent making Adidas shoes, which is more than half of the total number of contractors listed by Adidas Group.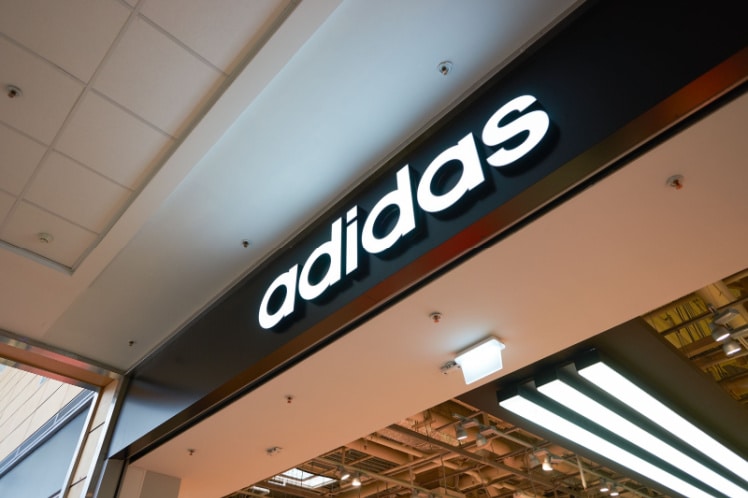 China leads the pack with 103 factories. Vietnam is next with 76 production facilities, while Indonesia has 45.
In India, there are 32 factories making Adidas footwear. Cambodia has 24. Pakistan, Turkey, Thailand, Japan, the Philippines, and Taiwan have more than ten factories producing Adidas shoes.
Here's a quick look at the number of factories in all Asian countries where Adidas has production facilities:
China – 103
Vietnam — 76
Indonesia – 45
India — 32
Cambodia — 24
Pakistan — 16
Turkey — 16
Thailand — 13
Japan — 13
Philippines — 12
Taiwan — 11
Myanmar — 6
South Korea — 2
Bangladesh — 2
2. Americas
After Asia, the Americas have the second-largest number of factories where Adidas shoes are made. There's a total number of 90 Adidas factories in North and South America combined.
In North America, the United States is home to 27 Adidas shoe factories. Canada has the second-highest number, with 5. Mexico follows with two factories. In Central America, El Salvador has the most facilities, 11 in total. Honduras has 6, while Costa Rica and Nicaragua have one each.
Down south, Brazil has 26 Adidas shoe factories, which is the highest number among South American countries. Argentina is next in line with nine factories. Chile and Colombia each have one Adidas production factory.
Here's a quick look at the number of factories making Adidas shoes in American countries:
USA — 27
Brazil — 26
El Salvador — 11
Argentina — 9
Honduras — 6
Canada — 5
Mexico — 2
Costa Rica — 1
Nicaragua — 1
Chile — 1
Colombia — 1
3. Europe
Europe is the home continent of Adidas, but it has fewer factories than Asia and the Americas. According to the company's list, 56 factories are making Adidas shoes in Europe. Regardless, Adidas manufacturing facilities are present across all regions in the continent.
Germany, where Adidas first originated, has ten factories. The U.K matches this number. Italy has 11, which is the most locations in a European country.
Spain comes next with 6 Adidas production facilities. Slovenia, Ukraine, and Portugal have three factories each. Belgium has two facilities, and the same can be said with the Czech Republic and Hungary.
Poland, Lithuania, Russia, and Georgia each have a single factory producing Adidas footwear.
The main Adidas production facility is in Herzogenaurach, Germany, the location of the company's headquarters. In this factory, a team of shoemakers creates and tests new materials and designs for Adidas footwear. Once the initial designs are approved here, they can then be manufactured in factories worldwide.
---
You might also like:
---
Read Also: Do Adidas Run Big or Small
Here's a quick list of the number of factories that make Adidas shoes in Europe:
Italy — 11
Germany — 10
K. — 10
Spain — 6
Slovenia — 3
Ukraine — 3
Portugal — 3
Belgium — 2
Hungary — 2
Czech Republic — 2
Georgia, Lithuania, Poland, and Russia — 1
4. Africa
According to the official list, only ten production facilities make Adidas shoes in Africa. South Africa has the most locations, totaling to 4 facilities. Tunisia and Mauritius each have two factories making Adidas footwear. There's a single Adidas production facility in Madagascar and another in Lesotho.
Here's a quick list of Adidas's African production locations:
South Africa — 4
Tunisia — 2
Mauritius — 2
Madagascar — 1
Lesotho — 1
Why Are Most Adidas Shoe Factories in Asia?
We've seen that most Adidas shoes come from Asian factories. Why does Adidas, a company founded in Germany, do most of its production in Asia?
Adidas strives to contract facilities that provide high-quality craftsmanship while keeping production costs low. This is why you'll find most of their factories in Asia, where labor is plentiful and cheap. Production facilities in Asia are also equipped with high-quality technology, making them suitable for the company.
These reasons are also why China has the most number of locations making Adidas shoes. The production industry is robust in China, they have the largest workforce, and production costs are very low.
Does the Location of Production Affect the Quality of Adidas Shoes?
Adidas shoes maintain the same design and performance qualities regardless of their production location. In fact, a single Adidas shoe usually goes through multiple factories across various countries during its production.
Take a sneaker, for example. The midsole is created in one facility and the bottom in another. The upper part is stitched in a different factory, while the various parts are glued together at a separate location.
But, caring about where your Adidas shoe originated is vital if you want to reduce your carbon footprint.
Adidas reduces its environmental impact by trying to consolidate production processes within facilities that are close to each other. This ensures that shoe parts don't have to travel continents during the production process.
They also target suppliers using locally sourced raw materials. By buying Adidas made in your country or close-by, you also reduce the impact of shoe production on the environment. It's also a way to support the local economy since the shoe is made by local workers using locally-sourced materials.
What Are Adidas Shoes Made From?
Now that you know where Adidas shoes come from, it might be helpful to learn what materials the factories use in their production.
Adidas strives to use recycled or sustainable materials in shoe production.
Some of the sustainable materials they use include recycled nylon, recycled polyester, water-based polyurethane, Better Cotton, eco-friendly TENCEL, recycled rubber, recycled thermoplastic polyurethane, and algae-based EVA.
When choosing the materials to use in making shoes, Adidas prioritizes sustainable land use, elimination of hazardous wastes, water consumption, animal welfare, and energy consumption.
The availability of sustainable or recycled materials plays a role in selecting supply partners in different countries. Adidas also works closely with already contracted factories to integrate new production methods that allow maximum utilization of recycled materials.
---
Latest Post:
---
Conclusion
We hope that we have answered your question "Where are Adidas shoes made?" adequately. Adidas is one of the very few sportswear companies that regularly disclose their list of global suppliers. The disclosure is part of their efforts towards transparency, which is vital in an age where production sustainability is crucial for the good of the environment and society.