Warmer weather often means it's time to put away bulkier boots, and even tennis shoes can do enough to get you through the summer months. But what better way to enjoy the shift in seasons than slipping into some sandals?
Men's sandals can be a very versatile type of footwear, whether you want something for hanging by the water or a more breathable shoe for relief in hotter temperatures. However, there are more types of men's sandals than you may think, and finding the best pair for your needs can take some time.
No matter what you're in the market for a new pair of sandals, we've got your guide, including buyer's tips and our top picks for men's sandals.
Our Top Picks
If you want more in-depth info, read on!
Things to Consider When Shopping for Sandals
When it comes to searching for the best sandals, there are plenty of things to keep in mind. To help guide you through the process of finding the best possible footwear, consider these important factors when shopping.
Types of Sandals
To start, you should take the time to know what kind of sandals you want to wear. Sandals have numerous styles, and, when it comes to men's sandals, you'll usually find these core types:
Mules: These sandals are also known as slide-ons, as that's all you need to do to wear them. Either one or two straps help keep the shoe securely around your foot, and they tend to be highly comfortable to wear. Depending on the specific sandal you pick out, mules have the chance to give a very stylish addition to your warm-weather outfits.
Sports Sandals: This subtype of sandals is also known as sports varieties. Since this type of footwear has multiple straps to keep them secure on your feet, they're the best option for activities, like hiking or just being on your feet throughout the day. Materials for these sandals tend to be heavily breathable for top comfort while moving.
Flip Flops: The last of the core types of sandals, flip flops quickly come to mind when thinking about summer footwear. Unlike mules, flip flops have toe posts in addition to their core straps. The look is overall laid-back, and you can find flip flops in both inexpensive synthetic options and higher quality materials.
You can also keep an eye out for closed-toe sandals, which give you some extra protection while still providing plenty of breathability for your foot.
Understanding the basics of each primary type of sandal can help you narrow down your options. Whether you want one pair for all occasions or you want different shoes for various needs, you can find the best pair. However, this isn't the only thing you want to think about when trying to find a sandal that suits your needs.
What You Want to Wear Them For
Sandals typically work great as warm-weather shoes. The open design gives your feet some breathing room, which is excellent when temperatures spike up. Flip flops are standard waterside gear because they can slip on and off easily, but you won't get that same level of convenience with sports sandals. That's why it's essential to determine the best choice for what you're doing.
When you plan to chill out poolside, almost any sandal will do. Material choice can be a significant factor as well since some options are suitable to go into the water while others are not. Sports Sandals are the best bet when it comes to anything that requires a bit more support.
By picking the best type of sandals for the job, you'll be much more satisfied with your footwear in the long run.
Fit
With any piece of clothing, comfort is a strong factor, and the same applies when looking for sandals. One of the best ways to ensure that your sandals are comfortable to wear is to make sure they fit right. Naturally, trying on shoes is the best way to tell if they're a good fit, but how should a sandal fit on your foot?
For sandals that have a strap at the back, you want to have at least some space between your foot and the strap. When it comes to the front end of the sandal, you'll also want some room between your toes and the front of the shoe; if your foot doesn't have enough room and support beneath it, you'll want to go up a size.
Additionally, any straps around your foot should be tight enough to stay on securely, but not too close as to make you uncomfortable while wearing them. Broader straps are often preferable since their wider design puts less pressure on one area of your foot.
Materials
The material used for your sandals can make a big difference, especially when it comes to comfort and durability. High-quality materials will last longer but are often more costly. In the sandals department, you'll mostly find products that use either synthetic or leather materials.
Synthetic materials tend to be on the cheaper side, but they also are more likely to come in waterproof variants—which can be necessary for your needs. On the other hand, leather sandals tend to have a classier look to them, and they'll likely stick around for much longer. Both materials are comfortable, so this factor ultimately comes down to finding one suitable for your preferences like look, comfort, or budget.
Aesthetic
The overall style of the sandal is a top priority for many men but it's also essential to think about how you feel about the design. If you don't like how your shoes look, you're less likely to wear them. Prioritize a look that you enjoy and will have fun wearing. If you want something that will pair well with multiple outfits, darker colored sandals have the most versatility.
Again, knowing what you want to use them for is essential. If you only plan to wear your sandals for one occasion, you have a bit more freedom in what you choose. When wanting a sandal for many events, staying conservative can work in your favor.
Cost
Various factors can impact the price of a sandal, so it's not surprising to see the prices vary wildly. In some cases, the cost can be an indicator of quality, while it may just be a reflection of the brand. A pair of sandals should pass on all the factors we mentioned above before you decide to spend the money on it.
However, you shouldn't wholly ignore the price of your footwear. Whenever shopping, you should set your budget first, and then search for the best quality option in your price range. With the proper consideration, you can make a purchase that's worth the money you put into it.
Care and Maintenance
Sandals and other types of footwear will last longer if you care for them properly. Some sandals require little to no maintenance while other types of sandals last longer when you follow manufacturer's care tips. If you want a relatively low-maintenance sandals, don't forget to consider that factor when shopping around.
Read Also: Best Toddler Sandals
Reviews of Best Sandals for Men
Now that you know what to look for in a quality pair of men's sandals, here are our top picks.
Under Armour, as a brand, has a strong reputation, so it's not much surprise that this company shows up on our list. The Ignite V sandal is a slide-on/mule style, making it simple to put on. Adjusting the strap is also easy, making it no issue to get a secure yet comfortable fit for your footwear. No need to worry about it digging into your foot as you wear it.
Under Armour has lined the sole of the sandal with 4D foam, which gives you both comfort and support. Additional cushioning comes in the form of anatomical contours, matching the curves of your feet. Though being an essential sandal, the Ignite V is plenty reliable for walking, even on rough terrains. You may not have over foot protection, but there's plenty of constant support.
The design is also on the durable side, so you can count on these sandals to last for some time. This factor is expected from Under Armour, plus it means you'll be seeing your money's worth out of your purchase. When it comes to having something comfortable, simple, and durable, this sandal does all of that in one package.
When it comes to negatives, there's not too many. Be cautious about sizing, as Under Armour products can sometimes run smaller than the norm. Trying on the sandals will let you not worry about that issue, and, if you're ordering online, you can also order larger than usual or purchase from a retailer that allows you to return products after trying them on. Additionally, if you want a sandal for classier occasions, this option won't do much for you.
Pros:
Adjustable strap
Comfortable 4D foam footbed
Durable
Cons:
Sizes can run on the small side
Not suitable for formal looks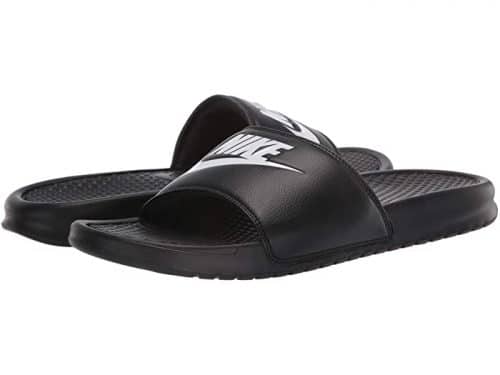 Another sliding sandal you can consider comes from Nike in their Benassi JDI product. Thanks to the rubber material, you can take these sandals into any wet environment without issue. That factor makes these shoes suitable for beaches and pools. The slide design is also great for these conditions, as you can take them off and on as you need them without much issue.
Another core benefit of these sandals is that they provide a lot of support for your feet as you walk. They won't be suitable for any heavy-duty exploration, but you can use them for walking around on your vacation. The lightweight is also ideal for this, so you have a lot of comfort while wearing them.
The overall design is simple, so it won't stick out much when it comes to wearing it. Cost-wise, they're affordable, so you can quickly add them to your closet without much issue—and it won't be challenging to replace if you happen to lose one while traveling. The base design comes in a variety of colors, so you can get the look you enjoy the most.
While the design of these sandals is rather simple and suitable for the pool, you won't likely find a place to wear them much outside of casual situations. While comfortable to wear for an extended period, these sandals aren't the best when it comes to arch support. They'll get the job done, but consider a different shoe if you need that support for your feet.
Pros:
Provides plenty of support
Rubber material suitable for wet conditions
Inexpensive cost
Lightweight
Cons:
Design only ideal for casual situations
Not built for complete arch support
If you want a shoe that's suitable for more walking, then Teva Men's Hudson sandal is a reliable option. This sports design has two straps for extra security whenever you head out for exploration, and the comfortable sole also lets you get plenty of mileage out of these shoes. When it comes to the straps, both have Velcro adjusters, giving you the best possible fit.
The leather and rubber materials are part of what makes these shoes comfortable. Additionally, the Teva Men's Hudson also provides strong arch support, which further makes it a reliable option for walking for long distances or more substantial activities. Anyone who has conditions like plantar fasciitis can rest assured knowing that these shoes will give them the support they need.
While they can be a bit on the tight side, these sandals do break in fairly quickly, allowing for a comfortable wear after a bit of time. The use of leather and rubber in the materials means that you'll have a reliable sandal that can last for a few years, even with regular activity involved.
While these sandals are on the more positive side, their use of leather material means that they're not water-resistant. While you'll be able to wear them in various situations, wet conditions can cause the sandals to wear down much faster. In particular, the straps can be susceptible to coming loose after extended exposure to water, so be aware of when and where you're wearing these shoes.
Pros:
Suitable for walking a lot
Strong arch support
Adjustable and secure double straps
Leather and rubber sole
Cons:
Not water resistant
Suede upper can become damage in poor weather conditions
Some situations don't call for anything other than a flip flop, and Crocs Crocband is one of our top picks in this category. This design uses a lightweight rubber material, which gives two key advantages: to start, it's water-resistant, making it an excellent fit for beachside and pool adventures. Next, these sandals are light enough to float, so you won't have to worry about losing them if they slip off in the water.
Once you've taken these shoes into the water, you won't have to worry about them staying wet for long. The Crocband dries off very quickly, helping you stay comfortable post any water exploration you have. Overall, they also are simple to clean off; all you need to do is give them a rinse and wait for them to dry off. Beachside sand won't be an issue.
When it comes to picking out a sandal you like, these come in twenty-five distinct colors, which gives you more than enough options. Whether you want to find the perfect pair or to have a few different sandals to suit your mood, Crocbands give you that opportunity. They're also not difficult to find on sale when shopping online, making it simple to add them to your wardrobe.
While the Crocband sandals perform well as flip flops, they don't necessarily stand out in the realm of style. As you may have guessed, based on the manufacturer, they're crocs in flip flop form. Additionally, while you can take these into the water, they're not a good option for exploring all terrains, especially rockier areas along beaches.
Pros:
Comes in 25 different colors
Cleans easily
Can float in water
Dries out quick
Affordable
Cons:
Not the most fashion-forward design
Traction not suitable for rocky conditions
Some sandals bring together the best of both stylish looks and top-tier comfort—and the Lukpol Buffalo Leather Sandals do just that. Thanks to the orthopedic specialists involved in their design, these shoes give plenty of support to anyone's feet. You can expect more than enough comfort, as well as shock absorption in the soles. Walking doesn't have to be a jarring experience when wearing these.
The use of buffalo leather helps these sandals stay in good shape, plus lends to their stylish design. The overall look is suitable for everyday wear, and we'd be glad to see these even in more formal situations, so long as they match the rest of your outfit. Lukpol brought together an excellent combination that will last over time.
For even more comfort, these shoes adjust to the shape of your feet over time for a perfect fit. This adjustment happens thanks to the natural foam and leather for the insole, which both shift the more you wear the sandals. What more can you need when it comes to support?
While these sandals are an excellent choice when it comes to everyday situations, you likely won't be wearing them whenever you head out on a long walk or want to engage in athletic activities. Sure, the design will stay on your foot, but even the orthopedic support isn't ready for anything extensive. Additionally, be careful where you walk with the leather, so it doesn't wear down prematurely.
Pros:
Quality levels of style
Sole absorbs shocks well
Design is orthopedic-minded
Quality leather
Design custom molds to your foot
Cons:
Not suitable for sports and substantial activities
While sandals probably aren't the type of shoe you wear when working out, they can make for a nice bit of relief afterward. OOFOS designed the OOahh Slide sandals for just that situation. The core design works to provide you with plenty of support, including on the arches. The cushiony build is comfortable, and also aims to keep down tense levels of pressure on the feet, knees, and even lower back.
All these areas can come under strain during a workout, so the OOahh slide sandal aims to help your body relax and recover. Other excellent areas that help make this a suitable post-exercise shoe is their waterproofing features, as well as their odor resistance. You won't need to stress about having smelly sandals, even after a heavy workout.
Even if you don't regularly workout, these sandals make for a cool at-home shoe for anyone that needs some extra comfort when walking around. The cushioning is still appealing, no matter what your regular activity is like.
When it comes to the overall style, the OOahh sandals aren't the most appealing look. Considering the whole comfort level, though, the look isn't the main appeal. You should be cautious whenever picking out your size, though, as the strap can sometimes be on the tighter side. The price is also on the higher range for slide-on sandals, so it may not be a good fit for everyone's budgets.
Pros:
Meant for post-workout relief
Waterproof
Odor resistant
Helpful for reducing pressure on lower back, knees, and feet
High levels of support
Cons:
Lacking in style
On the pricier side
Can be a somewhat tight fit
If you want a sandal that's suitable for walking long distances, then the Ecco Men's Yucatan offering is another reliable choice. The design has a front, middle, and back strap for complete security, so there's no need to worry about losing your footing. All three of these straps are also adjustable, which is excellent for getting the best fit. This design feature is also flexible when it comes to shifting the sandal to your preferred wearing style, whether that be tight-fitting or on the looser side.
That ability to customize your comfort is part of what makes this sandal so great for walking long distances. The footbed is also comfortable, and the microfiber cover adds to the overall softness—an excellent option for when you plan to be on your feet for a while. The durability is also high class, so you can expect them to stay in shape over time.
We will note that these sandals aren't one-hundred percent waterproof, but they can handle at least a little bit of moisture on occasion. Their design does have a lot of traction, which is excellent for when you want to explore more rugged terrains, making them a good pick for casual hiking. The base design is also appealing, which adds to the overall draw.
Unfortunately, while you can adjust the straps, we've found that this sandal isn't good at fitting sizes for people with wider feet. If you fall into this category, you'll have to pick a different sports sandals.
Pros:
Highly durable
Suitable for long walks
Excellent grip
Very comfortable
Appealing style
Cons:
Fit isn't good for wide sizes
"You get what you pay for" doesn't always apply when it comes to sandals, but it's certainly true in the case of the Mephisto Shark Sandal. Using one-hundred percent leather, these sandals have a quality feel combined with an appealing design. Additionally, everything about these shoes' construction is environmentally friendly, letting you have stylish shoes while also taking care of the planet.
The core of the footbed uses latex for extra comfort. The sandals also start to form to your foot over time, allowing you to have a customized fit. The sole is good at shock absorption as well, allowing for comfortable walking. We also enjoy the overall lifespan of these sandals, which comes supplemented by Mephisto's customer support service for repairs.
The sandals come with three straps, two of which are adjustable via Velcro for a better fit. Mephisto also includes a quick-release buckle that you can use to take the sandal on and off without needing to readjust the straps every time. The Shark Sandal design also comes in two main color options, giving you some subtle style choices.
Everything good about these sandals comes with a hefty price tag, so be aware of that. We think the cost is worth it, but that isn't always the case for everyone. Also, keep in mind that the back strap isn't adjustable, which can sometimes cause sizing issues.
Pros:
Eco-friendly construction
Shock-absorbing sole
Form to feet over time
Uses 100% leather
Comes with adjustable straps and quick release buckle
Cushioned footbed
Cons:
Easily the most expensive option on our list
Heel strap isn't adjustable
If you're familiar with the Doctor Scholl's brand, then you know how the goal of their products is to provide plenty of comfort and support to your feet. These Gaston Fisherman style shoes do just that, with full foot coverage and an orthotic design. Memory foam lines the insole, giving your feet plenty of comfort and support—while also forming to the shape of your foot as you break them in.
The full foot coverage doesn't give much in the way of adjustability, but there is an instep strap that you can shift as needed. The upper straps use a one-hundred percent leather material, which looks classy and helps lend to the stylish design. You can have both comfort and style in one package with either of the two color options.
These sandals are a good option for people who want to have something suitable for casual use and comfort when occasionally walking. You can also wear these with or without socks for your desired level of comfort. The price is also reasonable for the quality of the product, making for a lasting but still affordable shoe to add to your closet.
While these sandals are a good fit for many, they're not always the best choice for people who have narrower feet. If you can try them on, though, you'll be able to avoid this issue.
Pros:
Orthotic design
Stylish look
One-hundred percent leather upper
Memory foam comfort
Adjustable instep strap
Adjusts to the shape of your foot
Cons:
Can be a difficult fit for people with narrow feet
The men's sandal option from Birkenstock brings in an exciting and appealing aesthetic for its design. These shoes have a cork footbed, which provides both comfort and a unique look at the same time. There's a slight dip for your toes to rest in, and it helps adjust to the shape of your feet. While there isn't a strap that goes over your ankle, the footbed does curve up to give a bit of support to keep your foot on the shoe.
The two top straps use a suede material, which adds to the overall look and keeps them comfortable against your feet. Both straps are adjustable via a buckle, helping you get a lot of customization for your feet. All the design elements come together nicely to create a slide on sandal that's stylish and secure when you wear it, which is a winning combination.
The layer of soft foam cushioning helps with your comfort, making this a quality everyday sandal. We also find this sandal suitable for casual walks and trips outdoors. If you want a little customization in your style, these shoes come in twelve different color options, so you can take your pick of what's available.
While we like that you can adjust the straps, the buckle doesn't give as precise of changes as Velcro does, which may be an issue for some. These sandals are another option that can be on the pricier side, so consider if they fit into your budget before purchasing.
Pros:
Overall stylish
Comfortable cork footbed
Has twelve available colors
Adjustable buckles
Cons:
Moderately pricey
Buckles may not provide as close of a fit
One more option for those who want a sporty option for the outdoors is the Keen Newport H2. While an athletic sandal, this option is specifically a closed-toe design, which looks like a tennis shoe at first glance. The core difference I all the open ends available for breathing room, which makes it a quality sandal choice. The closed-toe style is excellent for people who want a bit more coverage whenever taking a hike.
When it comes to wearing the Newport H2, comfort levels are excellent, in part thanks to the EVA foam footbed. There's plenty of foot support, making this sandal a good pick for anyone interested in walking for a while. You can also count on the traction to keep you steady over various terrains, whether that's on the land or when you wander into the water.
This sports sandal gets our seal of approval for anyone interested in watersports. Thanks to the durable rubber, you won't have any issues with dunking these shoes in the water. The ventilation areas mean you won't have to deal with water building up, and the webbing quickly dries out. Thanks to the foot coverage and secure fit, you also won't have to worry about the Newport sandals getting lost in the waters.
Because the design covers a lot of the foot, you won't get the same level of adjustment as you'll find on many other strapped sandals—reducing the chances of slipping into a custom fit. While these sandals are somewhat reliable, other sports options will still give you superior stability over time.
Pros:
Plenty of comfort
Closed-toe design
Excellent traction and support
Suitable for model
Cons:
Doesn't allow for a lot of adjustments
Stability is moderate for an athletic sandal
Before we finalize our guide, we have one more full coverage sandal to consider. Once again, a Crocs product makes the cut, this time with their Swiftwater Mesh Men's Sandal option. Much like the Newport H2 above, these sandals provide more foot coverage, including a raised toe piece and a mesh top, with the whole design suitable for adventuring through the water.
The mesh not only provides coverage, but it also dries out fast for continual comfort in and out of the water. These design features also make these crocs simple to clean when necessary. The synthetic sole will last for a while, and you can expect comfort for your feet as you go about your day. The lightweight of the shoes adds to this factor, rather than making them cumbersome.
These sandals do come with an adjustable strap, which lets you set your desired fit. When it comes to keeping the shoes on, you can rely on the hook and loop closure to keep things secure. With all these factors together, the Swiftwater sandals make a quality and affordable pick for anyone interested in exploring the waters.
One thing we will note about this design is that it's not the best choice for all waterfronts. Sand is susceptible to getting stuck inside, which can cause blisters while walking around. Save these shoes for adventures in watersports near lakes or rivers, rather than by the ocean.
Pros:
Quick-dry mesh
Comfortable fit
Easy to use hook and loop closure
Adjustable strap
Three different colors
Cons:
Sands can easily get caught inside the sandal
The Final Verdict
With so many shoes discussed, which ones come out on top as the best of the best? Since not everyone is going to want sandals for the same reasons, here are the three best for different occasions.
Best Overall
When it comes to the best of the best, we give that honor to the Teva Men's Hudson Sandal. Something is appealing about a shoe that will support you whenever you have a lot of walking to take care of, and that's precisely what these sandals do. We love the flexibility of the straps, the excellent arch support, and the durability of the materials. All of that in one package spells a quality men's sandal.
Best Premium Product
Not everyone is going to want to splurge on their sandals, but if you are, the Mephisto Shark Sandal is the way to go. The one-hundred-percent leather and durable construction are already appealing, but this product also does everything else you could want from your footwear as well. Between the stylish looks and the active support, you'll get bang for your buck in terms of comfort and convenience. The fact that these are eco-friendly in their construction sweetens the deal.
Best Value Product
If you're on the exact opposite of the spectrum and want to get some bang for your buck in the opposite sense, then we recommend the OOFOS OOahh Slide Sandal. The style may not be the most appealing, but their comfort and support are second to none. Whether you have joint troubles, want to relax your body after a workout, or just like the idea of your footwear not starting to smell after wearing them, this sandal is the way to go. While the MSRP is already a good value, finding it on sale is even better.
Thanks to their various styles and builds, sandals can be wearable in many different situations. Whatever activity you wanted some light and breezy footwear for, we hope this guide has given you just what your feet and wardrobe needed!