Golden Goose had become one of the most prolific high fashion brands despite their relatively new presence in the fashion industry. The brand's unkept and dirty-looking shoes might look unassuming to some people, but don't let that fool you! One pair of those leather sneakers can be as cheap as $300. As surprising as it seems, people wondered why are golden goose shoes so expensive despite their "ugly" look. Keep scrolling and let's talk about this high-end Venice-based brand.
How did Golden Goose get so popular?
If we went back to 2017, it was the time when exclusive fashion brands competed creating busted-like shoes. Before that, people considered worn-out and tattered sneakers a joke. One particular brand, none other than Golden Goose, had started this way before the trend began and soon became a public sensation. Since the brand's establishment in 2000, it has taken less than 2 decades for Golden Goose to reach fame among several well-known celebrities and public figures.
Who owns Golden Goose? Let me introduce you to Francesca and Alessandro Gallo, the genius couple behind the Italian brand. In an interview with The Cut, the owners mentioned that each Golden Goose shoe is made with ultimate authenticity. The ragged and kind of dirty signature look is another groundbreaking concept that encourages people to wear luxurious shoes without worrying about standing out too much.
How much it cost
In general, a pair of Golden Goose sneakers can cost from $300 to $800! Surprisingly expensive, isn't it? You might think it's quite overpriced, why those worn-out and distressed shoes in Italy more expensive compared to other shoe brands that launch pristine and look brand-new shoes? Hold on to those questions since I'll explain more about them.
Why are Golden Goose sneakers so expensive?
There are plenty of reasons that can explain why Golden Goose sneakers are on the pricey side. The following are some explanations I have compiled from credible and trusty shoe experts with years of experience in the field.
One shoe expert explains that each pair of Golden Goose shoes are uniquely crafted in Italy by skilled artisans, meaning that every pair is different from one another despite being on the same model. The scuff and marks on the shoes are done manually as well, so each pair get a different distressed look.
Five-star durable material
Another reason that makes Golden Goose sneakers so expensive is their excellent full-grain calfskin leather. A fellow professional shoemaker also states that particular leather can last for decades if taken care of properly. Premium material such as cotton is used for the shoe laces, while the lining interior is from loopback cotton.
Fusing modern and traditional technique
Not just high-quality materials, each Golden Goose shoe made in Italy is constructed with meticulous planning by the shoe artisans. Some technologies such as midsole and toebox density, insulation, and others are incorporated into the shoe construction.
To put it another way, as the expert says, this high-end brand combines the latest technology with handmade expertise to create comfortable shoes at every step in all seasons.
Unique and limited designs with high demands
As mentioned by some well-experienced footwear specialists, Golden Goose made various shoe designs and editions which only sold in limited quantities, and they never produce another pair if it's completely sold out. This causes many people to come in droves to get rare sneakers even though the price is favorably expensive and the shoes look distressed.
The people behind this Venice-based sneaker brand spend millions of money on digital marketing by utilizing social media and its website to promote the product worldwide and reach a more extensive mass market.
According to our well-versed marketing specialist, this strategy is an excellent idea because if a company only relies on traditional marketing, its product sales won't be so high.
The impact of brand reputation and exclusivity on the price of Golden Goose shoes
Is Golden Goose an exclusive and luxury brand? Well, if you ask me and other finest brand connoisseurs, we'll say yes! Golden Goose managed to get a global luxury brand reputation in less than 20 years since its early founding years, which is surprisingly short compared to other luxury brands that take longer decades to reach popularity.
On the brand's official website, Golden Goose provides an exclusive service for its customers. Currently, it provides same-day delivery services just for customers who reside in Milan, Italy. Not only that, but Golden Goose also comes up with an option for their customer to book an appointment with highly experienced sales experts or personal shoppers to find the right shoe that matches every customer's needs and taste.
The high cost of materials and craftsmanship in Golden Goose shoes
Golden Goose sneakers are mostly made of Italian leather, currently the #1 premium material notable for its quality composition and durability. Not just leather, some models also incorporate strong mesh and suede into their shoe construction. It's worth mentioning that soft-terry clothes are used to provide comfort and won't make your feet blister while wearing them.
Craftsmanship is one of the most famous aspects and uniqueness of Golden Goose. As I and several shoe professionals stated earlier, each pair of shoes are made manually by hand. It takes years or even decades for the artisans in Italy to perfect and hone their skills to create footwear that is both comfortable and defines your look.
Comparing Golden Goose to other luxury shoe brands to understand the cost
In an article published by ClothedUp, Golden Goose is one of the top 10 best luxury shoe brands to wear as a statement. Amidst the invasion of various luxury brands that were already popular before Golden Goose, this one Italian brand has advantages that other luxury shoe brands don't.
The table below is a comparison of Golden Goose to other luxury shoe brands from a credible fashion enthusiast.
| | | |
| --- | --- | --- |
| Aspects | Golden Goose | Other brands |
| Sneakers shape | Sleek with an almost pointed toe cap. | Bulky with a round toe cap. |
| Wearability and practicality | Super comfortable and can be worn during bad weather without worry. | Come in a brand-new look that makes you worry in case it's getting dirty |
Why do people pay so much for Golden Goose?
Now that you've understood the explanation behind the shoes' high price, I'll list what motivates people to buy Golden Goose sneakers despite their costing a bomb price. To be frank, I prefer to get those fancy pairs while on sale compared to buying them at the skyrocketing price.
Completes the distressed aesthetic
As a distressed look enthusiast, I must say that Golden Goose provides various choices of wear-and-tear shoes to wear and complete the entire aesthetic. When I wear them, the imperfections on those sneakers create a flattering look.
Some people might dislike the scuffs and marks on their shoes, but Golden Goose shoes have another purpose for those ragged looks. The weathering process in crafting the shoes actually helped them serve more comfort to the wearer's foot. A lot of footwear specialists mentioned the high-quality materials used for constructing each pair of Golden Goose shoes contribute to their comfort.
Since Golden Goose launches different types of products every year that sold out in a short time, many people flock in to get them as soon as possible. From a talk with my shoe collector friend, each pair is individually hand-made, making them unique and not like the other. The uniqueness and imperfect perfection (like the brand tagline) make him interested in collecting the rare ragged-looking sneakers.
Popularity among public figures
Several famous people, like Megan Fox and Taylor Swift, are spotted wearing these worn-out luxurious sneakers on some occasions. It seems like Golden Goose sneakers are well-known among the celebs who have become number one fans of the Italian ragged yet lavish shoes. From my observation as an experienced shoe expert, they would spend a hefty amount of money just for the distressed-looking yet fabulous leather shoes to complement on a daily basis.
The philosophy behind Golden Goose's pricing strategy
Since its early establishment, Golden Goose is focused on high-end market positioning. However, one distinct feature of this brand caught the eye of many luxury brand fans. This Italian brand emphasizes craftsmanship and handmade aspect, which is the well-known shoemaking method in Italy.
The brand's motto, "perfect imperfection" is also applied to creating every single pair of various shoe designs. Like a fingerprint, no shoes have the same scuff, weathered, or aged marks on them. Despite challenging other normative luxury brands, Golden Goose manages this pricing strategy thanks to their unique and distinctive look, as well as the artisans' proficiency.
An in-depth look at the factors contributing to the expensive price tag of Golden Goose shoes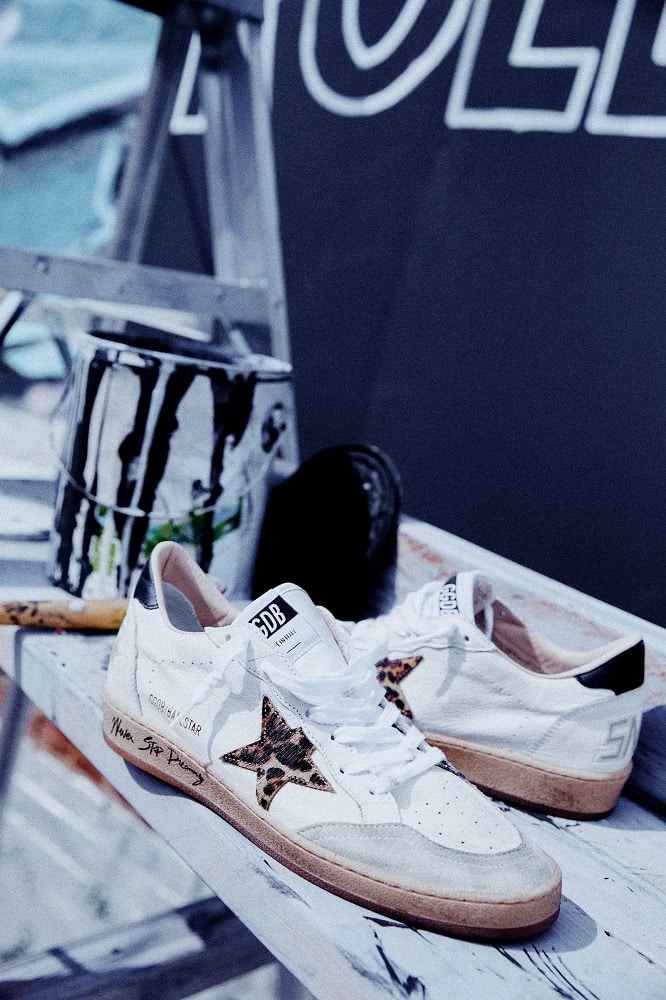 To put it shortly, here are some factors that contribute to Golden Goose shoes' skyrocketing price.
Fair payment to the workers
It's reasonable for a company to set a sky-high price if the products are crafted by hand. This is the case that happens to Golden Goose, where hundreds of cobblers manually distress the delicate shoes and add a personal touch to each pair.
From my point of view, it's the brand's responsibility to pay a fair wage to each of the workers so they can have a proper life. Golden Goose ensures the worker's welfare and rights by providing them with wages that are determined by their work.
The distressing is expensive
As ridiculous as it seems, it actually takes more effort to create scuff marks on the shoes that are just finished! It's worth mentioning that the distressing process is done by hand. Like a pair of distressed or ripped jeans, you should be extra careful while doing this, and it takes longer than constructing shoes with the machine.
From my experience, I once bought a pair of Golden Goose sneakers and noticed that even the box is slightly dented, just like the shoes inside. Note that the product and package aren't damaged by mishandling or the shipping process, but they were designed that way.
Complex production process
As a long-term Golden Goose shoe enjoyer, I notice each model is uniquely crafted from various materials. Sometimes, one shoe edition uses three or more pieces of leather and patterns. Those also contribute to the production's intricate process and the choice of materials.
Speaking of materials, I have mentioned before that Golden Goose only use the finest materials for their detailed, hand-crafted sneakers. Calfskin leather, the primary material for GGDB sneakers falls on the expensive side. Since the material is taken from younger cows, it's rather supple and delicate compared to ordinary leather.
How the production process of Golden Goose shoes affects the cost
Basically, Golden Goose shoes' production process is just the same as the others but with a twist that not other brands may have. Can you believe that shoe artisans spend about 4 to 8 hours crafting each pair by hand? The sheer amount of dedication and craftsmanship surely affects both the cost and product pricing!
Taken from an article published in Lampoon Magazine, I'll break each process down below.
In this early step, cobblers will put the upper and sole together with glue until they form like a shoe and allow them to dry. In order to secure the shape and make the shoes look neater, the attached upper and sole are sewn with tread using specialized leather sewing machines.
The majority of Golden Goose sneakers are made from supple and expensive Italian leather, which explains the high production cost.
When a pair of shoes is done, the next step is adding some bling to the upper and creating an eye-catching look. The embroiderers at Golden Goose mostly use rhinestones and glitter ribbons to adorn the upper part of the shoe.
Those ornaments are sewn by hand as well, which requires high precision and thoroughness. Since rhinestones are considered a valuable thing, this also contributes to the shoes' high price. The same goes for the embroiderers' tireless effort to create premium quality footwear.
Most people dislike it when their shoes turn yellow, but it's the complete opposite of Golden Goose. They purposefully expose the shoes to sunlight to achieve vintage looks with a yellowish tint on the sole. Not just that, the shoe artists deliberately create scuffed marks and sand the surface to make the shoes look worn out.
The artisans use different tools and methods to create the distressed and used look of the recently made sneakers. Unlike other brands that favor crisp brand-new looks, Golden Goose breaks the stereotype by creating scuff marks and imperfections to each pair to make them look unique and personal. Since the distressing process isn't easy and takes years for the artisans to master, I think it's worth the price.
FAQ
Most expensive Golden Goose shoes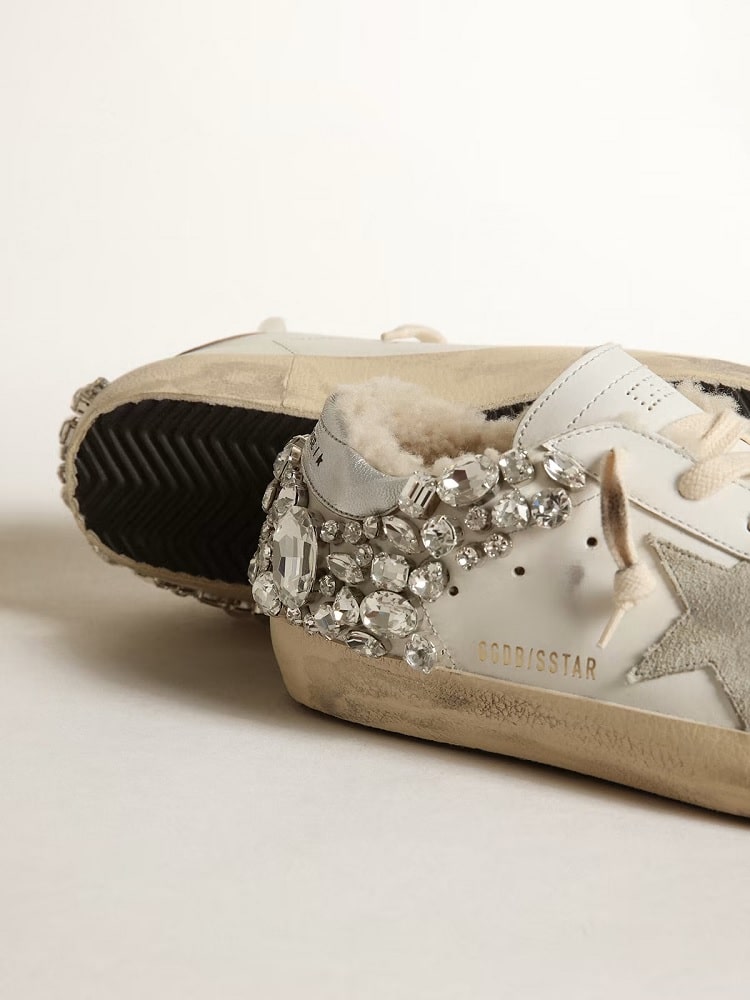 Meet Golden Goose Super-Star sneakers edition which is crowned as the most expensive Golden Goose shoe, and you might understand the reason why. With a price of $2,050 (sales tax not included), the sneakers' back is adorned with some decorative crystals embellishment in various sizes, creating a unique flashy look.
Golden Goose doesn't only prioritize the aesthetic, but also the comfort. One of the most common materials used for high-end footwear, the sheepskin shearling lining is used to provide ultimate comfort in all seasons, warm or cold. From
My TOP 3 favorite Golden Goose Shoes
Golden Goose has a wide variety for all ages and gender. The table below contains 3 of my favorite shoes from the brand with different categories.
Where to buy Golden Goose shoes
If you're interested in getting a pair of Golden Goose shoes, I recommend heading to their stores in more than 20 countries in the world to see and check the collections directly. For those who are quite far from the store, you still can check Golden Goose's official website to get yourself a scruffy yet luxurious pair of shoes.
I need to remind you that Golden Goose doesn't sell shoes on a seasonal sale. The Venice-based brand states that they only sell authentic handcrafted shoes at authorized retailers. Shortly. If you notice a pair of these high-end brand shoes on sale, you have the right to be suspicious in case it's a fake or imitation product they're selling.
Which style of Golden Goose is most popular?
Just like any other shoe brand, Golden Goose has plenty of designs and editions that are guaranteed to be comfortable and flattering. Below are some of the most popular style of Golden Goose shoe style you can buy, as stated by numerous fashion and shoe experts.
Superstar
Hi tops
Purestar
Ball star
Golden Goose Kids
Why do Golden Goose shoes look dirty
The dirty and worn-out look of Golden Goose sarees is part of their aesthetics. The distressed and scuffed marks on the shoes are made by skilled artisans' hands, giving them the signature look that makes Golden Goose stand out compared to other brands.
How to clean Golden Goose shoes
You can follow this method that has been tested below to clean and maintain your Golden Goode shoes' look and prime condition.
These steps are particularly similar to cleaning any leather shoes and are proven to be effective, according to many specialized shoe experts.
Do Golden Goose sneakers stretch out
Yes, Golden Goose sneakers can stretch out just like any others! From my experience as one of their wearers, at first Golden Goose sneakers run tight but eventually they'll stretch the more often you wear them. Since they're made from leather, the shoes will expand and follow your foot shape.
How ethical is Golden Goose?
It's quite hard to describe how ethical Golden Goose is. Most of the shoes are made of calfskin leather, which may trigger some people to say that the brand performs animal cruelty. However, last year the Italian shoemaker launched plant-based rubber that substitutes animal leather used for their shoe designs, increasing the shoe's sustainability in the long run.
Taken from an article published in Robb Report, Golden Goose claimed that by using a mixture of vegetable sources, biodegradable rubber, and recycled polyester they had reduced the CO2 emissions by 90%, as well as 65% of water usage.
From my perspective as an experienced shoe expert and environmental enthusiast, if you buy the Yatay Model 1B (or other models that have the sustainable tag on the product) it's ethical enough and eco-friendly.
Summary
It was a long journey for Golden Goose to achieve the title of one of the high fashion brands in the world. Behind every one-of-a-kind expensive yet ragged shoe, it tells a story of experienced craftsmanship combined with the finest, high-quality materials that will stand years of wear and tear.