Is Converse True to Size?
Converse lets you order online and customize the shoes down to the pattern on the tongue, but how do you know they'll fit? Do Converse run big or small?
Many Converse shoes are bigger than others by about half a size, but some run a little small and narrow. Each style has unique quirks and sizing differences. In this article, we have listed some of the popular styles of Converse and their sizing and Converse Size charts.
Converse Chuck Taylor All-Star Sizing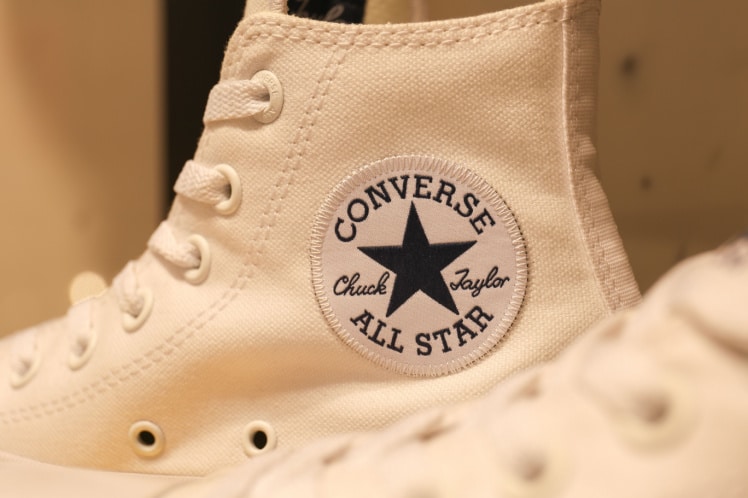 Before you order, you have to ask yourself a few questions beyond what color or style you want. For example, do Converse run big or small if they're Chuck Taylor All-Stars? Is there a sizing difference between men's and women's Chuck Taylors? Do they make half-sizes?
1. Chuck Taylor All-Stars Run Big
Converse makes it clear in their sizing chart that Chuck Taylors run bigger than usual by about half a size. Since these shoes are unisex, meaning one shoe is for both men and women, everyone should order at least a half-size smaller than usual.
To eliminate uncertainty, measure your foot length and order the designated size on the sizing chart, regardless of the size number.
For instance, if you usually wear a US size 8, you should order a pair of Converse Chuck Taylor All-Stars in size 7.5. However, measuring your foot will give you the best fit. If your foot is longer than 10 inches, you'll want to go a half-size up from their recommendation.
You can find some Chuck Taylor shoes in wide width if you typically wear wider shoes than average, too. If you're used to wearing bigger shoes because you need the width, you might find the shoes fit well in your regular size because of the slight width difference.
2. Measure for Best Accuracy
To measure your feet, tape a piece of paper on the floor lined up with the wall. Recruit someone to help so you can stay in the proper position for better accuracy.
Stand with your foot on the paper with your heel against the wall, and stand straight. Have your helper trace around the back of your heel and the longest part of your toes. Do this with another piece of paper and the other foot, too.
With a ruler, measure from the heel edge on the paper to the mark furthest away. Check both feet in case one is much longer or shorter than the other. People's feet are rarely the same length, and it could affect which size you should buy for maximum comfort.
Read Also: Do Converse Stretch
3. Chuck Taylor All-Stars for Kids
Do Converse run big or small when they're Chuck Taylors for kids? These shoes run bigger by half a size, just like the shoes for adults. Converse also gives length measurements for each size, so you can measure kids' feet the same way as outlined above to get the best fit.
Babies and toddlers don't have to miss out on these famous shoes, either. Chuck Taylor All-Stars for toddlers also run about one half-size bigger.
Jack Purcell Sizing
Jack Purcell Shoes Run True to Size
While Converse tells you whether other shoes run big or small on the project pages, they claim the Jack Purcell runs true to size. Their sizing chart gives foot-length measurements so you can be sure to get a good fit, despite the size numbers.
Consider getting a slightly bigger size than average or choosing Chuck Taylors instead if you have wide feet and often wear wide-width shoes.
Converse Pro Leather Sizing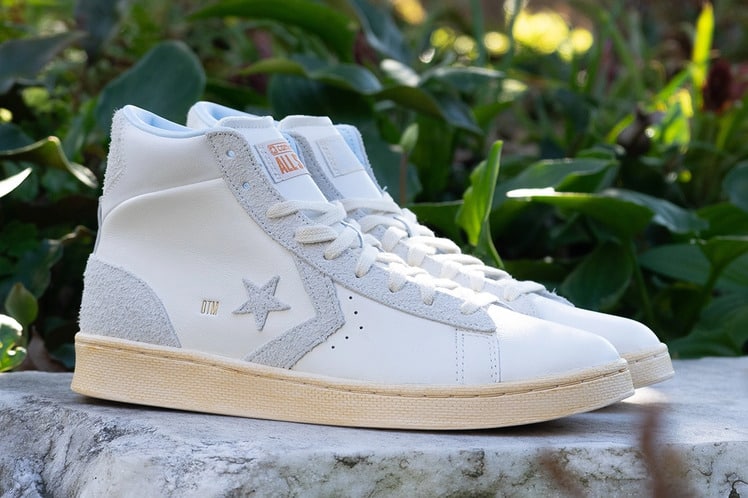 The shoe's design changed in small ways over the years, and more basketball pros endorsed it.
Well-known sports superstars like Magic Johnson, Larry Bird, and Michael Jordan wore the Pro Leather shoes on the court.
New technology in sports shoe designs took the Pro Leather off players' feet in the mid-80s, but consumer demand for the popular streetwear shoe grew. Converse brought the classic Pro Leather shoe back in 2008. Celebrity endorsements from fans like Jay Z and Daniel Radcliffe helped the shoes stay popular.
You can choose low-top white or black and white leather shoes or a suede high-top multicolored style designed by Hornets player Kelly Oubre Jr. Converse offers an online exclusive high-top pink leather lift platform shoe, too.
Read Also: Can You Run in Converse
Do Converse Run Big or Small with The Pro Leather Style?
The age-old question that's sparked debates among sneaker enthusiasts for generations: Do Converse run big or small, especially when it comes to the iconic Pro Leather style? Lace up your curiosity as we dive into the intriguing world of sizing mysteries and footwear folklore. Whether you're a seasoned Converse connoisseur or a first-time sneaker seeker, you'll want to know the truth behind this enigmatic sizing puzzle.
Pro Leather Shoes Fit True to Size
Converse states on the product pages that these shoes fit true to size, and their main size chart linked above gives the length measurement in inches to help you choose the right size.
Like the Chuck Taylors and Jack Purcells, Pro Leather shoes are unisex shoes. They don't make a different style or shape for women and men. This unisex styling makes it easier to determine which shoe will fit best, especially when you measure your feet to be sure.
There's one exception to their true-to-size claim about these shoes based on the reviews on their website. The high-top pink leather lift platform, which one might assume is designed for women though it says unisex, has multiple complaints about the shoe being too narrow.
It would help if you went up at least in size for this shoe to avoid the shoe being uncomfortably narrow. Unfortunately, the only wide-width shoes Converse sells are Chuck Taylors, so there's no option for a wider shoe in the same size.
If narrow shoes don't fit you well, you might opt for a style you can try in person to avoid disappointment.
---
You might also like:
---
Converse One Star Sizing
The One Star fits true to size and has length measurements in inches on the sizing chart linked above. However, you won't find wide-width options in One Stars, so consider the width when choosing a size to order.
Run Star Motion and Run Star Hike Sizing
Run Star Motion and Run Star Hike Fit True to Size. These shoes run true to size, but once again, you won't fit wide-width shoes among their offerings. Fortunately, the measurements on the sizing chart above should also hold for these shoes.
Converse Size Chart for Different Styles
Here we have listed Chuck Taylor All Star/ Chuck 70, All Star Pro BB/BB, and Evo models for women.
Converse Shoe Size Chart For Women
US Size
Chuck Taylor All Star (Chuck 70)

Runs a half size large

All Star Pro BB

(BB, Evo) Runs a half size small

Other Styles
Fit may vary
Inch
4
3.5
4.5
4
n/a
4.5
4
5
4.5
8 1/3″
5
4.5
5.5
5
8 1/2″
5.5
5
6
5.5
8 5/8″
6
5.5
6.5
6
8 5/6″
6.5
6
7
6.5
9″
7
6.5
7.5
7
9 1/7″
7.5
7
8
7.5
9 2/7″
8
7.5
8.5
8
9 1/2″
8.5
8
9
8.5
9 2/3″
9
8.5
9.5
9
9 4/5″
9.5
9
10
9.5
10″
10
9.5
10.5
10
10 1/6″
10.5
10
11
10.5
10 1/3″
11
10.5
11.5
11
10 1/2″
11.5
11
12
11.5
10 5/8″
12
11.5
12.5
12
10 4/5″
12.5
12
13
12.5
11″
13
12.5
13.5
13
11 1/7″
13.5
13
14
13
11 2/7″
14
13.5
14.5
14
11 2/3″
How to Make Sure Converse Shoes Will Fit You
If you trust Converse's size chart, you can order the correct size or a one half-size smaller in the hopes that the shoes fit when they show up at your door.
One more method will guarantee any shoes you order online will fit you perfectly. This method is the least convenient but will probably be the most fun.
Try Converse Shoes at a Store
You can go one half-size lower or measure your feet, but there's no substitute for putting the shoes on and walking around in them for a little while. You'll learn where they rub your feet or if they don't, and whether they're comfortable at a certain size.
Foot length won't tell you how the shoe hugs your instep or whether it's wide enough for your toes. If you've ever had a shoe-store employee measure your foot with a Brannock Device and bring shoes out for you to try on, you know that measurements are only a starting place.
You'll probably have to go to a dedicated shoe store or a department store with shoe salespeople ready to help you try on Converse, but don't let that stop you. Instead, try on the same shoes you're interested in buying.
They don't have to be the same color you'll order but try on the exact shoe style and material, whether canvas or leather. Then, stand in the shoes and walk around for several minutes to ensure they fit correctly.
Once you know what size fits best, you can either buy those shoes if you love them or go home and order custom Converse that you know will fit you when they're delivered.
Tips to Keep Your Converse Fitting Properly
If you buy canvas Converse shoes, remember that even though many other canvas shoes are machine washable, you should never put Chuck Taylor All-Stars or other Converse shoes in a washing machine.
The agitation of a machine can make the shoes misshapen and damage them. Clean your shoes gently with soapy water, a soft brush, or a soft cloth. Use a damp cloth to clean leather Converse, and a dry suede brush for cleaning suede shoes. Never get suede wet.
If your canvas shoes are damp after cleaning, stuff them with dry paper to help them maintain their shape. Don't use a blow dryer, a tumble dryer, or any kind of heat to speed up the process. Instead, allow the shoes to dry at room temperature.
Common Problem Solution
You can ensure that you get only the best-fitting pair by trying on the shoes when you can and measuring when you can't. However, if you order a pair that doesn't fit despite your best efforts, Converse has a free return policy. So you can return them at no cost and get a better-fitting pair instead.
Enjoy your proper-fitting Converse shoes when they arrive, and remember to clean them the recommended way to help them maintain their shape and fit for years to come.
---
Latest Posts:
---
Conclusion
As we reach the final shoe-fitting destination, the verdict is in on the age-old question: Do Converse run big, small, or true to size? With each foot's unique shape and preference, the Converse sizing journey becomes a personalized adventure.
Embrace the freedom to experiment with different sizes and styles, allowing your feet to guide you towards the perfect fit. From classic High Tops to sleek Low Tops, Converse's sizing quirks add a touch of charm to these iconic kicks. So, go forth with confidence and discover the ideal match that lets you walk, run, and dance in stylish comfort – for in the realm of Converse, the perfect fit awaits the fearless fashion explorer! Happy striding!