Does New Balance run big or small? If you are considering getting a pair of New Balance, you may have a lot of questions about their sizing. This brand is suitable for kids, adults, and everyone in between. Consequently, New Balance shoes come in multiple sizes, and it can get overwhelming to determine which one would fit your feet.
Therefore, you may need comprehensive sizing advice to find out which New Balance model is the best for you.
Before you buy your next pair, I recommend that you consider how the shoes may fit. Then, you can account for that when selecting your size. This way, I believe that you will get both style and comfort in one package.
I've dealt with New Balance over the years and discovered how their sizing works. Read on to learn more if New Balance is true to size.
Does New Balance Run Big or Small or True to Size?
New Balance says their shoes should fit true to size as soon as you put them on. You don't have to worry about a break-in period like with other shoe brands, like Adidas or Nike shoes.
I find their claim to be true. Most New Balance shoes, if not all, would fit comfortably as soon as you put them on, provided that you get the right size.
When you try on a pair of New Balance, your heel should fit nicely and snugly at the back. At the front, your toes should have some room to move around.
Finally, your arch needs to have support in the correct spot. If the arch support is too far forward or backward, you may have to find a different style or size to accommodate and support your foot.
So, I believe that determining the arch support is a significant factor when you choose a pair of New Balance shoes that fit perfectly. The incorrect size will not just be uncomfortable but also unstable and prone to slipping.
To choose the correct fit New Balance sneakers, you can refer to the number and letter series, which I shall explain below.
New Balance Number and Letter Series
New Balance uses numbers and letters to name their shoe styles. The numbers represent the type of cushioning and the best use case for the shoes. Fit and support can also depend on the number of shoe models. Now, this part can get a bit tricky.
You should look at the last two digits in a style number.
Shoes ending in 40 tend to have nice control and support, while shoes ending in 50 are for fitness running. If you choose a shoe that ends in 60, you can expect plenty of stability.
Shoes that end in 70 have light stability and good speed. If you get a shoe ending in 80, it provides neutral cushioning, while shoes that end in 90 offer more speed.
Letters before the number indicate if the shoes are for men (M), women (W), or kids (G, P, I, or Y). If you see letters after the number, that denotes the color. Finally, a number after the letters signifying color corresponds to the version number.
Shoe Width
New Balance is a fantastic shoe brand for people with wide or narrow feet. In addition to regular shoe sizing, the company makes shoes in different widths.
Here is a little trick that I believe will help you if you have wider feet. While many styles fit true to size, you may need to size up if the width is too narrow. Be sure to measure the length and width of your feet to help find the correct size.
How to Measure the Size of Your Feet
If you haven't measured your feet in a while, I highly recommend that you should do so before buying a new pair of New Balance. While you can and should try the pair you want, it helps to know your size first.
Be sure to measure your feet in the afternoon or evening because your feet can swell as you go about your day. Use a piece of paper and a pencil to mark the back of your heel and the tip of your big toe. Ask a friend to help you if necessary.
Measure the size of each foot to see if one is bigger than the other. About three out of five people have one foot that's bigger, so it's nothing to worry about.
I think that everyone should put effort into measuring their feet once in a while. This procedure will ensure that your New Balance shoes fit snugly, providing you with maximum comfort.
How to Tell If Your Feet Are Wide or Narrow
An essential step in getting a pair of New Balance shoes is figuring out the width you need. You may have feet that are a normal width based on their length.
However, it helps to verify this before you buy a pair of new shoes. If you buy your New Balance shoes online, you want to give yourself the best chance of choosing shoes that fit comfortably.
Even if you go shopping in stores, knowing the width beforehand can help you find the right pair to test out faster. And you can know to ask a sales associate if they have extra stock in the back that you can try.
Review Your Initial Measurements
First, you should take a look at the results from when you measured your feet from front to back. This can give you an overall idea of your shoe size. If your feet are longer, they can be wider without needing wide sizing than someone with shorter feet.
Whether it's been a while or you forgot the measurements, measure your feet from front to back again. You can do this on a piece of paper, or you can stand in front of a wall. Have someone use a ruler to get the length of your foot from your heel to your big toe.
Measure Side to Side
Now, you need to measure your foot from side to side. The best place to do this is along the ball of your foot since that's the widest part. While you can use a ruler, marking a piece of paper can make it easier to get an accurate measurement.
Place your foot on a piece of paper and make one mark by the ball joint near your big toe. Without moving your foot, make another mark by the joint near your pinky toe. Take your foot off the paper and use a ruler to measure the distance.
Then, repeat the steps with your other foot. As I've mentioned before, if your left and right foot do not come in the same size, you should not be worried because it is normal.
Consult a Size Chart
Unlike other shoe brands that often only produce one size fits all, New Balance always puts a lot of effort into details. They can accommodate any type of foot. So, it is no surprise that their sizing is also quite complex.
New Balance has a comprehensive size chart on their website that you can use to help select the right size. You can use the chart to determine your size in men's, women's, or kids' shoes, so you will know how long the shoe needs to be.
Sadly, the chart doesn't tell you which widths to choose. However, it does list the different widths and the numbers to look for as you compare shoe sizes.
Men and women can choose from six widths ranging from extra narrow (X-narrow) to extra extra wide (XX-wide).
Kids' shoes come in standard, wide, and extra-wide sizing. That way, even your children can get shoes that fit comfortably.
Read Also: Best New Balance Running Shoes
New Balance Size Chart
New Balance Size Chart for Women
| | | | |
| --- | --- | --- | --- |
| US Size | UK Size | EU/FR Size | CM/JP Size |
| 5 | 3 | 35 | 22 |
| 5.5 | 3.5 | 36 | 22.5 |
| 6 | 4 | 36.5 | 23 |
| 6.5 | 4.5 | 37 | 23.5 |
| 7 | 5 | 37.5 | 24 |
| 7.5 | 5.5 | 38 | 24.5 |
| 8 | 6 | 39 | 25 |
| 8.5 | 6.5 | 40 | 25.5 |
| 9 | 7 | 40.5 | 26 |
| 9.5 | 7.5 | 41 | 26.5 |
| 10 | 8 | 41.5 | 27 |
| 10.5 | 8.5 | 42.5 | 27.5 |
| 11 | 9 | 43 | 28 |
| 11.5 | 9.5 | 43.5 | 28.5 |
| 12 | 10 | 44 | 29 |
| 12.5 | 10.5 | 45 | 29.5 |
| 13 | 11 | 45.5 | 30 |
| 13.5 | 11.5 | 46 | 30.5 |
| 14 | 12 | 46.5 | 31 |
| 15 | 13 | 48 | 32 |
New Balance Size Chart for Men
| | | | |
| --- | --- | --- | --- |
| US Size | UK Size | EU/FR Size | CM/JP Size |
| 4 | 3.5 | 36 | 22 |
| 4.5 | 4 | 37 | 22.5 |
| 5 | 4.5 | 37.5 | 23 |
| 5.5 | 5 | 38 | 23.5 |
| 6 | 5.5 | 38.5 | 24 |
| 6.5 | 6 | 39.5 | 24.5 |
| 7 | 6.5 | 40 | 25 |
| 7.5 | 7 | 40.5 | 25.5 |
| 8 | 7.5 | 41.5 | 26 |
| 8.5 | 8 | 42 | 26.5 |
| 9 | 8.5 | 42.5 | 27 |
| 9.5 | 9 | 43 | 27.5 |
| 10 | 9.5 | 44 | 28 |
| 10.5 | 10 | 44.5 | 28.5 |
| 11 | 10.5 | 45 | 29 |
| 11.5 | 11 | 45.5 | 29.5 |
| 12 | 11.5 | 46.5 | 30 |
| 12.5 | 12 | 47 | 30.5 |
| 13 | 12.5 | 47.5 | 31 |
| 14 | 13.5 | 49 | 32 |
| 15 | 14.5 | 50 | 33 |
| 16 | 15.5 | 51 | 34 |
| 17 | 16.5 | 52 | 35 |
| 18 | 17.5 | 53 | 36 |
| 19 | 18.5 | 54 | 37 |
| 20 | 19.5 | 55 | 38 |
What If One Foot Is Slightly Larger?
One of the reasons you should measure both feet is in case one is larger than the other. If your left foot is wider, but you only measure the right, you may end up with a shoe that's too small for your left foot.
When you have one foot that's slightly larger, use that foot to determine your correct size. It's better to have a bit of extra room than to squeeze one of your feet into a shoe.
If the size difference is more significant, you can ask a shoe store if you can buy different shoe sizes. I've asked around some online stores before, and some do accommodate this type of request.
Read also: New Balance vs. Nike Sizing
How to Test the Sizing
While New Balance shoes often run true to size, it helps to test the sizing. That way, you can make extra sure you choose the correct shoe for you.
Whether you buy the shoes online or try them in a store first, you need to test them. If you don't try the sneakers, you may risk buying the wrong size, especially if you've never bought New Balance shoes or if it's been a while.
Here are a few things to consider as you test how well New Balance shoes fit you.
Stay Indoors
As you test the shoes, do so indoors so that you don't void the return policy. You can wear the shoes around your home or around the shoe store. Ideally, you'd walk around somewhere with a floor that's clean so that you can keep the shoes in good condition if you have to return them.
If you want to test the shoes in different indoor locations, wear another pair when going outside. You can switch to the New Balance shoes when you get to your destination. That way, you don't have to expose them to rain, dirt, or other things that could damage the shoes.
Move Around
Think about what you plan to do when wearing the New Balance shoes. If you will use them to walk around at school or work, be sure to walk for a while. You may also want to test jogging or running if you'll use the shoes for exercise.
Maybe you want to jump rope, so you decide to jump in the shoes. Doing all of these activities can help you see how the shoes will fit as your feet move around. If your feet start to hurt, you may need to evaluate the sizing and go up or down accordingly.
In my experience, testing the shoes by moving around is the best way to ensure that your feet have enough room. Different positions may affect the way the shoes fit.
Test Throughout the Day
If you want to test shoes at the store before buying, go in the afternoon or evening. This is when your feet will be the largest throughout the day, so you can avoid buying shoes that are too tight. However, if you purchase the shoes online, try them at different times of the day.
You can then see if the shoes are too large or too small at any point. Plus, if you know what time of day you plan to wear them, you can do most of the testing then. That way, you'll get an idea of how the shoes will fit should you get them and use them regularly.
Listen to Your Gut
An essential part of choosing the correct shoe size is to listen to your gut. If a pair of shoes don't feel right, odds are they aren't the best pair for you. Maybe there aren't any significant problems, but you just don't think the shoes will work. Based
It's okay to look at another pair of shoes in a different size. Sometimes, your gut may help you narrow your search as easy as using a size chart.
As you walk or jump around, consider how you feel about the shoes. If something isn't right, set the shoes aside and try something else.
How to Tell If a Shoe Is Too Small
When you try some New Balance shoes, you should know how to tell if a pair is too small. Even though the shoes run true to size, you may find that some pairs are a bit tight.
This is especially true if you have wide feet. If you don't get a wide pair, the shoes may not feel right, even when the length is correct.
Here are a few things to look out for to make sure you don't buy shoes that are too tight.
Foot Cramping
When shoes are small, your feet will have to cram in there to fit. After wearing the shoes for a while, your feet may start to get cramps or feel like they're in pain. The cramps are a way for your body to tell you that you should size up.
You might also notice your feet feel like they're falling asleep. This can happen because of having to fit the feet in smaller shoes. If you get any sort of cramping or pain when you otherwise wouldn't, look for a larger or wider size.
Blisters
Another thing that can happen when your shoes are too tight is that you may get blisters. You can get them on or between your toes if the toes rub together. Now, you can get blisters if your shoes are too big, but that usually affects your heels.
When blisters or calluses appear around your toes, odds are your shoes aren't big enough. So try on a pair a size or two larger. You can also look at wider sizes so that your toes have plenty of room to move without cramming next to each other.
Toes Bunch Together
Even if you don't experience pain or blisters, your shoes could still be too tight. If you feel your toes having to bunch together, consider looking for a larger size. The problem may not be serious enough to cause pain, but you still don't want to buy those shoes.
When the toes bunch together, you can go up a size or look at a wider size. That way, you'll be able to find the perfect pair of New Balance shoes. Soon enough, you'll be able to walk, jump, or do any other physical activity while you wear them.
How to Tell If a Shoe Is Too Big
If your feet don't feel right in New Balance shoes, it's easy to determine the shoes are the wrong size. But shoes that are too big can cause different problems from shoes that are too tight.
Before you determine if you need to size up or down, consider what can happen when your feet have too much room. Then, you'll know if you need to find a smaller or narrower shoe size.
Here are a few things that can happen when your shoes are too large. While you may be able to stick with that size, the problems may outweigh the benefits, but you can learn how to make your big shoes fit here.
Pulling the Laces Super Tight
You should have to pull the laces a bit to tighten the shoe over the top of your foot. However, the shoes are only comfortable after pulling the laces extremely tight. You may have a problem. You shouldn't have to almost break the laces to get the shoes to fit correctly.
It can be easy to think this isn't a problem because your feet may fit okay front to back. Tying the laces tightly may be a sign that the shoes are too wide. So look for a narrower size to make sure you don't have to work too hard to tie the laces and secure the shoes on your feet.
Feet Slide Around
If you feel your feet slide around within the shoes, they're probably too big. You may feel your feet slide forward and backward, in which case the shoe is too long. Look for a shoe a half or full size smaller to see if that solves the problem.
On the other hand, your feet may also move side to side in your shoes. When that happens, the problem is probably that you chose a shoe that's too wide. You can go down a width size and find a different pair that's the same length to see if it fits better.
The Area Around Your Toes
Maybe your feet don't move around, and you don't have to tie the laces tightly. But if your feet have a little too much room in the toe box, your shoes could be too big. You should have some room between your toes, and the ideal space is about the width of a finger from the toes to the end of the shoe.
However, if you have a lot more room than that, you should consider sizing down. The width sizing may be correct, so look for a lower number size. Test it out to see if your toes still have a bit of space but not too much.
Read also: Best Insoles for Boots Too Big
What are the cutest new balance sneakers for ladies?
New Balance offers several feminine models that look absolutely adorable. Not only are they fashionable, but these sneakers would also make your morning runs feel more energetic!
New Balance 990v6 Core Sneakers
Available in elegant gray, this pair of comfy running shoes look super sleek, ideal to complement your slender feet. I personally love this latest model from the 990 series, which was released back in November 2022, because of how streamlined it is.
I believe this model also comes in navy blue, but the one that I have is light gray. It can blend easily to complement my fashion style. For the sizing, it is available in multiple widths, including the x-wide.
New Balance 327
The 327 model offers a slim shape that looks more sporty. Yet it is also trendy as there are various adorable colors. My favorite version is the one that comes in white and pink! The haze pink is subtle yet very lovely to look at.
Moreover, the classical design makes these sleek sneakers easy to pair with your favorite outfit.
New Balance 574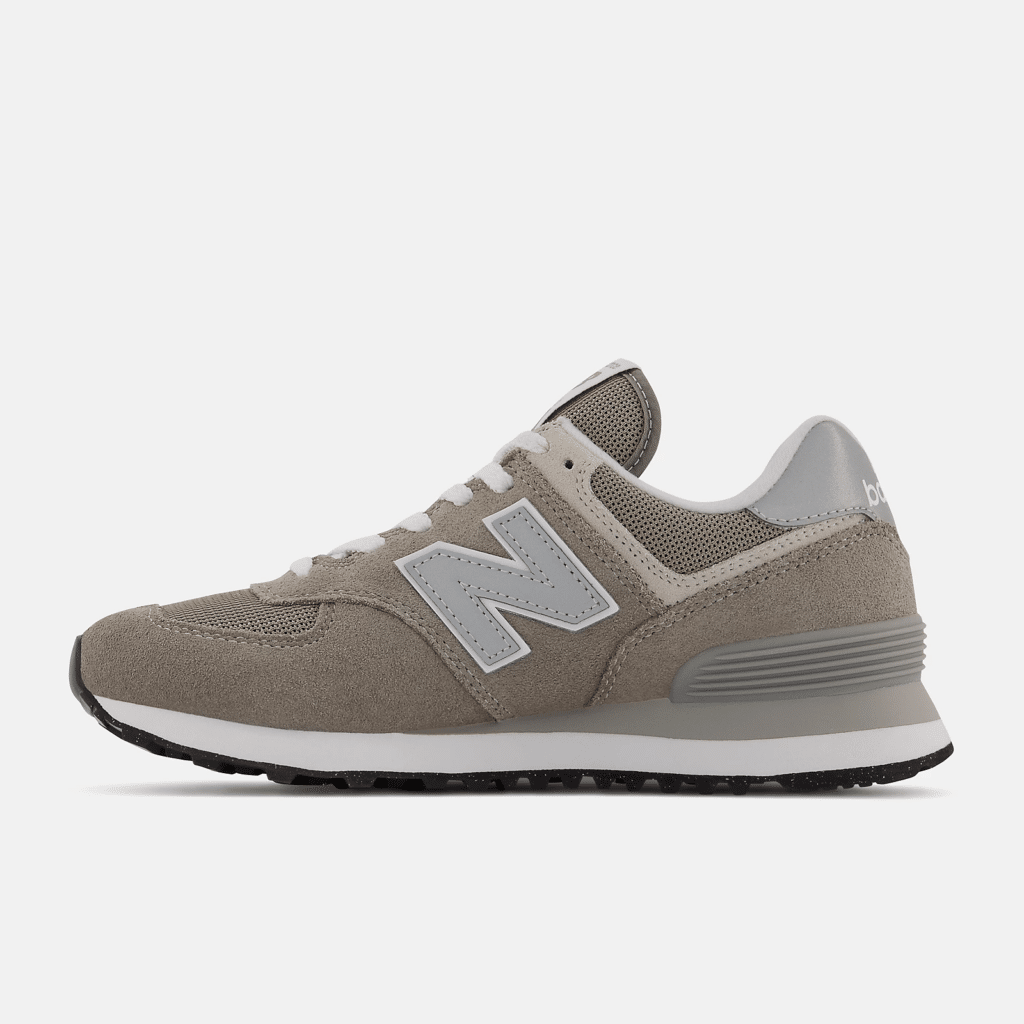 You can not go wrong with the classic 574. The shoes come with excellent cushions that would make your every step feel firmer. The design is quite balanced, so any outfit can go with it, further proving the New Balance's versatility. As for the color, go with the Core version because the darker grey will nicely contrast your outfit!
These New Balance shoes run true, but it does have that thick volume to them. It is actually lightweight and filled with comfy suede. If you are interested in the 574, I recommend that you get true to size and opt for half a size bigger if it feels too tight. But usually, the suede will stretch, providing enough room for your feet, so true to size will do just fine.
Conclusion
Choosing New Balance shoes that fit comfortably can be a tedious task. I believe that this brand designs the most comfortable shoes money can buy, and they are true to size most of the time.
But, if you do not get the correct size, their comfy design will be wasted. Hence, learning how to read the size chart and identifying which model is ideal for your feet is crucial.
It is also important to identify whether you have wide or narrow feet. Doing so will allow you to select which New Balance shoes run small, big, and true to size. A pair of New Balance shoes that match the shape of your feet will provide you with maximum comfort, enhancing your mobility.
So, check out my New Balance shoe sizing guide above, and you will get that pair that fits snugly!
Will You Buy New Balance Shoes?
New Balance shoes can be an excellent fit for many people. They usually fit true to size, but you may need to adjust your sizing if your feet are narrower or wider than average. That way, you can get a pair that's comfortable and can provide the support you need.
You don't have to wear a pair of shoes that causes excess pain or that lead to blisters. Keep shopping for the right pair until you find shoes that suit your needs.
Is New Balance 574 Runs Wide?
For those who love retro, chunky-looking shoes, I believe that New Balance 574 can be a good choice. This model runs true to size and offers generous room for feet with any width, thanks to the wide footbed design. It has that extremely comfy cushioning for your arch and heels.
However, some reviewers say that it is a bit narrow because of the suede, so it provides less room. Nevertheless, I do think that you should get the same size because the suede will stretch. If you think it still feels too tight, you get one half a size bigger for a comfier fit.
Which New Balance Running Shoes are the best?
The Fresh Foam series is perhaps the best New Balance for running on even terrain casually. I've tried several versions myself, but the 880v12 fits me the best. It is a versatile shoe that provides you with ample cushioning, ventilation, and flexibility, ideal for light jogs.
If you need more support and stability, the 860v13 and 1080v12 would be excellent alternatives. For serious races, though, you may consider choosing the FuelCell variants. It is bouncy yet retains a solid structure when you want to go fast.