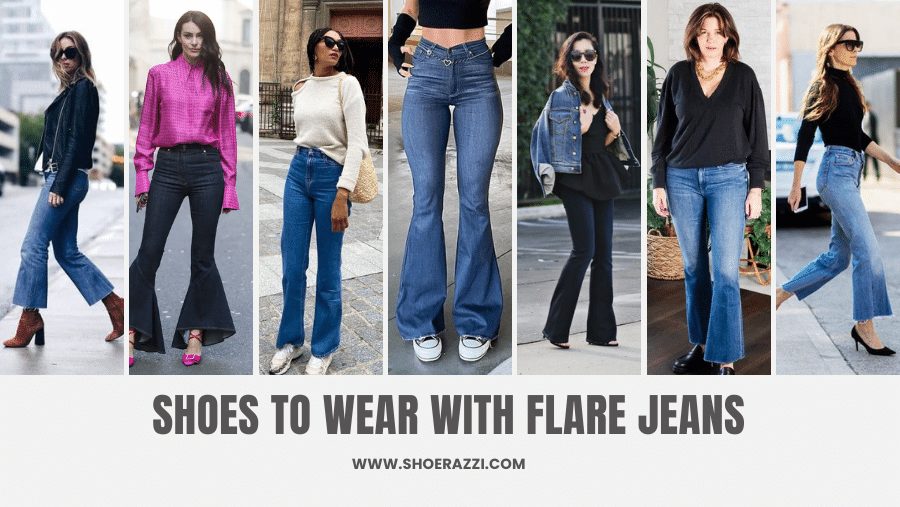 You may wonder how to style shoes to wear with flare jeans. Well, let me tell you a story. Flare jeans are synonymous with the 60s and 90s, and even though some people dislike their looks, these dramatic wide-leg opening pants are rising to the trend this year. And I'm in!
Numerous people and stylists claim that flared pants can create an illusion of elongated legs, of course, when paired with the right shoes.
From my decades of experience as an expert in shoes, I'm going to share some useful tips on picking the best shoes to wear with flare jeans so you can show off your shine. All right, let's jump into it!
I. Top 3 Picks
II. What shoes look nice with flares?
From my point of view as a fashion connoisseur, flared pants can be paired with a variety of shoe styles, depending on the look you're going for. I have some preferences you can try. Check them out!
1. Platform Shoes
For you who are struggling with high heels but want to look taller, I strongly recommend taking platform heels as your top-notch choice!
Based on my personal experience, I feel stable when I wear platform heels since the thick platform provides wider support for the ankle.
So, without a single doubt in my mind, I think this pair can give you a stunning fashion statement and prevent you from walking wobblily.
2. Mary Jane Shoes
I get a sense of a vintage-inspired outfit when I wear these classic high-school girl shoes with a low heel and a strap across the top of the foot with flared jeans. It's worth mentioning that Mary Jane shoes can elevate your bootcut jeans.
Personally, I love to mix and match these shoes with a short blazer or crop top to expose my long legs. You can also go with a long shirt but tuck it into the jeans. Believe me, you'll look stunning!
A boot that hits just above the ankle is my go-to for cooler weather. You can choose a style with a heel or go for a flat option. I personally love shorter ankle boots for my daily activities because it is much easier for my knees.
Taken from the Editorialist website, it states that ankle boots are among people's favorite shoes to wear with flare jeans. Whether you wear them for a romantic dinner or going to work, the combo is guaranteed to make you look fabulous.
4. Sneakers
If I'm going for a casual look, I will pair my flared pants with sneakers. This can be great for a more relaxed, off-duty look. Madison Avenue Couture President and CEO Judy Taylor also mentions that flared jeans will look best with retro-looking sneakers to imitate the 70's look.
But here's my take. You should always go with what you feel most comfortable with and what you like the most. Since fashion is about having fun and expressing yourself, experimentation or styling is always encouraged.
III. Shoes to Wear with Flare Jeans in 2023
The trends for 2023, for me, are very dynamic and fun. I've assembled some pairs that go along the trends that you may see being paired with flare jeans in 2023:
1. Chunky Boots
Who doesn't love this pair? The way I see it as a fashion expert, chunky boots in 2023 were an absolute staple in fashion.
They are versatile, comfortable, and stylish. Not only that, but they also look great with flare jeans. As their fan, I can't count how many times I have used this combination in the past year. 
I usually play the fashion game with the boots, my flare jeans, and my tank top or tube top. For an office look, I'll recommend a white shirt and dark-shade blazer.
2. Square-toed Shoes
They made a comeback in 2023, and they look great with flare jeans. To my mind, you can add a lot of sophistication to your look when you wear them.
Personally speaking from experience, square-toed shoes provide extra room for your toes to wiggle and be comfortable compared to their points counterparts.
I can also confidently say that this pair will be a casual on-the-go pick for those tall girls who want to look humble but classy.
3. Loafers
In my opinion, as loafers fan, they are comfortable and classic. Loafers also add a touch of elegance to your look.
For any fans of the business look who reads this, I recommend pairing them with flared jeans to combine the casual and formal look on the street.
In addition, I generally match the jeans and loafers with cropped sweaters or oversized blouses to welcome chilly autumn. As for the bags, I say that crossbody bags will be an awesome pair for the daily look.
4. Strappy Heels
As I see it, strappy heels can be a sexy partner to your flare jeans. They'll look perfect for a night out or a casual stroll. Who What Wear also mentions these shoes are the best pick to wear with any bell-bottom jeans during summer.
If you want to create an elongated silhouette and elevate the good old bell-bottom jeans, these shoes are guaranteed to achieve a refined look. And for the top, I can help but to recommend you a graphic tee and denim jacket for an edgy look.
You can also take your tank top, wear that sparkling and colorful jewelry, and, as the cherry on top, grab your blazer to complete the look. This pair is my perfect combo for a laid-back style.
Moreover, fashion always tends to change and evolve, so these suggestions are based on my personal opinion as an experienced fashion expert and might change in 2024, but it's always safe to stick with the classic options that always work. 
IV. Shoes to Wear with Flare Jeans in Winter
Getting frustrated because it's winter? Fret not; I'm here to help you find the perfect shoes to wear with flare jeans in winter!
I wear jeans in winter. A lot. When it comes to pairing shoes with flare jeans in the winter, you'll want to choose styles that will keep your feet warm and dry while also complementing your outfit.
Here are some of my proposals to consider, including:
1. Boots
Any type of boots will look flattering with flare jeans, but personally, I like tall, insulated boots because they do a great job of keeping my feet warm in the winter.
You can go for knee-high or opt for reliable ankle boots to show off the flare of your jeans while also providing protection from the elements.
A little tip taken from a content creator and fashion influencer, Cate Killitz: you can always opt for sleek and more modern-looking boots to level up your flare pants and look stunning.
2. Booties
I don't find using boots all that comfortable, and if you're like me, a shorter ankle boot can also work well with flare jeans in the winter. They are stylish and keep your feet warm while also allowing you to show off your favorite jeans.
And to embrace winter with style, I'd love to recommend some of my favorite tops to pair with your booties and flare jeans. I commonly wear my long, turtleneck sweater to protect my neck and ears from chilly weather.
Another one is a cardigan! For this one, I usually opt for a scarf to layer on my neck. Don't forget your fleece or wool beany for additional protection against cold winter!
3. Oxford
From my point of view as a notable fashion expert, Oxfords can work well with flares; these shoes can be worn for both casual and formal occasions and can work great for cold weather since it covers the whole foot.
As with any outfit, I recommend layering and accessorizing for a winter look. You can wear thermal leggings, socks, or even fur-lined boots to add warmth to your feet, and finish off with a coat or jacket to complete your look.
Remember to always check the weather and dress accordingly to stay warm and comfortable all winter long.
V. How do you style flare jeans for a night out?
From my perspective, flare jeans can be a stylish and versatile option for a night out, depending on how you choose to style them.
Here are some of my ideas I'd like to share so you don't have to:
a. Dress them up with heels!
InStyle's Samantha Sutton claims that any type of heels gives a boost and elevates the look of flare jeans, making them appropriate for a night out.
In my case, I usually opt for a pair of strappy heels or pumps in a neutral color, such as black or nude, to keep the focus on the jeans.
b. Match the color of your blouse and heels
I believe a blouse or top with a bit of flow can add some elegance to your look. You can tuck it in or leave it out. It depends on the occasion and your preference. For the final touch, wear heels in the same color!
c. Layering a denim jacket or a blazer is a blast!
Based on my fashion perspective, layering a denim jacket or blazer over a blouse or top can add some edge to your look. This works best if you're going for a more casual night out, such as a concert or drinks with friends.
If you're a fan of office looks, my fellow fashion expert advises adding a blazer for the top to create a slightly casual workwear outfit.
And for denim lovers out there, combining flare jeans with your favorite denim jacket never hurts as well.
d. Add a pop of striking color!
If you want to add some color to your outfit, I highly recommend pairing your flare jeans with a bright top or statement accessory.
Fuschia, yellow, or green are some of my favorite striking colors to make to pair with my bell-bottom jeans. I will rate this outfit a 9 out of 10 every day of the week. 
In my mind, you can look stylish and appropriate with flare jeans for a night out. It's all about how you put the pieces together and how you make them work for you. Always remember to choose something that you feel comfortable and confident in.
VI. How do you look cute in flare jeans?
As I see it, flare jeans can be a stylish and flattering option for many people, and there are a few things you can do to make sure you look your best in them.
Here are my tips for styling flare jeans adorably without feeling awkward:
a. Pay attention to the size of the jeans
Bell bottom jeans vary in terms of their leg opening, so I say it's important to choose the right flare size.
Fashion blogger Suzzane Bell mentions that subtle flares can be a great complement for people with narrow lower bodies.
On the other hand, if you have a wider lower body, you may find that a smaller flare, like bootcut jeans, can help balance out your proportions.
b. Choose the right fit!
My first priority to look cute in flare jeans is that they should fit snugly at the waist and hips and then flare out from the knee down. Make sure the waistband sits comfortably on your waist and that the hips and thighs are not too tight.
c. Pair with the right-top
Usually, I want to balance out the flare at the bottom, so it can be helpful to pair your flare jeans with a fitted top. If you want to define your waistline and make you look in shape, I recommend tucking in a blouse or tank top into the bottomwear.
Jazzria Harris from Woman & Home mentions button-up shirts, blazers, and sweaters can complement your flared jeans nicely. Want to go with double denim? Add any denim tops and you'll look fantastic!
d. Choose the right pair of shoes
The Curvy Fashionista's Marie Denee recommends pointed-toe shoes to pair with flare jeans. Those can be a great option to elongate your legs and make the flare at the bottom of the jeans stand out more.
Also, keep in mind that flare jeans look great on different body types, so you can experiment and try different styles until you find the one that fits you best. And, fashion is about confidence.
VII. What flat shoes to wear with flare jeans?
It may be controversial to say, but flare jeans can be paired with a variety of flat shoes, depending on the occasion and the look you're going for. Here are a few options to consider before deciding on what flat shoes to wear:
1. Loafers
My say, loafers are a classic and versatile shoe that can be worn with flare jeans. They can be dressed up or down, depending on the style and color of the shoe.
From my experience, opt for a pair in a neutral color, such as black or brown, to keep the focus on the jeans and avoid an overwhelming look.
2. Ballerina Flats
I think ballerina flats are a great option for a more elegant and feminine look. These sweet flats of shoes are also one of my favorites and can excellently uplift my flare jeans. I tend to choose a pair in a neutral color, such as nude or black.
Before deciding to go for this pair, I'd like to mention that cropped flare jeans will look best with ballerina flats, as stated by Editorialist.
Why? Since flats don't have elevated heels, the pants' end will get dragged and get dirty. 
3. Mules
Yes, I freaking adore mules because they are chic and on-trend. As I see it, their pointy toe will stand out from your flared jeans in a flattering way. If you're a huge fan of backless and easy-to-wear shoes, mules can be your go-to.
In my judgment as a proficient shoe specialist, it's best to choose a shoe that doesn't cover the ankle, this way your shoes and jeans work together to show the flare. Also, mind the occasion and setting. Make sure you match your shoes and jeans accordingly for the right occasions.
VIII. Ankle Boots with Flare Jeans
Based on my years of experience as a shoe expert, ankle boots can be a great way to add a chic and edgy touch to your flare jeans. I will show you a few ideas for styling ankle boots with flare jeans:
1. Classic Black Ankle Boots
Black on black, I love a pair of classic black ankle boots that can add a sleek and sophisticated touch to my black flare jeans. Opt for a pair with a low heel for added comfort.
2. Suede Ankle Boots
A pair of suede ankle boots in a neutral color, such as beige or camel, can add a warm and cozy touch to your flare jeans. I often wear warm-colored suede boots with blue flare jeans to create a contrasting yet pretty look for the fall season.
Based on my experience, besides choosing the right shoe that will show off the flare of your jeans, accessorizing can add some charm to the entire look. Throw belts, scarves, or jewelry can add an extra touch to the outfit and spice the entire look up.
IX. Tops to Wear with Flare Jeans
There are many stylish and versatile tops that match flare jeans perfectly. Here are a few top options recommended by some fashion experts to with flare jeans and create a variety of looks:
1. Fitted Blouse
In my eyes, a blouse that is fitted through the waist and has a flared hem can create a balanced look when paired with flare jeans.
You can choose a blouse with a bold print to look modern or a solid color for a classic look. I also recommend pairing a belt as an additional accessory to the style.
2. Sweaters
Fitted or slightly oversized sweaters can provide a cozy and casual look when paired with flare jeans. I highly recommend a chunky knit or a cardigan-style sweater for added texture, and you can tuck them in to show your flared jeans off.
3. Button-up Shirt
The way I see it, a classic plain button-up shirt can provide a polished look when paired with flare jeans.
You can tuck it in or leave it untucked, depending on the occasion. For a casual one, I usually grab my oversized one to have a humble style yet classy.
4. Denim Jacket
My fellow fashion expert states that denim jackets can provide a laid-back look when paired with flare jeans and boots!
For that reason, I'd love to advise you to choose a light-wash denim jacket for a more casual look or a dark-wash denim jacket for a more dressed-up look. Then, grab a black sling bag or handbag to complete your sophisticated style.
X. The Best Shoes for Enhancing the Silhouette of Flare Jeans
As an expert in fashion, I can confidently say your style in flare jeans will be elevated when you know how to pair the best shoes to wear with flare jeans.
If you get the wrong one, you'll not get the stunning, leaner, and longer legs illusion you expect.
Hence, allow me to share a curated list of the finest footwear picks to complement your look in flare jeans and highlight your body silhouette.
Let's explore!
1. Pointed-toe Heels
I think this is one of the best shoes to wear with flare jeans. Shoes with pointy ends can turn your bell-bottom jeans into something more uplifting and stylish.
A little tip from me as a fan of the heels and flare jeans combo: pop a pair of striking heels to add a nice touch to the entire look.
2. Kitten Heels
For those who are not used to wearing high heels, this dress shoe with teeny-tiny heels can be your fashion choice. Before getting used to high heels, I wear kitten heels with flare jeans, and it's safe to say that they're comfortable and flattering!
If you are afraid of trampling while wearing the heels, I recommend opting for the short-cut flare jeans.
3. Strapped Sandals
These chunky pairs are both flattering and stylish, especially paired with your flare jeans. In my case, these heeled sandals, especially ones in lighter colors, are my go-to during summer.
To mix and match them, you can go with darker-colored shoes and flare jeans to look more formal or opt for fun, lighter colors for a casual stroll.
4. Oxford Platform Shoes
Not a fan of heels? Don't worry, I have another option for you. Bring out the academic feeling with this pair of platform shoes. These are one of my favorites as well since you can look taller and more flattering.
As mentioned by The Budget Fashionista Catherine Brock, wearing platform shoes with flared jeans can keep the hemline from dragging on the ground. It's safe to say that you don't have to worry about looking muddy!
XI. Flare Jeans Styling Tips: Shoe Options to Lengthen or Shorten Your Look
When it comes to the best shoes to wear with flare jeans, some people might find it challenging. While others are struggling to look taller, some with longer legs think it's tricky to spot jeans that don't make them look giant!
Afraid not, here I present some shoe options that will accommodate both needs.
XII. QnA
Can I wear sneakers with flare jeans?
You can definitely wear sneakers with flare jeans! I can say that because I often pair any bell-bottom jeans with sneakers to create a laid-back look. There are a few ways to style sneakers with flare jeans depending on the occasion and the look you're going for:
The all-rounder white sneakers can be a perfect match to your entire outfit. Converse or Adidas Superstar can provide a clean, classic look when paired with flare jeans. This look is suitable for casual outings, brunch, or running errands.
Pair flare jeans with statement sneakers to add some edge, like bold-colored sneakers or those with embellishments. If you are feeling very bold like me, I like to pair statement-colored flared jeans with statement sneakers. 
In my experience, It's worth noting that the type of flare you choose also plays a role in how it will look with sneakers. A wider flare may give a more '70s vibe while a slight flare can make the look more modern.
Also, try tucking the flares in your sneakers for a more polished look.
How long should flare jeans be with heels?
Some fashion enthusiasts recommend 1" above the ground is the ideal length for flare jeans to be worn with heels. Personally, I recommend letting the hem partially cover my foot and showing a little part of my shoes slightly.
This way will make my silhouette look leaner and give a small peek at the heels I wear.
Who shouldn't wear flare jeans?
In my view, anyone can wear flare jeans if they choose to. However, there are certain body types that may not find flare jeans as flattering as others.
If you have a very petite or short frame, flare jeans can make your legs appear shorter. Similarly, if you are very tall, flare jeans can make your legs appear longer and leaner than they actually are.
Ladies with apple-shaped body types may reconsider wearing flare jeans. Since most of your weight is at the midsection, you'll look a bit bulky and won't look as flattering with them.
XIII. Conclusion
Flared jeans are a versatile and timeless style that can be worn by people of all ages and styles. They can be dressed up or down and paired with a variety of different shoe options.
Whether you're looking for a casual or dressy outfit, flared jeans can be worn with sneakers, flats, heels, boots, or any other type of shoe. This makes them a perfect choice for anyone looking to add a classic and stylish piece to their wardrobe.