Running shoes outfit ideas at this time mostly goes with a casual color shirt-dress, biker short with a crop top, or one set of denim pants and a gorgeous top. A pair of running shoes in the past can only be worn to a gym or simply exercising. But as time goes by, running shoes can be worn for any occasion: when you go shopping, birthday party, romantic dinner, or when you go hanging out with your friends. Just mix and match your favorite running shoes with a sweatshirt, dress, or denim set and you are all good! Are you curious about what are best 20 running shoes outfit ideas are? Let's jump on the below list!
1. Blackpink in Your Area
This gorgeous look must be put first on this list. A shocking pink running shoes add more colors and boost the mood of every person who sees you in a mix of black and blue outfits. This outfit idea is perfect to be executed when you have a plan to go shopping or have a coffee with your friends. Finish the look with a tiny black bag and you are good to go!
2. Warming Latte
When winter almost comes, we must feel cold and want to be kept in warmth. At the same time, we also want to look stylish. We have a great idea to look great with running shoes for you who want to look both casual and stylish while feeling warm! Wear a knit set of skirt and top, layer it with an oversized khaki sweater, and complete the look with a pair of running shoes. Perfect as your outfit when you want to go visit a museum or library with your lover!
3. Black is the New Orange
Looking fashionable with a leather jacket is not hard. Why don't we try to mix the leather jacket with a simple sleeveless dress, a postman leather bag, and finally, a mix of grey and white running shoes? Definitely a perfect look for you who love the monochrome and casual style! To look bolder, wear a chain necklace and let your hair a bit loose. Believe us, everyone will turn their eyes on you!
4. Black on the Brown
A knit top is definitely a must-have fashion item in our closet! This time, a pair of dark grey running shoes would look gorgeous when we mix and match them with a black knit top and a brown leather pencil skirt. This running shoes outfit idea would be great to be executed when you are confused about what to wear when you have a plan to meet your friends!! Don't forget to wear your stylish sunglasses as the sun is going to attack you!
5. Sweet Casual Look
Who expects that we can mix and match a feminine lace skirt with a pair of black running shoes? Yes, you read it right! The trend this year is going forward to a mix of feminine and masculine. Try to wear a mini skirt made of lace, long sleeve sweatshirt, and a tie denim jacket on your waist to add a masculine look. Definitely, a gorgeous look to have during the afternoon!
6. Off White Crop Top Set
Are you a shy person, but want to look fashionable with a touch of sexiness? We have a great running shoes outfit idea for you! A pair of white with black line-running shoes will look great with a set of white crop tops and a white wide-leg culotte. To add more color, you can bring a brown shoulder bag, and voila! You are good to go!
7. Set of Knitted Sweater and Midi Skirt
If you are a person who loves both girly and boyish looks, this running shoes outfit idea is for you! The set includes a knit sweater and knit skirts in dark blue with a tiny dots pattern which is suitable greatly with any color of running shoes. You can even wear this look for grocery shopping, definitely!
8. Casual in Pink and Ripped Jeans
When you are confused on what to match with white running shoes that have slight pink color on it, you are on the right article! You can wear long ripped jeans and pull off a light brown turtleneck sweater, plus an outer with shocking pink as seen on the picture here. Perfect as winter outfit along with your stylish running shoes!
9. Checkers Long Coat
Going fashionable is not limited by age and time. For you who are really into fashion, wearing some brave colors like shocking pink and brown, we got you this! Try wearing a long check coat with a mix of pink and brown colors, long skinny white jeans, and of course, we can complete it with white running shoes to level our style up!
10. Fashionable Cullote Jeans with Running Shoes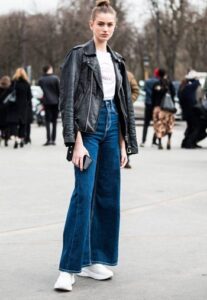 Running shoes are designed for you who like to stay active while also looking stylish at any moment. For a retro look, you can wear high waist wide leg jeans with a white T-shirt and leather jacket. Of course, finish the look with white running shoes to make you look bolder. Simple yet stylish running shoes outfit idea to be executed when you have a plan to visit a shopping mall or hang out with friends!
11. Casual Victorian Style
Who says that wearing running shoes can't be as stylish as wearing pump shoes or strapped heels? This article will give you many running shoes outfit ideas to be executed when you are confused. When you are into Victorian retro style, you can contrast a pair of casual running shoes with a formal top such as a bow tie neck blouse with a vest layered and black skinny jeans. Go retro!
12. Casual Denim Look for Mom
For you who become a mom and are too shy to appear stylish, you can try executing this idea first! A denim jacket paired with a midi sleeveless black dress is always giving you a cool look. For a finishing touch, you can wear your favorite running shoes and bring your favorite black bag… voila! This idea could be executed for you who have a plan to pick up your kids from school stylishly!
13. Long Thick Sweater with Running Shoes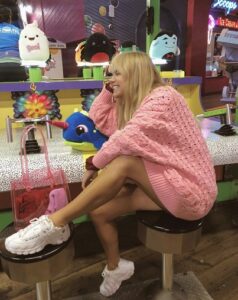 Apparently, we found that many great running shoes outfits can be made cute. Simply wear a long thick sweater (and of course a short inside) in light color with a pair of running shoes. Don't forget to match your sweater with a mini bag. This idea would be great to execute when you want to go to a park or an arcade with your lover!
14. Cool 80'-inspired Outfit with Running Shoes
Create an exciting look with 80's vibes by wearing the set of cool running shoes, biker shorts, a turtleneck top, and an oversized check blazer for the final touch. Let your hair loose to make it look simple, you are looking great like a classic New York's city girl. This idea would be great to execute when you go hanging out with your friends during the fall, of course!
15. Cute Crop Top and Running Shoes Outfit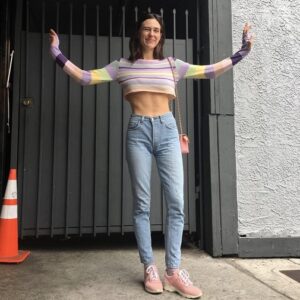 Try recreating a 90s cute look by wearing a colorful crop sweater with high-waisted jeans and running shoes in pastel color. This look would look great when you have a plan to just walk around with your friends in the park or go hanging out in an arcade. Don't forget to bring your favorite mini bag to complete the look!
16. Princess Diana 1995 Biker Look
It is well-known that Princess Diana wore her sweatshirt multiple times on any occasion. This running shoes outfit idea can definitely be recreated for summer! Just simply wear a short biker in neon color and contrasted with a navy blue sweater. Simple yet stylish, bring on your cool look!
17. Lady in Red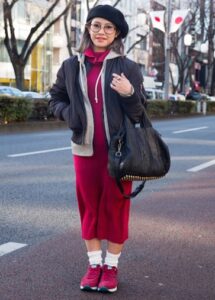 Red running shoes would look great with a red outfit as well! Let's try wearing a red hoodie dress layered with another bomber jacket and don't forget to add a painter hat to give you some warmth fully. For you who are looking for a stylish, cool look during the winter season, we bet this outfit will look great on you!
18. Modern Country Boy
Monochrome color variation seems to be everyone's favorite color variation because of its easiness to be mixed and matched with other outfit in any color. Therefore, we come up with a great running shoes outfit idea to wear! Try wear white running shoes and boyfriend jeans, thick turtleneck sweater in white, flannel shirt and long coat. For the final touch, you can add a country hat and sunglasses for your accessories, the best look to wear when you visit Japan during spring!
19. In Suit
When you are about to off to a lunch meeting and want to look both relaxed, cool, and stylish, we got you a great running shoes outfit idea! If you have a black or white running shoes, try to pair it with a black suit, black long pants, and simple white T-shirt with long necklace. Professional and smart look, definitely one great look you are looking for! You can even wear this even to a small event at the office, or visiting a museum.
20. Woman in Black
People said, simple is the best. Of course, we got you a simple outfit to match with your favorite running shoes! When you have a plan to go hiking, grocery shopping, or hanging out with friends, try wear black biker short, crop T-shirt, and waist bag on! We bet, everyone will turn their eyes on you! 
How do I match my running shoes to my outfit?
Pair your simple white running shoes with colored outfit such as black dress and denim, or a brightly-color running shoes with a black trouser and regular sweatshirt to have them suit each other. The key is to make your running shoes become your style vocal point.
How can I look cute in running shoes?
Wear a pair of running shoes in any pastel or light colors you like with some outfit in denim or brightly-color top. Light colors could be in lilac, peach, or yellow to add more fun look to you! A colorful crop sweater with high-waisted jeans and colorful running shoes will be great on you.
What color of running shoes go with everything?
White and black will be best! They are two colors that listed under basic colors, so you can match them with any outfit in any color, such as bright red, shocking pink, or even orange and blue. 
Which color is best for running shoes?
Any bright colors such as red, blue, neon green, and orange will be great! Bright colors give warmth, happiness, and of couse, colors to your life when you are doing activities, eventually running as in sport exercise. Bright colors also give you a spirit to live your life better!